Looking to sell merchandise for your next event? You should think about it! There are tons of advantages to having an online fundraising store—it's a great way to raise some extra money, it gives people a way to show their loyalty to your mission, it boosts your visibility in the community—but it does take a little extra planning to do well.
If you're interested in running an online fundraising store for your upcoming event, here are some simple strategies you can use to make the most of it.
If you're running your store as part of a peer-to-peer event, check out our Marketing Your Peer-to-Peer Event eBook!
Sell event sponsorship packages through an online fundraising store
If you're looking for event sponsors, an online store is a great tool. Set up store "items" that are really sponsorship packages. If you decide to set up an online fundraising store to sell sponsorships, here are some ways to make it as effective as possible!
Be specific about your sponsorship packages
On the item pages, list your sponsorship levels and what perks come with each package. This is a great tactic to use when asking for sponsorships through email! Send your sponsorship appeal email (psst: we have handy templates over here) and include a link to the sponsorships section of your store. From there, your potential sponsor can look over your options and choose the one that's the best fit.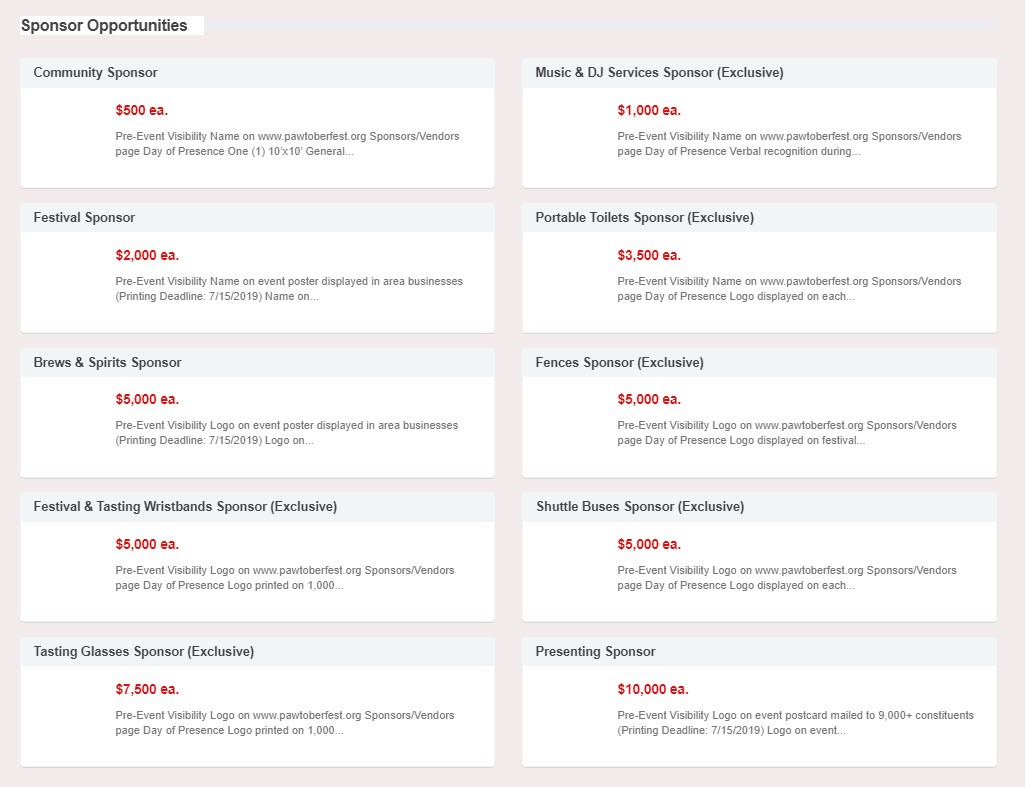 Bear Creek Regional Park included tons of sponsorship packages in their event store. Check out that price range: having a variety of different package options ensures there's something for everyone!
Be thoughtful about your sponsorship pricing
Include a variety of sponsorship levels at different price ranges. There should be something for everyone! An individual donor may not be able to buy a $5,000 sponsorship, but they could spring for a $500 package. That $500 package won't catch the eye of your local bank, but a $5,000 package might.
Then, be sure to include a description of each package (no matter the price point!) and what it includes. Check out this example from Bear Creek Regional Park:
Once you have your sponsorship store built, keep it handy as you begin outreach to your local partners. Include a link to your store in your appeal emails or when you send follow-up emails to individuals after you meet with them. Be sure you let your potential supporters know that you're available if they have any questions!
Sell branded merchandise
Whether you're looking to sell event-specific merchandise (think t-shirts for your annual 5k, branded water bottles, or other swag) or want to run a store year-round, an online store is a great option.
Just like your sponsorship store, it's a great idea to include items at a variety of price points. Small-ticket items are awesome add-ons for event registrants—they can easily add a sticker or extra shirt (like the example below!) while they're signing up to participate in your event.
Here are a few things to consider as you set up your merch store:
Keep an eye on your inventory
When you're setting up the items you'll have for sale, be sure to keep a close eye on the different "attributes" of each item (attributes include things like shirt size, color, etc.). You and your supporters will have a better experience if you're careful about tracking and maintaining your inventory! Knowing you have 5 medium blue shirts, 4 extra-large green shirts, and 1 extra-small purple shirt while you're creating inventory will keep your store accurate and your supporters happy.
Know how taxes work with online fundraising stores
Another thing to track is your state requirements for sales tax on items you're selling in your online fundraising shop. Since you're fundraising, do you need to charge a sales tax? If you do, be sure you calculate that ahead of time and have a plan for making sure you stay in compliance with local laws.
Have a plan for shipping
The last thing to consider as you set up your store is your plan for shipping items to your supporters. If you're selling event-specific merchandise, will donors be able to pick up their items on the day of the event? Will you ship them in addition to having pick-up options? If you're shipping items, how much should you charge for shipping fees?
Check out this example from St. Louis Ovarian Cancer Awareness! The copy at the top of their store page includes information about shipping method, timeframe for receiving merchandise, and how to exchange merchandise for a different size.
Some items may not need to be shipped! If you sell memorial items in your fundraising store, like engraved bricks, monuments, or other materials, it's important to let donors know how to see the items they've purchased. Brother Wolf Animal Rescue, for example, uses an online fundraising shop to sell tribute gifts, naming opportunities, and other monuments.
These items are built into their facility instead of being shipped to their buyers! If you decide to go this route, stay in touch with your donors to let them know when and how they can see the items they purchased.
Set up an online store to help donors visualize their impact
Your donors are used to shopping online. Online shopping gives us a sense of instant gratification: we select our item, we plug in our payment information, and we get the item in the mail. It's very satisfying! You can tap into that kind of instant gratification by creating items your donors can "buy" when they donate. This works exceptionally well for organizations that rely on tangible donations like food, clothing, medical equipment, or other supplies.
There are tons of opportunities here: donors could "buy" food items, school supplies, building materials—anything! That said, there are a few tips you should keep in mind as you set up this store.
Watch your wording
First, be careful how you present the items donors are buying. The Sharing Center could have, conceivably, ended up with 200 bottles of laundry detergent and no paper towels. Luckily, they included a note at the bottom of their page that clarified that money raised on that page would be used where it was most needed, including buying food items but potentially including other services.
Not sure what that looks like? This is a great example from our friends at Second Harvest Food Bank: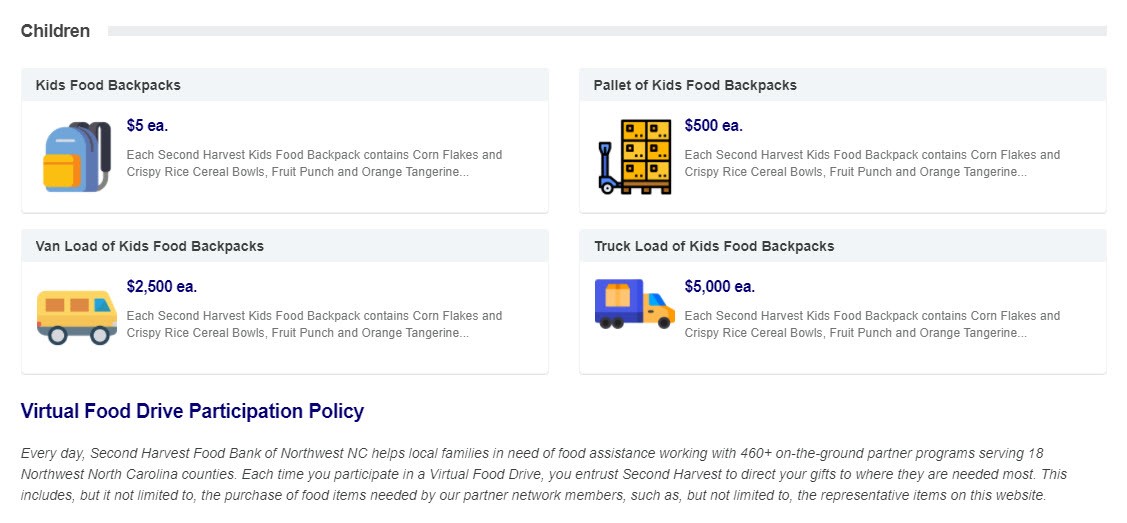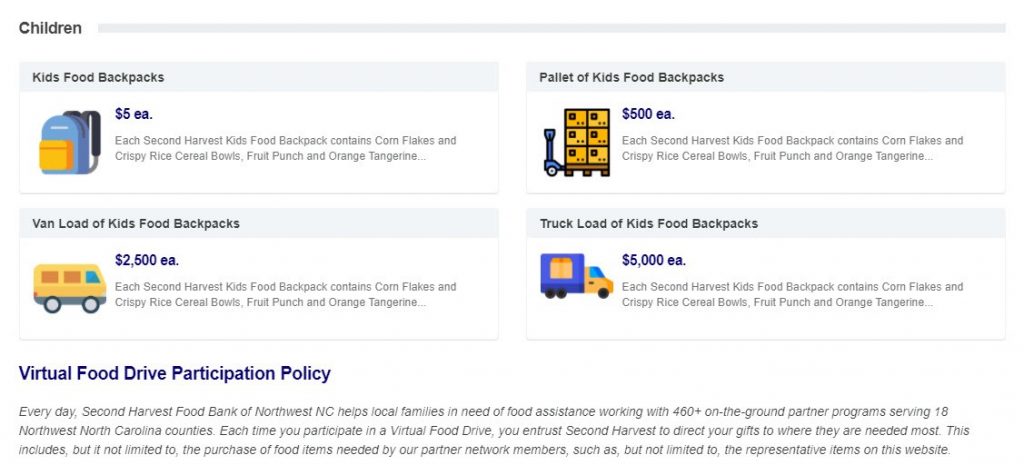 Be prepared to follow up
The second thing to consider is your follow-up plan. One of the reasons so many people love shopping online is the gratification of getting their items in the mail. That won't happen with this kind of store!
Instead, send follow-up emails to your donors who give this way. Let them know what they "bought," what it will accomplish, and who it will help. Thank them sincerely for their gift! It's not quite the same as getting a highly-anticipated package in the mail, but it's still a wonderful experience.
Conclusion
You can do so much with an online fundraising store! Selling merchandise is a tried-and-true tactic, but there's plenty of room to get creative. Sell sponsorships, donated items, supplies, memorial items, and more—just be sure you plan ahead, follow these tips, and have a plan for communicating with your supporters at every turn. 
Like what you see?
All of the online fundraising stores you see in this article were built by real nonprofits using Qgiv's peer-to-peer storefront feature! Learn more about our peer-to-peer platform and the creative ways our clients use it to support their work. If you like what you see, let us know! You can schedule a demo of our platform for a personalized tour of our tools and a conversation around how you can use them to meet your fundraising goals.