If your educational nonprofit needs ideas for peer-to-peer events to help you reach your fundraising goals, you're in the right place. We've identified four successful events from other educational nonprofits that you can adapt and try at your own organization. Whether you're a school or agency that supports educators, these event examples succeeded in providing much-needed funds for these organizations.
1. Run to Advance Christian Education (R.A.C.E.)


The Christian School Association of Greater Harrisburg's Run to Advance Christian Education (R.A.C.E.) event performed exceptionally well. This is likely because rather than adults signing up to run a race, this event asks students to participate instead. Students ran the race and recruited sponsors to donate for each lap they ran. This event is successful because the students are motivated to help their schools. They're backed by their parents and their parents' social network to raise funds through their own performance.
Students could be sponsored by their parents' job, church, and extended family. Suddenly one lap could be worth quite a bit of money. In total, the Christian School Association of Greater Harrisburg raised more than $94,000 and beat their $90,000 goal in 2019. This means that the students outperformed the goal set by the organization by four percent!
2. 9th Annual Fore the Kids Golf Tournament


The next great event example is Spectrum360's 9th Annual Fore the Kids Golf Tournament. The event is a day-long golf tournament at a New Jersey country club benefiting the kids the organization serves. Participants socialized, golfed, and enjoyed post-golf entertainment. That included a cocktail hour, dinner, awards presentation, and auction leading to the conclusion of their event.
The Fore the Kids Golf Tournament is entering its tenth year. This long-standing event succeeds because it gives participants a fun and upscale event experience they wouldn't otherwise have. At least, not unless they were members of the country club themselves. Guests could play eighteen holes of golf on the club's course and then enjoy an after-tournament dinner and cocktail hour. The auction subevent provides an additional fundraising opportunity guests can participate in. Their 2019 golf tournament raised more than $160,000 and beat their fundraising goal by two percent!
3. 2019 Robot Fun Run


Loganville Christian Academy's 2019 Robot Fun Run brought in $54,000. Like the Christian School Association of Greater Harrisburg's event, students were the participants and adults sponsored them to raise funds for each "victory lap."
This was not Loganville Christian Academy's first fun run event, but it was their first with a robot theme. The organization keeps their fun run event interesting by changing the theme annually; they'd previously hosted a Glow Fun Run with a similar format and a different theme. This year's event was robot themed because proceeds went toward the installation of a modern innovation lab for elementary students. They adapted their theme to match their fundraising need. They even offered robot-themed prizes for the children who brought in the most donations.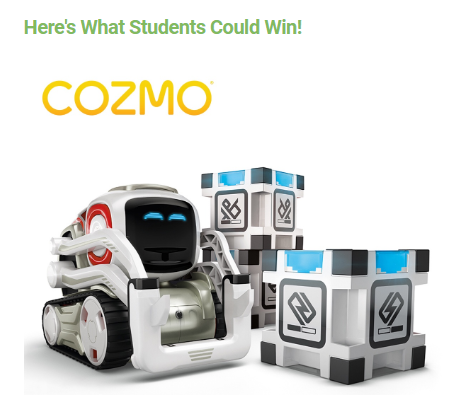 While they didn't reach 100% of their fundraising goal, the students raised ninety percent of the funds needed. That's something to be(ep boop beep) proud of!
4. California State University San Marcos 2019 Giving Day


California State University San Marcos hosted a 2019 Giving Day peer-to-peer event with no in-person event or activity to complete. By creating a giving event with no physical location, the university raised funds with no event costs. That meant every dollar raised was pure profit! People participated by giving.
Another advantage to this event was that users could choose where to direct their contribution. That makes a digital giving day event a good solution for educational nonprofit organizations raising money for multiple funds. Rather than choose one fund to promote or one event per fund, they created fundraising teams for each funding area. Donors then gave to the team that represented their funding area of interest. This made finding a specific fund easy. It also meant the college could rank donors' giving preferences (that's some valuable donor data!).
Before applying matching gifts, the university already raised more than $185,000 during the 24-hour event. Donors supported more than 60 different funds!
Conclusion
Your educational nonprofit can benefit from a great peer-to-peer event. These four events from Qgiv clients are easy for other organization to emulate. They've raised significant funds to benefit students and the organizations themselves. Your educational nonprofit could also achieve this success by hosting similar events—just add your own spin and watch it take off!
New to peer-to-peer fundraising? Check out our Peer-to-Peer Fundraising Ultimate Guide for practical advice on planning and hosting peer-to-peer fundraising events.