Peer-to-peer events are a great way for nonprofits to raise funds for their mission. Providence Animal Center, a nonprofit animal shelter and vet clinic, relies heavily on their annual peer-to-peer event, Bark in the Park, to raise crucial funds for their organization. When the global pandemic threatened to shut down peer-to-events last year, Providence Animal Center adapted their in-person fundraiser into a virtual event. The result? Fundraising that works! Read on to learn more about Providence Animal Center and their first-ever Virtual Bark in the Park.
Who is Providence Animal Center?
Providence Animal Center (formerly known as the Delaware County SPCA), offers life-affirming rescue, medical care, treatment, protection and placement of companion animals that forever upholds the critical importance of the human-animal bond.
Established in 1911, this nonprofit's original purpose was to provide watering troughs for workhorses. In the 1930s, they transitioned to helping all animals in their service area. The Providence Animal Center relies entirely on donor support to provide services to companion animals in need. In 2020, they found permanent homes for 3,362 cats and dogs.
How they hosted a peer-to-peer event during a pandemic
Providence Animal Center quickly used Qgiv's peer-to-peer fundraising platform to create a virtual event page. They then connected that page with Facebook fundraisers, a tool their fundraising participants from previous years had used successfully to raise funds for the organization. They were able to track fundraising progress for participants using Facebook fundraisers from the Qgiv platform. Plus, as donations came in from Facebook fundraisers, their overall event thermometer reflected those gifts.
To motivate their participants, they came up with fundraising incentives. Participants earned prizes based on how much they raised. The top incentive? This great t-shirt they designed just for their 2020 event:
They set an original fundraising goal of $80,000 because this was their first virtual event. They were unsure how successful they would be with their in-person event becoming a virtual experience, so they kept their expectations low.
However, by empowering participants to walk safely and report their progress virtually, their guests quickly reached their goal with time before the virtual event was scheduled to end. Rather than keep their goal at $80,000 they upped the goal to $100,000. The stretch goal paired with matching gift opportunities, Facebook fundraisers, a pet costume contest, and a fundraising bingo Instagram campaign led to Providence Animal Center raising more than $127,000!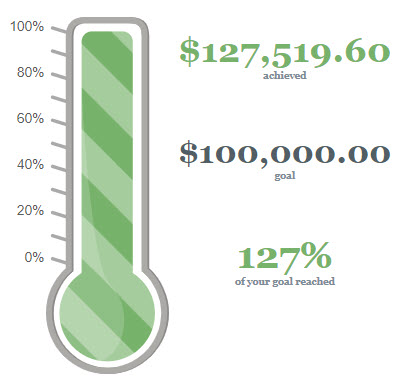 How your nonprofit can host successful virtual peer-to-peer events
Want to host successful virtual fundraisers like Providence Animal Center's virtual Bark in the Park? Here are some useful takeaways from their story:
Be adaptable and willing to try something new

For instance, their Instagram bingo fundraiser accepted payments from Venmo.
Plus, the concept of virtual fundraising events was new to them, but they gave it a chance rather than miss out on their biggest fundraiser of the year. By taking that chance, they raised 127% of their goal.

Use the right tools and support to make your virtual peer-to-peer events profitable

Providence Animal Center knew their supporters like to fundraise with Facebook fundraisers. So they used Qgiv's peer-to-peer tools to compliment that fundraising resource. Qgiv's peer-to-peer events support an integration with Facebook fundraisers to make reconciling donations from both sources easier.
Not only that, but participants could use fitness apps to share their progress and compete in the virtual 5K event.

Integrate your event with Facebook Fundraisers and encourage participants to fundraise on social media and via their personal fundraising pages

Social media played a major role in Providence Animal Center's virtual fundraiser. Not only were participants raising funds on Facebook, the nonprofit held a pet costume contest on Facebook and a bingo fundraiser on Instagram.
Engaging with participants and making it easy for them to fundraise on social platforms is a great way to drive donations to your event – especially if there's an integration between your peer-to-peer platform and Facebook fundraisers

Seek out matching gift opportunities

Not only did Providence Animal Center ask participants to fundraise on their behalf, they sought matching gift opportunities to make donations go even farther. Matching gifts helped Providence Animal Center exceed not one, but two fundraising goals!
Conclusion
Providence Animal Center is one of many success stories about nonprofits turning to virtual peer-to-peer events during the pandemic. By transitioning their in-person event to a virtual format, they raised significant funds rather than cancel their event. Your nonprofit can find similar success. Try incorporating tools and strategies from Providence Animal Center's Virtual Bark in the Park event. Check out Providence Animal Center's case study for more details about their first virtual event.
Looking for more virtual fundraising event tips? Download our free Virtual Event Planner for practical tips for hosting successful virtual events.