Recurring donation calls to action (CTA's) are a wonderful opportunity for your nonprofit to raise more money because recurring donations are great for retaining donors and increasing gift sizes. Using a recurring donation call to action can help your organization find more donors willing to give more frequently.
Check out how you can benefit from recurring donation calls to action:
What Are Recurring Donations?
Sometimes, your donors will want to give more frequently than during active fundraising campaigns. They'll want to support your cause all year round. The best way to help your donors give to your nonprofit frequently is to offer a recurring donation option. Recurring donations are a donation form setting that lets your supporters choose to donate on a recurring frequency. While monthly giving is one of the more common options, depending on your fundraising platform, you may be able to provide donors with multiple frequency options to pick from.  

Benefits of recurring donations
Recurring donations provide multiple benefits for your organization. The most obvious benefit is the steady source of income for your nonprofit. If you have recurring donors, you know there is a certain amount of money that can be used for your day-to-day overhead or to help fund upcoming events and campaigns. Recurring donations generally provide a boost to your fundraising efforts. In fact, in just one year, a recurring donor will give 42% more than one-time donors, and 52% of donors participate in a monthly giving program. Not only does your organization earn a more stable income, it increases income as well.
Recurring donations also increase donor retention. Choosing an option to donate monthly makes supporting your cause easy for your donors. It's proven that people are more likely to support a cause if the donation process is quick and easy. It's the same reason you want to have as few fields as possible on your donation forms. Donors in a recurring donation program are twice as likely to continue their support beyond a year.
Since many donation forms only require a single click to upgrade their gift, it takes little effort for your donors to offer their continued support. Recurring donations also provide more communication touchpoints between you and your donors, keeping your organization at the top of their minds. You can provide your recurring donors consistent updates on how they are helping your cause within your donation's thank-you receipts.
How to use recurring donations
Depending on your fundraising platform, enabling donations may take a single click in your donation form settings.

However, fundraising platforms aren't the only way you can accept recurring donations. Some payment processors such as PayPal will also allow you to accept recurring donations from your supporters. Or for your social media followers, Facebook provides a recurring donation option for nonprofit fundraisers.
Recurring Donation Calls to Action
When setting up your recurring donations, remember not to default to recurring giving. Potential one-time donors may feel put off by the extra step to give. The best way to motivate your donors to become recurring donors is simply letting them know it's an option. You can encourage donors to upgrade their one-time donation to recurring by utilizing a donation call to action.
What is a donation call to action?
A donation call to action is a clickable button on a website or form that influences your supporters to donate to your cause. A simple "donate" button is a common call to action nonprofits use on their websites to encourage any visitors to give to their organization by making their donation form one click away. Any actionable prompt can be used as a call to action, including a prompt on your donation form to encourage recurring donations.
A good recurring donation prompt should:
Provoke urgency or emotion. Your donors are more likely to give if they're able to connect with your cause.
Be concise. Keep it short and sweet. Your donors might skip past your recurring donation call to action if it's too long.
Use simple but actionable language. Tell your donors what their donation will be able to accomplish without overcomplicated language.
Take advantage of customizable donation forms by offering suggested giving amounts that feature evoking photographs and impact statements explaining exactly how your supporters' donations will help your cause.
Where to place your donation call to action
Your donors might not notice you offer recurring donations at first glance. To avoid this, make your recurring donation call to action highly visible. One way to do this is to include a prompt they can click before they move on to entering in their payment information. Another option is a popup recurring donation call to action before your donors finish their transaction. While 77% of nonprofits have a recurring donation program, only 16% take advantage of a popup prompt for donors to upgrade their gift. 
Qgiv upgrade prompts
Across the Qgiv platform, donation forms have amassed over 60,000 recurring donors with an average recurring gift size of almost $120. Qgiv's customizable forms feature two ways your organization can use a recurring donation call to action. These upgrade prompts have seen a 3x increase in recurring donation conversions.
The first prompt is the nudge located in the "Choose Gift" section of your donation form. The nudge uses a static image to subtly reminds your donors of your recurring giving options.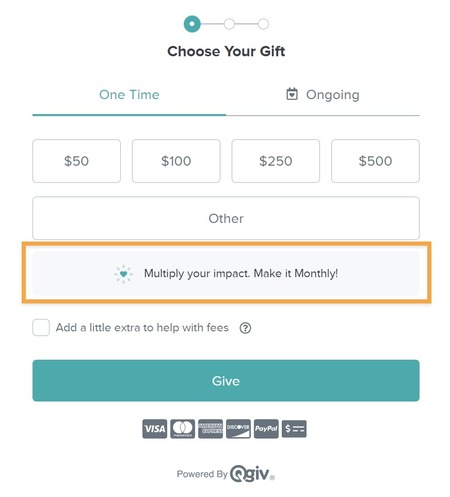 The other recurring donation call to action you can implement on Qgiv's forms is the modal. The modal is a popup that appears before your donors finish their transaction to encourage an upgrade to recurring giving. These modals are straightforward and hard to miss, giving your donors an option to upgrade or complete their original donation.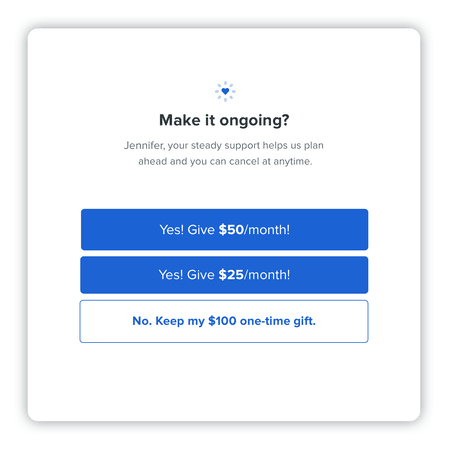 Customize your donation receipts or send out reminders using Qgiv's platform to provide your donors another opportunity to upgrade their donation after the original transaction has finished. Your donors are able to make donor accounts to manage their gifts at any time.  
Final Thoughts
Upgrading your one-time donors to recurring donors could help your organization expand and accomplish more for your cause. Use recurring donation calls to action to increase your fundraising efforts and retain more donors. Let your donors know about your recurring donation program and watch it grow!