Cultivating relationships with recurring donors is essential for nonprofits, especially in light of recent declines in individual giving. The Giving USA 2023 report revealed that giving by individuals dropped 6.4% in 2022, only the fourth time in forty years that such a decline has happened.
It's undoubtedly a challenging time for new donor acquisition, underscoring the constant importance of retention. Building strong relationships with existing donors helps your nonprofit access reliable funding to support your programs and projects through any dips in overall giving.
Let's explore four steps your nonprofit can take right now to better cultivate your recurring donor relationships:
These tips can help you foster relationships with all types of donors, including online donors, mail-in donors, event donors, and more.
1. Make it easy to become a recurring donor
Start donor relationships off on the right foot by making it as simple and convenient as possible to join your recurring or monthly giving program.
By providing a positive onboarding experience for your recurring giving program, you can increase the likelihood that more donors will join and stay in your program for the long term.
Boost program participation and engagement with the following strategies:
Optimize your recurring gift calls to action (CTAs)
A recurring gift or donation CTA is a button or form field that encourages donors to become recurring supporters. This most often looks like a button or checkbox on your online donation page that makes setting up a recurring contribution a one-click process.
Here is an example of a simple monthly donation CTA on the Girls Who Code donation page:

The button lets donors choose between a one-time gift or monthly donation and allows them to select a suggested donation amount or add a custom amount.
These CTAs are an easy way to draw attention to your monthly giving program and let donors join with just one click.
Create a monthly giving program webpage
A monthly giving program webpage provides donors with all the information they need to learn about your program's impact and get involved. Offering this information in one central location helps spread awareness and interest in your program.
To Write Love on Her Arms (TWLOHA) features an effective example of a monthly giving information page on its website. The page includes specific information about how different giving amounts support community members. For example, a $25 per month donation helps connect 150 people with free and low-cost mental health services.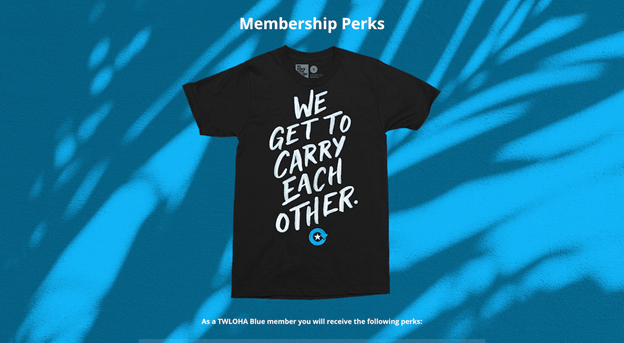 The page also highlights benefits monthly donors receive, such as an exclusive t-shirt, birthday perks, and monthly updates.
Including this information on your monthly donation webpage allows donors to see the benefits they'll have on your mission and the perks they'll receive in return.
Check out Kindful's roundup of monthly giving programs for more examples of inspirational and impactful monthly donation program pages.
2. Personalize donor outreach
Your donor relationship-building efforts will be much more effective when you genuinely get to know your supporters as individuals. When you can understand who donors are as people and what motivates them, you can personalize your outreach to create tailored messages that are much more engaging than generic communications.
Take these steps to personalize your donor communications:
Research your donors. Ask donors what draws them to your mission. Learn about their niche hobbies or unique interests. Inquire about their favorite sports team's last game or their upcoming family reunion. Save all this information in your donor database to reference in future conversations.
Send a personalized welcome packet. Provide a warm welcome to your monthly giving program with personalized welcome materials. Personalize the packet with each donor's name and information you know about them. For example, you might send an email that says, "Welcome to Healing Hearts, Jeremiah! In this email, you'll find the information you need to manage your recurring donation, learn more about our mission and find events and other opportunities that appeal to your unique interests." A personalized message helps donors feel seen and appreciated as individuals within your larger recurring donor group.
Invite donors to participate in activities that align with their interests and passions. For example, if you know a donor is active in the local running community, invite them to participate in your upcoming peer-to-peer fundraising 5K race. If another donor has expressed interest in seeing how your organization operates behind the scenes, invite them to your facilities for a guided tour.
Building donor relationships is the same as fostering any other type of personal relationship. You should focus on building these connections on a foundation of mutual trust and genuine personal interest in each donor.
3. Ask for donor feedback
Asking donors for their feedback leads to win-win benefits for them and your organization. First, it shows donors that you respect their opinions and want their input. It also lets your nonprofit hear from an outside perspective that can help you optimize your efforts and improve your projects, campaigns, stewardship efforts, and programs.

Your recurring donors are a natural group to ask for feedback because they have a strong passion for your mission and are more likely to respond to your request. Send them surveys with questions that help gain insight into your:
Marketing efforts, such as your email newsletter or social media campaigns
Monthly giving program communications and benefits
Volunteer opportunities
Events
Strategic priorities/vision for the future
Ask open-ended questions that allow donors to send in suggestions for ways you can improve. After collecting feedback, follow up with respondents to summarize your findings and outline your plan to incorporate donors' ideas.
4. Don't be afraid to ask for another gift
Some nonprofits may be hesitant to quickly ask for another gift from donors, worrying that they'll come off as too pushy. However, there are actually plenty of benefits to asking for a gift earlier than you may be inclined to.
A Bloomerang study found that 70% of donors who make a second gift do so within a year, and 45% do so within six months.
To ensure you aren't asking for a second donation too quickly, use your donor management system to create an outreach cadence and track where each donor is in the cultivation process. A carefully-cultivated donor cadence is especially important for major donors, as these gifts represent your organization's most significant individual contributions.
Here is an example of what your donor outreach cadence might look like:

Day 1: Send an automated thank you email and donation receipt to acknowledge the donor's gift.
Day 2: Call the donor to say thank you.
Day 5: Send a mailed thank you note (consider handwriting the note or having your executive director sign the note for a personal touch).
Day 10: Send an email newsletter.
Day 20: Send a feedback survey.
Day 30: Invite the donor for a tour of your facilities.
Day 50: Send another piece of mail to let donors know what their gifts helped fund.
Day 70: Call the donor once more to share the impact of their gift.
Day 85: Ask for a second gift.
Asking for another gift within the first 90 days is a general best practice to help secure a second donation. Following a communication cadence will help avoid donor fatigue while still keeping your mission top-of-mind for supporters.
While individual giving declined for nonprofits in 2022, monthly giving saw a boost, accounting for 28% of all online revenue in 2022. Cultivating relationships with recurring donors, such as monthly givers, will be essential to meet future fundraising challenges. These four tips will help lay a strong foundation for authentic, sustainable donor relationships.
Bloomerang is cloud-based donor management software that helps nonprofits increase donor retention and fundraising success. Its comprehensive features include donor database management, email marketing, online giving, volunteer management, and reporting tools, all designed to streamline fundraising efforts and build lasting relationships. 
About the Author
Ann Fellman
As the Chief Marketing Officer at Bloomerang, Ann is responsible for the company's overall thought leadership, brand, marketing, and community outreach programs that work to strengthen relationships with customers and the broader nonprofit community. Ann brings with her more than 24 years of experience in business-to-business (B2B) marketing in the technology industry, including time spent working at a nonprofit organization.