Successful university giving days regularly make the news. Purdue's 2019 day of giving raised $41 million and Cornell's 2019 giving day brought in $7 million! The most successful university giving days share several common characteristics and strategies. If your college is looking to host a successful giving day, look no further than our list of five steps for success! We've compiled the common strategies used by schools like Purdue and our own experience to craft the most important things you can do to ensure giving-day-fundraising success.
1: Define Your Value Proposition
Before you begin publishing social media "Save the Date!" posts and sending out digital or mail appeals, determine what your giving day messaging and asks will be centered around.
Pro tip: giving on its own is not enough. Your alumni, faculty and staff, and even current students can give their time and resources to a number of charitable causes at any given moment. Therefore, if you want your giving day to be compelling, you need your messaging to focus not only on giving, but on why people should give to your college.
An easy way to identify the "why" for your college or university is to create a value proposition for your giving day. Your value proposition is a short outline about what differentiates your giving day from other charitable causes your alumni and students can give to. According to Peter Smudde in Managing Public Relations, your value proposition can be outlined as a simple two-part statement:
Theme/slogan: The one super important thing that makes your cause truly unique.
Proof points: A handful of statements that directly support and provide evidence for the theme or slogan.
For instance, if your slogan is "24 hours to make a difference," weave your proof points into your posts throughout the day. Describe how donations made during the 24 hours of your giving day can make a difference on campus and in the lives of students.
2: Embrace Multi-Channel Communication
A successful giving day requires a lot of hype. Your college's giving day (in the eyes of a marketer) is essentially the same as a product launch or storefront opening—to make your kickoff successful you need to communicate with everyone you want involved more than once and on more than one platform.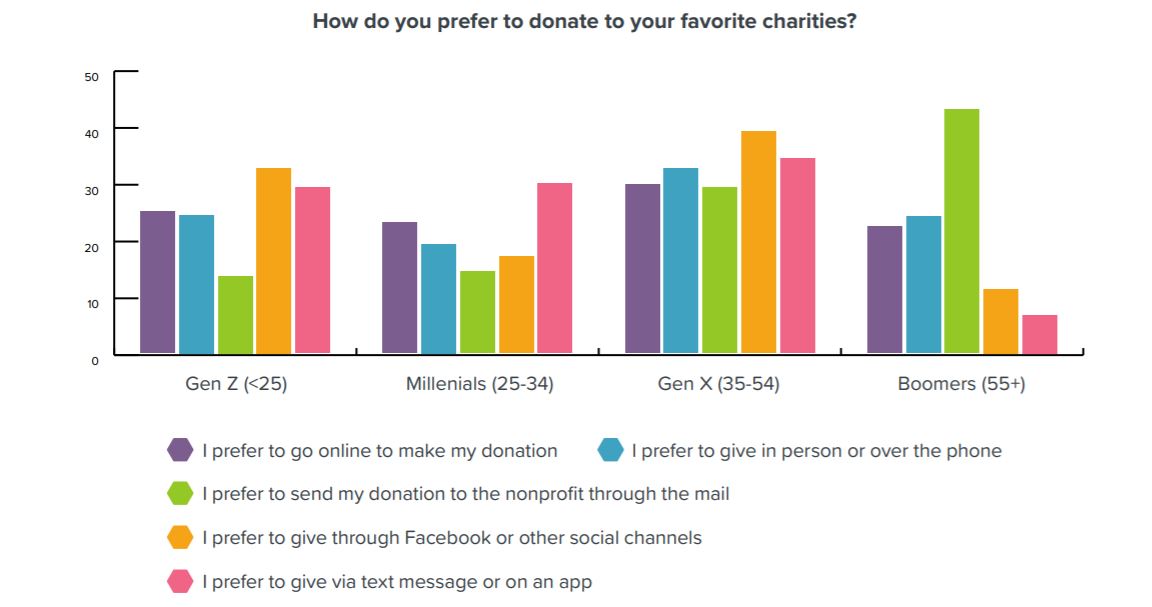 After surveying over 1,300 donors for our Generational Giving Report, we discovered even more evidence in favor of a multi-channel approach. The fact is different generations prefer to give in different ways. Your class of '83 alumni will prefer to donate via mail while your current students will prefer making a gift directly through social media. So send out a direct mail appeal to your older alumni informing them of your 24 hour giving day; post hourly on social media with updates, asks, and messaging that thanks your alumni and donors for their generosity; and send emails with asks and challenge announcements.
3: Work with Major Donors to Create Matching Gifts
84% of donors say they're more likely to give if a match is offered. So, creating different matching gift opportunities for your giving day will compel more of your audience to donate.
Ask your major donors if they'd be willing to help motivate others to give by matching donations up to a certain amount. You can publicly share the donor's name on social media or in an email and say, "John Smith, Class of '79, will be matching all donations made to the College of Arts and Sciences up to $4,000. Don't miss the opportunity to have your gift doubled!" If your major donor prefers to remain anonymous that's alright too—remind them that their generosity will still inspire others to give and have a ripple effect across your campus community.
If you strategically space your matching gifts throughout your 24-hour giving day you can create a continuous stream of momentum. You can use matching gifts to create a kickoff challenge for your giving day, spur giving during the final hours of your campaign, or even encourage giving to specific departments on campus.
4: Recruit Social Ambassadors
Recruiting a network of social ambassadors can increase the number of people who see your giving day posts by hundreds—even thousands. The average Facebook user has 338 friends. If you have a group of just five supporters share your giving day posts on Facebook you've reached an additional 1,600 people! Social ambassadors exist to increase the visibility of your fundraising campaign resulting in more donations to your college.
You'll want to kick off creating your social media ambassador program by identify the folks you want to be your ambassadors. The people you add to your list should be active on social media. If someone has only 20 Facebook friends and hasn't logged into their social media accounts since 2011, they're not the right candidate for your social ambassador program. When adding people to your list, consider people that fall into the following categories:
Donors
Volunteers
Local officials who support your nonprofit
Alumni
Businesses that support or partner with your college/university
Faculty and staff
California State University San Marcos used "ambassador" language across all of their promotions.

Ask your ambassadors to do tasks that can be easily done by someone with a full-time job. To increase your fundraising success, and overall message reach, consider asking your ambassadors for the following:
Create their own public social media post to promote your giving day campaign and get the word out to their followers.
Share at least one of your college's giving day posts on social media.
Make their own list of 5-20 people they can ask to donate on your giving day.
To make being a social ambassador as easy as possible for those who agree to help, create a Google Drive folder or Dropbox folder where you can share sample posts and images for your ambassadors to use. Check out Giving Tuesday's toolkit for inspiration!
5: Brand Your Campaign
Determining the visuals and messaging you'll use for your giving day ahead of time ensures that your marketing and development teams have a clear framework to build appeals, graphics, and more. This design and messaging framework makes up your giving day's brand.
Create a clearly branded logo (preferably the name of your giving day campaign or slogan)that can be used on its own and overlaid on social media images, profile pictures, and print materials.
The event banner for California State University San Marcos Foundation below shows strong branding and even includes the event hashtag.

Collect high quality, emotional images from your events, classrooms, donors, or alumni. Use them to compel supporters to give to your college. To ensure your images are the right size for each social media platform, use our sizing cheat sheet. Throughout your giving day make sure your posts have visual consistency. Utilize a color scheme featured in your nonprofit's logo or website and add those colors to your posts.
Conclusion
If you begin planning your college's giving day a few months in advance you can tackle each of the five steps for success listed above. View your giving day as a broadened version of your most successful direct mail fundraising appeal, and you'll connect with your campus community in a powerful way.
For more resources on college fundraising best practices, check out these blog posts: