Donor retention matters! It's so important I'd argue it should drive your college's development strategy. Why? Because your college will lose over half of its donors every year. The Association of Fundraising Professionals (AFP) and the Center on Nonprofits and Philanthropy at the Urban Institute established the Fundraising Effectiveness Project (FEP) and discovered that donor retention hovers around 45%. Approximately 30% of first-time donors are retained, but if you can convince your new donors to give again your retention rate drastically increases to 64%!
Focusing on donor retention will save your development team thousands when it comes to donor acquisition and will prevent you from having to completely rebuild your donor pool after a few years. If you convince your first-time donors to make a second gift you've dramatically increased the odds they'll be retained by your organization.
1. Focus on your first-time donors
It's always exciting to see new gifts come in from alumni, parents, or friends who have never given before. Maybe the donation was the result of a cultivated relationship with a gift officer, or it came from a parent whose student was accepted into an athletic team. Things get a little less exciting, though, when you realize that only 20% of these new donors will give again next year.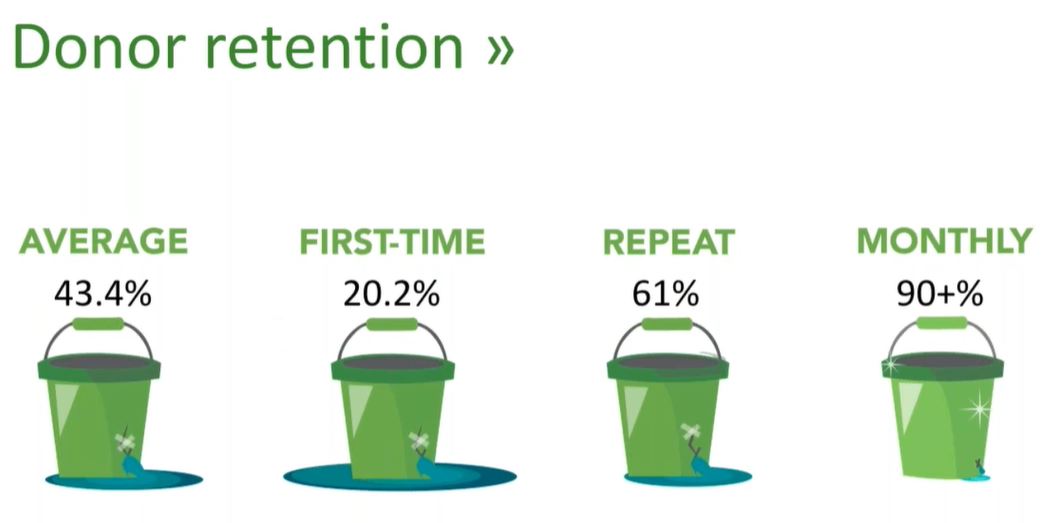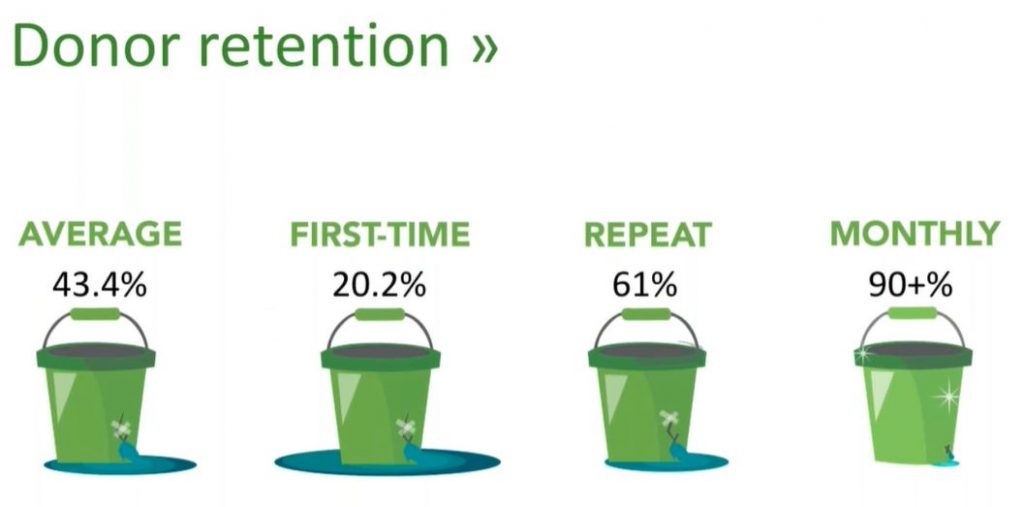 Your entire database is made up of first-time donors—everyone chose to make their first gift at some point. The trick is convincing these donors to give again. Once they've lapsed one year they are far less likely to give. According the FEP, if a donor lapses there is only a 5% chance they'll give again…and this percentage has been decreasing year after year. So, your mission should be to provide first-time donors with such an exceptional experience that they make a second gift. Once the second gift has been made you've drastically improved the odds that your college will retain them and convert them into a regular donor or, (the holy grail of all donors) a monthly donor.
2. A Timely Thank-You
The DonorVoice collaborated with around 250 different nonprofits to find out what they had done to keep about 1,200 donors loyal. A timely thank-you, a donor feeling appreciated, and receiving information on who benefits from their donation all fell within the top seven reasons a donor will keep giving. You can put these three things into one thank-you – and even into your gift receipt!
Ensure that all your donors receive a gift receipt and a thank-you—especially your first-time donors. Donors should receive these materials within three weeks of their donation. For your gift receipt, provide more than just a dollar and cents summary. Provide images and bullet points that describe the impact their donation will have and who it will benefit.
A thank you letter in addition to a well-crafted gift receipt lets your donors know how much you appreciate them and helps increase donor retention. Your thank you letter can be more visual than a gift receipt, so include pictures of programs, athletic teams, or scholarship recipients who have benefitted from donations. Provide different examples of how the donor's gift has been used effectively.
Take the time to truly describe the impact donations have at your college, much like you would in an appeal. But don't add an ask to your thank-you! At this point it's not a thank-you anymore and donors don't perceive it as true thankfulness.

3. Give your donors opportunities to provide feedback
In the same DonorVoice study, donors listed knowing what to expect with each interaction and being given opportunities to make their views known as reasons they remained loyal to an organization. Send your donors different surveys asking for their communication preferences, why they gave, their giving experience, or their opinion on different fundraising events! Asking your donors for their opinions makes them feel more connected to your college and can provide your development team with valuable insight.
Tools like SurveyMonkey, Google Forms, and Typeform are great for creating customizable surveys that can compile results quickly for your fundraising team. You can add these forms to emails, survey donors via your phonathon callers, and even attach them to a "Welcome to our Donor Family!" email.
Conclusion
By focusing on donor retention your development team can spend less on donor acquisition and build a donor base that will stick around longer. The effort your team spends on donor visits, appeals, and different donor events shouldn't result in over half your donors leaving each year! But without a donor retention strategy in place, it can. If you're looking for more resources to retain your donors check out our other blogs: