Baby Boomers are a force to be reckoned with: they represent one of the largest generations in American history! They dominate upper management and hold the majority of public office positions, and they're the group of donors that gives the most to nonprofit organizations.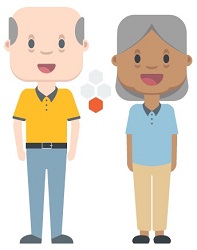 Because of their giving capacity, it's important for nonprofits to understand what their Baby Boomer donors want to see in appeals, updates, and communications from the organizations they support. Luckily, our recent Generational Giving Study offers a ton of insight into what inspires and motivates your Boomer donors. Here's what we found!
If you want to learn more about the other generations we surveyed for the study, you can read about them here:
Baby Boomers give seriously and practically
Baby Boomers are highly pragmatic donors. They prefer giving to nonprofits that are well-established and respected. They're very concerned about their gift being spent wisely, and they want to know that the money they donate will be used to make a real difference. Interestingly, donors from this generation tend to want a mix of digital and analogue communications from the organizations they support.
All these details come together to paint a picture of your Baby Boomer donors: they're practical donors who want to be sure their gift is used wisely to make an impact in their community.
How to attract Baby Boomer donors
32% of Baby Boomer donors we surveyed indicated that it's very important to them to know the organization they support is well-respected! To establish that they're giving to a worthy organization, Baby Boomers will check a nonprofit's financial reports, media coverage, and testimonials from friends and family. Help them find the information they want by making your financials easily accessible on your website and be sure to include testimonials from donors and volunteers in your marketing materials. 31% of donors will also check third-party evaluation websites like Charity Navigator and GuideStar. If you haven't claimed and updated your profiles on those sites, now's the time!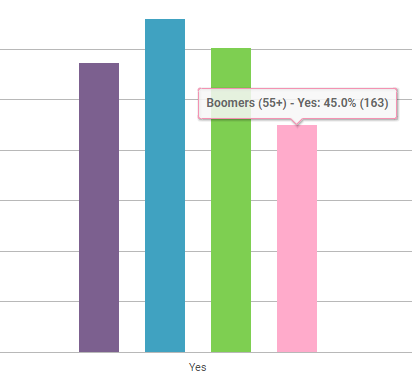 The results of our survey prove that direct mail isn't going away any time soon! A whopping 43% of Boomer donors prefer to give to their favorite nonprofits by sending a paper check through the mail. It's important to continue to send direct mail appeals to your active donors in this age group. If you haven't tried sending a direct mail appeal, it might be worth trying! When you send these appeals, make sure to appeal to Boomers' sense of pragmatism by highlighting how their gift will be used. Show them the work their money will achieve! It's not a bad idea to include subtle elements that highlight your nonprofit's track record of responsible spending, either: you might want to consider adding trust indicators like GuideStar or Charity Navigator seals or client testimonials to your mail appeals. Be sure to include a full-page remit slip (they're easier to fill out than those little tiny slips at the bottom of a page!) and a self-addressed stamped envelope they can use to mail back their donation.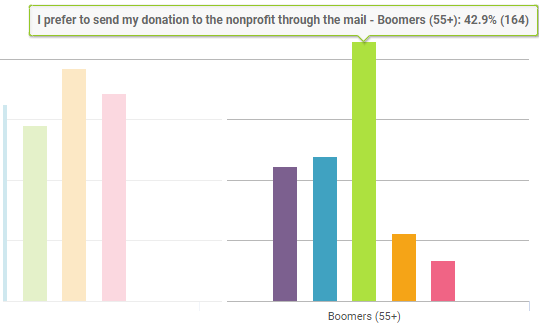 How to keep your Baby Boomer donors
Baby Boomers' communication preferences include a mix of digital and analogue channels. Interestingly, this group of donors generally prefers digital receipts for their analogue transactions: the largest group of the Boomers we surveyed (33%) preferred receiving their receipt by email as opposed to getting it in in the mail (25%). 50% of these donors want to receive their receipt within a week! Meet those expectations by having an automated receipt set up for online donations and a process for sending receipts to donors who gave by physical check. Try entering those donation details to your online donation processor and sending the same kind of receipt you send online donors or set aside time once or twice a week to process and acknowledge gifts by mail.
They may prefer to get their receipts by email, but 35% of the Baby Boomers we surveyed prefer receiving occasional updates by mail. That is, they preferred mail updates if they wanted updates at all! 31% of Baby Boomer donors indicated that they didn't want updates at all. Others indicated that they want to receive occasional updates. "Occasional" is the key word here—the most commonly-chosen preference was to receive an update once a quarter. If you're worried about when and how you should communicate with your donors in this age group, try surveying them! When you send email receipts, ask your donors to fill out a short survey so you can be sure to send them the information they want, when they want, in a way they want to receive it. Then stick to what they say!
The top reason our Baby Boomer survey respondents stopped supporting a charity they'd given to was feeling their money hadn't been used wisely. Remember, this group of donors is very concerned that their money is well-used! When you send them updates, be sure to reference their past gift and tell them what it accomplished before asking them to give again. The next most common reason was feeling that they were asked for money too often. Be deliberate about when and how you ask them for support, and don't overdo it. There's not a hard science to deciding when to ask, but you can evaluate the communication and update preferences they share in their survey to make an educated guess about when you should send appeals.
Conclusion
Right now, Baby Boomers are one of the most important groups of donors in your database. Appeal to their tendency towards pragmatism by making financial information about your nonprofit easily accessible and including client testimonials on your site and marketing assets. Create direct mail appeals that appeal to your donors' motivations and make it easy to give by including full-page remit slips and self-addressed stamped envelopes. Have a system in place that will help you send receipts promptly and use those receipts as an opportunity to survey your donors about their communication preferences. Then, use the survey results to determine when your donors want to receive updates and new appeals. Want to learn more about Baby Boomers' and other generations' preferences? Download the complete study!