Mobile Fundraising Isn't New
Mobile fundraising has been around for a while, but it's been an increasingly hot topic. This trend in fundraising is basic at its core. Why do donors prefer mobile fundraising?
For one, it's easy to give on the go. Instead of filling out multiple forms, mobile fundraising takes fewer clicks before the donation is completed. People want convenience, and mobile fundraising is convenient! Life is hectic, and technology has simplified many donation processes that can feel like hurdles.
Boost Donations Faster Than Ever
Let's face it: people are engulfed in their smartphones. Most people love how easy to use they are. The chances of people using their smartphone to pay for online purchases or bill paying is already high. Giving donors the option to use a device they already have in their hands increases the chance of a donation!
Mobile-friendly donation pages are a big part of this. Mobile-friendly pages saw a 34% conversion lift compared to standard pages. 34% is substantial for nonprofit donations! Content is notably decreased on these pages, and there are not as many fields to fill out. This can make or break a LOT of donations. Chances are, if your donor has to fill out a lot of fields or forms to make a donation, you've already lost it. Implementing a mobile-friendly form can help solve this issue.
Other great mobile fundraising options include text-to-give and mobile giving apps. To clarify, these are not one and the same! A text-to-give campaign is a great option for a specific event, while mobile fundraising is a broader term. With a mobile fundraising app, people can donate to their favored organizations at any time. Ease of use is a game changer. Instant gratification and technology go together; donors will feel compelled to give faster wherever they are. Nonprofits should be looking into mobile fundraising options now more than ever.
There Aren't Crazy Costs Attached to Mobile Fundraising
Most mobile fundraising tools aren't expensive. Saving time and money for a nonprofit is crucial, especially for nonprofits who who don't have a hefty budget for fundraising tools.
If you already have an online donation page, look at it on your phone. Is it mobile-friendly? Is your organization's whole website mobile-friendly? Making sure they're properly set up doesn't cost more than a careful eye for detail.  Make your form more mobile-friendly by eliminating long forms and fine print. Keep design elements minimal so the form will load more quickly on a mobile device. But be sure to brand the mobile donation form! Donors want to be sure they know who they are giving to, and ambiguity on your form can crush a donor's decision to give. Design your online donation forms so that all fields are displayed vertically and only fall into one column. This layout ensures that your donors will be able to view your form on their devices without having to pinch and scroll to see all the information.
Text giving used to be an expensive tool that only the most well-established nonprofits could afford. But that's changed! New innovations have helped text giving evolve, and those innovations have made it more accessible to nonprofits. Instead of paying high fees and waiting long periods of time for their money, nonprofits pay processing fees that are no different than they do for online donations. Many text giving services can easily be integrated with other fundraising software platforms, like your peer-to-peer software or CRM. This can help dramatically reduce costs.
Any nonprofit, small or large, can set up mobile fundraising easily. Whether you simply optimize your form to be mobile-friendly or spring for other mobile tools, it's within your grasp. Any situation that can increase donations due to a user-friendly tool while also saving money is a win-win.
Keeping Up with Current Trends
It's easy to think that only younger generations are using mobile devices, but don't be so fast to exclude older generations. Older donors are also actively using smartphones and mobile donation options. Not only does this type of fundraising open doors to varying ages, but it also makes your organization look like it's keeping up with current trends.
People buy products from their smartphones most of the time now, so security is a must. Does the term PCI-compliant ring a bell? It should! While keeping up with current trends is important, so is internet payment security. Maintaining a certificate for PCI-compliance lets donors know their information is safe and secure when paying with a credit card over the internet.
Texting is one of the biggest forms of communication today. Email is not often the go-to option anymore. Set up mobile fundraising through text messages (also known as SMS)! Texting may be a newer way of communicating, but it can also be an effective fundraising tool. Your donors already text their friends and family. Why not let them text to donate, too?
Nonprofits Thrive on Donations
Your nonprofit relies on donation. Mobile tools offer a seamless way to get them. They also increase revenue (and donor retention)! Donors will want to continue giving to an organization if it is a convenient and easy process. Don't get left behind; start exploring mobile fundraising tools now. Let donors know their contribution is valuable by being considerate of their time. It helps them and you! Mobile fundraising is a valuable tool to add to your organization's toolbox.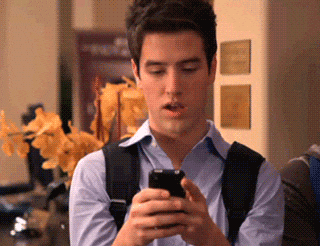 The look of satisfaction after an easy mobile donation!