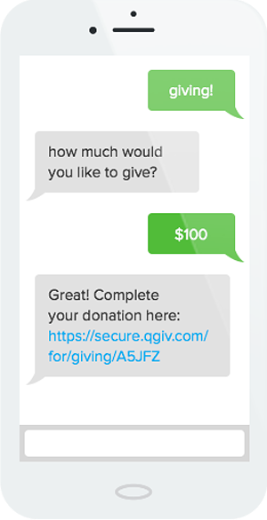 What Exactly Is Text-to-Give?
Text-to-give is a mobile fundraising method in which supporters donate to your nonprofit through text messaging. Your organization will need text giving software to open this option up to your supporters.
Why Is It a Great Fundraising Method?
Text giving is quick and easy for both donors and nonprofits. Plus, since it utilizes a channel that donors use daily, it's one of the most accessible fundraising methods around!
Is Text-to-Give the Same as Mobile Giving?
While text-to-give falls under the umbrella of mobile giving, it's just one of many forms. To learn about all types of mobile giving, be sure to check out our guide on the subject!
Shopping Around for Text Giving Software
Realize the Benefits

Convenient
Text giving is located right in your donors' purses and pockets, making it one of the most convenient donation channels out there.
With instant access to giving, donors will be more inclined to complete their donation the minute the fancy strikes. And it only takes 2 steps!

Universal
Since text-to-give is a digital donation channel, it can be used by supporters all over the country. There's no need to be geographically close to your nonprofit to donate.
When the opportunity to give is available to more donors, your fundraising potential will soar!

Fast
Text giving is quick for both the donor and your nonprofit. On the donor's end, making a gift only takes 2 steps and limited information input.
On your nonprofit's end, you can expect donations to hit your account in just a few days. Fast money has a whole new meaning!

Familiar
Chances are, most of your donors text on a regular (if not daily) basis. That means they already know the required mobile giving tools inside and out!
Since your donors are already familiar with texting, they should catch on quickly and feel relatively comfortable using text-to-give.

Fluid
Many text giving services can easily be integrated with other fundraising software platforms, like your peer-to-peer software or CRM.
Integration makes your fundraising more fluid, since you'll automatically be able to capture all donor data and use it to inform your efforts.

Unique
Text-to-give is unlike any other fundraising channel, making it a great addition to any fundraising strategy. Offer it to your donors to give them more diversity.
The more giving options you provide your donors, the greater the chances that one will speak to their personal preferences. It never hurts to diversify!
Discover the Features
Unlimited Donations
Accept an unlimited number of contributions and set an unlimited amount of shortcodes to direct donations to different campaigns. There are no minimum or maximum amounts, so with mobile giving, the donations really are boundless!
Mobile-Friendly Donation Pages
Link up your various shortcodes with campaign-specific donation pages, which can be customized to your organization with unique fields and logos. All pages are guaranteed mobile-friendly, so they're intuitive and attractive on every device!
Recurring Gifts
Give donors the option to automate regular gifts so that they'll never forget to make a donation! You can even set multiple donation schedules (monthly, quarterly, yearly, etc.) to accommodate donors with various needs.
Donation Receipt Automation
Text giving software takes the hassle out of disseminating donation receipts. Automate email receipts to send out to your donors after they've completed a gift and even set custom messages to accompany them.
Secure Payment Processing
Process donations quickly and securely with PCI-compliant payment processing. With text-to-give, you'll receive contributions in just a few short days, without ever having to worry that your donors' information is safe.
Pick a Text-to-Give Software Provider
Before selecting text giving software, it's important to assess how frequently your organization will be using it.
While some organizations temporarily adopt text-to-give for a certain campaign such as a major capital campaign, others will implement it as a permanent fundraising channel that donors can use for any campaign.
Determine in advance which category your organization falls into. If you'll be using mobile giving regularly, you'll need to find a provider who offers multiple or unlimited shortcodes to accommodate more than one campaign. But if you're just going to use text-to-give as the last push to help you meet your fundraising goal for a big capital campaign, you don't need those more expensive features from your provider.
The Mobile Giving Foundation (MGF) is a nonprofit that was founded with the goal of encouraging more giving over mobile. They've developed relationships with 6 prominent mobile giving providers and multiple cell service carriers in an attempt to ease the text-to-give process.
While this partnership may seem beneficial, in reality it's not.
Mobile giving providers who fall under the Mobile Giving Foundation are subject to many disadvantageous rules and regulations, such as a $5-$10 maximum on donations. And, since they're partnered with cell service carriers, your nonprofit must split proceeds with the service provider.
While working with a MGF provider might be a better option in some cases, most of the time it will really limit your fundraising potential. To learn more, check out this article!
Of course, finding the right mobile giving software provider means working with someone whose service fits into your nonprofit's budget.
The important thing to remember is that costs can vary drastically between different fundraising software platforms, and text-to-give is no different. While some platforms may come as standalone services, others will come built into a greater suite of fundraising tools.
Not to mention, text giving software often has hidden costs, like payment processing, training, and maintenance fees.
Make sure that your organization has a firm grasp on what features you need and a thorough understanding of all costs before you sign a contract, or else you may end up with a solution that's far more expensive than you anticipated.
Many text-to-give providers offer additional services aside from the software itself, like assistance with setup, training, and maintenance.
Just as with price, the comprehensiveness of these services can vary significantly between vendors. For example, while some vendors offer personalized, face-to-face training services, others may only have prerecorded videos and documents to consult.
On top of that, these services may come at an additional cost.
Determine your needs beforehand, and shop for a vendor who strikes the perfect balance between price and the scope of services provided.
Your text giving donors will be submitting their confidential information through your organization's software.
As such, it's absolutely crucial to work with a provider who has the proper security measures in place.
Your provider should be PCI-compliant, meaning they adhere to the security regulations put forth by the Payment Card Industry (the governing body for digital transactions).
Working with a PCI-compliant processor ensures that your donors' information is handled properly and greatly reduces the chances that your organization will fall victim to fraud.
Your organization isn't only evaluating the text-to-give software; you're also evaluating the payment processor working behind the scenes.
To refresh, payment processors address the backend process that must occur to transfer the donation from the donor's bank account into your nonprofit's. Your software must be equipped with a payment processor to effectively accept donations.
As with most fundraising tools, how payment processing services are handled differs from vendor to vendor. Here's what you should be considering when it comes to text giving:
How much do payment processing services cost?
Which payment methods will we be able to accept? Which currencies?
How long will it take for funds to hit our account?
To make sure you have all of your mobile giving bases covered, don't fail to consider payment processing before you buy!
Launching a Text Giving Campaign
Prepare Your Text Giving Campaign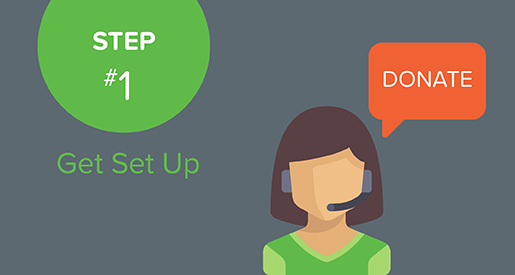 Step 1. Get Set Up
You've made all of the necessary considerations and have found the perfect text giving service. Now it's time to get set up with your software!
Here's what software setup looks like with Qgiv:
Register your account.
Determine a shortcode (or multiple shortcodes!) that reflects your campaign(s).
Call or email Qgiv to get your shortcode set up.
You'll also need to customize your online donation pages by picking and choosing which fields to include and by adding your logo (if desired).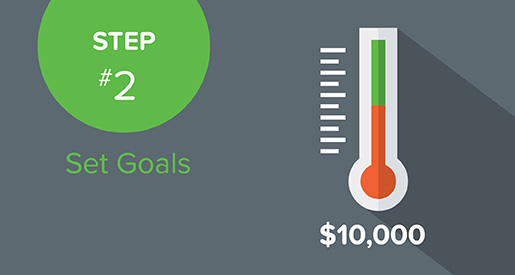 Step 2. Set Goals
As with any fundraising effort, your organization will have to set clear-cut goals if you expect your text-to-give campaign to be a success.
Having a goal in place will help direct your efforts, ensure that you and your team are on the same page, and give you a benchmark to measure your performance by.
Not only that, but clearly defining your campaign will help you establish more trust with your donors. After all, most supporters feel more comfortable giving when they know exactly where their money is going and that it's going to a cause or project they can get behind!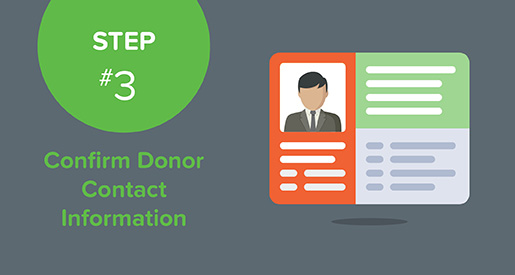 Step 3. Confirm Donor Contact Information
Since you're rolling out an entirely new fundraising channel, a huge part of your text giving campaign will consist of marketing.
In order for that marketing to be successful, you'll need to be able to get in touch with your donors!
Now is the perfect time to spruce up your database and send an email blast to your supporters asking them to confirm their contact information.
That way, everyone will know about the opportunity to text their donations!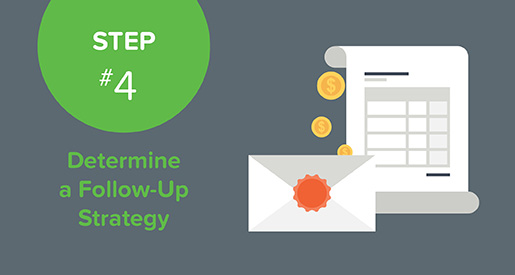 Step 4. Determine a Follow-Up Strategy
To ensure you're able to keep building on the relationships established (or furthered) through text-to-give, your organization will need to have a well-thought-out follow-up strategy in place.
Develop a plan for how you're going to acknowledge donors after their donations and for how you're going to handle all of the data you collect through this channel.
Luckily, software can help in both cases. Your mobile giving software can automate donation receipts and initial follow-ups after donors have given, while integrating your text giving software with your nonprofit CRM will automate data collection in your donor profiles.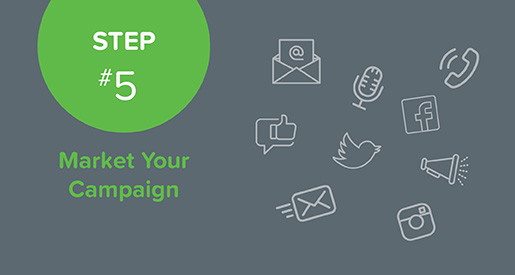 Step 5. Market Your Campaign
Your tools and strategy are all set up. Now it's time to start sharing text-to-give with your donors!
To maximize your reach, promote text giving through all channels, including offline channels like fundraising events, print advertising, and direct mail.
Additionally, it's important to take an explanatory approach when promoting mobile giving. Many of your donors have never used this service before, so giving them a brief rundown of how it works will make them feel much more confident utilizing it.
For more details on how to market text-to-give, jump down to the next section!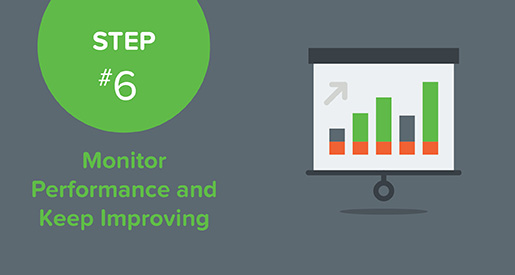 Step 6. Monitor Performance and Keep Improving
If you've thought through all of these considerations, there's no reason why your text giving campaign shouldn't be successful!
However, that doesn't mean that it couldn't be even better. Making the most out of text-to-give takes practice and some degree of trial and error.
Throughout your mobile giving campaign you should regularly monitor your performance and make adjustments where necessary.
You can evaluate objectively by using the reporting module in your software and more subjectively by seeing how you're stacking up to your initial goal.
Direct Mail
While some may claim it's going out of vogue, direct mail is still a fundraising method that's heavily relied upon.
By letting recipients know they can respond to your ask over text, they'll have the ability to choose the most convenient method for them, whether that be text giving or not.
When you're sending out a piece of communication that could be followed by donations, mention that text giving is a donation option and give donors the number and shortcode(s) specific to your nonprofit.
Social Media
Social media is another communication method that's often accessed over mobile. People need to take it on the go to receive updates about their networks and keep in touch.
How you market text giving will depend on which social media site you're posting on. All platforms have different parameters, so you'll need to tweak your message slightly for each.
Feature your number and shortcode as prominently as possible. And, as always, provide donors with a link to where they can learn more.
Email
As digital channels, email and mobile go hand in hand. Many donors check their inboxes on their smartphones, so donating over text is an easy and convenient next step.
Always include information about text-to-give in email appeals. You can also include a direct link to your mobile-friendly online donation page to provide another mobile giving option.
Don't forget to walk donors through the steps of text giving. It can be helpful to put this information on your website's "Ways to Give" page to keep your emails short.
Custom Events
Text-to-give was made for nonprofits that need a reliable way to accept donations on the go. Of course, one of the main times you'll be out of the office is when hosting fundraising events.
Anytime you're hosting an event with text-to-give, donors can give freely throughout the night. Make sure to place signs promoting text giving around the venue walking them through the steps!
Not only is text giving portable, but it's also universal. Your donors already have phones, so text giving is the perfect donation option!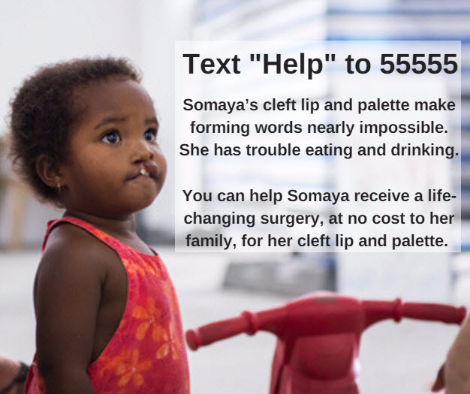 This image is incredibly effective in a marketing campaign.
The text tells readers exactly what they can do and how they can help while the image portrays a powerful picture of the individual in need.
This tactic provides a means for emotional attachment while describing the issue at hand and solutions.
Follow Text Giving Best Practices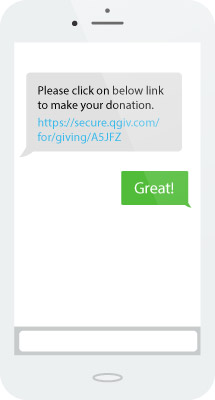 Determine a Simple Shortcode
Your shortcode will be how your donors' text donations wade through a sea of messages to find their way to your nonprofit. It couldn't be more important to optimize it!
While your shortcode will need to be somewhat unique to work (basics like "DONATE" and "CHURCH" are likely already taken), you should still choose a common word.
If your shortcode is too out there, autocorrect will likely adjust it, reducing the chances that donations will actually make it to your organization.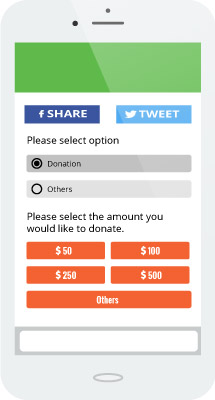 Design a Mobile-Friendly Donation Page
Your donors will naturally be accessing your text-to-give donation page from their phones, so it's crucial that your nonprofit has designed your page with mobile in mind.
While most text giving services should automatically make your page mobile-responsive, there are still a couple of things you can do to ensure your page looks and functions great on mobile.
Minimize required fields, use large text, and don't cram your page with design elements to keep your form easy to complete (and maximize conversion rates!).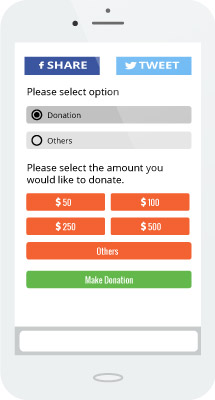 Keep Your Donation Form Short
Another part of maximizing completed donations is keeping your donation page as short as possible. Brevity is especially important on mobile, where forms are more difficult to fill out.
Although it can be tempting to cull additional information about your donors, keeping required fields to an absolute minimum will help you raise more through text-to-give.
Your donors' names, contact information, and payment information should all be required. If you want to include other fields, make sure they're optional.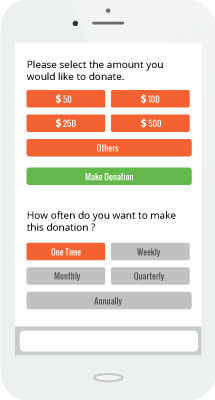 Offer Recurring Gift Automation
With many text giving services (Qgiv included!) nonprofits can place a field on their donation form where donors can set up automated recurring gifts.
If your nonprofit has access to this feature, take advantage of it! You can even set multiple giving schedules to provide donors with more flexibility.
Automating recurring gifts makes it much more convenient for your donors to give on a regular basis—and there's no risk of them forgetting to do so!
Learn the Truth Behind Text-to-Give Myths
The Truth:
If you're using a text-to-give service that's part of the Mobile Giving Foundation, your organization will be subject to a $5-$10 cap on donations.
However, there are tons of vendors out there who don't fall under this umbrella. If you choose to work with one of them, there should be no limit on the donation amounts you can accept.
Donors can give $5, $10, $100…as much as they want!
The Truth:
Since text giving is a relatively new technology, many nonprofits make the mistaken assumption that only younger donors will use it.
But that couldn't be farther from the truth! It may surprise you, but the average text-to-give donor is actually a college-educated woman between the ages of 49-59.
However, that's not the only demographic who practices text giving. A vast majority of American adults own smartphones, so there's an excellent chance that many of your donors would find mobile giving a convenient and accessible option.
The Truth:
In earlier versions of text giving it could take months for the nonprofit to see the donations they had collected.
That's because original iterations of text-to-give tacked donations onto the donor's phone bill, meaning the donor had to receive and pay their bill before the donation could actually be completed.
Luckily, most text-to-give services don't operate this way anymore. Most have built-in payment processing that handles donation transactions separately from cell service carrier charges.
Since donations no longer have to go through the service provider, mobile giving is a much speedier process. Your organization should see text-to-give funds in a mere matter of days!
The Truth:
Text-to-give services that charged donations to the donor's phone bill also presented another downside: cell service carriers took a portion of the proceeds.
Luckily, the way text giving is handled has been transformed. Now that text giving services are equipped with their own payment processors, cell service carriers won't even see your donations.
That being the case, your nonprofit won't have to split the money you raise with your donors' service providers. 
Instead, more money can go directly toward your cause, which is the way it should be!
The Truth:
Many nonprofits are hesitant to adopt text-to-give because they worry that their donors' sensitive information will be put in jeopardy.
It can certainly seem intimidating to run transactions in cyberspace. However, since they were built specifically to handle sensitive information, digital fundraising platforms are arguably more secure than offline channels.
All (legitimate) text giving services adhere to PCI-compliance, regulatory security standards set out by the Payment Card Industry to keep payee information safe.
If you're working with a trusted service, there's no reason why your donors' information shouldn't be secure. Many services even have additional security features that you can implement for added peace of mind.
Additional Text Giving Resources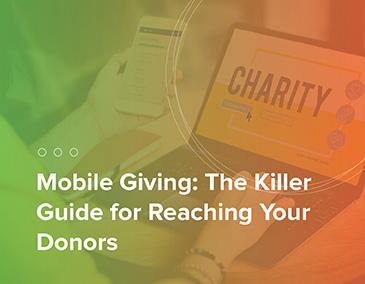 Text-to-give is only one form of mobile giving. Learn all the ways you can implement mobile giving as part of your fundraising strategy—and why you should!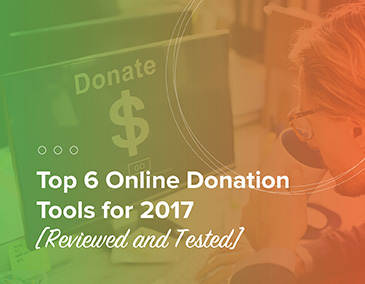 Text giving is an important part of any digital fundraising strategy. Check out our favorite online donation tools to take your fundraising even further.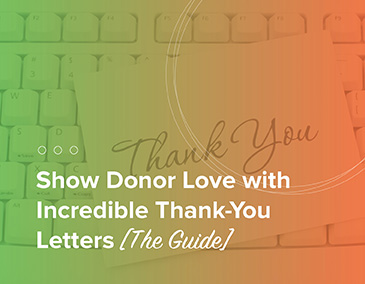 Don't forget to thank your text-to-give donors! Read our guide to thank-you letters to learn the best practices for showing your appreciation.