Believe it or not, your online donation form can be a huge deterrent to giving. Donation forms that have multiple steps and required fields, don't look secure, aren't mobile friendly, or are hard to find can keep donors from making gifts you could use to make a difference. Use these tips to make your online donation process efficient and intuitive to prevent donors from giving up on your giving forms.
Keep donation forms short and simple
Your donation form shouldn't require a PhD and an hour to complete. Instead, keep your donation forms as short as possible. Endlessly scrolling down a page is a quick way to make donors give up. Nonprofits should aim for a donation form that is either one page of short tasks, or breaks the forms into a few short, easy steps. The best forms don't require a lot of time and energy to complete.
An important acronym to remember when building your donation form is K.I.S.S (Keep it short and simple). If you only had two minutes to donate before moving on with your day, could you do it with your donation form? Or is your donation form a chore?
Put your form to the test by having people who aren't familiar with your donation form make a mock gift. They should fill out all required fields up to the submit button. Time them and ask them for feedback. Let them know it's also okay to give up if your form is too hard to fill out. This lets you know if your form is serving your donors' needs or your organization's own interests. Your focus for your donation form should be donor experience. They're the ones who fill it out!
If your form is too long and complicated, ask yourself if you need all those required fields and custom questions. Chances are, you're asking for a lot of optional info donors don't have time to give. Remember that less is more. Long donation forms are intimidating to donors. Break down your donation form into a couple short, easy steps and your donors will complete their gifts confidently.

Secure your site
Identity theft and data breaches happen often. Many consumers are wary of giving out their personal information online out of fear of having it stolen. This problem can be compounded if your donation form doesn't make it clear that it's a secure way for donors to support you. When donors arrive on your donation form, are they seeing a padlock in front of the URL?

If not, this indicates they're on an unsecure page. Those pages are risky when sharing your information. Find a way to secure your page or your donors will leave without considering making a gift.
In fact, go a step further and display your security certificates on your form. At the bottom of all Qgiv forms, for instance, a badge informs donors that the page is secured and who secures it.

Help donors give on the go
According to United States census data from 2018, more than two-thirds of households access the internet using mobile devices. That means that many, if not most, of the visitors to your donation form are on mobile devices. If your donation form isn't mobile responsive, completing your form can be anything from annoying to impossible. The World Advertising Research Center predicts that 72.6 percent of internet users will be mobile-only users by 2025. If your form isn't mobile-ready, you'll be missing out. If your website and donation form don't look good on smartphones, take steps now to make your entire website mobile responsive.

Make your donation form easy to find
Donor drop off can happen when users have started filling out your form, but how many are turning away before they've even found it? Burying a donation form under a mountain of text or requiring users to search for the donation form link on your web page can be as big a deterrent as a bad form. Keep a link prominently displayed on the header of each page on your site. Have a donation page explaining how donations are used, but keep it separate from your form itself. Your form should start at the top of the page it's embedded on, so donors don't have to scroll to see it. If it's buried under text, it can be easy to miss.
Go a step further by creating a Donate Now button that donors can click on to go straight to your donation form. Make your button a color that contrasts (but complements!) the other colors in your navigation menu to make it even easier to find.

Create a stellar confirmation page
After donors give, they want to be assured their gift was received and is appreciated. Customizing your confirmation page is a great way to reassure donors. You can also use this space to invite donors to stay connected with your nonprofit or share your donation page on social media.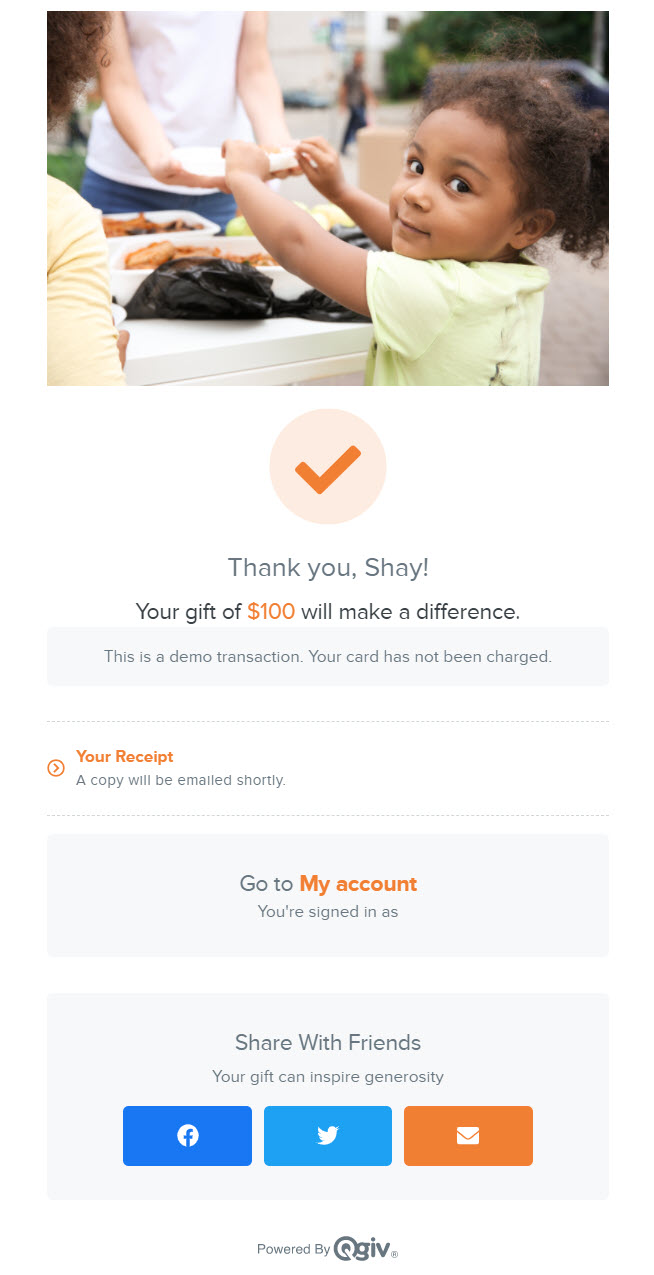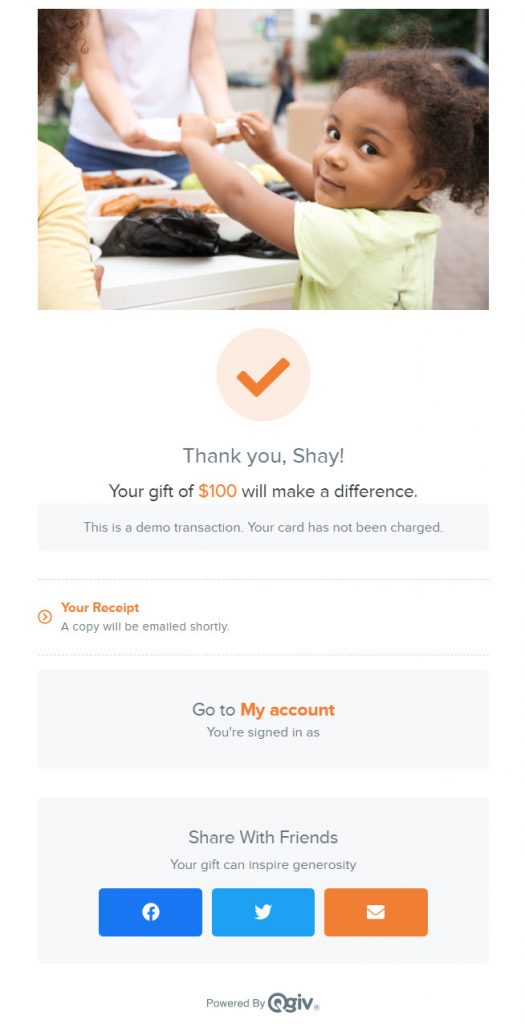 Conclusion
Your donation form can be a great asset or a hindrance to you depending on its usability. Forms that are long and laborious will cause donors to give up before they've finished filling it out. Unsecured donation forms could be scaring your donors away. Forms that aren't mobile responsive can frustrate donors trying to give over the phone. Worse yet is a donation form your donors can't seem to find. By keeping your form short and simple, securing your site, making your pages mobile friendly, and your donation page prominent in your website header, you'll cut down on donor drop off and secure more donations.