As you conduct daily operations at your nonprofit, you'll find that getting your nonprofit's development strategy right is one of the most important pieces of the nonprofit management process. After all, nonprofits need gifts and donations to sustain them, no matter what their mission or goals might be.
That's why you have to develop a fundraising strategy for your nonprofit that consists of a variety of different approaches, reflects elements like campaign strategies and budget planning, and helps your organization meet its goals.
Your nonprofit's fundraising strategy can't achieve its aims without the proper goals and workload distribution. This means that you'll have to take a look at crafting a foolproof development plan.
Development plans are the cornerstone of any successful fundraising effort, but if you're wondering how to create just the right nonprofit development plan that will meet your organization's needs, you might feel a bit lost.
If that's the case, have no fear! There are a multitude of ways to improve your nonprofit's development plan. So when working with your organization's development strategy, it's a great idea to:
With these ideas in mind, take a look at your organization's development plan and search for any room for potential improvement. You might find that, although your organization is already skilled in coordinating workloads and developing timelines, your long-term goals might be a bit hazy.Keep on reading to find out some fantastic methods to turn your organization's development plan into the best fundraising asset it can possibly be.
1. Work with your development director to identify organizational goals.
The first step in any solid development plan should be identifying what your organization hopes to achieve with its current strategy.
Besides being the primary caretaker for all your nonprofit's fundraising and development needs, your development director should understand their responsibilities in the context of the development plan itself.
Similarly, the other core team members of your nonprofit (including your major gifts officer, your board, your marketing director, etc.) should all come to understand your organization's chief goals, such as donor retention or prospect stewardship, as well as how your development director plans to achieve them.
As you assess your current nonprofit development plan and determine where improvements can be made, work with your development director to:
Determine long-term goals for your organization.
What are you aiming to change within your organization during your next fundraising campaign? If your nonprofit is looking to grow, this could mean you'll need a different nonprofit development plan than an organization that is looking to improve the skills of its current team members.
Create a goal chart to guide your team during this process. This can be done by identifying both financial goals and growth-based milestones during the development process. For example, setting a goal for obtaining a certain number of major donors can be paired with an increase in donor retention percentage. You can then visualize these goals on a chart in order to understand their relation to one another.
No matter what, it's important that any goals you set for your organization are SMART goals. Setting goals that are specific, measurable, achievable, realistic, and timely will make a big difference, and help set your nonprofit up for success!
Identify areas of organizational improvement.
Every organization—nonprofits included—makes mistakes. Your development director should be able to look at past campaigns and examine where the plan failed and where the execution came up short. Then, work with your development director to address these previous difficulties and make sure they don't arise in the future. While this can be a frustrating process, it will be well worth your organization's time.
For example, your team can look back on the goals of past campaigns and identify where you missed the mark in reaching those goals. Did you fail to steward enough prospects? Was your fundraising goal too high?
Once you've identified where your nonprofit has missed the mark in the past, come up with a plan of action for how you'd overcome those challenges in future campaigns.
Remember how important it is that all members of your team collaborate. It is valuable for everyone to hear each members—from board and development directors to regular staff members—throughout the planning process. This way, everyone in your organization will be on the same page about what needs to be done during the fundraising phase of your development plan.
Align perspectives across your staff and board.
Get feedback from your staff and board members on past fundraising efforts, how they feel about current development strategies, and where they see the organization going in the future. All of these perspectives should be factored into how your development director sets the plans for your upcoming fundraising strategy. Make sure, too, that these members of your team cooperate with your development director and other leadership on setting unified goals for the organization as a whole.
As you discuss your nonprofit's development plan, ask these team members to provide a list of key questions to determine their perspective.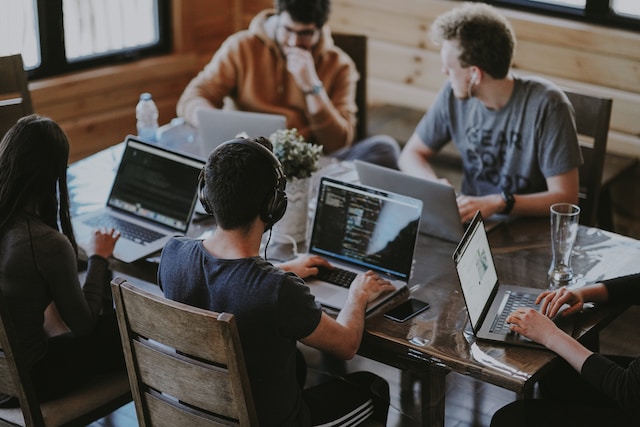 2. Create a fundraising calendar for your nonprofit's development plan.
Not all nonprofit development plans are well-coordinated, and one of the most common roadblocks nonprofits face is failing to set aside enough time for their plan to successfully play out.
All too often, nonprofits set development plan deadlines before determining their goals. This can lead to campaigns arbitrarily ending before reaching their maturation. You wouldn't want to send sponsorship letters before determining your campaign goals, would you? Similarly, many nonprofits fail to appropriately pace their campaigns, leading to confusion behind the scenes for members across the team.
To help your nonprofit set an achievable timeline and pace your fundraising efforts, create a fundraising calendar during your nonprofit's development planning process. A fundraising calendar not only helps your development officers in achieving their goals, but it also helps everyone at your nonprofit follow a clear and understandable workflow.
If you're trying to design the optimal calendar for your nonprofit's development plan, you should:
Use your calendar to help set a fundraising timeline. Having a reasonable and achievable goal for your nonprofit development plan is essential to executing the plan properly. However, you also have a time frame in which that goal must be completed. Once you realize what your goals are and what steps need to be taken in order to reach them, a calendar becomes an absolute necessity when planning those goals in a clear-minded manner. If you need to raise $10,000 by January and must plan two events to do so, using a calendar to plan out the timelines of those two events will only make the fundraising process that much easier.
Plan a timeline for internal activities. Client-facing action is always the most significant part of any nonprofit's development plan, but what goes on behind the scenes at your organization will make up a part of your team's time as well. Don't forget to include time on your calendar for your team's internal activity in addition to the typical client-facing events that you already plan for.
Use the calendar to pace your fundraising efforts. Aside from the major goals that your team is working to achieve during the fundraising process, you'll want to set smaller milestones for different facets of your development plan as well. Fundraising benchmarks are a helpful way to know how much progress your organization is making towards the end goal for all your campaigns.
Take a look at this example of a nonprofit's fundraising calendar. It shows how highlighting your priorities on a clearly designed timeline can both simplify the fundraising process and organize your future nonprofit development plans.
Not only are calendars like these helpful for understanding your goals, you'll find they are essential to maintaining your nonprofit's development at a reasonable pace.
Use these tips to outline a fundraising calendar that will allow your team to be efficient and helpful. If everything is synchronized with the calendar, then the rest of your fundraising process will become that much easier.
3. Use your nonprofit development plan to distribute team responsibilities.
Unclear workload distribution can throw a wrench into any good development plan. So understanding how specific parts of your organization fit into your fundraising strategy should be a top priority. If you need to perform prospect research and event-planning, you can't have one part of your organization focused on implementing peer-to-peer fundraising strategies while the other is concentrating on retaining major donors.
Once you have a plan in place, you should be able to distribute teamwork and an overall workload with relative ease, although at times you will need to refer to your plan in order to make sure all tasks are clearly and carefully stated.
At any point in creating your nonprofit's development plan, you can easily help your staff by trying to:
Set clear goals for specific arms of your organization. Not only should your nonprofit development plan have long-term goals for your organization as a whole and smaller milestones for those big goals, it should also have goals set for specific branches of your nonprofit. For example, your marketing team could set goals for its donor prospecting strategies on social media or through print media. Or your events team could try to bring in a certain amount of revenue from the fundraising events they're holding that year. These goals will help keep each specific part of your nonprofit accountable to the overall success of your plan.
Share your plan with team members to keep everyone accountable. Make sure that your team members know the plan well and by the book. Take the time to ensure that your staff fully understands your organization's expectations during the fundraising process. Even if you think this phase could waste potential time in the future, proper communication often pays off tenfold.
Regularly check in with your team to confirm you're on track to reach goals. Even though a nonprofit's development plan occurs in the initial phase of the fundraising process, your development officers and team should always refer to the plan throughout the entire campaign to make sure they are following it correctly. This will help eliminate confusion during the rest of your organization's fundraising process, which will make it much more effective in the long run.
In order to help your team understand the unique roles they play in the success of your nonprofit's development plan, create a detailed goal chart breaking down the individual goals for your team members. This will look like the goal chart you've created previously, but will focus more on specific parts of your nonprofit's development process.
Keep these suggestions in mind when you're thinking about the best ways to distribute labor among your development officers. Not all nonprofits work in the same way, so make sure to account for the particular structure of your organization and how you can best accommodate the goals you've set earlier in the process.
We can't say enough about how helpful a careful and well-thought-out nonprofit development plan can ease logistical and financial headaches later on in the fundraising process. Anything from a shortage of funds to inefficient teamwork can be addressed with a clever development strategy.
Even nonprofits with streamlined fundraising campaigns and small teams (or teams of one) can reexamine their development plans and discover possible sites of improvement, with issues such as vague organizational goals or a poorly oriented workflow.
It should be clear, then, that refining your nonprofit's development plan is a necessary step in the fundraising process. Without an organized workflow and concrete goals, you might find that your development strategy loses serious momentum.
But, with these suggestions, you can get started on fine-tuning your fundraising strategy to make sure your nonprofit is working at its most efficient and effective pace!
Additional Fundraising Resources
For more resources on nonprofit fundraising best practices, check out these fundraising articles:
Text Fundraising to Grow Annual Fundraising. If you need to find a way to meet your nonprofit's fundraising goals, text fundraising can function as an excellent tool to do so. Learn how text fundraising can help generate growth! 
Online fundraising. Online fundraising is an essential part of any development plan. Make sure to take a look at this article to see if you're prioritizing the right steps in your online campaign.
Planning for Success: What is a Monthly Giving Program? Any concrete development strategy should include a plan for increasing recurring gifts. Can a monthly giving program help your organization achieve your goals?