Social media is an important channel of communication for connecting with your donors and supporters. Over 4.26 billion people were using social media worldwide in 2021, and that number is only expected to increase over time. Chances are, your donor base is included in that number, making your nonprofit's presence on social media and developing your nonprofit social media strategy just that much more important for attracting potential new donors and engaging with your loyal supporters.
With social media, you can connect with your donors in real time and give them information about the work you're doing and a peek behind the curtain at the people that make your mission a success. You can show them why their support matters and how they can make a positive impact on the world. And beyond that, you can expand your reach to find even more like-minded people who would resonate with your mission and be interested in supporting your organization.
However, creating a strong social media presence isn't as simple as writing a post and hitting "send" or taking a few pictures and uploading them online. To maximize your potential across social media platforms, it's essential to create a nonprofit social media strategy. Here are a few steps to help you get started on your social media journey!
How to Create a Nonprofit Social Media Strategy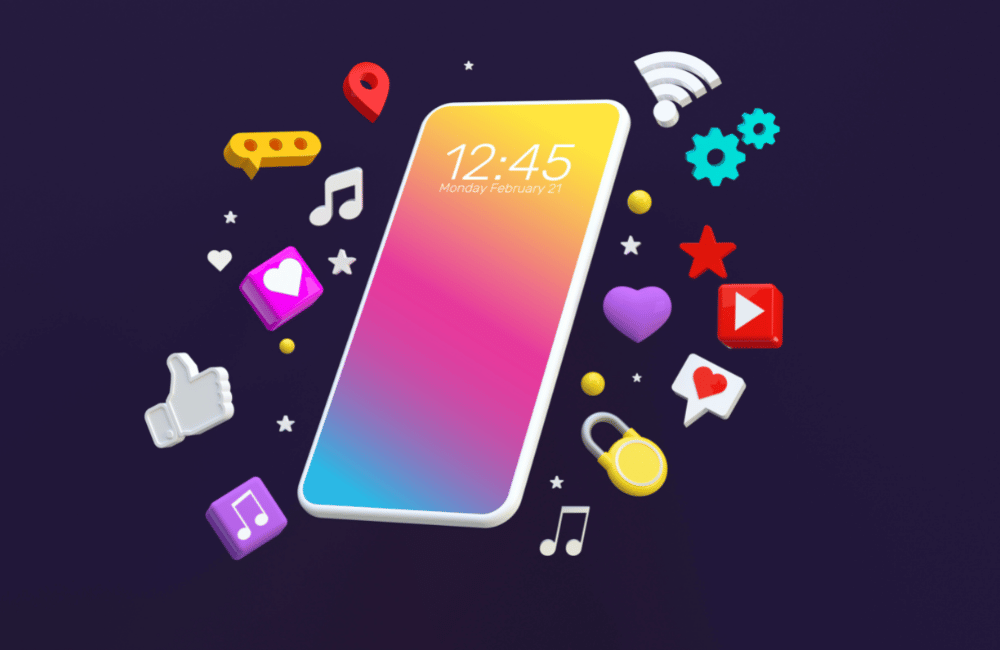 Set SMART goals
The first step to creating your social media strategy is to establish your social media goals. Your goals should always be SMART goals to ensure that you can easily measure your progress throughout the year and understand how to tweak your strategy to reach your goals. SMART goals are goals that are specific, measurable, achievable, relevant, and time bound.
The best way to determine if your goals are SMART is to figure out how you'll measure your success. Choose useful metrics that track things like your engagement, impressions, reach, referrals, and conversion rates. Use your past social media statistics to inform your current goals and to make sure they're realistic.
You can also check out other organizations' social media presence to help you establish your goals. What do you see on their profiles that you like? What don't you like? What kinds of strategies do they use that are successful for them? Your peers can be some of the most important resources for your organization when figuring out how to create your strategy.
---
Build your audience persona
When you're posting on social media, you want to ensure that you're posting with purpose. Hitting "send" on a post without considering your audience or who you want to reach won't help your organization create a robust social media presence and truly connect with your supporters. Instead, build an audience persona to guide the creation of your social media posts and content.
When you make your audience persona, first consider your current donors. What do they like? What platforms are they active on? Then, to expand your reach and attract new faces, ask yourself who you want to see your posts. What would those people be interested in? Knowing the answers to these questions can help you create content and social media that attracts people's attention and draws new donors to your website.
---
Develop your brand
To get people to recognize your social media posts and associate them with your organization on sight, you have to develop your brand. Use your organization's brand colors, fonts, and logos in all of the pictures and videos you post on social media. By sticking to your brand, your social media presence will feel more cohesive and help other people connect with your content.
You should also work to develop your brand's voice and language across your social media profiles. Make sure it's authentic and true to your organization's culture. When your social media followers and donors see your social media posts, they should be able to gain an accurate picture of what your organization is all about.
---
Determine what channels to use
With new social media platforms popping up every day, it can be difficult to determine what platforms to focus your attention on. While it's ideal to be active wherever you can expand your reach and where your donors are active, when you don't have the resources to maintain a social media presence on every platform, your nonprofit's social media strategy will suffer.
Instead, with the audience persona you've put together and the goals you've established, figure out what platforms you should focus your content strategy efforts on. Each platform has a different purpose and caters to different audiences.
For example, Instagram is primarily a picture and video-sharing platform which means you should focus on creating attention-grabbing visuals to do well on Instagram. Meanwhile, LinkedIn is a social media platform geared toward professionals meaning that your posts on LinkedIn should be more formal and structured than on other platforms for more engagement.
If you need help figuring out which channels to focus on, search for other nonprofits on social media platforms and check out where they focus their efforts. If you know of other organizations who have a similar donor base to yours, it can be helpful to see where others have found some success and try to emulate that for yourself.
---
Put together a content strategy
After you've established what platforms to post on, it's time to put together your content strategy. Your content strategy is the heart of your nonprofit social media strategy and determines what types of content you'll post on your social media platforms to engage your donors and followers and when you'll post them.
1. Focus on storytelling
Every nonprofit has a story, but how do you tell yours? The most important part of any content strategy is honing your storytelling skills. You need to set your organization apart from others and build a strong connection with your followers and donors. With social media, you can start sharing about your organization's mission in a powerful, comprehensive way.
Start by sharing about the people you've impacted through your work to explain how your organization is making a difference. Give your followers a peek behind the curtain to look at the work your volunteers and staff members do. Use pictures and videos to draw your audience in and enhance the stories you're telling.
2. Use eye-catching imagery
On photo-sharing platforms, you should always make sure to use eye-catching images and graphics to drive engagement and get people's attention. People are drawn to other people, so some of your content strategy relies on getting pictures of people in the communities you help, your staff, volunteers, and anyone else who makes your mission possible.
Every picture you're posting should also meet the same high-quality standards. You don't ever want to post blurry photos or pictures with content that doesn't accurately reflect your organization's values. Each social media post you create should go through a few rounds of reviews to ensure that you're posting the best possible content!
3. Keep branding consistent
You should also ensure that you keep your branding consistent across all of your posts. This keeps your social media presence looking cohesive and also helps people that come across your content online recognize that it's from your organization. While it's always a good idea to be creative and mix things up sometimes, everything you put online should accurately reflect your organization's values, culture, and mission.
4. Develop a social media calendar
A social media calendar helps you keep track of what you're posting and when you're posting it across all of your social media platforms. Establish a regular frequency for posting on each of your social media platforms so your donors and supporters regularly see your content and hear from your organization. Your calendar will also keep your social media team on the same page and help you stay organized on all of your platforms.
5. Have fun!
Social media is an important way of keeping in touch with your donors and supporters, but above all, it's supposed to be fun! Your posts don't have to be perfect, cookie-cutter social media posts all the time. Recently, social media users have been trending towards engaging with posts that have a more casual feel to them, so don't be afraid to show off your organization's culture and fun side!
---
Drive engagement
While posting on social media, how are you making sure that your followers are connecting with your content? Driving engagement with your social media posts is an important part of your nonprofit social media strategy. It's the best way to expand your organization's reach and make sure that you're in touch with the people that matter.
One of the best ways to drive engagement is by using strong CTAs in your posts. If you're not sure what your audience will respond to, test out different types of CTAs from post to post until you figure out what your supporters connect with. That could differ from platform to platform so it's important to figure out what works for your audience.
If you want to ensure that your posts are reaching the right people, targeted ads and hashtags are a great resource for you. By investing in ads and including hashtags in your posts, you can create content and pick and choose the audience who gets to see it based on demographic user data and common interests. That way, you know your supporters are seeing your posts and you can also attract new potential donors who may not have heard of your organization otherwise.
Once you've crafted the perfect message and hit "post," your work isn't done yet. To drive engagement, you should also invite people to interact with your posts and ultimately make a donation to your organization. A great way of doing this is by engaging with the people that comment and share your content. Respond to comments and thank your donors for sharing your posts with their own network of friends. When your followers feel like they're being seen by your organization, they'll be more likely to stay engaged and donate.
---
Track your results
To improve your social media performance, it's important to know how well your posts are doing. Tracking your results can help you figure out what's working in your social media strategy and what isn't. One of the best ways to do this is by picking a time to check in with your social media performance and stick to it. You can do this at the end of every month, every few weeks, or whatever time you feel makes the most sense for your organization. Whatever timeline you choose, make sure you're checking in regularly.
Use the KPIs you established while making your goals to gauge how well your posts are performing and whether your audience is engaging with your content. Metrics can help you visualize what posts are successful in connecting with your supporters and what posts aren't getting attention. Based on the statistics you pull, you can figure out what you're doing well at and what areas of your strategy need special attention or improvement.
---
Final thoughts
Connecting with your donors and supporters on social media is a great way to keep them engaged when they're not donating or attending a fundraising event. Creating a comprehensive social media strategy is the best way to ensure that you're doing everything you can to increase your organization's visibility and keep your nonprofit's mission top of mind for all of your supporters.