If your nonprofit is looking for a bold way to attract attention and raise money for your cause, an over the edge fundraiser is a great solution. Over the edge events aren't new. But, they persist as an effective fundraiser.
Why? Because over the edge fundraisers offer a memorable experience that donors won't soon forget!
Is an over the edge event right for your nonprofit? Read on to learn more about what an over the edge event is, why they work, and how you can get the most out of this type of fundraising event.
What is an over the edge fundraiser?
Over the edge events are a unique type of fundraiser that combines motivation through competition with a once-in-a-lifetime experience for your most successful donors. Typically, donors fundraise for the opportunity to take part in the activity. Because participation is limited, this event offers an exclusive activity for your top fundraisers.
The activity? Rappelling over the edge of a building. This kind of event is perfect for donors motivated by unique experiences.
Rappelling events are great for encouraging friendly competition–not every fundraiser gets to participate in the rappelling. Rappelling takes time and each participant will need to be fitted with special equipment and taught how to rappel before descending.
So how do you choose who rappels?
That choice is determined by fundraising. The top fundraisers at your event get the exclusive privilege of taking part in the rappelling activity. Your other fundraisers can watch the fun unfold and cheer on participants from the ground or via an online livestream of the activity.
The exclusiveness of the activity has led donors to raise thousands of dollars through peer-to-peer fundraising to take part in an over the edge event.
Is an over the edge fundraiser right for your nonprofit?
As you might've guessed, over the edge fundraisers aren't right for every organization. This event type typically attracts participants looking for a unique, outdoor experience doing a physical activity. If your supporters aren't the outdoorsy type, you may have trouble finding enough participants to create the necessary fundraising competition.
Other issues you may run into that deter you from hosting an over the edge event are:
Not being able to secure an over the edge event license
Or not having a donor base that's willing to fundraise on your behalf
A lack of corporate sponsors willing to take part in fundraising could also be difficult
That said, if you've got a group of motivated donors looking for a unique event experience, the daring nature of an over the edge fundraiser could make this a profitable fundraiser for your nonprofit. I mean, who wouldn't want to fundraise for a chance to feel like the star of an action movie?
Not only that, but over the edge fundraisers are safe and accessible to most people. Over the Edge has been partnering with nonprofits to host rappelling fundraisers since 2008. These events are designed to garner a lot of press and have been shown to attract new supporters to nonprofits. That can make this fundraising event incredibly profitable for your nonprofit.
Over the Edge events are easily modifiable for social distancing
Worried about hosting an in-person event with the ongoing pandemic? Luckily, over the edge events make it easy to impose social distancing and limit the number of people allowed to gather together.
Rappelers choose a time to take part and only two rappelers rappel at the same time. When it's their turn, their equipment is sanitized before use, all volunteers, staff, and participants wear masks, and rappelers descend on different sides of the building. Meanwhile, your staff can livestream the event to supporters and participants waiting for their turn.
Check out this video explaining how Big Brothers Big Sisters of the Mississippi Valley kept their participants safe during their 2020 Over the Edge event.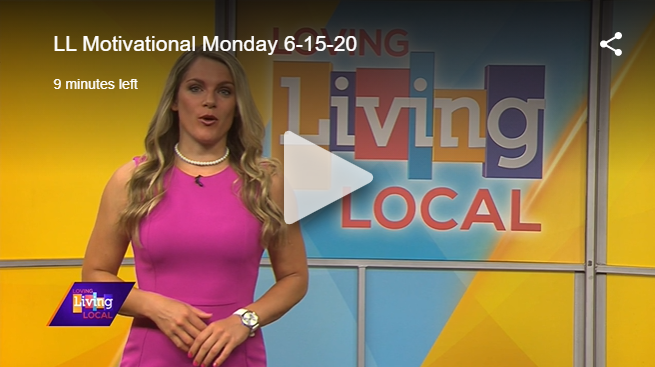 How to host a successful over the edge event
Over the edge events can be extremely beneficial from both a profit-generating standpoint and a donor retention standpoint. But just because you have donors chomping at the bit to take part doesn't mean your event will be successful. Read on for tips to maximize the potential of your over the edge fundraiser.
Tips from Over the Edge
We reached out to Over the Edge, the company responsible for helping many nonprofits host this successful type of fundraiser, for their tips on how to make your over the edge event successful. Here are their suggestions:
Get the media involved early
Get the media involved early and keep them involved throughout

Over the Edge plans each fundraiser as a two-day event. The first day is for media and often involves VIPs from local media groups taking part in the activity. This type of event gives your organization a lot of exposure, which can drive donations and earn you additional supporters and participants.
These events are a big deal and Over the Edge's exclusive licenses make this big news in your service area. Make sure local radio, tv, and other news outlets are aware of your event. Better yet, get them to take part!
Set a minimum fundraising goal
Set a minimum fundraising goal for each participant of $1,000 and provide them the tools to raise more than that amount

This event works by motivating through healthy competition. There are a select few rappelling spots available. Donors often exceed the $1,000 minimum by large amounts to guarantee they can participate.
Additionally, corporate sponsors can host a "send your boss over the edge" challenge where employees give to send their boss over the edge. This tactic can be especially fruitful if you give the boss the opportunity to match or beat the donation amount their employees raised to send someone over in their place.
Promote your event on social media
Promote your event on social media using a social calendar

Consistent promotion is key to attracting participants to the event and drive fundraising
If you host this type of event annually, provide highlights from previous years' events by posting short videos and images.
Have a plan when talking about your over the edge fundraising event on social media so that you're approaching event promotion in a strategic, effective way.
Qgiv Client Greater Miami Youth for Christ did a great job sharing livestreamed video of their event on social media. Check out the rappelling video they shared on their Facebook page: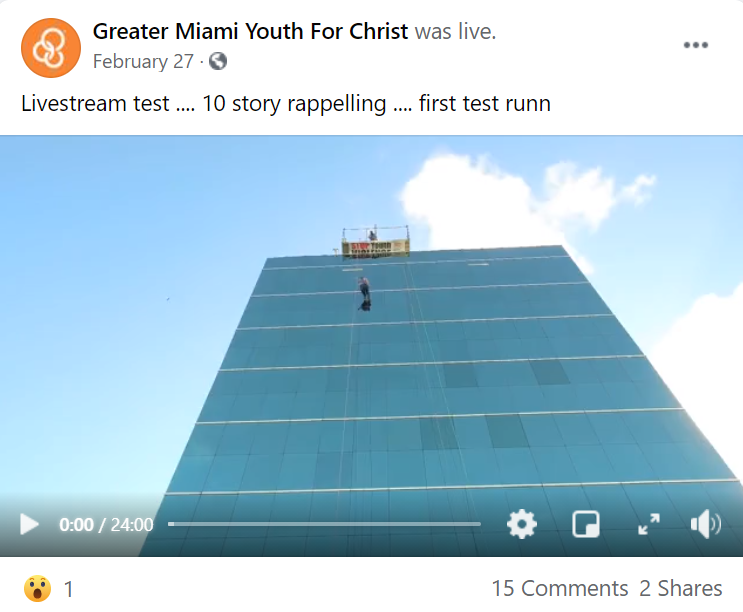 These tips are a great way to make your over the edge event profitable. We've added some more additional success tips based on what we've seen from Qgiv clients who've hosted this type of event.
Motivating donors is key
This type of event relies on having supporters who are interested in taking part in unique experiences. If your donor database is full of supporters jumping at the chance to take part, you need to make them earn their spot at the top. The goal is to encourage peer-to-peer fundraising for the opportunity to rappel.
While participants fundraise on your behalf, your job is to keep them motivated. Post frequent fundraising updates, add a leaderboard to your event page, and also make it clear that only a select few will earn the chance to participate in the activity.
If there's a huge fundraising gap between your top fundraisers and the rest of the pack, then consider adding additional incentives to keep participants fundraising. Exclusive event merchandise like t-shirts, water bottles, and recyclable bags can keep spirits high even if they can't catch up to your other fundraisers.
Give yourself time to prep
As you can imagine, getting permission to use a building can take a while. Over the Edge helps you find a building and carries the insurance you need, but finding the right location for rappelling takes time. You're also setting lofty goals for participant fundraisers. Give your supporters enough time to raise serious funds for your event. According to Kevin Meyer, a member of Over the Edge's strategic partnership team, "On average, Over the Edge events raise $135,000." Getting to six figures can take a lot of time, especially considering this event type has an average of 68 fundraising participants.
Give yourself plenty of prep time to secure the location, reach out to local media companies to get coverage, and develop your social media calendar. Then, give participants enough time to fundraise. The less time fundraisers have to raise funds, the less they'll raise.
Conclusion
Over the edge fundraisers can be a highly profitable type of event for the right nonprofit organizations. If you have supporters motivated by unique experiences, then this event type is right for you. Be sure to give yourself time to nail down the details and find a reliable vendor to help you succeed. Then, use our tips to maximize the fundraising potential of your over the edge event.
For this type of event, competition is key to your success. You have to motivate your participants to fundraise on your behalf. For more peer-to-peer fundraising tips, watch this webinar for four ways to inspire your peer-to-peer participants. Then sign up for a one-on-one demo to see how our peer-to-peer software works.
Ready to host your own Over the Edge fundraising event? Contact Over the Edge to see if one of their exclusive event licenses is available in your area.