Having the right people in the room is the deciding factor between a good event and a great one. But how do you know who to invite to upcoming events? Reading donor signals is a key step in deciding who to invite to your events!
At Virtuous, we believe that the Responsive Fundraising Framework is foundational in helping fundraisers cultivate meaningful relationships with donors that increase generosity. Read on to learn more about how the responsive framework and donor signals can help you make sure to have the right people in the right room for the right event.
What Is The Responsive Framework?
The Responsive Framework is a repeatable four-step process that nonprofits use to treat every donor with the same personalized attention that they deserve. Through the steps of listen, connect, suggest, and learn — responsive nonprofits learn more about what is important to their donors and how to provide the most value.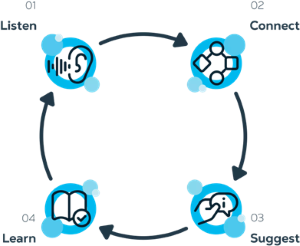 The Four Phases of Responsive Fundraising
Listen
Listening is where effectively reading donor signals is incredibly important. Responsive fundraising is fueled by these signals that equip you to deepen relationships as you move each donor through a journey with your cause. The result is increased donor loyalty, increased giving, and most importantly, a community of advocates who are intimately connected to your cause.
Connect
Giving, and even attending events, are deeply personal acts your supporters make. Your engagement should reflect that. Regardless of the channel (website, email, mail, or the phone) or medium (in-person or digitally) you want to connect with donors in a way that is one-to-one, contextual, and collaborative.
Suggest
Once you've established trust with your donors by listening and connecting in personal ways, you have an opportunity to suggest the next best steps that are the best fit for each individual. Sometimes, the best suggestion is not financial!
Learn
The only way to know for sure how well your initiatives are working for your nonprofit's supporters is to experiment and analyze the results. The data you receive for every event you run will help inform your next attempts. By continually learning as you go, you'll be able to be more responsive.
Listening to and Reading Donor Signals
The first step in the responsive framework is to Listen. When you have fundraising goals, it can be difficult to pause the action and focus on reading donor signals. However, doing this will greatly improve the effectiveness of your fundraising efforts.
What are Donor Signals?
Donor signals are really any feedback that your donors give you either directly or indirectly. Any piece of data in a vacuum may not tell you a lot, but taken together as a whole, reading donor signals can give you a holistic picture of who your supporters are and what they care about.
Donor signals that create direct feedback from your donors are typically communications that you actively solicit. Examples of direct donor signals include:
Surveys
Conversations with donors
Direct messages or tagging your organization on social media
Indirect signals are a bit less obvious, but no less valuable. Typically reading donor signals that are indirect requires some sort of software tools to gather that data. Examples of indirect donor signals include:
Social Media influence of your supporters
Geo-Targeting
Social and Wealth scoring data
Website activity
How do you track Donor Signals?
Tracking donor signals looks different at each organization. Staying organized with different forms of data typically requires a good nonprofit CRM. Robust profiles for all of your supporters where you can store all of their donor signals is important. From there, you can read the donor signals and take action. That process of tracking and reading donor signals elevates that data from simple information to actionable insights.
Some of the specific signals may require particular tools to gather that information. Social and wealth scoring is something that you may have an educated guess about, but there are platforms and integrations with your database that can provide verified information. You can always implement surveys with some basic free tools, or you can upgrade to more complex survey-specific software. The process and budget will depend on what makes sense for your organization.
How Should Reading Donor Signals Impact Your Events?
Donor signals and events are two tools that your organization can use together to get the right people in the right room. When starting to organize any event, the first question you should ask yourself is, "What is the desired outcome of this event?" The answer to that question will help you determine what donor signals matter the most.
For example, if the goal of your event is to spread awareness of your cause, look for supporters who have high social scores, are active on social media, and live in an area that is relevant to your mission. They are the most likely to be able to help spread the word to a larger audience rather than relying on your own audience.
If your goal is centered on fundraising, look at a combination of wealth scores and their overall engagement with your organization. Are they responding to surveys? Are they giving to you consistently? It's absolutely worth inviting people who have never engaged with your organization before, but asking your major donors who are engaged and have high wealth scores is going to be the most effective. Encourage them to bring guests to help bring new donors while ensuring you have some highly committed supporters attend as well.
Key Takeaways
While it can be tempting to invite everyone in your database, that is not always the most strategic option. Your supporters are giving you signals constantly about who they are, what they care about, and how they would like to be involved with your nonprofit. Reading donor signals can be the difference between a well-attended event that doesn't accomplish its goal and a strategic event that places the right people in the right room at the right time.
About Virtuous
Much more than a nonprofit CRM, Virtuous is the only responsive fundraising platform designed to help nonprofit teams build better donor relationships and increase impact with confidence. Virtuous helps unify fundraising, marketing, and donor development activities, ridding teams of redundant back-office tasks, and surfacing the insights and signals needed to deliver dynamic donor experiences at scale. Learn more at virtuous.org.