Sometimes other people are the best sources of inspiration. Artists inspire other artists, writers inspire other writers, and nonprofit fundraisers can inspire other nonprofit fundraisers.
If you're looking for an idea to spark your next virtual fundraising event, you're in luck. Here are three outstanding virtual event examples from other Qgiv users, plus a couple of ideas about how you can emulate their success.
A virtual fundraising gala: Seattle Shakespeare Company's annual "Bill's Bash"
Every year, the Seattle Shakespeare Company puts on "Bill's Bash," their annual gala and fundraiser. This year, they decided to take their gala online. Participants had a ton of fun opportunities to engage with the nonprofit (and each other!) through a virtual silent auction, downloadable coloring books, and a peer-to-peer fundraising component. Participants could even download exclusive Zoom backgrounds specifically for the event!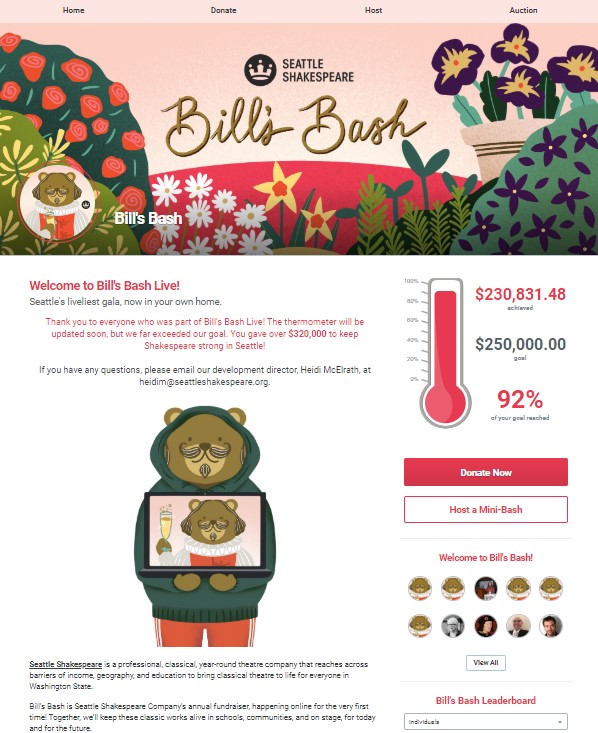 So what cues can you take from Bill's Bash to make your own event extra fun? You can:
Give people multiple ways to get involved
Not everyone wants to bid on auction items. And not everyone wants to throw their own virtual party to raise money on your behalf. But lots of people will donate or will do one or the other… and some will do all three!
Throw in some delightful surprises
I won't lie, I actually exclaimed when I saw the adorable Zoom backgrounds people could download and use as they attended this virtual event. They even offered a downloadable coloring book for the kids (and the more whimsical grown-ups) and—get this—printable Shakespeare ruffs people could print and wear to the event. Honestly. Throw in some delightful surprises likes these—your participants will exclaim just like I did.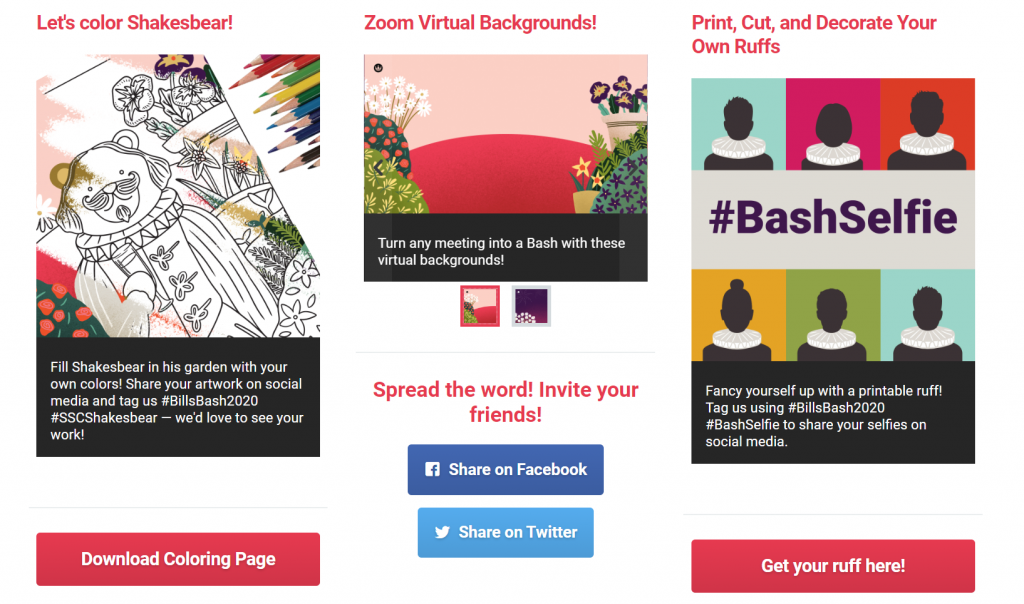 You can learn more about Bill's Bash right over here.
Flex your creativity with a totally novel virtual fundraising event
Save One Life, Inc. needed to host a fun, engaging fundraising event that let people participate from their homes. That's no easy feat! But they came up with the "At Home Everest Challenge," an online fundraising event where participants were encouraged to donate $29 to the organization and challenge 9 other friends to do the same. The event was meant to honor the anniversary that the executive director climbed Mt. Everest despite his hemophilia, so participants were also asked to climb 29 flights of stairs, walk 2.9 miles, swim 29 laps, or ride 29 miles (the height of Mt. Everest is 29,029 feet!).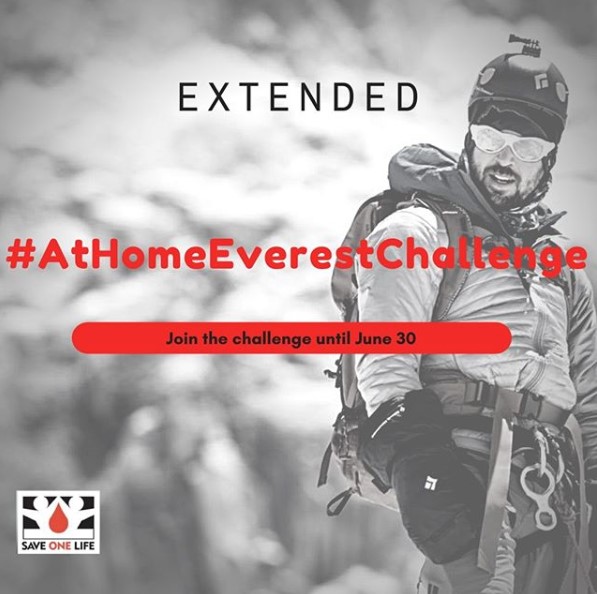 Want to try something similar? You should:
Brainstorm an event nobody's tried before
You've seen lots of people participate in 5ks and bike-a-thons. But have you seen someone climb 29 flights of stairs to make a difference? Probably not—it's never been done! What fun activity can you encourage your participants to try? How can you tie it to your organization?
Encourage participants to involve their friends
One upside of a virtual fundraising event is having opportunities to engage people in their homes that wouldn't otherwise participate. If you come up with a fun, easy activity that appeals to a broad audience, ask your participants to share with their friends and invite them to join the fun.
Try a virtual silent auction fundraiser
You've probably seen us talk about virtual silent auctions as great fundraising events. That's because so many of our clients have had such outstanding success! This screenshot is of an event put on by Family Restored. On top of having some pretty great auction items, they secured a matching gift from people willing to match any amount raised above $21,500. They also sold event merchandise!
What are some steps you can take to have a great virtual silent auction? Hint: this article on making your silent auction a virtual party is a good place to start!
Share how your donors' gifts will make a difference
See how Family Restored mentions how donations will help provide scholarships for those who need them? And how they show off how many scholarships they've been able to offer because of their donors? They're showing donors that they can trust the organization to make sure their money makes an impact to the people who will benefit from the scholarship program. When you're planning your event, show donors why they should participate and who will benefit from their participation.
Help people participate
Do you need people to download an app to bid on auction items? Are you encouraging people to raise money on your behalf? Do you want people to share their involvement with each other? Let them know how!
Conclusion
If you're running a virtual fundraising event and are looking for ideas, these three nonprofits are great sources of inspiration. Take cues from their events to delight donors, connect with people, and raise money—your event participants will thank you!