Ligers, tigons, and galas. Oh my! What do these things have in common? They're hybrids, of course! Obviously, a fundraising gala can be held in person or virtually, too. But the hybrid event format has proven to be highly effective for many kinds of fundraising events. Hybrid fundraisers are becoming more popular now that some areas are able to host small, in-person gatherings again. This event format combines the best elements of in-person and virtual events to create a more accessible guest experience that leads to raising more funds for your mission. So unlike the elusive liger, a hybrid event is probably within your reach.
While hybrid events are still somewhat new in the nonprofit world, that hasn't kept Qgiv clients from using this event format to host successful hybrid fundraisers. Need hybrid event inspiration? Check out these hybrid events we love and learn what makes them so great!
Phoenix Rising Football Club Charities' Sky Full of Stars Hybrid Event
The first notable hybrid event is Phoenix Rising's Sky Full of Stars. This gala event featured a silent auction event that was open to virtual and in-person guests. All guests were prepared a meal from Dominick's Steakhouse. The 100 in-person attendees enjoyed the event from the rooftop dining area of the restaurant while virtual guests received their meal to eat at home.
The event name was perfect for this gala event because guests were able to see the stars while enjoying the evening's festivities.
Are gala events like this one right for your nonprofit? Check out this blog post to find out.
Why we love this event
Attendance was capped at 100 in-person guests to make the live event feel more exclusive for select participants.
They livestreamed the event to ensure that supporters could watch the night's events from home if they weren't one of the 100 in-person guests.
The virtual attendees were able to enjoy the same meal as in-person guests. This helped connect virtual attendees to the live event experience.
The event banner was gorgeous and captured the theme of the event. They took the rooftop experience to a new level by incorporating the view into their event name. Their eye-catching event banner captured that theme well and added visual appeal to their fundraising event page.
Big Brothers Big Sisters of the Bluegrass' Hybrid Scavenger Hunt

Big Brothers Big Sisters of the Bluegrass put together a hybrid scavenger hunt event to replace Bowl for Kids' Sake, an indoor in-person fundraising event. They did this to avoid putting their supporters at risk. The in-person event takes place outside at Redmile Gaming and Racing. Virtual attendees take part via Zoom at the same time as the in-person event. Participants recruit their team of 4-6 participants and compete by completing challenges and fundraising. The challenges are designed to be family friendly and virtual attendees can take part from anywhere. Participants need to download a free scavenger hunt app, Eventzee, to take part and mark challenges complete.
Why we love this event
Teams earn points for fundraising. This incentivizes raising more during this fundraising event. There are prizes for top fundraisers and the bonus points for raising funds can improve scavenger hunt scores too!
The event is family friendly so participants of any age can take part.
Participants are encouraged to register early and start fundraising, which sets the event off on the right foot.
Teams have a time limit of one hour to complete challenges regardless of whether they're in-person or virtual guests. This makes judging the number of completed challenges fair for all participating teams.
Northern Illinois Food Bank's Fight Hunger 5K/10K Hybrid Event
The Fight Hunger 5K/10K hybrid event made it safe to participate in a healthy running event benefitting Northern Illinois Food Bank. Their hybrid event featured virtual participation where runners could choose their own routes. Virtual participants could complete their 5K or 10K any time between April 17th and April 24th. Virtual runners submitted their times via an app and received the same items as in-person guests.
A limited-capacity in-person race was also available at a park in Wheaton, Illinois. The in-person event used multiple races in the same category that began at different times to keep the number of people gathered at once to a minimum. Participants in the in-person event could not join the event until their race time and, once completed, could not stay for other races. This method was meant to keep in-person attendees safe and limit exposure to COVID-19.
Why we love this event
The staggered race times ensured in-person participants that all steps were taken to ensure their safety. This method of hosting the in-person event reassured a lot of people as in-person registration sold out.
A virtual participation option guaranteed runners could participate in the activity even if they weren't able to register for the in-person races. The flexibility of virtual participation made it possible for people to complete their 5K or 10K race using whatever means they wanted. Virtual guests could swim, walk, run, or bike for the event so long as they went the distance.
This event was more than a hybrid race, it's a fundraiser too! Northern Illinois Food Bank encouraged participants to fundraise during the event period. They set fundraising goals and created branded merchandise to give away as prizes to fundraisers as they hit specific fundraising milestones.
Donations to the event were matched up to $30,000. Northern Illinois Food Bank received a matching gift grant from a generous donor so that participants' donations could go even farther. Thanks to the matching gift and fundraising participants the event raised more than $180,000!
B'nai B'rith Camp's Send a Kid to Camp Golf Tournament
The B'nai Brith Send a Kid to Camp golf tournament leaned more heavily on the in-person event side. Golfers played a round on a local golf course and proceeds from the event were used to send kids to camp. However, great efforts were made to keep participants safe. They capped participants, limited the number of people who could ride in a single golf cart, and sent participants home with a meal kit rather than host a post-event dinner.
What made this a hybrid event was the auction they hosted. You didn't need to be a golfer to contribute to the event. Golfers and non-golfers could bid virtually on items during the auction portion of the event.
Why we love this event
Staggered start times and limiting participant numbers ensured the event stayed safe for golfers.
A virtual auction encouraged participation from non-golfers, which created an additional source of revenue for the fundraising event.
Sponsorship categories provided unique benefits for sponsors, which led to more than forty unique sponsors for the event.
Their event page features lot of photos from past events. Using photos from previous events gives attendees an idea of what to expect ahead of the event.
Need tips for your next golf event? We've got you covered!
Greater Miami Youth for Christ's Over the Edge Event
Greater Miami Youth for Christ hosts annual Over the Edge fundraising events. Because of COVID-19, they took extra steps to host their annual fundraiser as a hybrid event. While there were no options to participate virtually, the nonprofit made up for this by livestreaming the event. This made it possible for people who contributed to a friend or loved one's fundraising campaign to watch the participants rappel down the side of a building.
The nonprofit raises money to stop youth violence by offering a unique activity that participants must fundraise to take part in.
Why we love this event
Participants must hit a specific fundraising milestone before they can participate in the activity. This encourages participants to reach out to friends and family, host their own fundraisers, and seek out sponsors to ensure they get to participate.
They took extra steps to ensure safety during the pandemic. Equipment was sanitized after each use, only two participants can get ready and take part at a time, and non-participants could not enter the building with participants and staff.
Their event page in Qgiv made great use of different widgets to drive donations. They used the fundraising thermometer to track progress toward their fundraising goal. They also used the leaderboard widget so fundraisers could see where they ranked and give more to save their spot.
Lastly, the event was shared on Facebook and they used the Facebook Live tool to livestream the event on their page. Not only were their social media followers able to quickly find information about this event and register, but non-participants could watch the livestream on their Facebook page!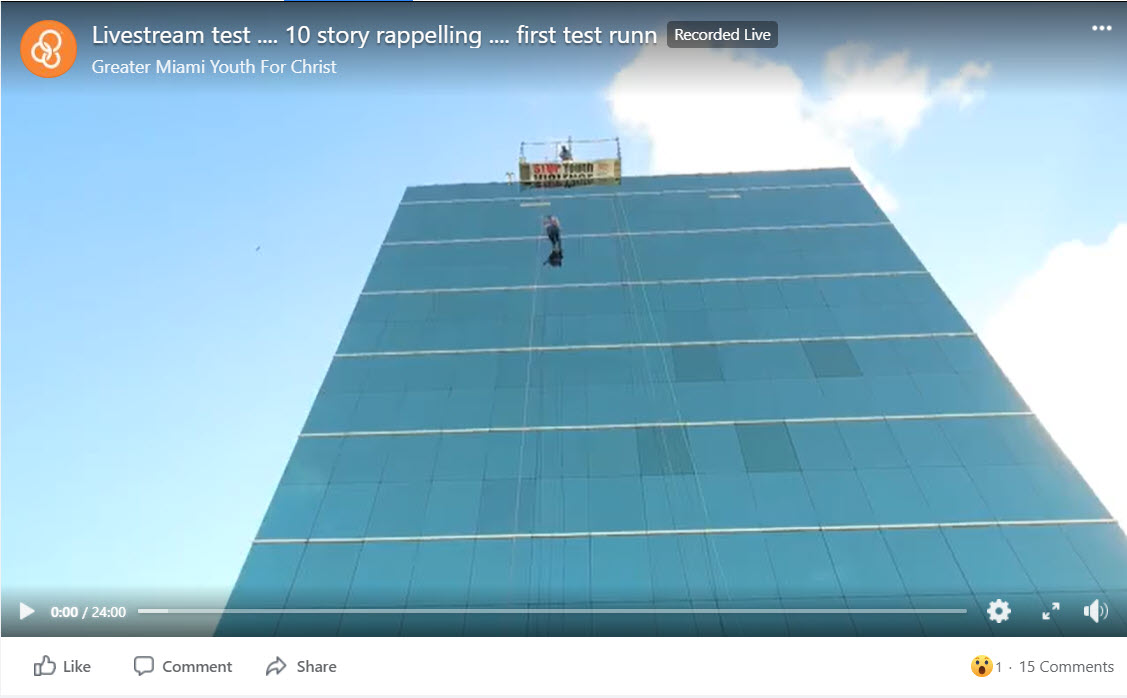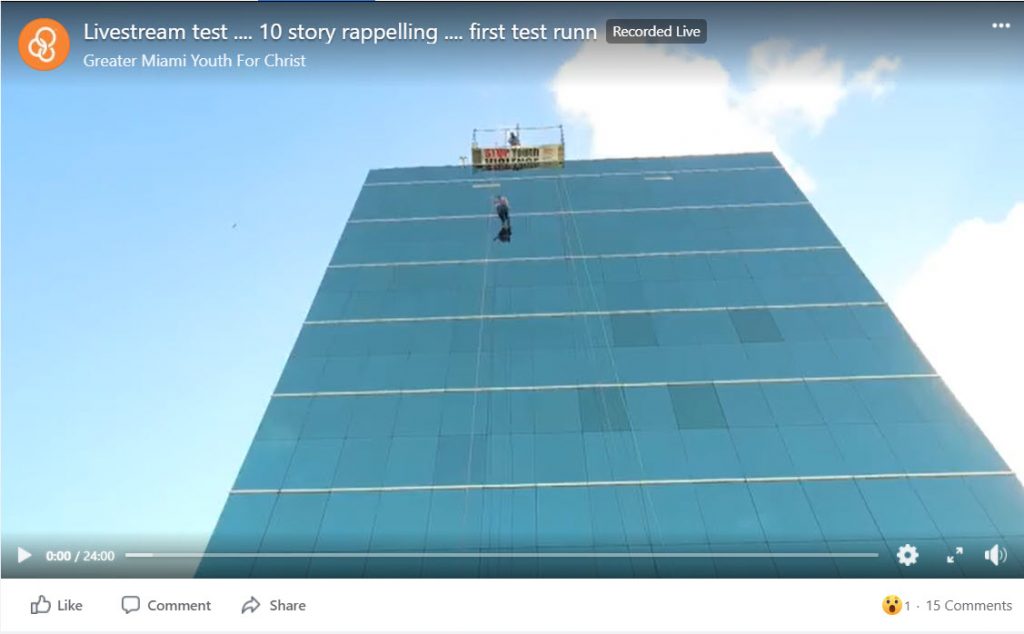 Want more information on Over the Edge events? Check out our blog post!
Conclusion
Hybrid events are taking the fundraising world by storm. Hybrid fundraisers give you the opportunity to attract fundraising participants from outside your service area. They also appeal to immunocompromised people who often must miss out on in-person events.
This event format can be helpful to nonprofits too! Our latest research study, Navigating The Unknown, found that while in-person attendees give more gifts, virtual attendees give gifts in higher dollar amounts. With a hybrid event, you get the best of both worlds, and can potentially raise a lot more!
Ready to give a hybrid event format a try? Read our hybrid event guide for tips to make your hybrid event more successful.