Your auction fundraiser can draw in huge crowds and earn a lot of bids, but only if guests sign up to take part. If your auction events aren't seeing enough registrants, your registration process may be to blame. Complicated auction registration forms can frustrate your supporters and keep them from completing signup. How do you overcome a faltering form? By using these auction registration form best practices to streamline your auction registration process!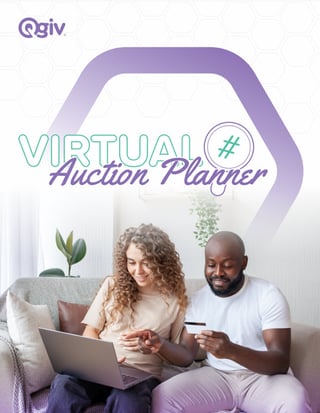 Looking for more tips to plan to your next auction? The Virtual Auction Planner can help!
Download Planner
Before you set up your auction registration form, know what you need
When you plan an auction fundraiser, accepting registrations may not be as simple as selling individual tickets. The format of your event, what you're selling before and after the event, how guests are participating, and participation limitations are key factors to consider before you start selling tickets. It's important to reflect on your auction details before building out your registration experience.
So before you set up your auction registration, consider the following questions:
Are you registering guests individually or by the table?
What's included with auction packages?
Is there a limit on the number of in-person participants?
Are you registering guests individually or by the table?
The first thing to consider is how you're selling tickets. If you're planning a fancy gala auction, groups of guests will likely want to sit together. On the other hand, if your silent auction is a virtual event with no seating arrangement, selling tickets by table wouldn't matter. For auctions that are sub-events, you may not even charge to participate in the auction because participants already registered for your main event. The key here is to think about the context of your event.
When determining your auction packages, consider what your guests will need. This determines how many different ticket packages you need to offer. You could offer single, double, or even a table's worth of tickets. It really depends on the event itself. To deliver the best experience, make sure there's an option that will appeal to your supporters.
What's included with auction packages?
Another consideration is what your guests will get with their ticket. For basic, virtual auctions or silent auction sub-events you don't have to offer anything beyond the ability to bid. But for hybrid or in-person auctions you might offer a meal, raffle tickets, or even branded merchandise.
If you're offering something special with your auction packages, be sure to describe it. Your supporters should know what they're getting when they register for your event. Additionally, you might be giving your attendees choices for meals or other items. If you need attendees to supply you with a choice, be sure to offer your available choices as custom fields on your registration form.
A custom field collects information outside of the bare minimum amount of data needed to process your registration. You can even make custom fields required so registrants for your auction must supply an answer. Your custom fields could take many different forms, such as a dropdown menu, checkbox, or text box.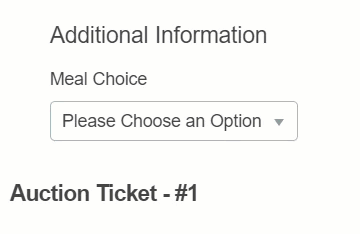 Determine if any custom fields are required of your registrants. Then be sure that those custom fields appear during the auction registration process.
Is there a limit on the number of in-person participants?
In the world of event planning, there's not much that's worse than unintentionally overselling an event. Often, this requires you to cancel registrations and disappoint donors. With auction fundraising software, you can manage ticket sales and ensure you never oversell a limited capacity event.
Social distancing during the pandemic showed the importance of limiting event capacity to ensure the safety of guests. If you want to maintain safe social distancing at your indoor auction event, it may require limiting in-person attendees. The ability to set a limit on the number of participant packages for sale is an answer to managing your event attendees.
You might also use this feature if you want to create an exclusive event for select participants. That's what the Phoenix Rising Football Club did for its Sky Full of Stars Hybrid Event. They sold a limited number of auction tickets for the in-person gala. There were an unlimited number of tickets available for virtual attendees, but only a select few got to experience the event in person.
Once you know what you need, it's time to build out your auction registration process.
Make sure your branding is visible on the form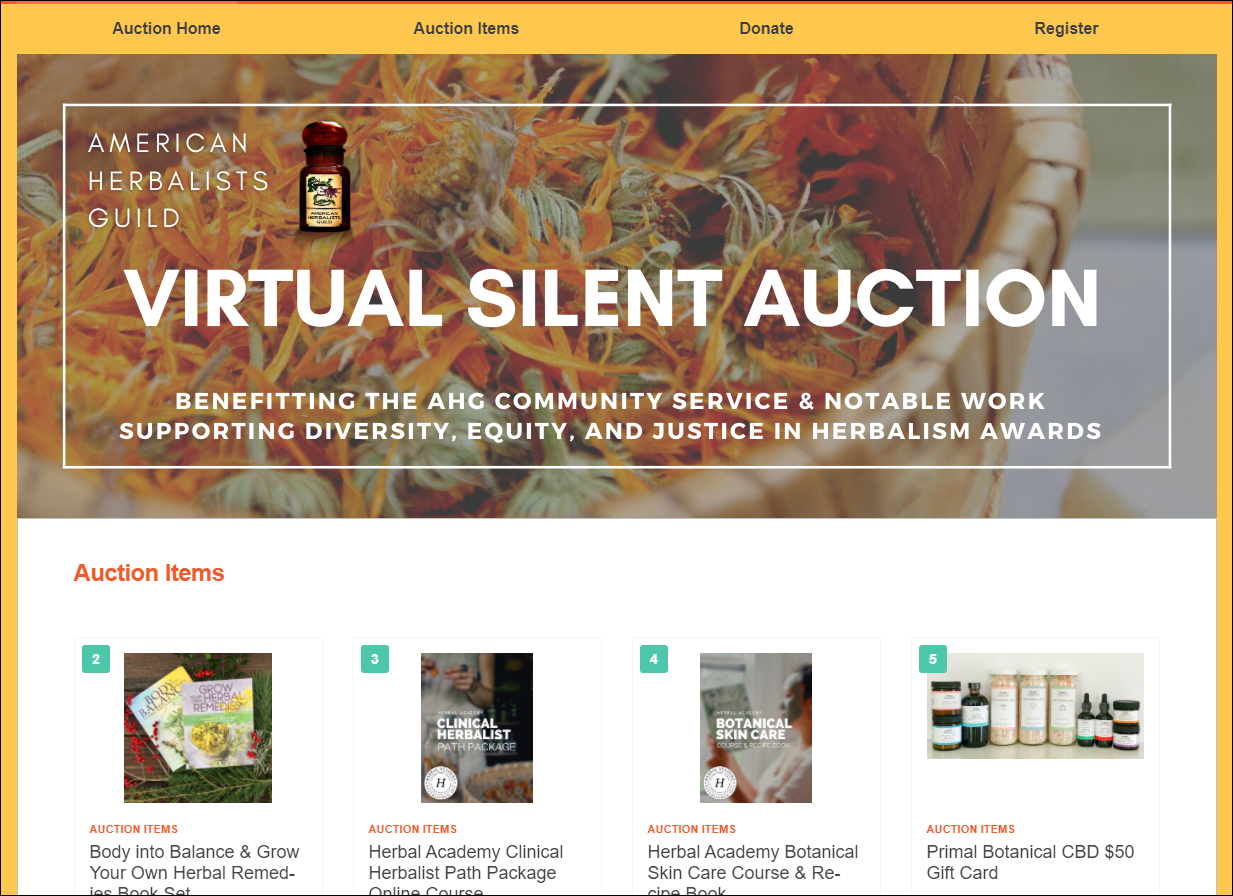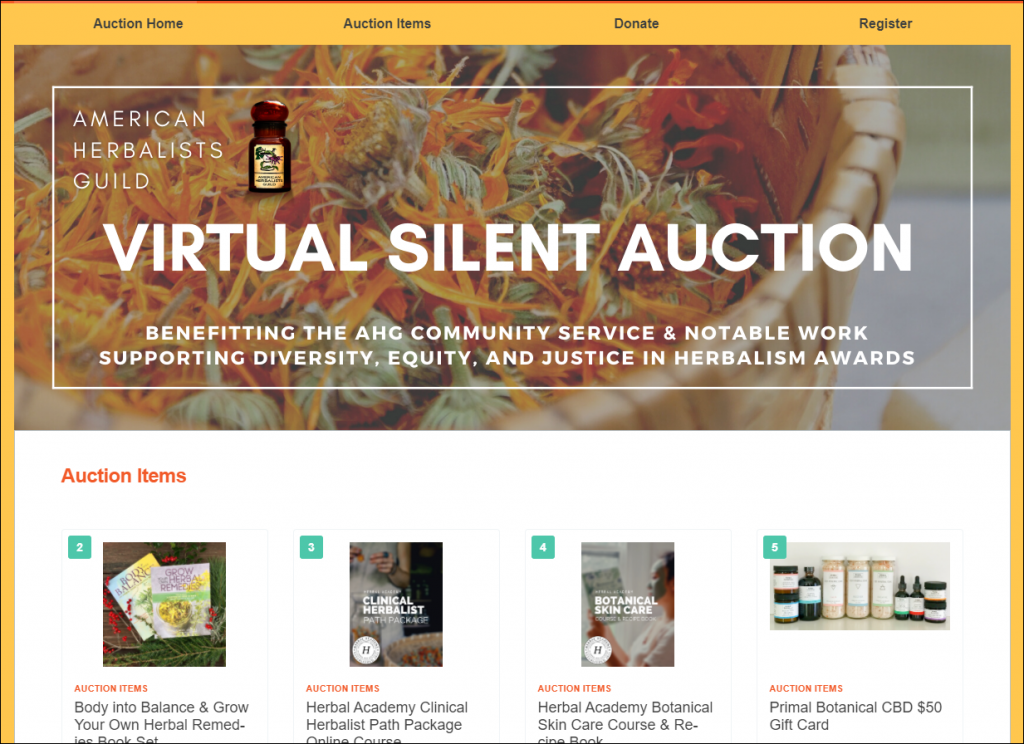 Your brand matters, especially on your registration forms and donation pages. According to Nonprofit Tech For Good, a branded donation page raises 6x more than unbranded pages. Why? Because seeing your branding assures supporters that their money is going directly to your cause.
When it comes to recruiting participants for your fundraising auction, your supporters will be more inclined to pay the registration fee and join you if they see your branding. Why? Your branding shows them where their money is going.
Your auction registration pages should include your logo. An easy way to do this is to include your auction logo on your event header. The header image is displayed even during the registration process, which is assuring for your prospective guests.
You can take your branding a step further to ensure more registration completions and more optional donations and store purchases are made during registration. Reinforce your branding by including your organization's color scheme on your auction registration pages as much as possible. You'll likely be able to set the color scheme during auction setup.
Now that we've covered the fields you should include and have shown why it's important to include your organization's branding, now it's time to talk about the registration process itself.
The shorter the auction registration form, the better
We've all heard that bigger is better. In many instances that's true. Bigger gifts are definitely better than smaller gifts (though all gifts are great!). But bigger lines aren't better and neither is a bigger auction registration form. When it comes to motivating people to register for an auction, your best bet is to keep registration processes as short as possible.
We're all busy people. Imagine sitting down to fill out an auction registration form and finding it's multiple pages long and loaded with custom fields. You soldier on and start filling it out, but then your phone rings, then you have to make dinner, and before you know it it's time to put the kids to bed and you never finished registering for the auction. Believe it or not, things like this happen all the time! Keep supporters from abandoning the registration process by decreasing the time it takes to finish.
In general, your form should contain as few required fields as possible. Stick to what you need to process the registration and offer a great guest experience. You shouldn't use more than a handful of custom fields on your form. Instead, collect basic information like attendee names, addresses, phone numbers, and emails. Then, collect any necessary custom fields like meal choices. Offer optional purchases and the ability to donate during registration if it doesn't take more than a couple clicks or disrupt the registration process.
Anything more that you want attendees to supply can be provided after they've registered for your event. You don't want registration to require more than a couple of short steps.
Give donors the option to support you during registration
We already mentioned this earlier, but to make it easy to raise more funds during auction registration, enable optional store purchases and optional donations on your auction registration form. This gives supporters the option to make purchases or donate to your nonprofit while registering, helping you raise crucial funds ahead of time. It can even benefit your attendees!
How does this help your auction goers? Say you're holding a highly anticipated raffle at your auction event. Your bidders may suspect the line to buy tickets during the event will be long. Offering the option to buy raffle tickets during registration means they never have to get in line to get their tickets. This same principle is applicable to other store items too. If you're selling branded merchandise like t-shirts, and have a limited quantity of each size, many attendees will want to buy their t-shirt ahead of the event to guarantee their size is available.
Additionally, couples may want to attend your event for a night out. If only one person wants to bid on items, the other may opt to give a donation during registration rather than waiting to give until the day of the event.
It's also common for donors to elect to donate the amount they save using early bird registration discounts or promo codes. The option to donate the difference during registration helps ensure your nonprofit doesn't lose money on a donor's early registration.
With the ability to make optional purchases and donations, include the option for donors to help offset processing fees if it's available to you. This is a great way for registrants to help save your nonprofit money while signing up for your auction event.
Final thoughts
By sticking to these auction registration form best practices, chances are you'll be able to attract more participants to your event, have your supporters complete the registration process more often, and even raise additional funds from optional donations and purchases during the registration process.
For other tips for hosting a successful auction fundraiser, check out these additional resources: