Inflation was a big issue in 2022, and it's impacted both the for-profit and the nonprofit sectors. But how exactly has inflation impacted charitable giving and what does it mean for nonprofit organizations? And ultimately, how can nonprofits fundraise during times of inflation? This blog post will discuss giving trends seen during times of inflation and how your nonprofit can combat inflation now to minimize its impact in 2023. 
What is inflation?
In terms of economics, inflation is defined as "a persistent, substantial rise in the general level of prices related to an increase in the volume of money and resulting in the loss of value of currency." To put it simply, inflation occurs when the value of money decreases and prices, as a result, rise.
How inflation is affecting charitable giving
The good news, according to WealthManagement.com, is that inflation doesn't stop donors from giving. The desire to make charitable contributions doesn't disappear when the inflation rate is high. That said, inflation does decrease a donor's overall giving power.
Because of inflation, donations aren't going as far as they used to. Donors are instead adopting a more cautious approach to their spending, and that includes charitable giving. According to Independent Sector, a new donor poll suggests that "among the nearly two-thirds of Americans (60%) who are very concerned about inflation or experiencing economic stress in the next six months to a year, 49% are planning to donate less this year than last year, significantly higher than the 24% for donors as a whole." With the value of a dollar being less and donors planning to give less, this can pose a serious problem for nonprofits as they try to fundraise to meet their needs.
How nonprofits can fundraise during inflation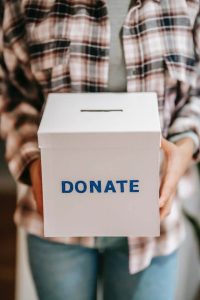 With many donors planning to give less, it can feel pretty hopeless trying to fundraise during times of high inflation. But there is hope! You just need to switch gears and try out different fundraising strategies in order to continue to raise crucial funds during times of inflation.
1. Focus on Baby Boomers
Our first tip for fundraising during times of inflation is to focus on Baby Boomers. The Baby Boomers are the wealthiest generation in United States history and are in the best position to help during times of high inflation. Shift your fundraising focus to the Baby Boomer generation in your donor database and reach out with a special appeal. To make the most of the opportunity, refer to the Generational Giving Report to learn about how Baby Boomers like to be asked for gifts.
2. Plan for planned giving
Planned gifts may not have an immediate payout, but focusing on planned giving can help ensure that after this rough patch, your nonprofit's in a good position to continue working on making the world a better place.
Set up a planned giving drive and ask your supporters to consider giving to you as part of their estate planning. Need advice on how to approach your planned giving drive in the most sensitive and effective way possible? We've got you covered.
3. Host donation drives
Drive donations to your nonprofit by hosting donation drives. Because donors are giving less, you need to set yourself up for success by making the ask. Otherwise, how are your donors going to know you still need their support? Don't shy away from asking for donations when times are tough, because chances are your supporters still want to support you regardless of the economic uncertainty. By acting as though you can weather the storm without their help, you decrease their incentive to give and this may impact future giving as well.
Instead, make sure you're still sending donation asks. This can come in a variety of formats. The hope is that your donation drive reaches your donors and inspires them to give.
We recommend a matching gift donation drive if at all possible. This presents the opportunity for supporters to double, or potentially triple, their impact with a single donation. First, find a corporate sponsor who is willing to pledge to match up to a certain dollar amount of donations. Then, let supporters know about the matching gift opportunity. Also, be sure to use a matching gifts integration on your donation form so eligible donations can be doubled by employers in addition to the corporate matching gift pledge. By giving this way, donors can make their dollars go farther during a difficult time for giving.
If you can't secure a matching gift pledge, consider asking for recurring micro-donations from your supporters instead. Yes, micro-donations are small, but combined with many small donations, they're mighty. Reach out to your supporters and ask them to give a smaller gift on a recurring basis to keep donations coming in during this period of high inflation. This should help assuage the fears of donors worrying about the economy because you aren't asking them for a major gift at a time when it will have a smaller impact. Instead, you're asking for smaller commitments over a longer period of time, and that still adds up!
4. Go for grants
Because donors are planning to give less during this high inflationary period, you need a way to bridge the gap and keep your programs funded. Grants can be a helpful way to do just that. Your programs are important and many grant funders will want to see your nonprofit succeed despite the difficult economic times. Instead of giving up on crucial funds, switch gears to grant applications instead.
If your nonprofit is new to grants, you may find it difficult to get started. That's okay. Check out this blog post by Megan Hill of Professional Grant Writers. She talks about how to start writing grants for your nonprofit. Her practical advice makes it easy to dive into the world of grant writing. We've also got a free Grant Writing Toolkit available for download that should make writing grants easier. Download your free copy today.
5. Steward your supporters
Our last tip for fundraising during inflation is to steward your donors. Your supporters want to keep supporting you, so be sure that you are showing them the value of their gifts and how much you value them as donors to your cause.
Don't skimp on stewardship even when gifts are decreasing in size or disappearing. Now is the time to double down and increase outreach to donors to let them know they're valued and appreciated. You should thank every donor who gives. Beyond that, you should communicate with donors past and present about the impact of their gifts.
Newsletters are great for communicating impact. If you haven't already started a newsletter, now is a great time to make one. They're great for showing donors what their gifts have accomplished.
Conclusion
Inflation may seem scary right now, but despite the decreased value of currency donors are still willing to make charitable contributions to organizations they trust. By shifting priorities to maximize giving during inflation, your nonprofit can not only survive this period but thrive. The key is to keep fundraising during times of inflation.
Need online fundraising tools to capture donations during this time of inflation? Request a demo! We'd be happy to help.