Youth sports nonprofits play an important role in the development of healthy, active children. Not only do you instill healthy habits, nonprofits like yours are also responsible for teaching children important lessons on teamwork, persistence, and sportsmanship. Because the work you do is so important for the well-being of our youth, we put our heads together to come up with some great ways to boost fundraising for youth sports nonprofits. Read on for ways you can raise more and become a youth sports fundraising MVP.
Peer-to-peer fundraising should be part of your game plan
Peer-to-peer fundraising is great for youth sports nonprofits because the format is naturally competitive and asks event participants to take part in fundraising for your organization. It can also be great for team-building.
The peer-to-peer event you host can even be related to your sport. For instance, if you're a youth baseball organization, a home run derby could be a great way to fundraise and get supporters excited about the upcoming season. Building in fundraising prizes can make this event format even more effective because building friendly fundraising competition into your event, motivates your athletes and their parents to fundraise. 
Even if your supporters aren't the competitive type, this event format asks them to engage in DIY fundraising for your cause. Parents who want to support their children will often be more than willing to ensure the program has the funding needed.
Peer-to-peer fundraisers are also a great opportunity to sell branded merchandise to raise additional funds for your program. Incorporating a peer-to-peer store into your fundraiser to sell branded t-shirts, water bottles, etc., not only raises more funds for your nonprofit, it gets the word out about your youth sports program.
Peer-to-peer fundraising can be incredibly successful for youth sports organizations. Check out the results of Aspen Valley Ski & Snowboard Club's Strongest Together peer-to-peer fundraiser. They raised more than $65,000 in support of youth winter sports!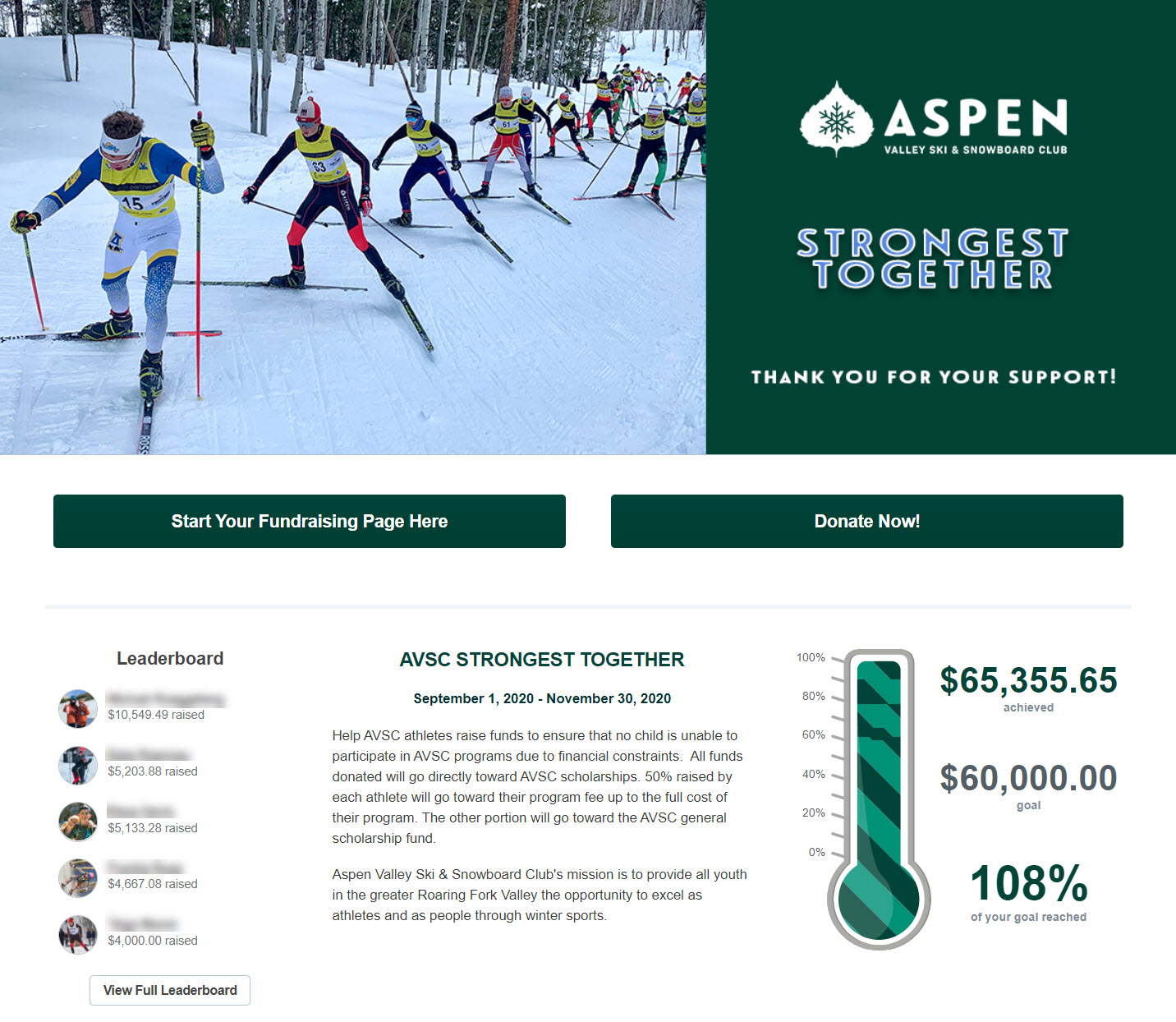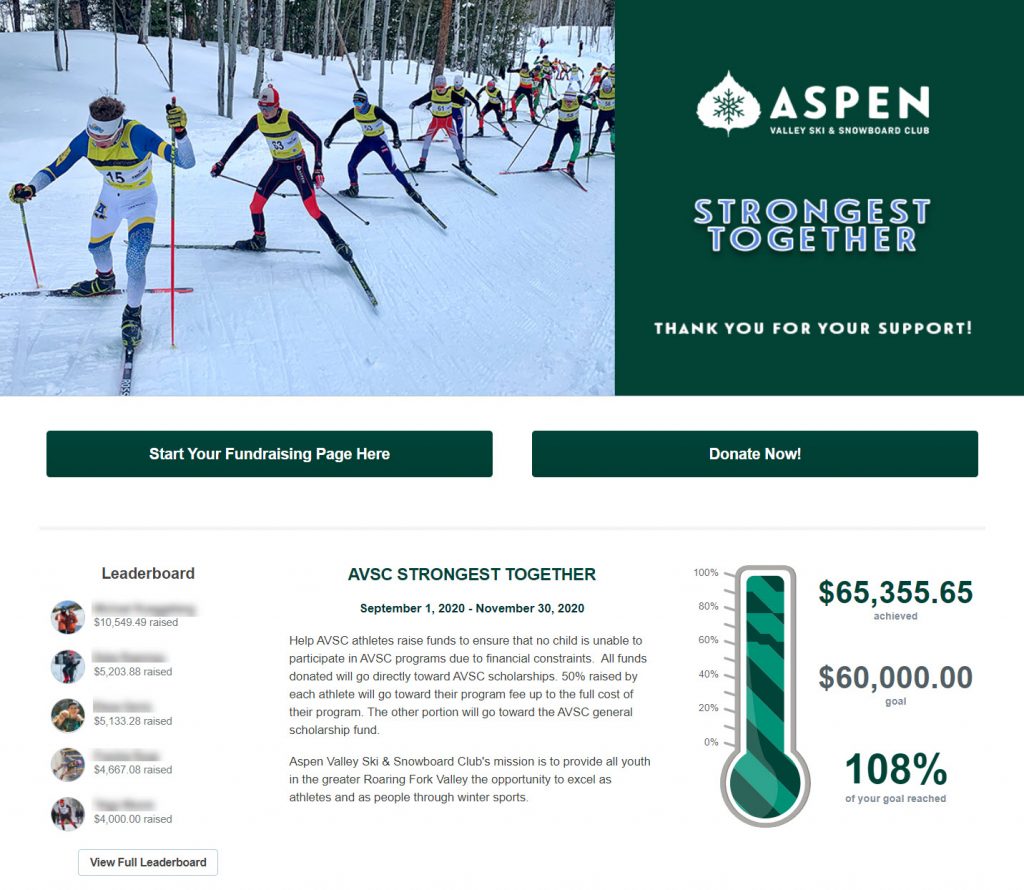 Fundraise all season (and all year) long
Your youth sports program may only operate for a season, but you can raise funds for your program all year long. If fundraising stops when your season comes to an end, chances are you're leaving money on the table. Instead, go into extra innings with your fundraising efforts. Use an online donation form to keep fundraising all year long.
Why? By fundraising all year long, parents who appreciated the effort you put into running the program can continue to give during the off season. You may even be able to get supporters to give recurring donations to provide your nonprofit with a more stable source of revenue. Additionally, prospective sponsors who don't have funding available during your season may be willing to consider a sponsorship during other times of the year.
If you want each team to have their own fundraising page, it helps to find a software solution that offers free, unlimited donation forms (like Qgiv!). Bonus points if your online donation form can also do double duty and register people for fundraising events and sports clinics hosted by your nonprofit.
Check out this great donation form from Carmel Swim Academy. Their form is available to accept donations all year long.


Text fundraising helps soccer moms and dads give on the go
Let's face it, your donors are busy people. Wouldn't it be great if they could support your youth sports nonprofit while on the go? Text fundraising offers a great solution to accept donations quickly and stay in touch with your stakeholders (as long as they've opted in first!).
Not all text fundraising solutions are the same. To make the most of text fundraising, you first need to determine whether you want to use a text-to-give or text-to-donate solution at your nonprofit.
Text-to-give solutions process donations via the Mobile Giving Foundation. The donation is added to the donor's phone bill when they use this option and your donation is paid by the Mobile Giving Foundation. This process can be costly to set up because of application and keyword registration fees, but it offers the simplest way for donors to give via text message.
Text-to-donate solutions still empower donors to give via a text message. But instead of the donation being added to their phone bill, they're texted a link to a mobile-friendly donation. They then complete their donation via the form. While this solution costs less, it does require a couple of extra clicks to make the donation. Text-to-donate solutions also typically include the ability to send outbound messages to supporters. That means you can send emergency appeals via text as well as event reminders and club updates.
Qgiv offers both a text-to-give and text-to-donate option with the Mobile Suite platform.
Southern California Tennis Association Foundation uses Qgiv's text-to-donate solution to raise funds with two different text keywords. Their donors can text lovetennis or socaltennis to give to their youth tennis program.
Silent auctions are all-star fundraising events
Another great fundraising event your youth sports organization can host with great success is a silent auction. Pen-and-paper silent auctions have been a fundraising staple forever. As times have changed, many nonprofits have taken this event format digital with auction fundraising software.
A fundraising auction can take place in person, virtually, or in a hybrid format. The key to success is motivating your auction attendees to keep bidding and purchasing items during your event. You can accomplish this with a bidding app that offers push notifications, makes your auction items look good, and has a streamlined process that makes it easy to make bids and purchases (all of this can be accomplished with Qgiv Auctions).
The auction items you offer can be a home run or a strike out. Be mindful of the auction items you choose. A great way to get more bids at a youth sports fundraising auction is to make your items relevant. Offer sports memorabilia and athletic equipment for kids and adults to drive bids. That said, don't neglect the non-athletes who support you! Consider these great auction item ideas—they're sure to delight your silent auction attendees.
Another reason a silent auction fundraiser is so effective is you can pair it with other fundraising activities. You can have a silent auction at the end of a gala, award ceremony, 5K race, and other fundraising events.
Arcadia Scottsdale United Soccer Club combined a silent auction with their Sky Full of Stars hybrid fundraising gala. Their event raised more than $100,000 in support of youth soccer!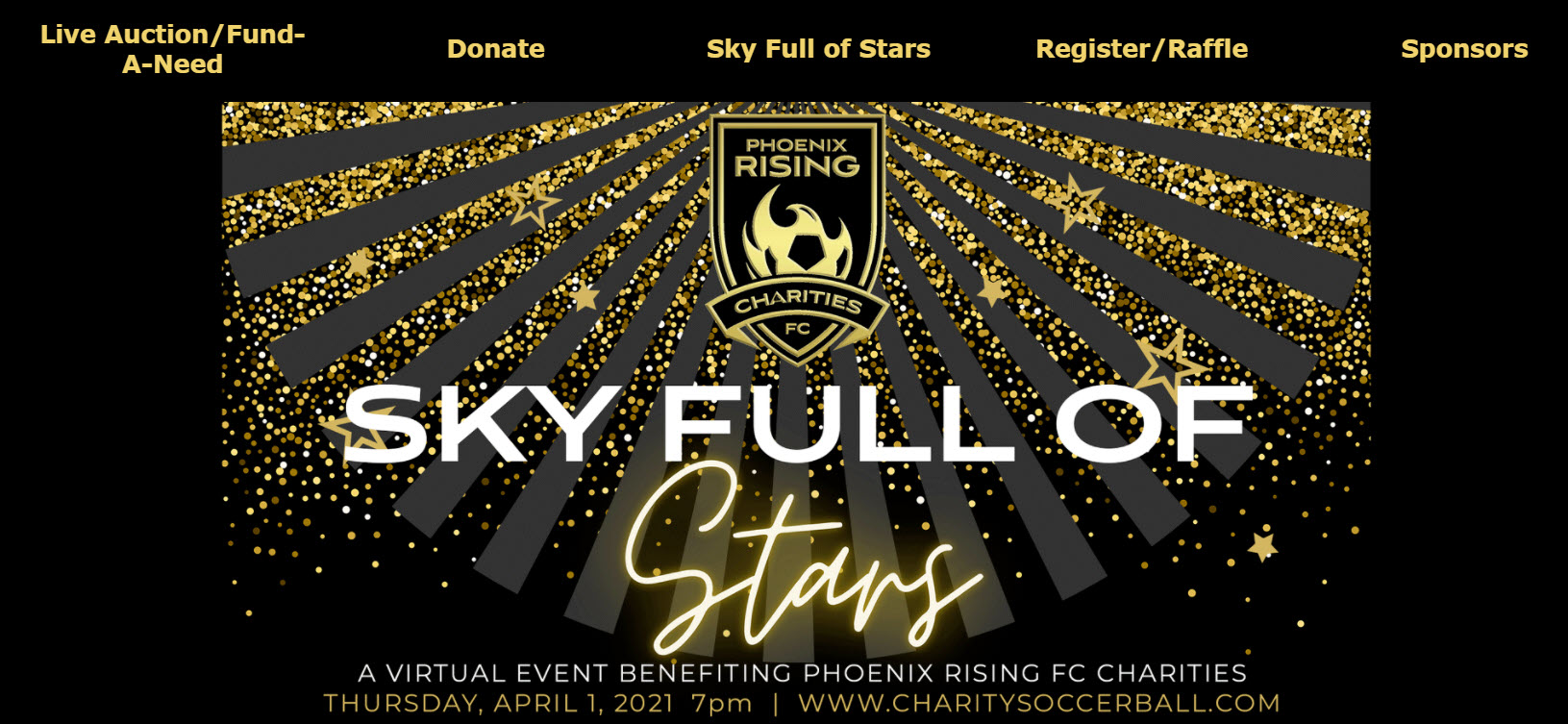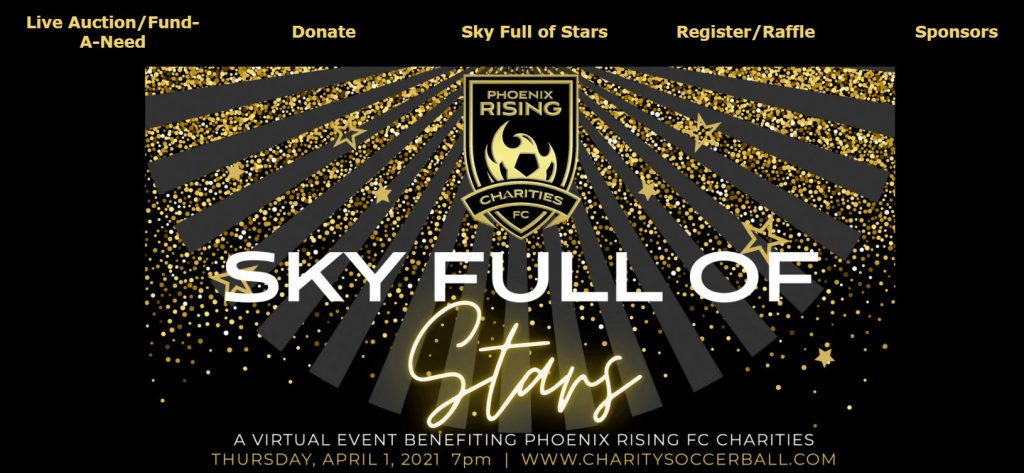 Final thought
Your youth sports nonprofit gives a lot back to your community. Make it easy for them to give back with these fundraising ideas tailored to you. A combination of year-round fundraising and well-planned auction events can have a huge impact on your fundraising.
Ready to step up to the plate and make your fundraising efforts a home run?