Millennial donors are the group most likely to give to your nonprofit on Giving Tuesday. What's their preferred method of giving? Via text! Launching a text giving campaign makes it easier for your Millennial donors to give without making it harder for Gen X and Baby Boomers. Launching a successful text giving campaign requires a combination of both a text fundraising keyword and well-crafted outbound messages before, during, and after Giving Tuesday to attract donors, inspire them to give, and retain them afterward. Read on for best practices for incorporating a text giving campaign into your Giving Tuesday fundraising strategy.
Choose a text giving campaign keyword
For tips on choosing the perfect keyword, check out our text fundraising campaigns for small nonprofits blog post for detailed instructions on picking the right keyword.
Choosing an effective text fundraising keyword is imperative for earning more donations during your campaign. An overly complicated or hard-to-spell keyword can make it frustrating for donors to give. Has your phone ever changed a word based on what it thought you meant to say? Autocorrect fails have resulted in tons of miscommunication over the years. It would be devastating if autocorrect made it next to impossible for donors to text your keyword and make a gift. Choose a simple keyword and test it ahead of Giving Tuesday to verify it works.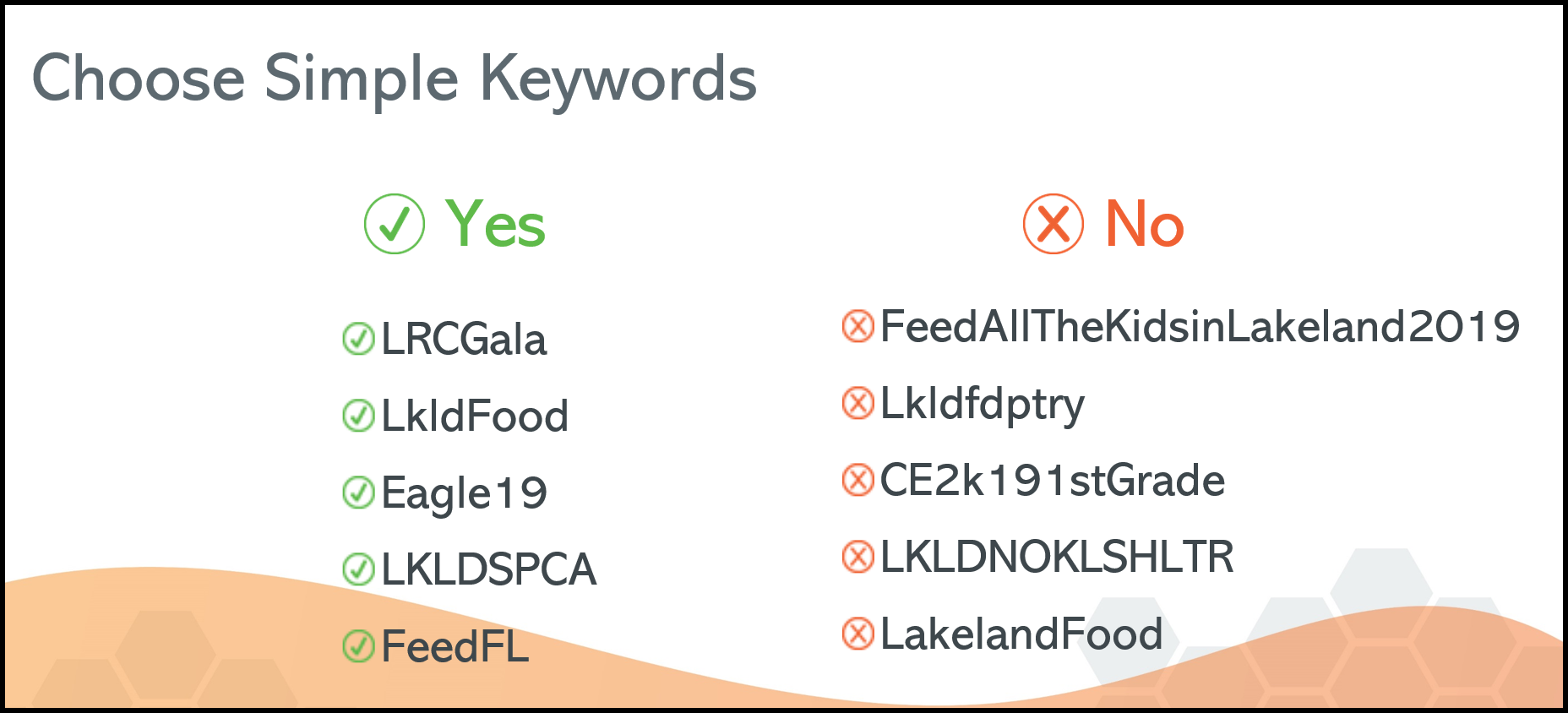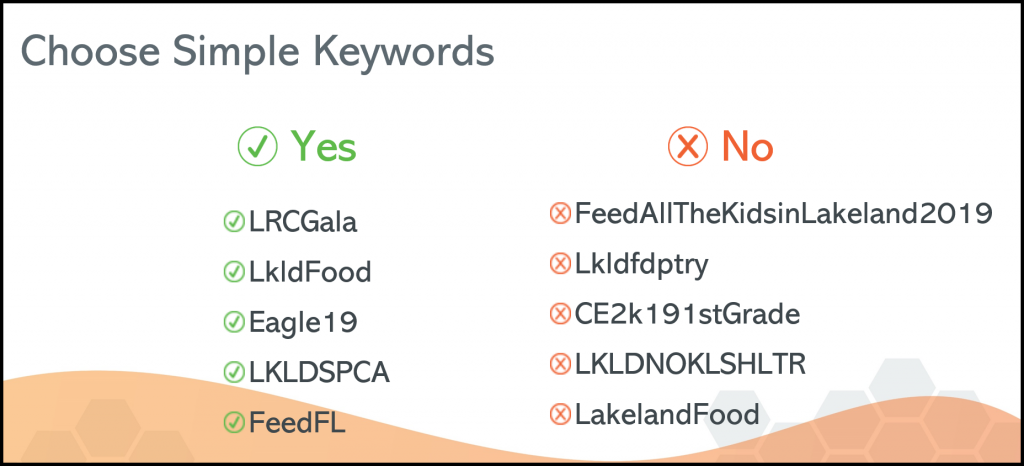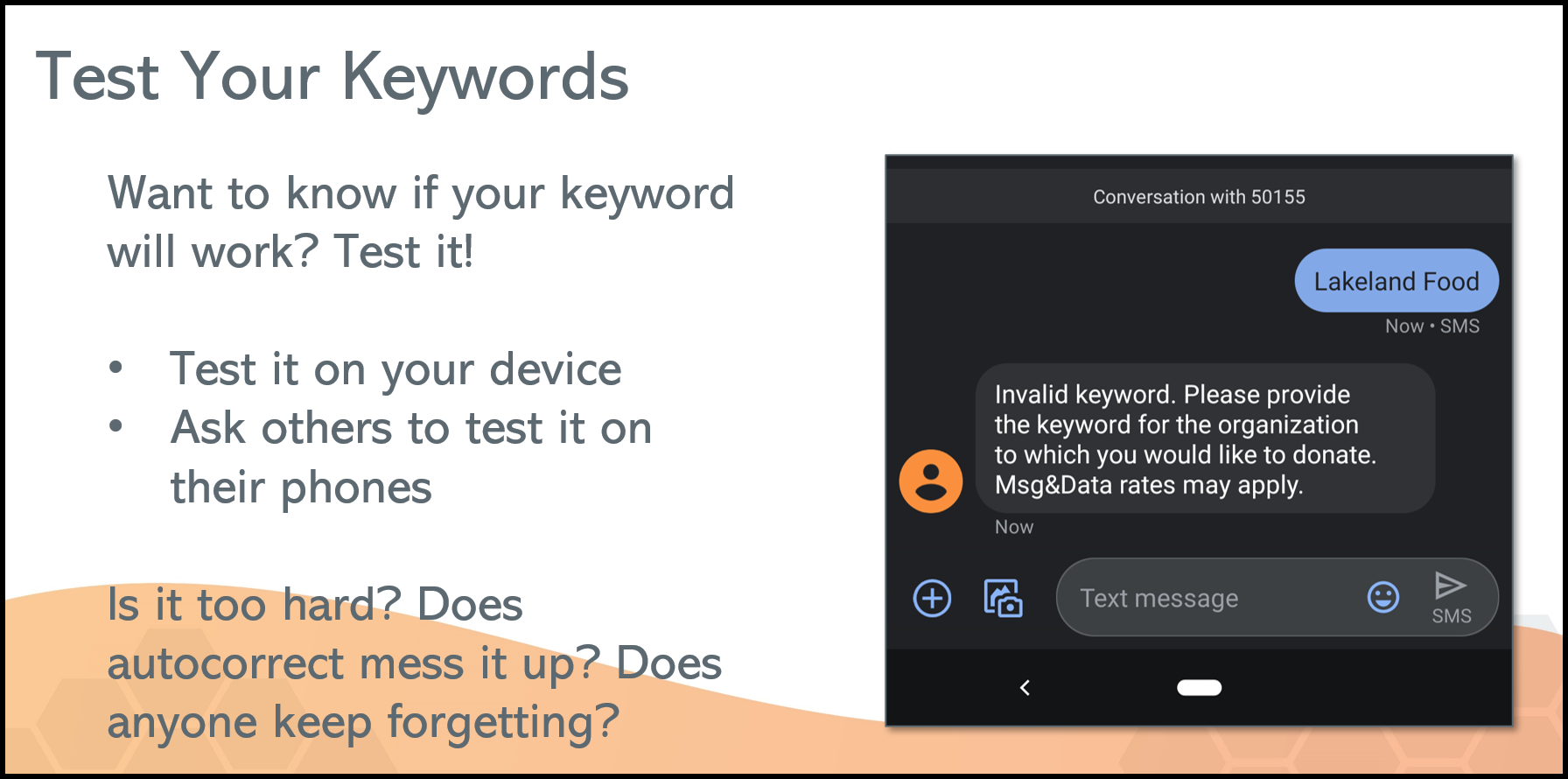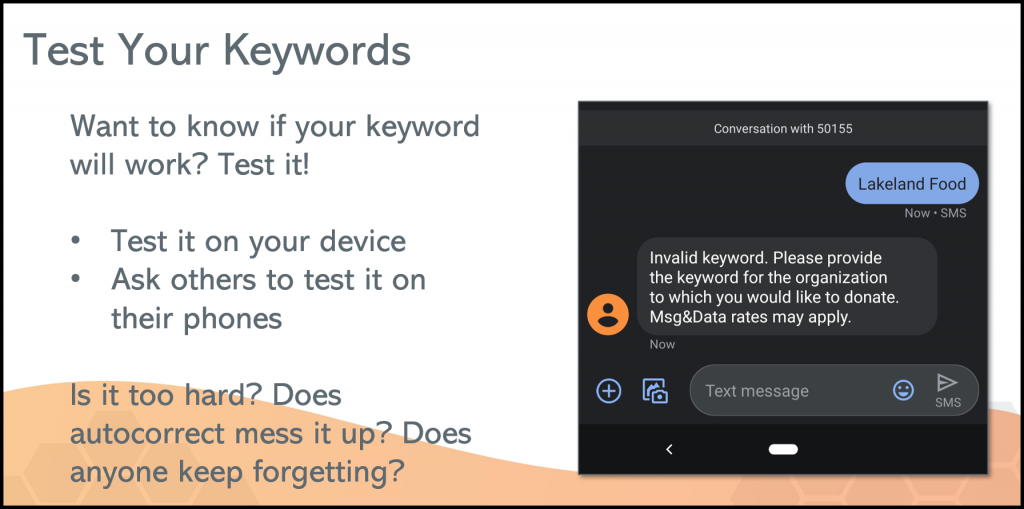 Build your text giving campaign contact lists
Another key element to an effective Giving Tuesday text giving campaign is your contact lists. You need a list of supporters' cell phone numbers for text outreach. It's important to note that just because you have your donors' cell phone numbers doesn't mean you should automatically sign them up for text communications. Is it illegal? No, but it can be off-putting to your donors. Instead of raising red flags about your organization, give your staff and supporters the opportunity to opt in to text alerts from you. This means you're acquiring consent to text each person on your contact lists.
From there, you can segment your text giving campaign contact lists based on several different factors such as average gift size, fund, and affiliation to your nonprofit (donor, staff, volunteer). There's no right way to segment your contact lists. You must determine what the right fit is for your nonprofit. Unless your list is small, your nonprofit will benefit from segmentation. Why? Because segmented lists make it possible to send personalized, targeted messages relevant to each distinct audience you communicate with.
Start your contact lists with donors who have already opted in. Recruit more supporters to opt in by encouraging them to text a keyword to sign up for text alerts from your nonprofit. You can use the list to send event reminders, nonprofit alerts, and your Giving Tuesday text giving campaign appeals. The key to building your list is to offer a compelling reason that supporters should opt in to receive text messages from you. Think about what you can offer as a nonprofit and communicate about it over text.
Write your text messages in advance
Before your Giving Tuesday Giving Campaign, write your outbound messages in advance. Need Giving Tuesday text giving campaign inspiration? Use our Giving Tuesday text templates to write the perfect outbound texts for your fundraising campaign.
Nothing's worse than last-minute scrambling to write the perfect message. Give yourself time to craft a multi-touch appeal. This means that you should plan for multiple outbound messages during your text giving campaign for Giving Tuesday. Write messages for before, during, and after Giving Tuesday to engage donors early and keep them engaged throughout the campaign.
Texts before Giving Tuesday
Your outbound messaging strategy can include save-the-date reminders, invitations to watch a live stream of your nonprofit's Giving Tuesday event, and early access to your donation form before Giving Tuesday.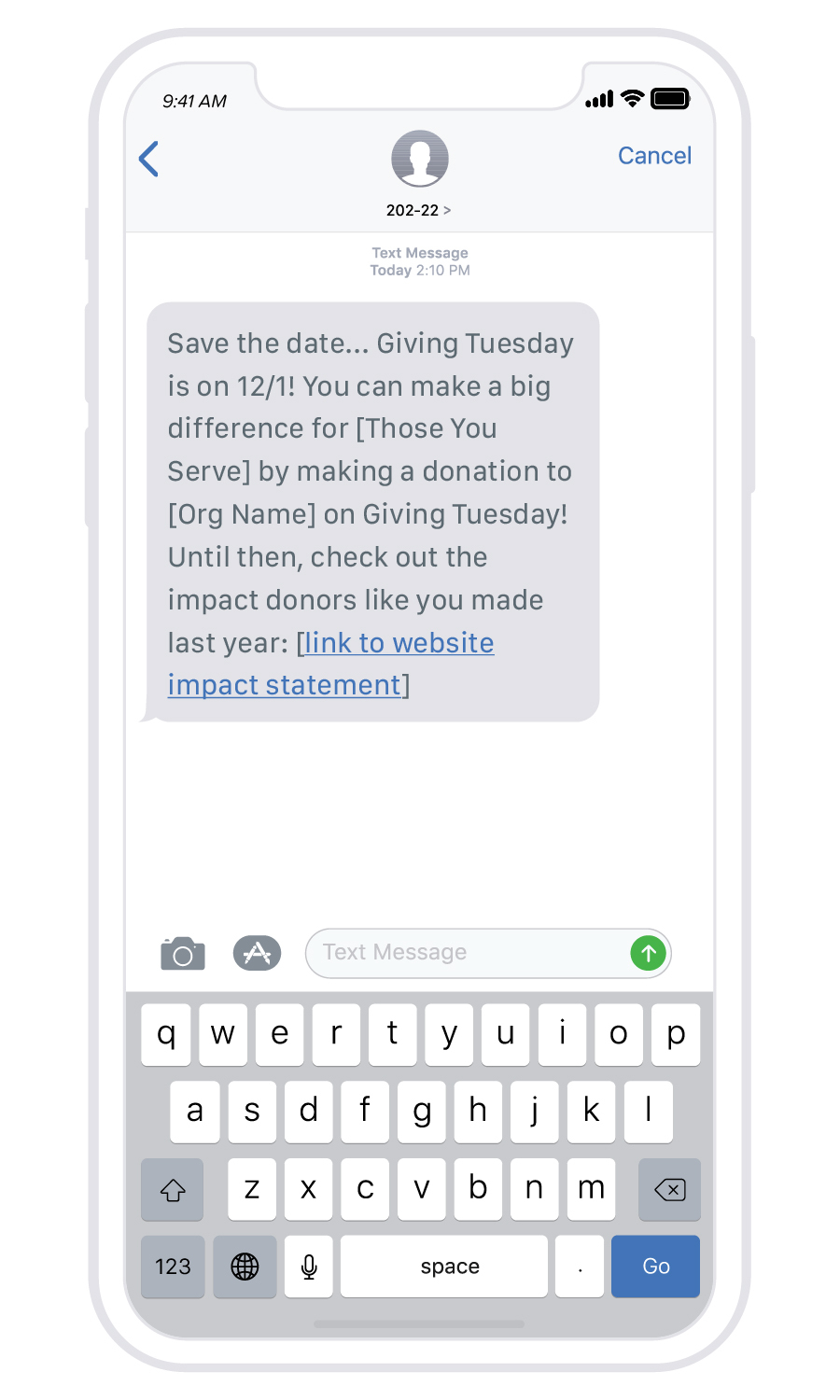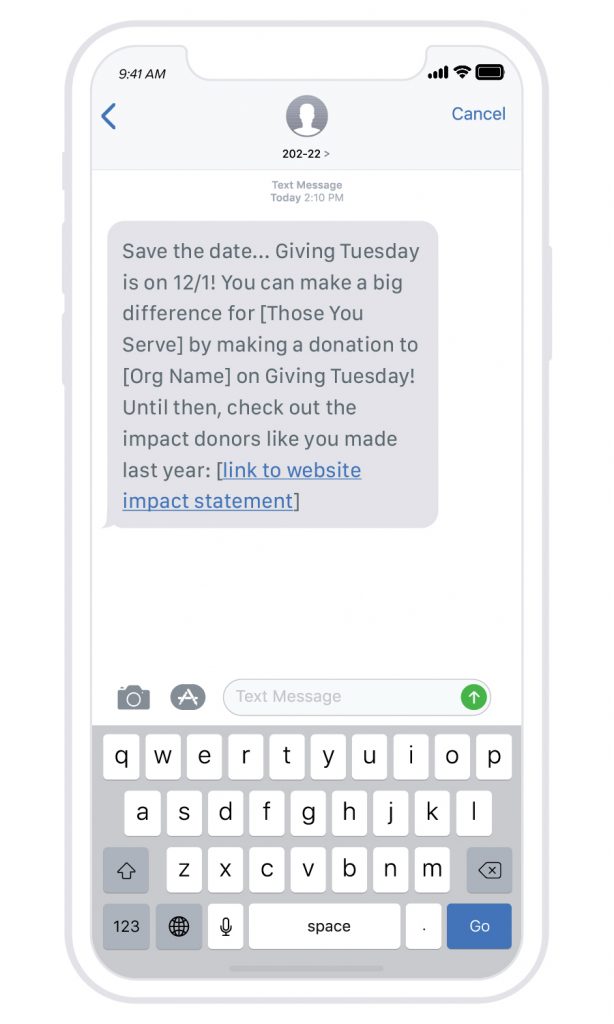 Texts during Giving Tuesday
Send your main appeal. Explain how you'll use donations and let donors know your fundraising goal. Include the link to your Giving Tuesday donation form in your day-of messages. That way donors don't even need to text your keyword if they're opted in to your messages.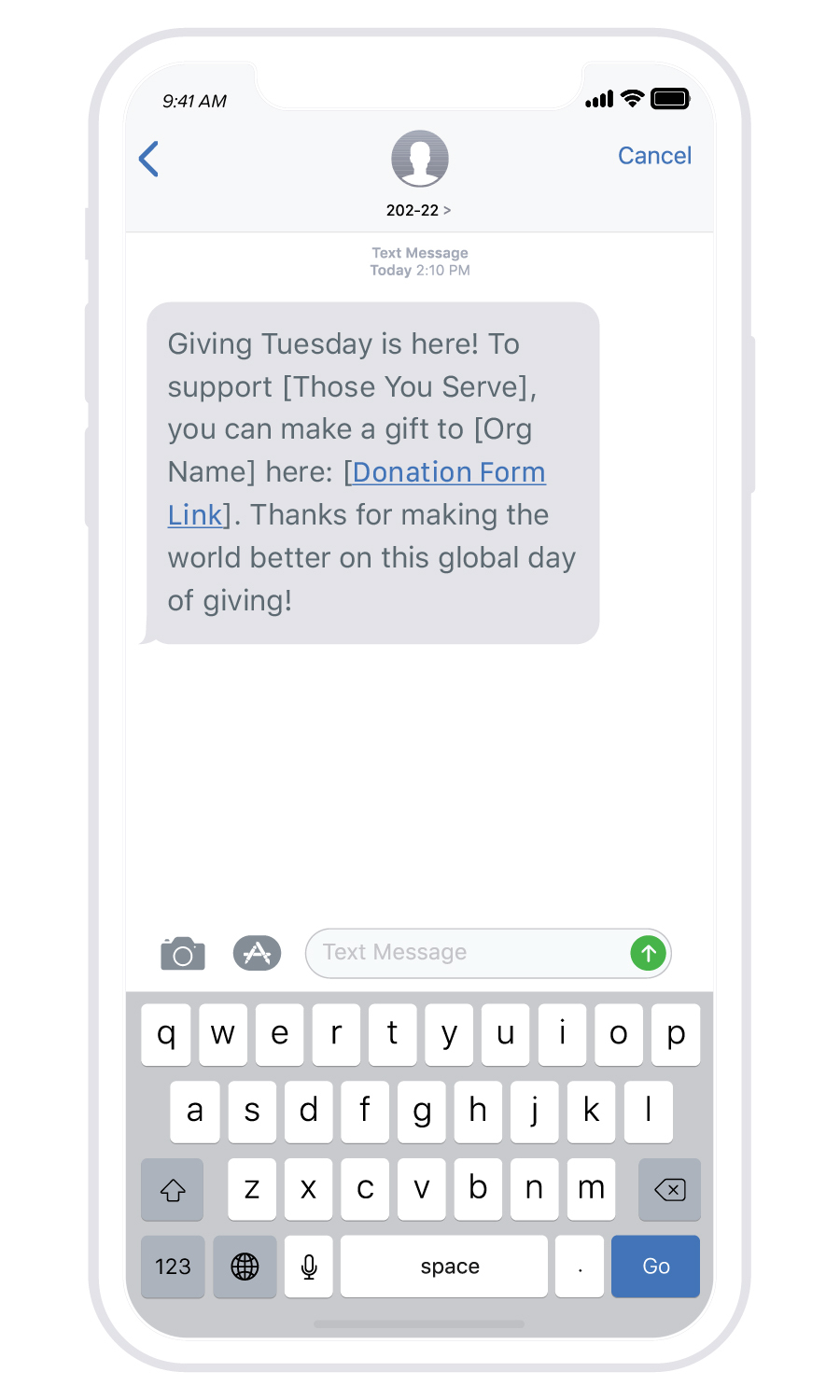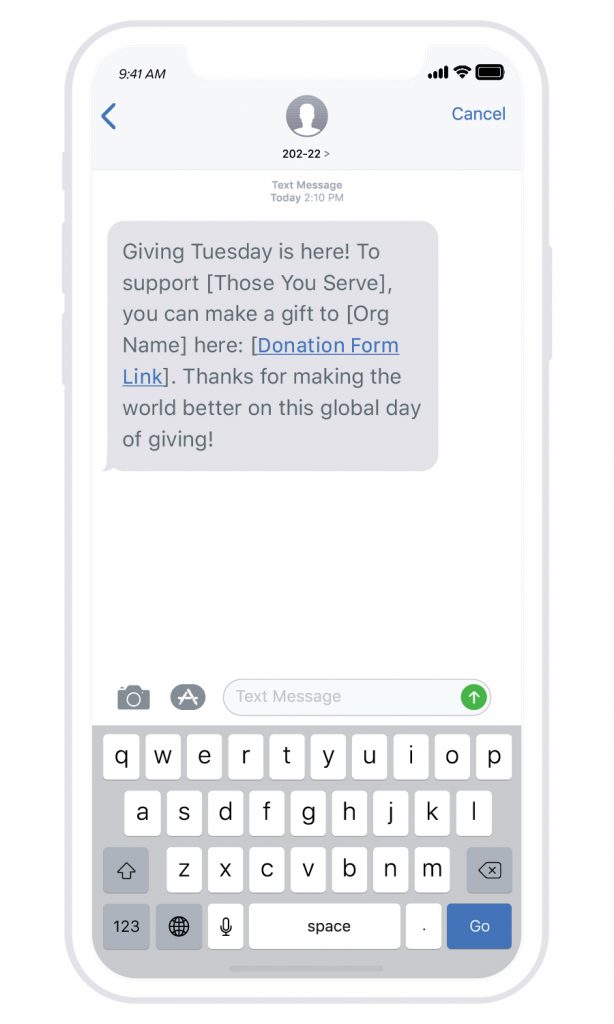 Texts after Giving Tuesday
After the event, text your donors to thank them. Provide the total amount raised during Giving Tuesday to your supporters. Encourage donors to stay involved and be on the look out for more updates from your nonprofits in the future.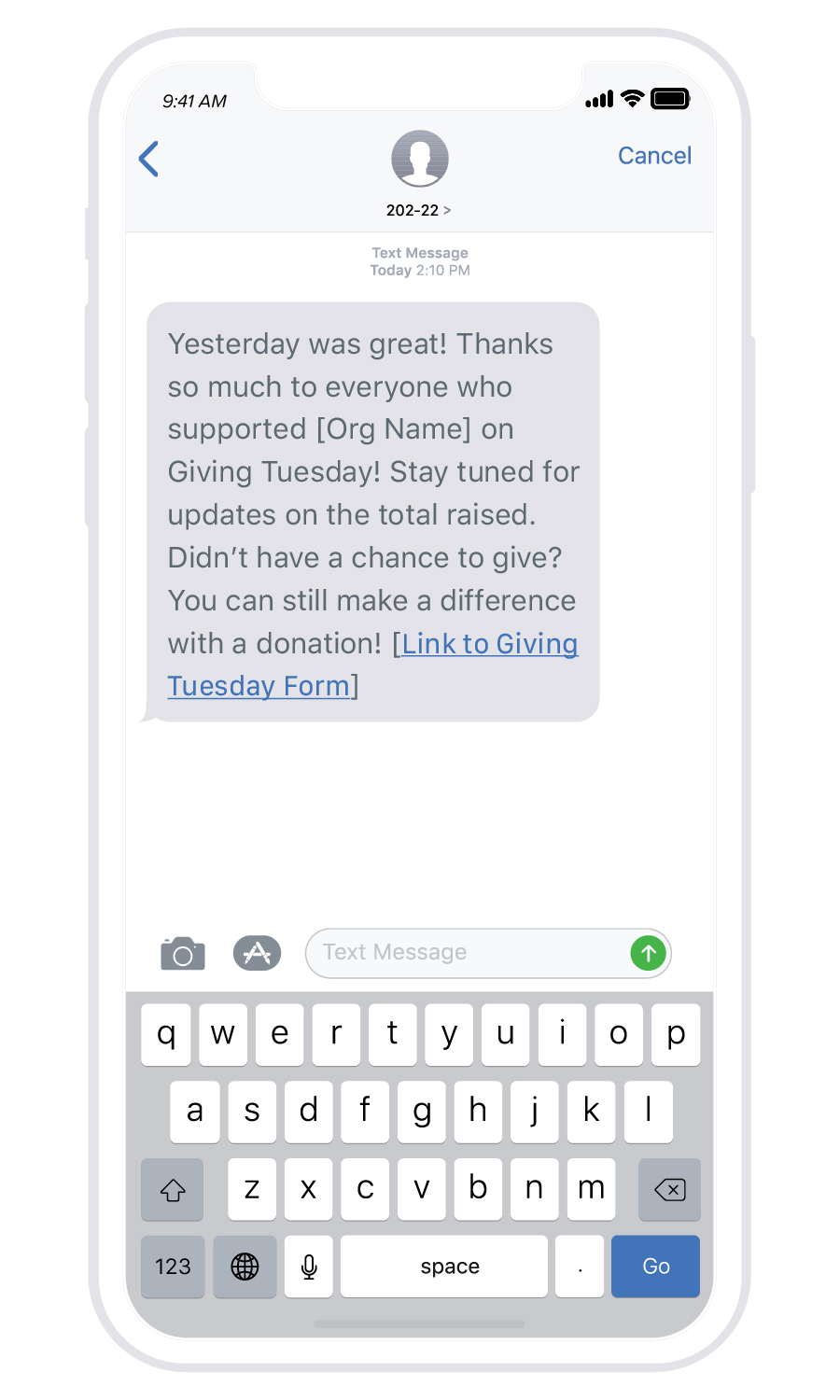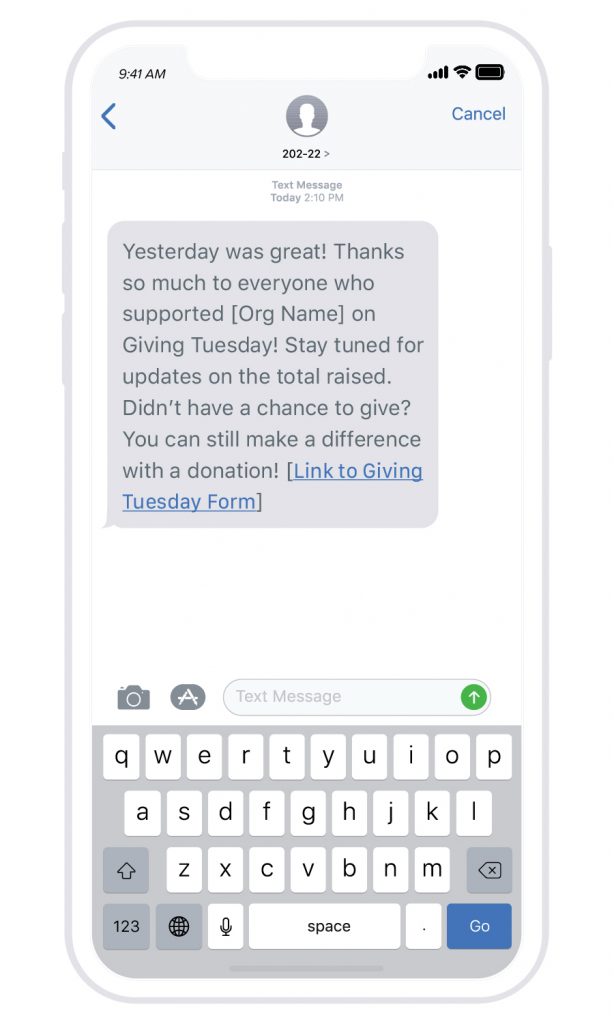 Spread your keyword around
It's important to market your text giving campaign if you want to reach as many people as possible. To extend the reach of your Giving Tuesday text giving campaign, share your keyword in other ways than text messages. Prominently display your Giving Tuesday text fundraising keyword on your website, on social media, and in online and print ads. Here's an example of how to promote your keyword online from Boys & Girls Club of Indianapolis' Giving Tuesday 2019 campaign: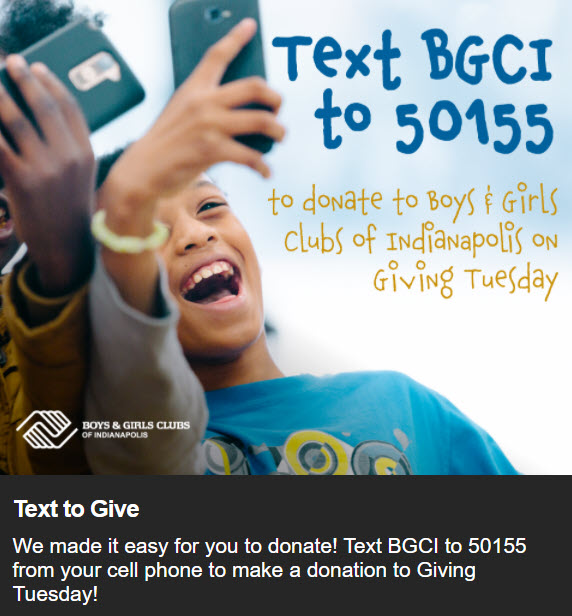 Pair a text giving campaign with other strategies
Your text giving campaign can be paired with more intensive fundraising strategies. Text campaigns work alongside other fundraising strategies because they're less labor intensive than these strategies. Text giving can act as the perfect complement to more involved campaigns because you can write texts ahead of time, schedule them in advance, and the campaign launches itself on Giving Tuesday. By appealing to your audience through multiple channels, you can reach more of your supporters and even grow your audience. You can even carry this multi-touch fundraising strategy from Giving Tuesday to your year-end campaign.
Conclusion
A text giving campaign can boost your fundraising performance this Giving Tuesday. With thought-out contact lists and the right keyword, your campaign can capture more donations and even retain donors beyond Giving Tuesday. Prepare to launch your campaign alongside other fundraising appeals to reach a wide audience. Prep the campaign ahead of time to save time while the campaign earns money. Need more tips on text giving campaigns for Giving Tuesday? Check out this webinar for more tips to make this fundraising strategy work for you.