Who they are:
Beacon College is an accredited, liberal arts institution of higher education based in Leesburg, FL which uniquely serves the educational needs of students with learning disabilities, ADHD, and other learning differences.
What they did: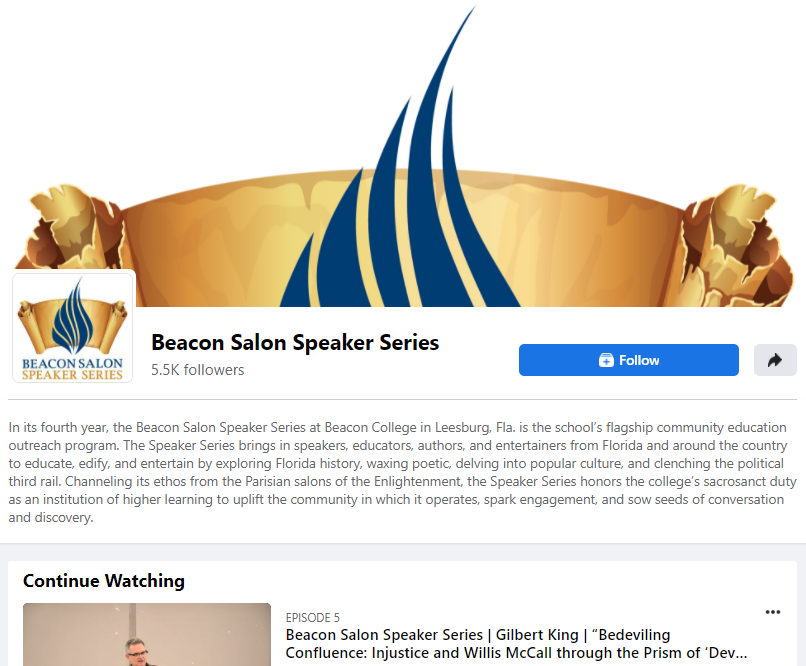 Beacon College created a unique series of events through their Beacon Salon Speaker Series—the college's flagship community education outreach program. The Salon Speaker Series brings in speakers, educators, authors, and entertainers from Florida and around the country to educate, edify, and entertain by exploring Florida history. Their last speaker series event featured Pulitzer Prize-winning author, Gilbert King.
To make it easy for attendees to register, Beacon College created an online registration page to help with this event and others in their Salon Speaker Series. Their online event registration form kept it simple, only asking attendees to fill out the information required to attend the event and included links that made it easy for registrants to share the event on their personal social media pages. Beacon College promoted the event in several locations including their Facebook page and created a page on their website that linked out to the registration form. Once the event ended, they made sure to note this and uploaded videos to share with individuals that may have missed the event and promoted upcoming events.
What you can do:
Getting creative with a unique event idea, even if it's free for the community, is a wonderful way to get exposure for your organization! Once you've determined your event, think through some key pieces such as cost, if any, to attend, key details you need to ask registrants, where and how you're going to promote the event, and what your registration deadline should be.
Also, don't forget to set ticket limits! You don't want to oversell your event and disappoint anyone or be in a situation where you need to issue a refund. If demand is greater than venue capacity, consider streaming options or including a virtual component to reach participants no matter where they are.
Another best practice to consider with event registration forms is to offer a way for registrants to make an additional donation on top of or in lieu of the registration fee, especially if they're unable to attend the event or the event doesn't have a cost.
Finally, make sure your event registration form is easy to read and incorporates colors that match your organization's branding. After all, participants will be more likely to feel confident they're in the right place if you use a branded form.
Not a Qgiv client or curious about adding online event registration forms to support your mission? Request a demo or give us a call at 888.855.9595.