SEO will always be a hot topic so long as search engines like Google are around. The problem that nonprofits face is how to fit into the equation. There's so much information on the internet that it's easy for people to get lost. Things can seem so confusing or hard that SEO for nonprofits just doesn't seem practical… but we promise it's worth the effort!
We're here to help nonprofits understand the basics so they can adopt the right strategy. We'll focus on Google throughout this article, as it dominates the search engine market. But don't worry, the same concepts apply to the other search engines!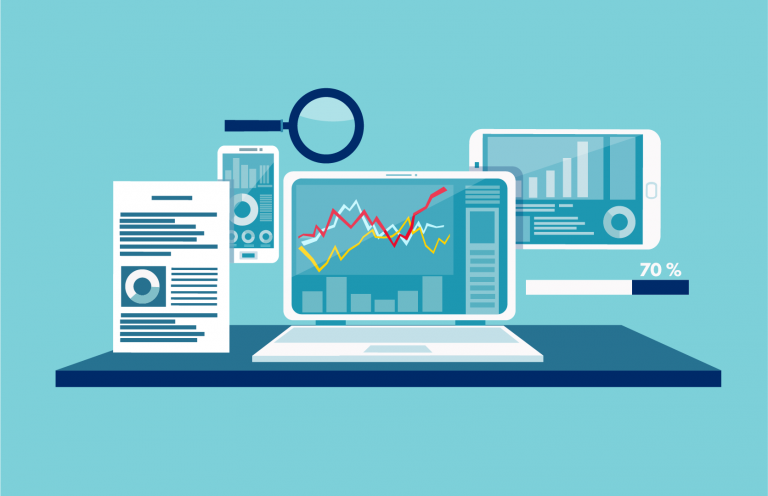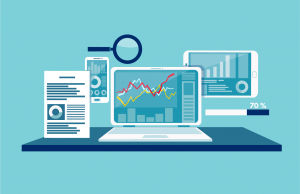 SEO stands for "Search Engine Optimization" and, in the most basic sense, is about earning website traffic through unpaid listings on search engines such as Google, Bing, and Yahoo. These unpaid listings include your website pages such as articles, mission statement, or home page, and local listings such as business profiles. What's a listing? Glad you asked!
The screenshot below is an example of organic listings. On the left is a web page organic listing (for the Qgiv home page), which is the primary listing in Google searches. On the right is Qgiv's local listing. You'll see an image from Qgiv's website, location on Google maps, company name, address, hours, etc. This is our Google My Business profile. We'll learn more about these later!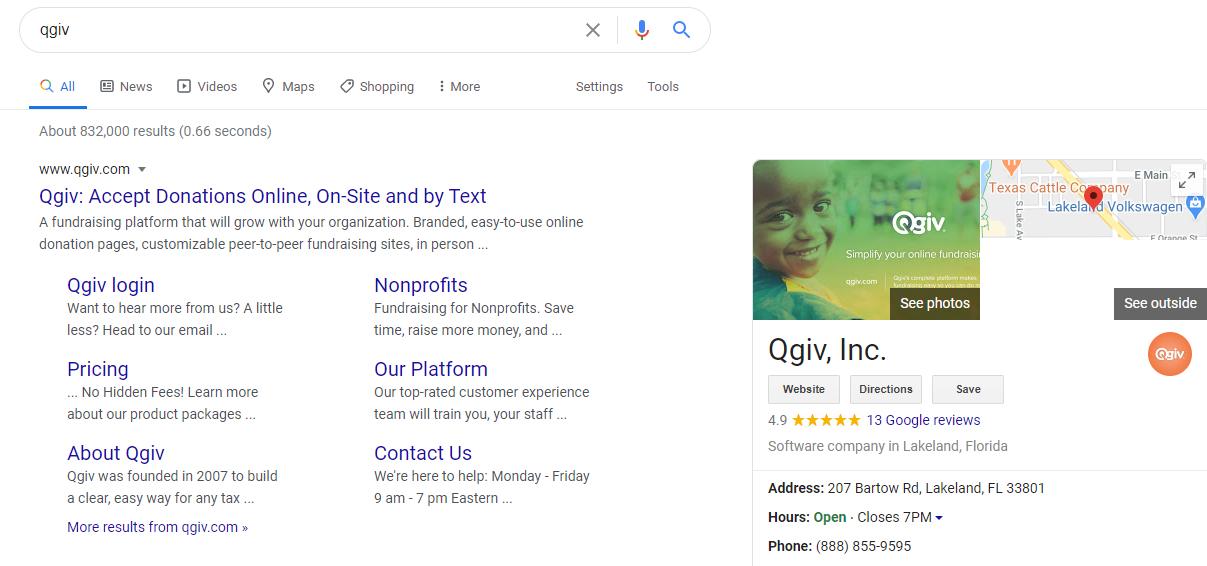 The short answer:
Google's job is to serve the most relevant content to its users. Which means a nonprofit's job is to provide Google with that relevant content.
The long answer is a bit more complicated… stay with me:
When a user searches for something, Google serves a set of listings (like we discussed above) that's relevant to the user's search. This set of listings is generated by Google's algorithm and uses "ranking factors," or a set of cues, to determine the positioning of each listing on the search results page.*
There are over a hundred ranking factors which can be broken down into three categories: Technical SEO, on-page SEO, and off-page SEO.

Technical SEO refers to the optimization of your website to improve its usability. Things like mobile friendliness, website speed, and security are top priorities for technical SEO.

On-page SEO refers to the optimization of a web page to rank for search terms. Top priorities for on-page SEO include usage of keywords, linking to internal/external resources, metadata, and page structure.

Off-page SEO refers to the external activities a nonprofit does to build traffic and authority. Things such as social media marketing, guest posts, influencer marketing, and backlinks all play a part.
*We won't dive into all the ranking factors; there are simply too many. You can check out this complete list with all factors that could affect a website.
Google, Bing, Yahoo–which search engine is right for you?
Google dominates with over 90% search engine market share (as of June 2021). Google should be the number 1 search engine on your list. However, Bing and Yahoo attract mature populations: Bing attracts a group of users 45+ and Yahoo attracts a group of users 65+, so it's worth setting up a business profile and keeping it up to date. Plus, Bing and Yahoo tend to have less competition. While useful, don't spend too much time on Bing and Yahoo as their small market share means their potential is minimal.
Local SEO vs. National SEO
Local SEO is the process of optimizing a nonprofit's search engine presence for location-based searches i.e. "animal shelters," "animal shelters near me," or "animal shelters in Lakeland, FL." Notice that location-based searches don't need to include the actual location. Google is very sophisticated, and its algorithm understands that if searchers are looking for an animal shelter, they want to see results local to them.
National SEO is the process of optimizing a nonprofit's search engine presence for searches that aren't location-based i.e. "environmental nonprofits," "medical research nonprofits," etc. The difference here is that these nonprofits don't rely on a physical location to serve the public. Their services extend beyond the local community.
Which is right for your nonprofit?

Nonprofits that operate within a certain service area = Local SEO
Location-restricted nonprofits should focus primarily on local SEO. For example, animal shelters, food banks, youth sports, etc. will find a local SEO strategy more applicable to their needs.

Nonprofits that aren't restricted by location = National SEO
Nonprofits that have a broad impact on the general population should primarily focus on national SEO i.e. research-based nonprofits, environmental nonprofits, etc.
The strategy for local SEO is to increase your nonprofit's exposure to the local community. That means claiming business profiles on search engines and business directories, building up reviews and ratings on those profiles, and optimizing your content locally.
A local listing is a nonprofit's profile page on a search engine or business directory and includes the nonprofit's name, address, phone number, and website. Search engines use local listings to provide donors with nonprofits near the donor's location. For example, this is Qgiv's Google listing: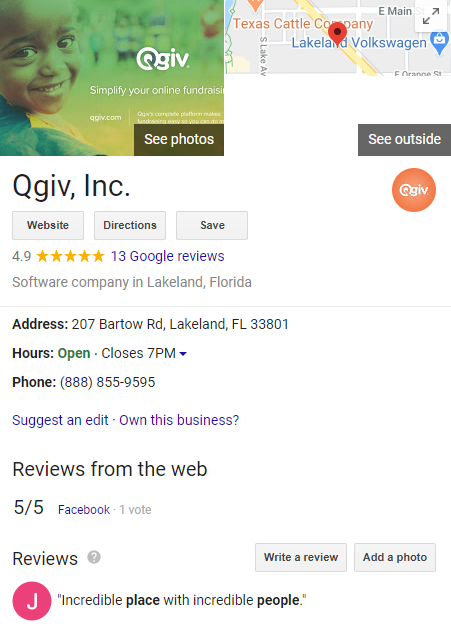 For localized searches, Google uses these listings to show the most relevant nonprofits related to the user's search and location. You can test this! Go into Google and search "restaurants." The first result will be Google Maps with a list of restaurants where Google thinks you'll want to eat.
It's the same for SEO for nonprofits. If you search for "animal shelters" in Google, the first result is Google Maps with the closest animal shelters related to your location. If you scroll past Google Maps, you'll see web page listings for animal shelters, top news articles, frequent questions asked by searches, and even images of animals at local shelters.
We'll go into this a little later, but it's important to be well rounded with your local search approach. The local listing is just the first step!
The most important local listing platforms are: Google My Business, Bing Places, Apple Maps, and Yelp.  All four platforms make it super simple to set up a business listing and provide several ways for donors to find and communicate with nonprofits. Nonprofits can even create posts to highlight upcoming events or share important news!
Citations refer to any online mention of the name, address, and phone number of a nonprofit (like on a local listing).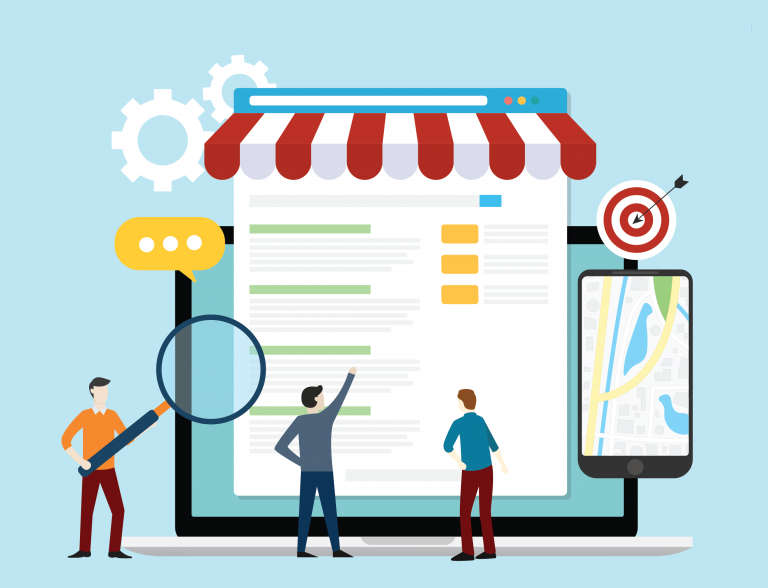 Citations appear on any number of platforms including business directories, social media platforms, websites, and apps. The most important thing about citations is being consistent. Use the same information and format for your phone number, name, and address. Search engines use citations to validate the business information of a nonprofit and even use them for those oh-so-important nonprofit search engine rankings! Nonprofits that keep their information consistent will see the best results.
Building citations can be a pain; it takes time to find and create profiles on all the directories and platforms available. There are paid services that a nonprofit can use to automatically do this, but we suggest manually doing this and tackling the largest platforms first:
Search engine listings: Google My Business, Bing Places, Apple Maps, MapQuest, Yahoo Local
Business directories: local Chamber of Commerce, Yelp, Yellow Book, GuideStar, Super Pages, Better Business Bureau, Foursquare
Social media platforms: Facebook, LinkedIn
Reviews and ratings work as trust indicators for search engines. The more reviews a nonprofit has, and the higher the overall rating, the more likely they'll rank well. The largest impact for reviews and ratings, however, is on the donor. Nothing says "trustworthy!" quite like 100 reviews averaging 5 stars!

The best way to gain reviews is simple: ask. Current employees, volunteers, and board members are all great internal resources to utilize for reviews. Incentivizing reviews, such as entering reviewers into a contest for a tee shirt or a $10 gift card, will increase the likelihood of people leaving a review!
Nonprofits focusing on local SEO should be optimizing web pages, blog/news articles, and event pages by adding location information like city and state to the title and main body of content. Adding location information helps Google understand who your content serves as well as the person who is searching. It's a win-win! That doesn't mean go wild, though. A reference in the title and one or two mentions of the location within the main body of content will suffice.
Share your content locally
It's always a good idea to include some type of marketing into your nonprofit SEO plan! This doesn't have to be paid promotions; simply emailing your donor base an article will do. How does marketing help? It builds links to your site, exposes your brand name to potential donors, and increases website traffic! Here are some ideas to help with local SEO:
Reach out to local news stations and social media groups to share news articles that feature your nonprofit.
Include links to articles when reaching out to your donor base.
Share articles on social media platforms.
National SEO for nonprofits
The strategy of national SEO is to increase your nonprofit's exposure to the general population. In terms of SEO, this is mainly accomplished by writing content relevant to your nonprofit's mission, sharing this content with your audience, and building backlinks. The first priority, however, is to do proper research!
What does targeting a topic mean? What about keywords?
Topic targeting is about covering an entire subject in one article. A user that reads your article should have enough information to understand the topic thoroughly and complete their search. Throughout the article, keywords will naturally fit into the conversation.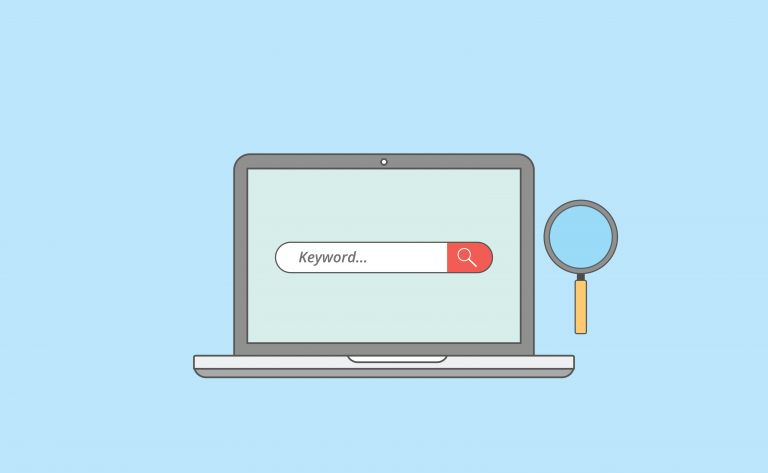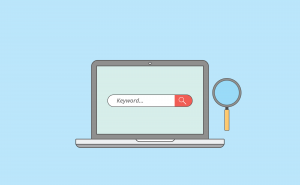 Let's look at an example. If you're researching the best ways to increase donations, what are some article ideas that come to mind?
Securing partnerships with businesses and corporations; reaching out to donors through marketing channels like email, SEO, paid ads, social media, direct mail, and phone calls; raising funds through an event like a 5k or an auction; or implementing a matching gifts program. See, the article is already writing itself!
The next step would be to research keywords and questions associated with the topic. Then start writing!
Choose your topic, research keywords

Identify your topic and keywords
In the scenario above, "increase donations" is our topic. When we begin keyword research, we would start with "increase donations" as a keyword as well as variations like "how to increase donations" and "ideas to increase donations." We'll also want to collect information on each subtopic we're looking to target, i.e. sponsorships, marketing channels, events, and matching gift programs.

Record search volume and keyword difficulty of main keyword
When researching keywords, make sure to jot down search volumes and keyword difficulty for the main topic and subtopic keywords. This will give you an idea of the amount of work that needs to go into the article. Organizations can use a research tool such as SEMRush to help retrieve this information!

Collect a list of questions
Questions are very important for two reasons.  For one, questions involve a dialogue between your organization and potential donors. The more answers you provide to questions related to your main topic and subtopics, the better. Google also wants to showcase your organization in what's called a "People Also Ask" box. These are common questions donors ask that are related to the main search.
Some questions for our scenario: How to increase donations? What to say when asking for donations? How to ask for donations examples?
Pro tips:
The higher the search volume of a keyword, the more competitive it's likely to be. Highly competitive keywords take a lot of effort, planning, and backlinks to rank. Prepare accordingly!

If a keyword has a low search volume (i.e. 10 searches or less a month), there's a better keyword that you can target that has a higher search volume.

When researching a keyword, it's important to collect information from research tools like SEMRush and Google. Research tools will provide in-depth data while Google provides actual questions your article can answer and lists related keywords.
 
Next, search for the main topic again. Make note of competitors that rank highly, and then visit their articles. What keywords do they focus on? What's a consistent keyword in their title and headings? How long is the article? Do they provide anything unique to the user (i.e. downloadable resource, statistics or other data to back up claims, expert contributions)? Note anything you think is valuable or unique to each article.
Here we want to identify what the searcher is looking for: Do they want general information on a topic? Are they looking for research? Are they looking to act i.e. donate?
This will determine the type of article you write.
Informational articles typically take the form of guides and include best practices and tips.
Research articles typically take the form of a list or a comparison and include expert opinions to back up statements or claims. The main thing is to get into the head of a donor and take time to think about the problem they're looking to solve.
In our "increase donations" scenario, the searcher is looking for information on how to increase donations.
So, in this article we'd include best practices and actionable tips for the topic and subtopics we discussed previously: sponsorships, marketing channels, and events.
Then, we'll want to provide some type of next step the searcher can take. In this example, it's best practice to link to articles about event planning, useful marketing tools, an in-depth article about securing sponsorships, and list of fundraising software.
Write high quality, long-form content
Once you've completed your research, you can start writing your article. It's important to write readable, digestible content. That means using easy-to-understand vocabulary, breaking up long paragraphs, using headings to break up sections, and being clear and concise. Remember, you're the expert and your donors are asking you questions that are important to them.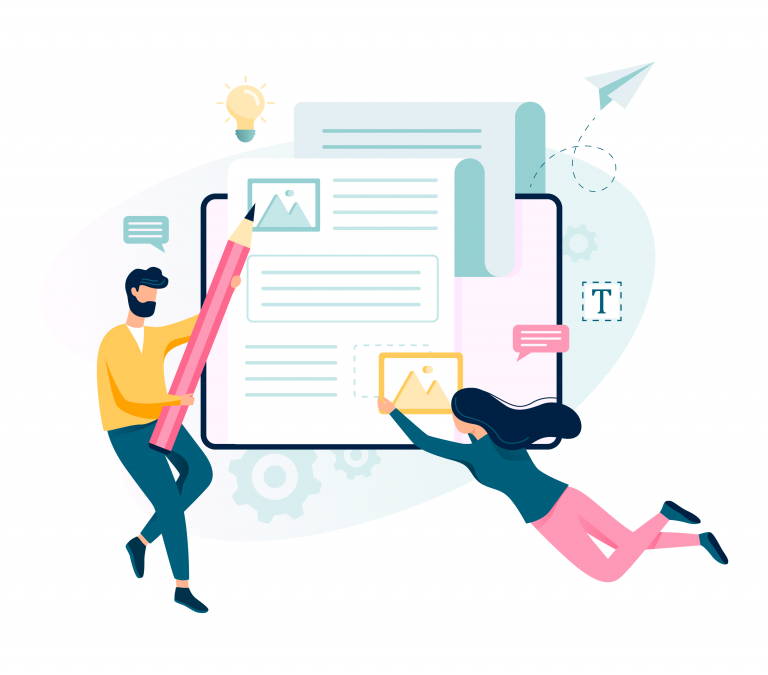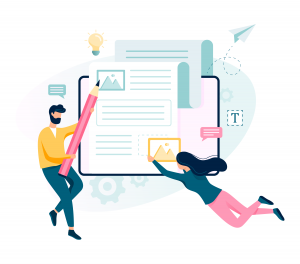 Pro tips:
When writing your article, check off keywords as you go! This will provide a small mental boost and make sure you cover every keyword.
Long-form content generally refers to a word count of 1,800+, but you can gather a general sense of the target length from competitor articles during the research phase.
You just built this great piece of content that your donors will find useful. Don't waste all that time and effort by not sharing it! Sharing doesn't necessarily mean paying for advertising. It simply means taking an active approach and sharing your content with donors. Add it to your email communications, post on your social media channels, guest post on leading industry sites, etc. The possibilities are endless!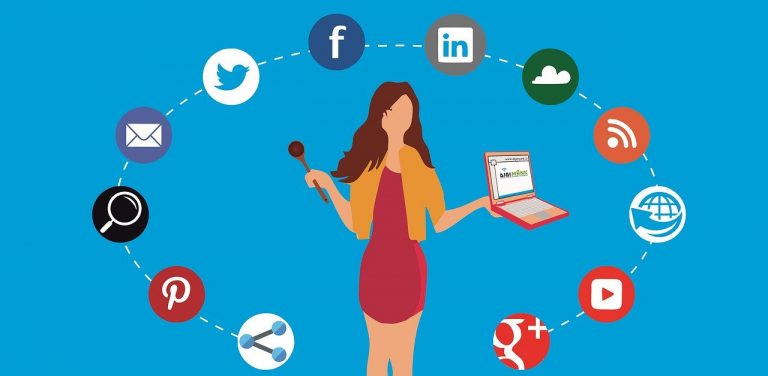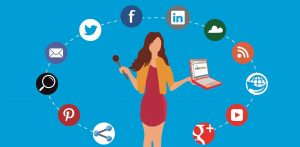 You might ask: how does sharing content help rankings? First, we need to talk about backlinks!
Backlinks are links from one website (A) to another website (B). To Google, this is like a job reference. If someone is willing to vouch for your character and expertise, you must be a quality candidate for the job. The more backlinks you accumulate, the more likely you are to rank.
However, not all websites and backlinks are created equal. To refer to the job reference scenario, one reference from a CEO provides more trust than say, five references from friends. The more high-quality backlinks you gain, the more likely you are to rank!
How does sharing content help with rankings?
The more people that see your content, the more likely they are to link back to your content. And as we know, backlinks are one of the most important ranking factors to Google!
E-A-T: Expertise, Authoritativeness, and Trustworthiness
We need to talk about E-A-T which stands for Expertise, Authoritativeness, and Trustworthiness, and is an important ranking factor. E-A-T is a quality assessment of an organization both on and off their website. Generally, E-A-T is applied to all sites and has an impact on rankings. However, if you're a medical nonprofit or a nonprofit that provides legal support or services, E-A-T is crucial.
How do you build a high-quality E-A-T?
Trustworthiness:

Be transparent about your mission, where funds go, and where you're located

Build a good reputation. Online reviews will help but it's also important to be seen as a good organization in the eye of the public.
Security, security, security. We've all read about organizations being hacked and losing personal information. This translates to rankings, Google is watching!
Authoritativeness/Expertise:

Build high-quality backlinks from organizations related to the articles topic
Align with organizations that are trusted in your nonprofit sector
Nonprofit SEO Tools you need to be successful
Phew! You made it! With the information above, you're armed with the knowledge to optimize your nonprofit's SEO efforts and rank on page 1! But I have one more truth to lay on you… without the proper tools to analyze and track performance, none of it matters! Most of the tools I reference are free and I highly suggest using them. I'll point out the paid platforms and explain some of their benefits:
Tracking Tools:
Keyword/Backlink Research Tools:
Optimization Testing Tools:
Other Tools:
Final Thoughts
Now that you're fully prepared to tackle SEO for nonprofits, here are some additional articles to help you market your nonprofit and achieve your mission!