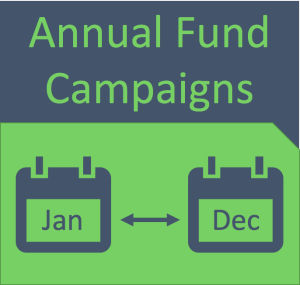 What is an annual fund campaign?
An annual fund campaign is a nonprofit's general fundraising effort over the course of a year.
Annual giving is not one specific campaign, but it can have a different theme each year depending on the nonprofit's mission.
The money raised during an annual campaign goes toward general operating expenses and the nonprofit's broader philanthropic projects.
This annual campaign guide will help you understand and implement an annual campaign strategy in your nonprofit.
Follow along with our Table of Contents, or scroll through this guide to learn more.
Retaining donors during your annual campaign can help your nonprofit maximize your donor potential and create lasting relationships with the people who love and support your organization.
Why Retaining Your Annual Fund Donors is Critical
Donors who only give once to nonprofits with an annual fund
You probably already know that donor retention rates for nonprofits of all missions and sizes are dismal.
Many nonprofits are only keeping 4 out of every 10 donors, meaning 60% of donors are giving to an organization once and never giving again.
However, if your nonprofit launches an annual campaign, you have a better chance of boosting your donor retention rates.
How?
Well, since an annual fund is all about raising money and developing relationships with donors, there are ample opportunities for your nonprofit to engage with supporters in a more personal way.
When you create meaningful relationships with donors instead of just asking them for money all the time, you increase the chances that they'll want to give to your organization down the road.
Donor Retention Strategies
Acknowledge Donations ASAP
The sooner you show your donors that you appreciate them, the more likely they'll be to give to your organization in the future.
Acknowledgements should be sent out within two days of a contribution being made.
Prompt appreciation demonstrates genuine gratitude on your nonprofit's part and can help give your donor retention rates a boost. Just be sure that your acknowledgements are still personal.
Offer Other Engagement Opportunities
You shouldn't constantly ask for donations in your communications to donors.
Instead, give them other opportunities to interact with your organization.
You can also invite them to events, encourage them to volunteer, or ask them to help lead a peer-to-peer fundraiser. The type of engagement opportunities you offer will largely depend on the donor's relationship with your nonprofit.
Follow-Up Down the Road
Donor retention doesn't stop as soon as you send out your acknowledgements. You have to properly steward your donors if you expect them to give to your organization again.
You should follow up with donors in the weeks and months after they make a donation to your annual fund.
Each follow up should thank the donor for their support first. Make sure you let them know how you've used their gift!
Don't ask for another donation in your first follow-up; you don't want to make your donors feel like ATMs! Save further appeals for later down the line.
Publicly Recognize Donors
Thanking donors publicly is a powerful way to show donors and potential donors that you appreciate and value contributions to your nonprofit. But be careful: not every donor will enjoy having a spotlight put on them! Run it past the supporter you're recognizing before you do so.
Publicly recognizing a major gift donor or a loyal supporter can be a great way to showcase their dedication to your cause. You might even inspire other donors to donate again!
Additionally, when you highlight a donor's philanthropy, it increases the chances that they'll continue to donate down the road.
Vary Your Communications Strategy
Your donors don't talk to all of their friends, family members, and coworkers with just one communication method. Why would you use one strategy per donor?
Vary your communications so that donors can receive your message across several platforms.
Do you have a huge body of donors on Facebook? Use that channel to keep them updated on goings-on at your organization. Are lots of them using their email? Make sure you're sending consistent, informative emails that will inspire them to get more involved.
Ensure that your branding and messaging are consistent across platforms. Donors should know with certainty when your nonprofit is communicating with them.
Create Personal Connections with Donors
Creating personal connections with donors through one-on-one conversations and shared experiences is one of the most important ways to increase donor retention.
When donors know the people in your organization and the individuals, animals, or communities that you serve, they feel a closer connection to your cause and will continue to support you.
Figure out effective ways to get to know your donors.
Whether you write them personal thank-you notes, invite them to donor appreciation events, or meet with them in person, building personal relationships with them will boost their retention and make them more likely to continue their support.
Donor Acknowledgement Strategies
Email
Description
Email acknowledgements are one of the most common ways to thank annual fund donors for their contributions.
Not only are emails a cost-effective and efficient way to demonstrate your organization's appreciation; they are also a nearly universal way to get in touch.
Most people have at least one email address, and some have two, three, or even more!
Ideal Recipient
Even though email is a fairly common way for nonprofits to get in touch with their annual fund donors, there are some key demographics that appreciate email acknowledgements.
Donors who give online tend to prefer an emailed follow-up.
Additionally, younger demographics tend to respond better to email communications than older donors.
Resources Needed
Before you start sending out batches of email acknowledgements, you'll need to make sure you have the following resources on hand:
List of donors' email addresses
Email automation software
Appropriate segmented lists based on donors' relationship with your nonprofit
Information about the donor's contribution
Required donation receipt information
How it Helps With Donor Retention
Emails are a quick and easy way to keep in touch with a lot of donors. While they are often considered to be a bit more informal than thank-you letters or in-person acknowledgements, they are still an effective way to communicate your organization's gratitude.
Additionally, since emails are a near-universal way to get in touch with donors, you have a better chance of retaining the donors who receive and open your emails.
Letters and Cards
Description
Letters and cards provide a personal touch to your acknowledgements.
While they are more expensive and labor-intensive than other acknowledgement strategies, they can go a long way toward retaining donors.
Letters and cards are an ideal communication strategy because they help to establish deeper relationships between your nonprofit and donors.
Ideal Recipient
You probably won't be able to send out a letter or card to every single donor after each and every donation is made.
However, you can send out direct mail communications to your loyal donors who have shown their dedication to your nonprofit.
They are also useful as a first point of contact between your nonprofit and your first-time donors.
Resources Needed
Before you start sealing envelopes, make sure that your nonprofit has these resources:
List of donors' addresses
Template for the letters or cards
Segmented lists based on donors' relationship with your nonprofit
Info about the donor's contribution
Required donation receipt information
How it Helps With Donor Retention
When a donor receives a personal letter or card from your nonprofit thanking them for their contribution, they feel a stronger connection to your organization.
After all, letters and cards build trust.
Plus, donors can keep direct mail acknowledgements that will remind them of your nonprofit (and of donating!).
In Person or Over the Phone
Description
For an even more personal touch to your acknowledgements, try thanking your annual fund donors face-to-face or over the phone.
Because it would take a lot of time, energy, and resources to thank every single annual fund donor in-person or over the phone, this strategy should be used carefully.
It's about quality, not quantity.
Ideal Recipient
Unfortunately, there aren't enough hours in the day to thank every single annual fund donor in person or on the phone.
That's why face-to-face acknowledgements and phone calls should be reserved for loyal donors and major gift contributors first.
Recurring and major gifts donors invest heavily in your nonprofit; make sure you're investing in them as heavily!
Resources Needed
Face-to-face and phone acknowledgements will require the following resources:
An understanding of the donor's history with your organization
A "script" to use when thanking the supporter (to get the conversation started!)
Information regarding the most recent donation
A donor's phone number (when applicable)
How it Helps With Donor Retention
When your donors no longer see your organization as a faceless mass and instead of a relatable group of people working with them towards a common goal, they will be more likely to give to your cause in the future.
Phone calls and in-person acknowledgements allow your organization to create the personal connections necessary for a strong donor retention rate.
Social Media
Description
Social media shout outs and acknowledgements are an informal way to highlight your annual fund donors.
You could either acknowledge a specific donor using a particular platform, or you could thank a group of donors all at once.
You could even create a trend of highlighting a "Donor of the Week."
Ideal Recipient
Donors who give online tend to have at least one social media profile, and some of them have two or more!
Therefore, social media shoutouts are best reserved for online donors who have some kind of social media presence.
Social media acknowledgements should show your appreciation, but they should never take the place of emails or letters.
Resources Needed
Before you start posting and tweeting, make sure that you have the following resources on hand:
A presence on the platform you're using (example: don't send a shoutout on Twitter if your donor doesn't tweet)
A schedule for posting acknowledgements and shout outs
Templates for the different types of acknowledgements you'll post on each platform
Connections with the donors you plan to thank
How it Helps With Donor Retention
Many people on social media enjoy when a status or picture receives attention. In fact, numerous studies show how our brains react positively when someone likes our Facebook status or favorites our tweet.
Knowing this, your nonprofit can capitalize on your donors' desire to be in the social media limelight.
When you recognize a supporter on social media, you increase the chances that they will favorably view your nonprofit and donate in the future.
Donation Receipts
Description
Donation receipts are written acknowledgements of a donor's contribution.
The IRS mandates that donation receipts be provided whenever a donor makes a single contribution of $250 or more, but any donor who requests a donation receipt can get one.
They are used to help donors claim deductions on their tax returns. They can also be used as a space to thank donors.
Ideal Recipient
Though the law requires donation receipts for certain gift amounts, most nonprofits send receipts for any online donation, regardless of size.
Additionally, any donor who requests a donation receipt must be sent one, regardless of the amount.
It's wise to get in the practice of including the necessary donation receipt information on all of your acknowledgements. That way, donors have the info they need without having to ask your organization for it!
Resources Needed
Your donation receipt needs to include:
The donor's name
Your organization's name and, tax ID number, and 501(c)(3) status
The donation amount
A statement explaining whether any goods or services were provided in exchange for the donation
The name and signature of an authorized organizational representative
How it Helps With Donor Retention
Donors who want to claim deductions on their tax returns need donation receipts in order to do so. They're also needed if a donor is being audited.
When your nonprofit provides a donation receipt promptly and without having to be asked by donors, you demonstrate excellent stewardship. Donors can give to your cause knowing that they will be able to claim deductions on their taxes with ease.