2020 was a challenging year for all due to the COVID-19 pandemic, and animal nonprofits are no different! From event cancellations to staffing and resource shortages, fundraising for animals has definitely been a struggle this year.
However, that doesn't mean there haven't been some bright spots throughout the pandemic. Adoptions and fostering are up—even though actual donation numbers are down—and animal nonprofits remain the second most popular type of organizations for people to support (behind youth organizations, and tied with medical organizations).
Even better, there are so many ways that animal organizations can create new fundraising opportunities, and fix the budget shortfalls caused by last year's budget decline. Check out some of the event and campaign ideas below, and then watch the webinar to learn even more!
Standard donation forms that pack a punch with recurring donation prompts
I know you're thinking standard donation forms are pretty generic and one-size-fits-all … but they don't have to be! From quick improvements to unique campaigns, there are all kinds of ways you can update your online donation form to help you raise more.
If you're looking to get back to basics, try starting with getting more out of your current annual giving form. For example, Qgiv's standard donation forms include recurring giving prompts to ask your donors to switch their donation from a one-time gift to a monthly gift. Monthly donors give 42% more in one year than one-time donors, so prompting donors to give regularly can make a big difference to your nonprofit and its mission.
Other quick fixes you can make include making sure your forms are mobile responsive, using a multistep layout (it increases conversions!), and adding the option for your donors to cover processing fees. On the Qgiv platform, this is called GiftAssist, and 64% of users will elect to use it if you offer it!
Matching gifts are another way to raise more funds to support your mission, but your donors can't use it if they don't know you offer it!
You can also easily set up a standard donation form to specific campaigns like Giving Tuesday, or emergency medical needs for an animal in need. Not only do separate forms make it easier to track the results from a specific campaign, but separate donation forms allow you to more accurately communicate the impact each campaign will have, which is incredibly important for building donor trust.
You can also use these forms to create supply drives, clear the shelter campaigns, and memorial campaigns where supporters can donate in memory of a pet that's passed on. A campaign that allows pet parents to create a custom pet ID for their dog or cat is another simple, but effective campaign you can use to raise funds to help animals.
Simple fundraising events for big results with less planning
We may be seeing fewer in-person events due to COVID-19, but that doesn't mean there aren't services our animal companions need, even in the middle of a pandemic. A standard event registration form can easily be used as a sign-up form for spay and neuter and vaccination clinics. Qgiv's easy-to-customize forms make it easy for you to not only brand your form, but also make sure any COVID-19 safety instructions are prominently featured.
Similarly, standard registration forms are also perfect for animal day camps, adoption events, and rent-a-dog programs where you loan rescues out to places like schools or offices. Students and employees get a morale boost, the rescues get some love (and hopefully a furever home!), and your organization gets to raise money to help even more animals!
Event registration forms aren't limited to just event sign-ups either. They can also be used for virtual fundraisers like raffles, costume contests, membership registrations, and pet licensing.
One of our favorite ways nonprofits use these forms is for holiday-themed fundraisers, like this great Valentine's Day "event" from Kitsap Humane Society. They allowed donors to send adorable e-cards to their loved ones in exchange for a donation, which makes a great gift for the animal lover in your life!

Holiday-themed fundraisers tend to do well for animal nonprofits, and you can raise a good amount to support your mission without having to host a physical event at all!
Peer-to-peer increases engagement for animal nonprofits 
Virtual peer-to-peer events for animals can be a boon for the organizations that host them, and there are endless formats for these types of events, ranging from remote 5Ks to a virtual animal-themed game night featuring video games like Paw Patrol or Animal Crossing.
Ideas for peer-to-peer events are only limited by your imagination, but you do need a strong peer-to-peer fundraising platform that has easy event setup and branding, individual or team fundraisers, matching gift options, and recurring donation prompts.
You'll also want to be able to gamify your event with badges and leaderboards, and have an online store so people can buy souvenirs from your event. Companies like Bonfire or Promotion Resource Group have upped the game for nonprofits looking to sell merch, so now even small nonprofits can offer merch that their supporters would be happy to sport.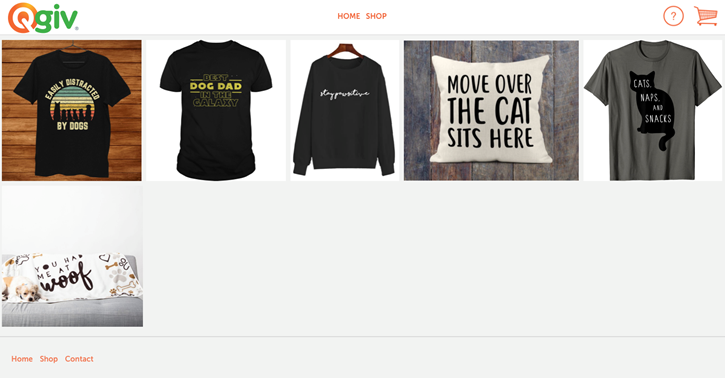 Finally, you'll want a peer-to-peer platform that makes it easier for your hard-working staff and volunteers to manage your event.
A great platform will not only make it easy to invite last year's participants to join in on this year's fun, but it will also allow you to incorporate funds raised from other platforms, like offline donations and Facebook Fundraisers. Qgiv's fundraising platform can help you check off all those items on your "must-haves" list.
Text fundraising is the way of the future
If your nonprofit hasn't yet explored text fundraising, now's a great time to start! It's the perfect tool to increase engagement throughout galas, luncheons, and other fundraising events. All you need to do is create a simple, easy-to-remember keyword that represents your event, and then make sure it's prominently displayed throughout your virtual event.
Displaying your text-to-give keyword directly on your organization's FundHub is a great solution that makes it easier for supporters to give, whether they're attending in person or from their couch!
FundHubs are also a great place to display names and messages from donors during the event, and it adds another element of engagement since supporters can see their donation and message show up in real-time.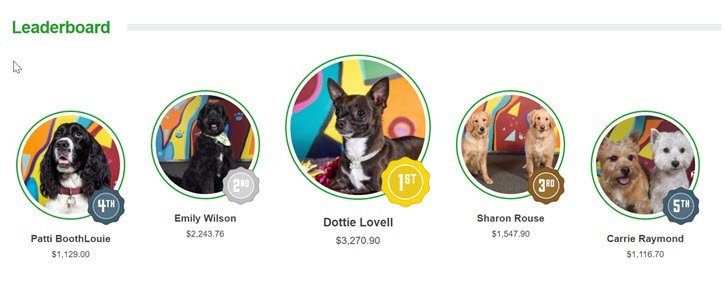 Of course, animal nonprofits can make could use of text fundraising outside of events too. You can use outbound text messages to show donors how their donations have directly helped animals, such as sending a picture of a rescue your donors saved happy and enjoying his or her new home.
You can also use text fundraising to reach out for support for urgent, non-event-related needs, such as a new rescue that needs urgent medical care. Time can be of the essence for animals rescued from severe situations, and text fundraising can give you the big, virtual push your organization needs to raise the funds necessary to help them.
After all, the 98% open rate text marketing enjoys can help you meet the urgent needs of your nonprofit's animals by making it easier for donors to both see and respond to unexpected fundraising requests.
Auctions to help you raise more
Finally, no matter what goal your nonprofit is looking to achieve, there's no goal a good fundraising auction can't help you achieve. After all, auctions and raffles can be added to almost any event, and they're an exciting way to great anticipation for your guests.
We recommend using social media to tease big-ticket or unique items (like vacation pages or autographed memorabilia) ahead of time. If you want to have some fun with this, you can tease an item a day in the week leading up to your big event, and then you can reveal all the auction items a day or two ahead.
Your supporters will be even more excited about your event … and it gives them a chance to share your event with their friends or family. The added word-of-mouth marketing will always help your nonprofit raise awareness for your mission, and if your auction is virtual, social media pushes can help boost the number of participants too.
Using a comprehensive auction tool with a FundHub gives you even more ways to engage your supporters, whether that's by adding a livestream of your entertainment so people aren't glued only to the auction portion of your event, or by making sure to feature compelling impact stories throughout the fundraiser.
If you add a raffle to your auction, you can even livestream the drawing so that everyone learns who won at the same time.
FundHub's are also a great place to put instructions for your event they're easily accessible to supporters. The Eau Claire County Humane Association did a great job with their FundHub, and I'm sure that made their first-ever virtual auction even more fun for their attendees!

Adding fund-a-need items is yet another fantastic way you can give donors a way to support you at an auction. Your supporters are there to support your cause, but even the most thoughtfully-planned auction won't have items every supporter wants to bid on.
Adding fund-a-need items gives those supporters another way to give, and you can add image impact statements through Qgiv's platform to help supporters make the connection to where their money goes. For example, if you can feed 10 large dogs for a week on a $25.00 donation, but you can take care of 25 for $50, showing a picture of 10 dogs versus 25 will help your supporters visualize this … and it will hopefully inspire them to increase their donation!
Final thoughts
Are you ready to hop right into raising more? Then schedule a one-on-one demo to learn more about the Qgiv fundraising tools, and how they can help your animal nonprofit achieve your goals!
If you're still looking for more ideas, check out this free, on-demand webinar "Gimme Shelter: Virtual Fundraising for Animal Service Organizations," featuring Qgiv's very own Customer Service Manager Heidi Morris. Fundraising is of greater importance for animal welfare rescues and organizations now more than ever before, and this session aims to help!
Watch the "Gimme Shelter!" webinar now!