Watching supporters gather and rally for your cause is a rewarding and irreplaceable experience. Whether participants are running a 5K to raise awareness of your mission or community members are singing along at a charity concert, nonprofit events will always be a core component of a fundraiser's job.
As a leader of a nonprofit organization, you're tasked with coming up with fun ideas and experiences that captivate supporters and inspire them to give. With virtual events growing in popularity and new tech making different types of engagements more accessible, coming up with event ideas is a constant growing pain.
How can your nonprofit events keep your supporters excited and coming back?
The key to a successful nonprofit event is happy and engaged attendees. Otherwise, your event will lose steam and the attention of your supporters. Here at Qgiv, we've written about top fundraisers before. This guide of updated nonprofit event ideas will walk you through:
Sometimes all you need is a little inspiration to get your nonprofit event wheels turning. Let's begin.
Want to bring your fundraising to the next level? Enlist in Boot Camp

What Is A Nonprofit Event?
Nonprofit events are curated experiences for supporters that inspire giving and raise awareness for a cause during a set time period.
These events could span a week or take place during one critical day. To raise money, nonprofit events, whether in-person, virtual, or hybrid, will likely use one of the following methods:
Ticket selling or registration fees
Event sponsorships from businesses, schools, or other organizations
Sponsorships of individual or team participants
Donations during the event or leading up to the event
Auction items or raffle tickets
Event merchandise, products, or concessions
Not only are nonprofit events key to furthering your organization's fundraising efforts, but they also bring your community together. Your donors span location, age, ability, and more, but they're all passionate about your mission. Your nonprofit event is the perfect opportunity for these like-minded individuals to come together for a meaningful cause.
Thanks to the internet and technological innovation, nonprofit events can also now take place virtually. With the right resources and solutions, pivoting your exciting event ideas to the online space is easier than ever before. Adding a virtual component to your events can increase attendance and open accessibility up to those who can't attend in-person.
Plus, if face-to-face interactions and large gatherings are no longer allowed, virtual events offer an alternative.
How To Host a Nonprofit Fundraising Event
Each nonprofit event is different, so the way your organization approaches planning and hosting one will be unique as well. However, there are some basic guidelines that all fundraising leaders should follow:
Looking to plan a virtual event? Download our Virtual Event Planner
Establish a SMART goal. Determine the purpose of this nonprofit event. Is there a specific fundraising amount you want to hit? Do you want to add X amount of supporters to your email list? We recommend using the SMART (Specific, Measurable, Achievable, Realistic, and Timely) method to ensure your goals are valuable.
Gather an event planning team. Assign staff members to the critical roles in your event planning. Different teams will be creating promotional materials, on site at the event itself, fixing any technical difficulties, and more.
Plan out your budget. Look at past similar events you've hosted to get a better idea of what this might look like. If anything, hosting a virtual version of an event is likely way more cost-effective than an in-person one. You don't have to rent a venue or hire on-site staff.
Collect the resources you'll need. This will depend on the type of nonprofit event you're hosting. For in-person events, consider any specific equipment, tools, food, entertainment, and other necessary items you need. For virtual events, consider the tools and tech you should invest in. For both, you'll need a capable event registration tool.
Promote and market your event. Now that you have the basic components down, you need to share the event with your supporters. Create marketing content for your email, social media, and website audiences.
Set up how supporters can give and get involved. At the very core, your nonprofit event needs a clear and actionable way to donate. Whether this is with an online donation page, a text fundraising phone number, or a giving app, these options should be clear and accessible. Offer more than one way to give to increase fundraising potential.
With these basic steps down, it's time to start exploring the different types of nonprofit events you might host.

15 Fundraising Event Ideas to Try Out
The list of possible nonprofit event ideas is always expanding. With innovative tools and new engagement strategies, it's always worth it to do your research and determine which might be the best one for your efforts.
Below, we've listed 15 of our favorite nonprofit event ideas as well as their fundraising potential and the amount of effort needed to plan. We'll then dive deep into both in-person and virtual options.
1. 5K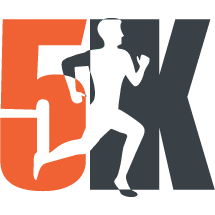 A 5K is a long-distance road running competition. Thanks to its relatively shorter distance, 5Ks (~3.1 miles) are a popular choice for nonprofits. It's not only easier to find a shorter track, but the distance is also approachable enough to encourage more attendees.
To raise money for a 5K, you can charge an entrance fee and/or ask supporters to give by sponsoring a participant. You can even accept donations during the 5K itself.
In-Person Nonprofit Event Elements
If you're thinking of hosting an in-person 5K event, these are the elements you will need:
A location for the 5K track
An on-site team to man the registration table, pass out water, and lead set up and clean up
Waivers that release your organization of any liability
Virtual Nonprofit Event Elements
If you're thinking of hosting a virtual 5K event, you'll need those same in-person elements but pivoted to the digital space. For instance, you might:
Allow participants to use their own 5K circuit and equip them with distance tracking tools
Assemble a team to engage with attendees through live stream, post shoutouts on social media, or assist with any tech support
Produce digital waivers that can be signed online
2. Gala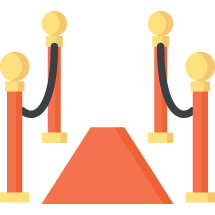 A fundraising gala is one of the more formal nonprofit events. Typically, galas invite important guests such as major donors, community leaders, and board members. With all of these people gathered together in one place, it's the perfect opportunity to fundraise.
However, a gala is more than just a casual get-together. It needs careful and extensive planning, especially if you want it to be a memorable and engaging experience.
Galas usually require guests to don formal attire to come together for a catered meal and entertainment. Figuring out how to entertain guests, what the seating arrangements will be, and keeping in line with your budget are common challenges. In order to raise money, you can sell tickets to the gala or encourage donating during the event itself. Many times organizations will also host a silent auction during the gala event.
In-Person Nonprofit Event Elements
For an in-person fundraising gala, you'll need to:
Book a venue beforehand
Hire entertainment (comedian, live music, etc.)
Hire a catering company
Assign a dedicated speaker or staff member to talk about your cause
Virtual Nonprofit Event Elements
You might not think a virtual fundraising gala is possible, but with the right resources and tools, it sure is. Here is what it might look like:
Attendance is through live streaming and video conferencing
Catering is in the form of food delivery sent to participants' houses
Any activities provided can all easily be done at home or online
Entertainment is live streamed
Silent auctions can be virtual with a silent auction platform that supports web-based and app-based bidding (check out this list of 25 virtual auction ideas to explore how this event can work from home!)
3. Scavenger Hunt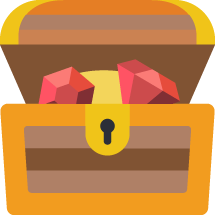 A scavenger hunt is a unique and fun way to raise awareness for your mission. It'll take some time and money to plan, especially when it comes to brainstorming the perfect items to hunt. But the end results are rewarding for both your organization and the event's participants.
Individuals or teams will sign up to participate in the scavenger hunt. You'll likely charge an entrance fee to registrants or have donations sponsor a specific team. To incentivize people to register, announce an exciting prize for them to win.
Once the participants are signed up, provide each individual or team with a list of items they need to find. To end the event, designate a specific place and time to meet and judge which team won the hunt.
In-Person Nonprofit Event Elements
This is the perfect nonprofit event to host in person for an engaging experience. You'll need to:
Compile a list of tasks for teams to complete and items for them to find, along with a way to prove the assignments have been accomplished
Provide food and drinks for attendees and staff
Designate starting and ending location and time
Gather a team of judges
Virtual Nonprofit Event Elements
A scavenger hunt can be accomplished virtually as well. The only difference is that the listed actions and items should be achievable at home or online.
Consider compiling a list of tasks/items that can be done strictly on the internet, using various websites and online platforms. Then, at a designated time, all of the scavenger hunt participants should meet to reveal who the winner is. This can be hosted through video conferencing, with the final results also posted on your organization's event page.
4. Bowlathon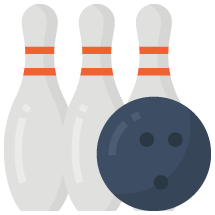 Similar to the 5K and other themed "athon" events, a bowlathon is a unique fundraising idea where participants bowl to raise money as individuals or teams. This event is great for any type of nonprofit organization because of its family-friendliness and accessibility. Plus, it promotes a healthy and active lifestyle– who doesn't want that?
It'll likely take some time to plan a successful bowlathon. You need to rent bowling lanes beforehand, figure out if you'll need vendors for food and drink, and make sure to have enough bowling shoes for all participants.
In-Person Nonprofit Event Elements
To pull off an in-person bowlathon, you'll need to prepare:
A bowling venue with the necessary equipment and decorations
Dedicated ways for supporters and participants to give, whether online or with a giving app
An emcee to host the event and manage entertainment
Other staff on site to check guests in, direct bowlers, and answer any questions
Virtual Nonprofit Event Elements
Creating a virtual bowlathon is a little tougher than other event types. However, you just need to be a little creative. In fact, many organizations have successfully hosted virtual bowlathons– except the entire game was online!
All you need is a virtual bowling simulator that is accessible on both desktop and mobile. Then, ask your participants to play from their preferred devices. Supporters can donate to your organization online and even root for a specific team or player. Because you don't need to rent bowling lanes, this is a great budget-friendly alternative that doesn't even require participants to leave their couch.
5. Raffle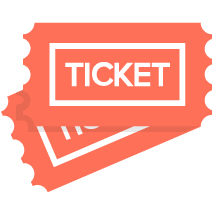 A charity raffle is a go-to fundraiser for nonprofit organizations. Combining charity with a game of chance adds a little extra spice to fundraising.
For starters, each state has different raffle laws. Some states have less restrictive laws that allow most organizations to host raffles, while other states are strict and don't allow fundraising raffles at all. In general, the majority of states allow nonprofit organizations to host charity raffles. However, some require nonprofits to obtain a raffle license or permit, so take the necessary actions to apply for one if needed. Once you've jumped through these hoops, you can now start planning a successful nonprofit raffle event!
In-Person Nonprofit Event Elements
Raffles are great as a standalone event, but they can also supplement almost any other nonprofit event you host. In fact, they're very popular and successful with silent auctions.
All you need to do is to collect a list of items and prizes that the raffle winners can collect. To stay within your budget, award prizes that are donated by other supporters, stakeholders, local businesses, or sponsors.
Then, simply sell the raffle tickets for a small fee to interested supporters. Use a number generator or another way to pick tickets at random and choose a winner. At the end of the event, raffle winners will then take home their prizes.
Virtual Nonprofit Event Elements
For a virtual nonprofit raffle, just pivot the entire experience online. Create a dedicated event page where supporters can buy raffle tickets and throw their hats in the ring for some fun prizes. You can either mail the prizes to the winners or offer online prizes that they can redeem on their own.
To make this virtual event a little more engaging, consider hiring an emcee to facilitate the entire experience on live stream!
6. Supply Drive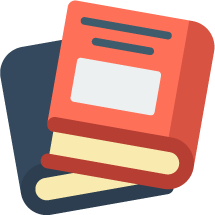 A supply drive is a nonprofit event that doesn't ask for monetary gifts. Instead, it requests donations of various supplies. For instance, schools will often host this type of event before the new year begins. School supply drives will ask for in-kind donations such as backpacks, pens, pencils, and paper. Another popular option is food drives. Many organizations collect canned goods and other non-perishable foods for community members in need.
Any type of organization can host a supply drive. You just need to have a dedicated list of items that your organization needs and ask your community members and supporters if they are willing to donate.
In-Person Nonprofit Event Elements
In-person supply drives aren't too difficult to plan. The important components to include are:
A list of desired items
Directions for donating the items, like whether they should be delivered in person or mailed
Staff members on site to accept the item and record the donation
Virtual Nonprofit Event Elements
Hosting a virtual supply drive is actually much easier than one might think. An easy way to pivot to an online experience is to create an Amazon Wish List. Or, if your fundraising software allows for it, create an online store. This is perfect for events like a virtual food drive!
This presents a set list of items that supporters can scroll through. With an easy click of a button, supporters can pick and pay for the item.
7. Golf Tournament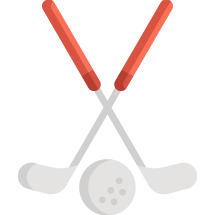 Golf presents a relaxing opportunity to spend some time outdoors while doing a leisurely activity. A golf tournament is also competitive enough to generate excitement and attract supporters to watch.
To plan a golf tournament nonprofit event, you'll need to consider the game format, where it'll be, and how you'll raise money. There are several format options for a golf tournament, with each having its own time constraints and other guidelines. Be sure to choose the variation best suited to your nonprofit's goals.
In-Person Nonprofit Event Elements
For an in-person golf tournament, make sure you have staff members and volunteers on site and assisting throughout the day. You might even partner with a professional golfer for more guidance.
From there, select a tournament location with the right course difficulty, equipment rentals, and other amenities. Planning this out beforehand helps ensure that the tournament event day is set up for success.
Each golf participant will likely pay a registration fee. You can also enable giving during the event itself, especially if crowds of family, friends, and other supporters are watching.
Virtual Nonprofit Event Elements
Hosting a virtual golf event is one of the more challenging options. However, it is definitely possible with the right tools by your side.
This is what a virtual golf tournament might look like:
Set up a date range for the tournament. This will enable individuals or teams to golf independently during the time span.
Work with the venue to rent out the specific courses needed.
Attendees sign up and pay for the golf event, choosing a specific time slot to go to the golf course.
Display the necessary rules and schedules for each golfer, depicting where and when they should tee up.
Golfers will play the game according to the rules and submit a scorecard to your organization.
Virtually meet with participants at the end of the tournament to tally up scores and announce a winner. This is also a great time to summarize fundraising goals. This can take place via live stream or with a video conferencing platform.
8. Concert
A fundraising concert is an exciting and engaging experience. Not only is it fun for your supporters to attend, your staff and volunteers will also love listening in and enjoying the good music. Concerts are perfect opportunities to raise awareness and meet new donors.
To host a charity concert, you'll need to secure talent. Depending on your budget, you may be able to get a larger artist, but reaching out to local musicians in your community is also a great idea. Then, simply ask your attendees to pay a ticket fee and provide them with an unforgettable show!
In-Person Nonprofit Event Elements
An in-person charity concert is fun for everyone involved, but it's up to your nonprofit to set up the right environment. Here are some tips to follow:
Rent a venue with ample seating beforehand
Choose a theme and determine who your core audience is
Provide food and drinks to sell for additional revenue
Assign staff to be on site and handle crowd control
Virtual Nonprofit Event Elements
Don't worry, hosting a virtual nonprofit event concert is feasible, especially with the right tools.
Using the same elements as discussed above, replace the physical venue with a dedicated live streaming page! This way, people can enjoy the concert from wherever they are. Make sure you have specific staff members on tech support. They should be ready to help if any viewing or listening problems come up.
9. Dance-off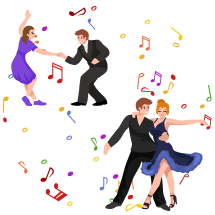 A dance-off is a nonprofit event that any organization or institution can host. Dance-offs usually consist of participants pledging to dance for as long as possible in exchange for gifts from supporters. There might even be a prize for the winning dancer or team of dancers for an extra incentive.
Friends and families will love donating to encourage their loved ones to keep on dancing. This is also a great way to meet new donors and gain some positive media attention.
In-Person Nonprofit Event Elements
To host an in-person dance-off, you'll need a great venue and continuous music. You might ask multiple DJs to rotate shifts or create a dedicated playlist that lasts the entirety of the event.
Because this fundraising event might take an entire day (they are typically around 24 hours), you'll need to effectively plan and schedule out which staff members or volunteers will be monitoring the dancers. After all, you need to make sure that everyone is following the rules! Whether you allow bathroom breaks or stand-ins is something you have to consider before the event.
Virtual Nonprofit Event Elements
Pivot your dance-off to virtual by using live streaming or video conferencing platforms. Have participants record themselves dancing in their own homes and assign staff members to watch each one to make sure that all the rules are adhered to.
10. Talent Show
Talent shows are a good time for everyone involved. Not only can supporters watch entertaining performances, but it also gives a chance for your own community members to showcase their top talents.
First, consider if you'll require auditions or if you want everyone who is interested to participate. This will likely depend on how many people sign up. From there, gather a list of the talent and start determining the setlist. Consider grouping similar talents together or spacing them out for more variety within the show.
Offer a prize to your top talent! You'll likely need a panel of judges to determine the winner or you can cast a general vote. To raise money, collect ticket funds from the audience and encourage gift-giving during the show.
In-Person Nonprofit Event Elements
To host an in-person talent show as your nonprofit event, you should:
Find a venue with a stage and seating
Establish all of the technical components of the show, including a soundboard, spotlights, etc.
Sell concessions or t-shirts as an additional source of revenue
Hire an emcee to host the event
Virtual Nonprofit Event Elements
Hosting a virtual talent show is very much possible. However, instead of having to book the right venue and organize the supplies needed for each act, these responsibilities fall on your talent instead. Host a virtual talent show by either:
Allowing talent to pre-record their act and submit it to your organization beforehand. On the talent show night, you'll present a video compiling all the acts you've received and have the judges or audience vote.
Requiring talent to perform their act live on a live stream service. This might require more technical skills and a high-speed, stable internet connection. Then, after all acts have performed, the winner can be decided.

Big Brothers Big Sisters of the Laurel Region has created an amazing virtual event to look to for inspiration with their BIG Talent show! They've made it easy for the community to participate by accepting uploads via Google Drive, a tool many people are already using in our new virtual work environments.
They're also offering a great prize for the winner, which will further encourage people to try and get votes. And at $1.00 a vote, they've made it easy for voters to participate!
11. Game For A Cause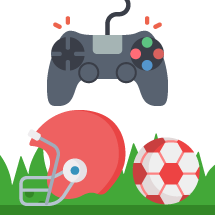 Games are not only fun to participate in, but fun to watch. Hosting a game for a cause is an engaging and exciting experience for all involved, and brings a competitive edge that can drive even more fundraising.
To raise money for this type of nonprofit event, you'll likely collect a registration fee for players. Allow additional giving during the game itself, encouraging supporters to donate to back up their favorite team or player.
In-Person Nonprofit Event Elements
In-person games for a cause typically involve a team sport. From football to volleyball to ultimate frisbee, almost any sport can be turned into a game for a cause. Choose one of the more common ones so that everyone knows how to play.
If you have enough players, you might even consider hosting a tournament with multiple games. To plan this nonprofit event, you'll need:
Designated field or park for the game to take place
The necessary amount of players and positions (If you don't have this, consider enlisting volunteers)
The required equipment for the game
Specific rules for the game that everyone must follow
Virtual Nonprofit Event Elements
If you want to host a virtual game for a cause, consider hosting an online video gaming night. Instead of a physical sport, players can participate from their own homes using their computers or mobile devices.
You'll have to choose a fun video game that everyone can play. There are tons of free games on the internet to choose from. You might also allow multiple different types of games to be played.
12. Cook-off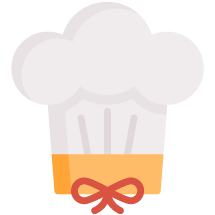 Cook-off nonprofit events not only inspire competition among participants, but also provide a spread of delicious food for attendees to enjoy. Also, cook-offs can raise a substantial amount of money for your nonprofit and increase your nonprofit's reputation within the community.
Usually, a cook-off involves participants preparing large quantities of a specific type of food. Then, all of the dishes are tasted by the cook-off judges and served to the attendees to try as well. Teams pay to enter, supporters pay to attend, and a fun prize is awarded to the winner(s).
In-Person Nonprofit Event Elements
Hosting an in-person cook off is a high reward event—in more ways than one. Not only do you raise money, but people can actually eat the food!
Typically, there is one dish chosen that teams will competitively cook. You might:
Provide basic ingredients to everyone
Rent out a specific space for everyone to cook and present their food
Hire a panel to judge cooking
Virtual Nonprofit Event Elements
While a virtual cook-off might not be as delicious, it is very much possible and just as fun. Instead of judging based on taste, your virtual cook-off can award participants based on speed and creativity.
Equip your participants with all of the same ingredients. You'll want to mail these out to your participants ahead of time or hand-deliver them on the event day. Throw in some wildcard ingredients to present an extra challenge. Then, while on a live stream or video platform, set the timer and have chefs come up with their idea of a great meal only using the items they were given.
13. Movie Night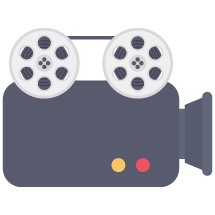 Hosting a nonprofit movie night is a fun and family-friendly way to raise funds for your mission. You can even pick a movie that relates to your organization and its work.
When choosing a movie, remember to check that you have all the rights beforehand. Paid-for movies on streaming platforms are a good idea. You can even incorporate "commercials" from your business partners who may want to sponsor the event.
To raise money beyond ticket revenue, you might sell raffle tickets and/or concessions.
In-Person Nonprofit Event Elements
In-person movie nights can be magical evenings, but it all depends on the venue.
Consider renting out an entire theater for a truly immersive and authentic experience. You can even set up a little red carpet for attendees to walk down before they take their seats.
Or, consider hosting your event at an outdoor theater if the weather permits. Provide blankets and chairs for seating and invest in a projector for a truly enjoyable event.
Virtual Nonprofit Event Elements
Hosting a virtual movie night is one of the easier nonprofit fundraising endeavors. You'll just need live streaming software that can accommodate a wide online audience.
To make this event a little bit more engaging, consider sending each of your at-home viewers a snack bag with popcorn, candy, and a large drink. Encourage participants to post their movie night setups on social media with a designated hashtag!
14. Sports Skills Clinic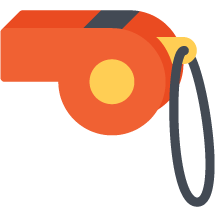 A sports skills clinic is where budding athletes come together to learn specific skills and become better players. Hosting your own sports skills clinic as a nonprofit event can be rewarding, but will take a good amount of time to perfect. After all, you want your clinic to bring genuine value to your supporters.
Pick a focus for your sports clinic—What sport will you train? Further, which aspect of the sport will you focus on? Speed? Drills? Once you've decided what the focus of your clinic is, you'll need to hire one or more coaches to actually teach the clinic. Each person that signs up for the clinic will pay a registration fee as a donation.
In-Person Nonprofit Event Elements
An in-person sports skills clinic requires planning. Specifically, you'll need to have a dedicated location for the participants to practice. Consider reaching out to public parks and fields, school sports fields, or even professional arenas.
Then, gather all of the equipment and resources you'll need. This might include specific gear, game equipment, and other essentials like a water cooler.
Virtual Nonprofit Event Elements
If you're thinking of a virtual sports skills clinic, you'll have to brainstorm ways to mimic the in-person learning that these skills might require.
Practicing with other people and having a professional judge your performance is essential for a sports clinic, so you'll need to set up one-on-one video lessons between your coaches and participants. Make sure that everyone is familiar with the schedule so that coaches don't miss out on helping anyone.
15. Poker Run
Poker runs are especially fun to participate in and aren't too difficult to plan for nonprofits. In a poker run, players use various forms of transportation to visit 5-7 locations that have playing cards. At each checkpoint, the players draw a card.
The objective is to have the best poker hand at the end of the run. This may purely be based on chance, but the act of running around and getting to each checkpoint first still drives competitive excitement. To raise money, poker runs will usually require a fee to enter. Make sure to award the winning hands with a fun prize.
In-Person Nonprofit Event Elements
Hosting an in-person poker run requires just a couple of essentials:
Set up check-in locations with a designated staff member to hand out cards
A deck of playing cards
Fun prizes for winners
Virtual Nonprofit Event Elements
You might be thinking that this event is impossible to host virtually. However, virtual poker runs have been done. How? Here are some tips:
Create a list of 10 locations. Keep these general so that those in any city or town can participate. Locations may include a grocery store, gas station, or police station.
Have participants choose 5-7 that they are able to reach.
Once they get to each location, require a selfie to be posted on the designated poker run event page.
Each person who hits a checkpoint will receive a "digital" poker card from one of your staff members.
At the end of the run people will show off their hands and you can choose a winner.
Need virtual fundraising ideas? Download PDF

Nonprofit Events: Success Stories from Qgiv Clients
The above nonprofit events look great on paper. But how do they fare in action? What virtual nonprofit event types are actually successful when implemented? Let's gain some insight by exploring some of our very own Qgiv clients and their efforts to pivot their nonprofit event to virtual.
The Sharing Center's Supply Drive
The Sharing Center is a nonprofit organization dedicated to providing basic needs like food and supplies to community members in Wisconsin. Typically, they task themselves with collecting food for an emergency pantry, providing free household items for those in need, supplying elementary school children with healthy snacks, and more.
A successful nonprofit event they recently hosted was their Virtual Pantry. Acting as a virtual supply drive, this was set up in response to the increased need for assistance due to the COVID-19 pandemic. The Virtual Pantry was set up using the online store feature of Qgiv's peer-to-peer platform.
This virtual supply drive mimics the in-person experience of going to a grocery store and purchasing food. The funds collected through the Virtual Pantry store page were then used to purchase items for those in need. This was a successful attempt by The Sharing Center at turning their regular supply drive into a virtual experience.
Beacon of Life's Cake Gala
Beacon of Life aims to be a guiding light for women, helping them in areas such as homelessness, trauma, substance abuse, domestic violence, and incarceration.
Each year, Beacon of Life hosts a Cake Gala as their premier fundraising event. This past year was their 40th anniversary, and due to the pandemic they had to pivot their usual in-person tradition to the online realm.
Their 2020 Virtual Cake Gala event involved dinner available for curbside pick-up, an online program for entertainment, and a virtual silent auction with fun items to bid on.
Junior Achievement of Northern California's Bowlathon
Junior Achievement is an organization that provides programming and the essential training, materials, and support necessary to increase student success for all.
This past year, Junior Achievement of Northern California decided to help struggling virtual classrooms by hosting a bowlathon. To ensure this event was safe and accessible to all, they decided to make this event purely virtual with an online bowling simulator.
Participants can sign up, choose a fundraising goal, and start playing immediately. They can also share the event page link with their friends and family to encourage them to give in support of their bowling skills.

Software You'll Need To Pull Off Your Nonprofit Event Successfully
You now know that nonprofit events can look like a number of different experiences. They can bring people together or even pit them against each other in friendly competition. You might meet with supporters in person or keep your engagements strictly online. And of course, you can choose from a wide spectrum of donation structures to suit your nonprofit's goals and restrictions.
To pull off a successful nonprofit event, you're going to need a couple of key tools and resources by your side. These aren't just necessary for virtual events; they also support your in-person endeavors by increasing attendee convenience and collecting key data to improve future events.
Here are the capabilities you should already have in your toolkit:
Event management tools. Essential for both your in-person and virtual experiences, event registration and management tools allow your organization to accept online registrations and get the word out about your event.
Online donation form. You'll need a dedicated tool to help you create modern and streamlined donation forms that keep donors coming back. Look for an easy-to-use form builder with a variety of design options.
Text message donations. Text donations make it easy for supporters to give during the event. Supporters text a keyword to a designated phone number and complete their donation using an online donation form.
Peer-to-peer tools. If you're setting up a nonprofit event where supporters are encouraged to solicit donations from others, peer-to-peer tools will definitely come in handy. Look for one that offers each participant a customizable donation page that they can share with their own friends and family. Want specific peer-to-peer event ideas? Check out this list of events you can host for under $500!
Silent auction software. Silent auctions are a great addition to any nonprofit event. Although auctions require significant planning, the right silent auction software will save you time and money!
Giving app. It's always worth it to offer easy ways for donors to give in person. If your platform offers it, consider downloading a giving app to multiple staff member phones for your event. This one simple tool helps donors simply swipe their card to give a donation in seconds, and can boost engagement at your event.
Streaming software. You've probably noticed that many of the virtual events require some sort of streaming and video software. There are a number of live streaming options for nonprofits. Many social media platforms even come with live streaming capabilities.
Your tech stack is there to help your organization drive value and provide meaningful engagement opportunities for your supporters. However, instead of investing in individual one-off tools to perform the above, look for a comprehensive solution that can do it all.
An all-in-one solution like Qgiv will likely be your best bet. With our platform, you can access all of your fundraising and nonprofit management tools, building a flexible solution that can grow as your organization does.
Wrapping Up
The future of nonprofit events is always changing. With more tech solutions popping up, new variations on old events start emerging. It's important to keep up with the changing landscape and fundraising event trends.
Thanks to its convenience and current success rate, virtual events are definitely here to stay. In fact, now that most organizations and fundraisers have invested in virtual event capabilities, offering hybrid experiences is looking to be the new norm. This takes the best of both worlds and opens your event doors to as many of your supporters as possible.
Want to learn more about the future of hybrid events? Check out our dedicated Qgiv guide.
Take your fundraising to the next level with Qgiv's comprehensive suite of nonprofit software. Qgiv offers all the tools your team will ever need to engage donors and raise more funds.