Have you noticed a decline in tithes from your members? This is the harsh reality many churches are experiencing. Tithing has been decreasing in the U.S. for decades and now happens at lower levels than it did during the Great Depression. In fact, according to Church Influence, only 10-25% of church members tithe regularly. How can your church overcome this obstacle or even thrive in a world of declining tithes? Read on! This article offers suggestions to help churches like yours grow giving with church fundraising events.
Accept tithes online
Analysis shows that giving is shifting online. Giving your church members the ability to give tithes online actually grows tithes by 32%. After all, not all your congregants carry cash! If you only accept cash or checks during your Sunday services, you're likely missing out on tithes from people who'd be more than willing to give. The problem? They don't have cash on them.
That's where accepting tithes online comes in. You can offer an additional way for congregants to give in a world that is growing more reliant on credit cards and eChecks to make purchases and donations. Not only does your church receive more tithes from congregants, but you'll be making it easy for your supporters to give on their terms.
With the right church giving software, your church can employ new ways to raise funds to support your mission. We've put together some of our favorite church fundraiser ideas.
Fundraising events
Church fundraising events can work wonders. Not only do your congregants want to come out to support you, but you can even introduce your church to others and build your community. These simple fundraising ideas for churches are a great way to raise money and grow your congregation.
Themed giving days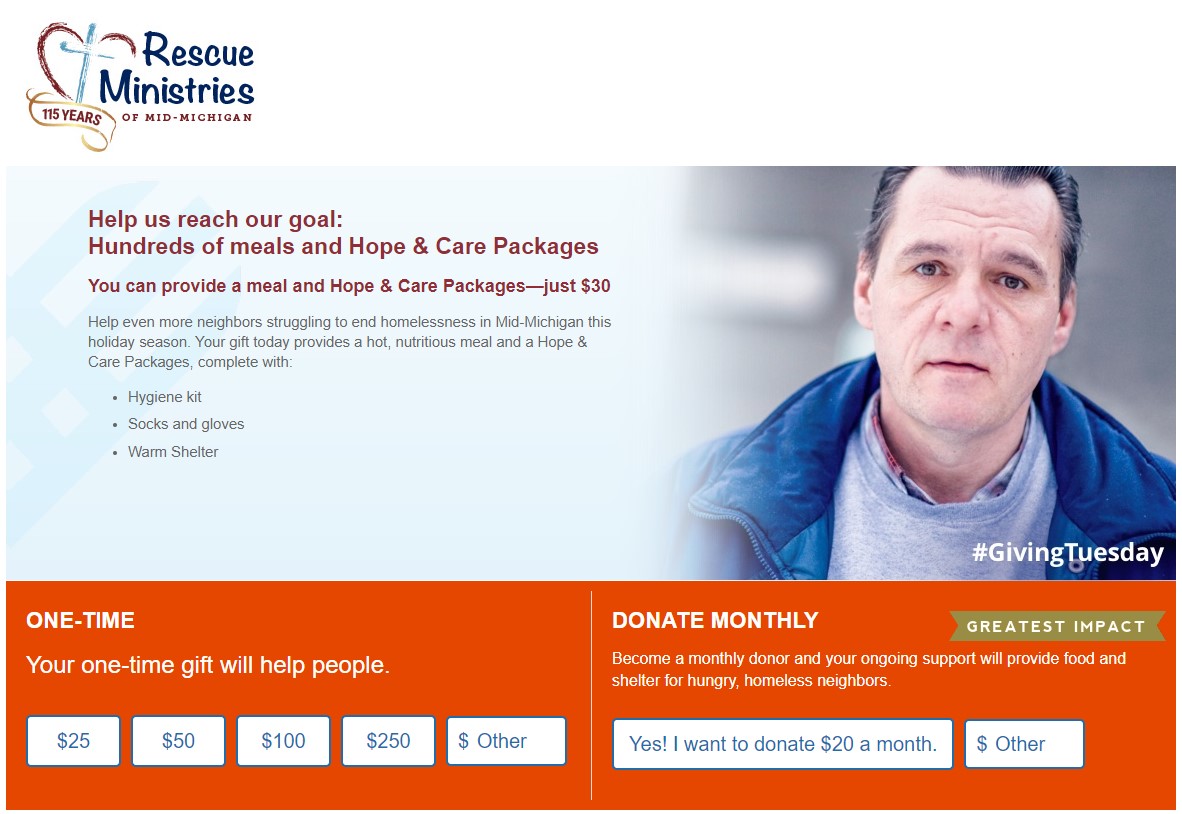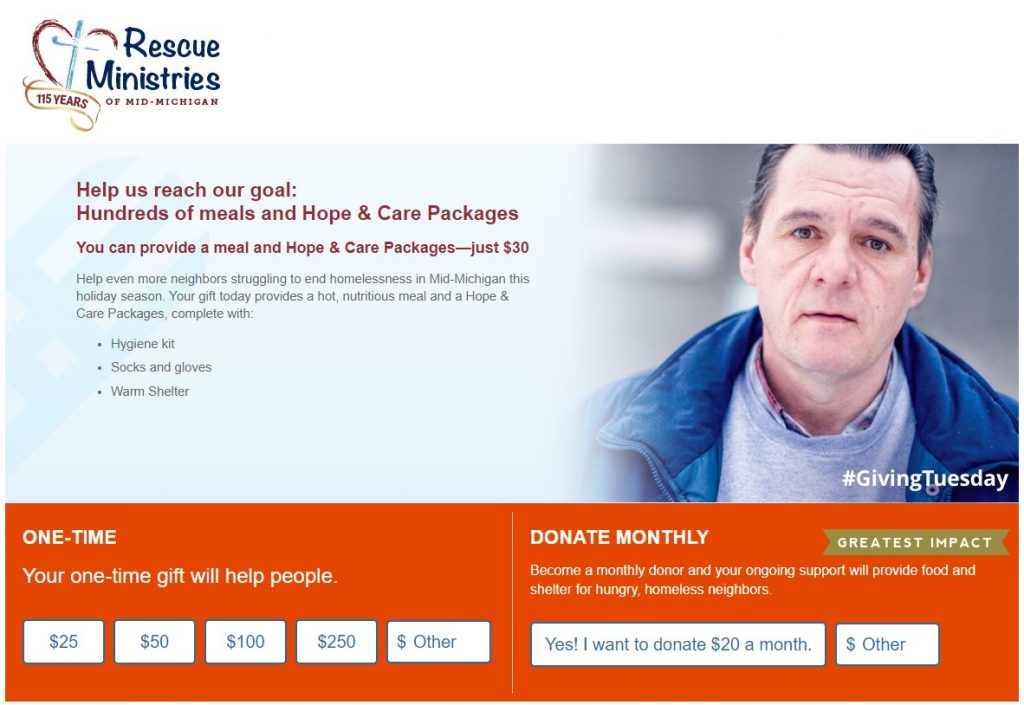 Almost every kind of nonprofit has been able to benefit from a giving day. International giving days like Giving Tuesday have made giving to charities the norm during certain parts of the year. If you haven't participated in Giving Tuesday, consider giving it a try! We've created a ton of handy Giving Tuesday resources to help you get started!
But you aren't limited to one giving day out of the year! You can host a giving day whenever it suits your church.
For instance, if there's a religious holiday centered on giving, like Christmas or Easter, incorporating those themes into your giving day and hosting it ahead of the actual holiday can get congregants in a charitable frame of mind.
New to the concept of giving days? These are 24-hour fundraising events that encourages supporters to give over a 24-hour period. For best results, host a simple church giving day annually and communicate with donors ahead of and after the event to keep congregants invested in it. You should also be sure to tell your supporters why you're fundraising and what their giving accomplished.
Pro tip: Giving days are fast paced. You need to incorporate an online donation form to be successful so supporters can give to the campaign and share it with others who are likely to give to your church too.
Bake sales
Bake sales are a great option for church fundraisers. Your supporters are rewarded for giving and the sale is inexpensive to host as your congregants can sign up to bake items for the sale itself.
An easy way to track who is bringing which baked good is with a simple online event form. Congregants can register online for a category (like brownies, cookies, or cupcakes) and your church can identify who is bringing what and if there are any gaps in the menu.
Similarly, with an online donation form you can take transform your bake sale from a cash-only event to a digital bakery. This way, your supporters can pay for treats online via credit card or eCheck and even place orders in advance.
T-shirt fundraiser
Another great way to grow your fundraising and your community simultaneously is with a t-shirt fundraiser. Work with a volunteer from your congregation to create t-shirt designs that you can sell on print-on-demand sites like Bonfire or TeeSpring.
Your t-shirt designs should include your church name and logo so people who see your shirts know about your church. Plus, your congregants can buy t-shirts to show their support.
The price of shirts should make your church a profit while completely paying for the printing costs. With no minimum order sizes, your church can host this fundraiser without having to pay for shirts up front or store them until they're sold.
Shoe drive fundraiser
Another tried and true fundraising method is the shoe drive fundraiser. The premise is simple. Everyone has shoes that they no longer wear. Rather than letting them wind up in a landfill, encourage churchgoers to repurpose them by donating them to your church's shoe drive fundraiser.
They'll appreciate the opportunity to declutter their homes and support your mission. Plus, this is a great way to instill a philanthropic spirit throughout your congregation.
All you need to do is partner with a shoe drive fundraiser facilitator. They'll provide you with all the materials you need. Place the collection materials around your church and the community. Then, encourage churchgoers and community members to donate their gently worn, used and new shoes that they no longer wear. Watch as the shoes pile up and your church's funds skyrocket.
Recurring gift drive
Recurring gifts provide steady fundraising to many nonprofits. The best part? Recurring gifts can keep supporters more invested in your mission. Instead of spending more money to acquire new supporters to help raise funds, it is more cost-effective to retain your donors.
Steven Shattuck, Bloomerang's Chief Engagement Officer, found that when donors give a recurring gift their retention rate increases to 90%. These sustaining gifts can be incredibly helpful for your church. Plus, by setting up a recurring gift online that's charged automatically your congregants can give tithes monthly and weekly without fail!
A recurring gift drive can be a great opportunity to get your supporters giving automatically online. You can remind your congregation this option exists during the collection part of your service.
Fasting pledges
A fasting pledge is a great opportunity to fundraise while also encouraging your congregants to try to give up bad habits. Here's how it works:
Encourage participants to choose a habit that costs them money (eating out too often, smoking, buying lottery tickets).
Encourage them to give up that habit for a certain time (could be a month or even longer, like the entirety of Lent).
Ask supporters to donate the money they saved by giving up that habit to your church.
Hopefully your congregants will be able to permanently give up their bad habits and your church is able to put the money they saved toward your mission.
Supporters should be able to register to give up a habit online. This can be done with a peer-to-peer event page, which lets supporters share what they gave up and why they're supporting you. By sharing their stories, it may inspire others to get involved and set up their own fasting pledge.
Lock-ins
This next idea is great if your church has a great youth group with teens old enough to fundraise. Encourage the youth group to take part in fundraising.
You may be surprised to find that Generation Z is a very philanthropic generation. While teens may not have a ton of their own disposable income, they can ask family in their social circle to give in support of your church.
Additionally, they can volunteer to do chores for neighbors like washing cars or mowing lawns. Set a fundraising goal for individuals. As the kids reach or exceed their goal they earn a ticket to a church lock-in to celebrate the successful fundraiser.
Fitness challenges
Fitness challenges offer supporters a chance to give while engaging in physical activity. Your congregants want to support you and giving is easy. But giving and completing a demanding physical challenge is harder and gives them even more to be proud of.
Say your church is celebrating its 20th anniversary. You could challenge your congregants to climb a flight of stairs 20 times then donate to your church. Once the challenge is successfully completed, they can then challenge another congregant to take part in the challenge and donate.
This idea is inspired by Save One Life, Inc.'s At Home Everest Challenge!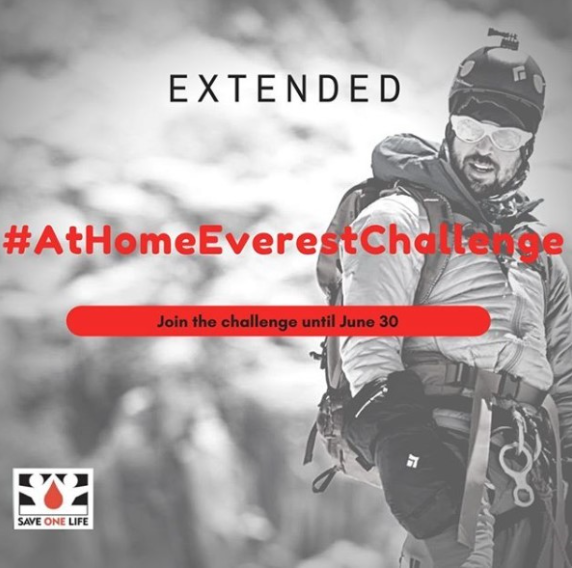 Their "At Home Everest Challenge," was an online fundraising event where participants were encouraged to donate $29 to the organization and challenge 9 other friends to do the same. The event was meant to honor the anniversary that the executive director climbed Mt. Everest despite his hemophilia, so participants were also asked to climb 29 flights of stairs, walk 2.9 miles, swim 29 laps, or ride 29 miles (the height of Mt. Everest is 29,029 feet!).
This works great as a peer-to-peer campaign where each nominated person gets their own fundraising page where they can post a video and even recruit friends and family to give to sponsor their completion of the challenge.
Cross-promoting the challenge on social media is also a great way to get more people involved.
Small group challenges
Their "At Home Everest Challenge," was an online fundraising event where participants were encouraged to donate $29 to the organization and challenge 9 other friends to do the same. The event was meant to honor the anniversary that the executive director climbed Mt. Everest despite his hemophilia, so participants were also asked to climb 29 flights of stairs, walk 2.9 miles, swim 29 laps, or ride 29 miles (the height of Mt. Everest is 29,029 feet!).
This works great as a peer-to-peer campaign where each nominated person gets their own fundraising page where they can post a video and even recruit friends and family to give to sponsor their completion of the challenge.
Cross-promoting the challenge on social media is also a great way to get more people involved.
Trivia nights
Here's a great way to encourage giving while also figuring out how well your congregants paid attention to your weekly sermons. A trivia night fundraiser can pit individuals or teams against one another in friendly competition.
They pay a small fee to register for the event and compete for a prize, like a branded t-shirt from your church. You can put together questions about your sermons, the church itself, or any other topics of interest to your congregation.
You can hold this event in person or virtually via a Zoom meeting. Each team should be able to submit their answers without the others knowing what they wrote, however.
Rummage sales
Like a shoe drive fundraiser, rummage sales offer the opportunity for congregants to declutter their homes while making their church some money. Ask your congregation to donate gently used, unwanted items and then sell these items to others who may need them.
If items don't sell, your church can donate them to good causes. This way, no matter what, your supporters' donated items are going to a good cause.
Pro Tip: An online donation form makes it easy to accept payment via credit card and eCheck for rummage sale items.
Bingo
A lot of churches offer a bingo event on a regular basis to encourage people to come socialize, win prizes, and give in support of the church.
Congregants buy bingo cards when they come and enjoy several games of bingo. You can expand the opportunity for your church to raise funds for your mission by offering concessions during the game. The best part? You can hold a new game every week and make this an ongoing social activity at your church!
Pro Tip: Want to pre-sell bingo cards? Create an event registration form your supporters can fill out to buy their bingo cards. This helps to get a head count on how many people you can expect to show up and play.
Craft parties
If you've got crafty congregants who love to sew, crochet, quilt, or make other kinds of crafts, hold a craft party after a service for them. You can teach a new craft and supply materials for a registration fee. The crafts you make can even go toward helping other notable causes.
You could have a party to make baby blankets for newborns, greeting cards for residents of senior centers, the possibilities are endless! Your congregants will have fun making something for charity and your church can raise funds for its mission.
Worship concerts
A Christian concert can really bring out members of your congregation to your church. Once you've booked a band for a Christian concert you can sell tickets at your service and online via a simple event registration form.
Promoting church fundraising events like this outside of your church is a great way to get others to come to your church and see what you're all about.
Pro Tip: At the concert, build in a time to talk about the church and its mission. You may inspire more gifts and even attract new congregants interested in the causes you care about.
Game nights
If your congregation has a lot of families, game night can be great to add to your list of church fundraising events. Encourage congregants to register and pay a small registration fee that can go for providing snacks during the event. Make sure the fee also includes a donation to the church.
Then, bring a wide variety of games to the event. Board games with different themes catered to all ability levels can make for excellent entertainment for everyone.
Pro Tip: If you run a daycare or youth group out of the church, pitch this idea to parents as a way they can have a date night while their children are playing family-friendly board games at church.
Make the grade fundraisers
If your church is associated with a Christian school or is invested in the success of the children in its congregation, consider a make the grade fundraiser. These church fundraising events reward good grades with prizes for the kids and funds for your church.
To host this kind of fundraiser, figure out when report cards are coming out next. Ahead of their release, encourage kids to find report card sponsors who will give a certain amount for A's and B's the child earns.
This encourages the kids to do better in classes and supporters are giving to see children succeed.
Matching gifts
An easy way to grow giving at your church that's often overlooked is matching gifts. A matching gift can double (and sometimes triple) the value of a donor's original gift. Why? Because the gift is also matched by the congregant's employer.
You can start receiving matching gifts by encouraging congregants to ask their employer about their matching gift program.
Another easy way to encourage matching gifts is to add a matching gift search bar to your online donation form. As congregants make their gifts they can search for their employer and see if their donation is eligible for a match. Once the gift is made they receive the matching gift information via email and can apply for the match.


Pro Tip: Qgiv offers a matching gift integration with HEPdata, Double the Donation, and CyberGrants to make adding a matching gift search bar to your donation form easy.
Classes
Want to encourage congregants to show off their skills by teaching others a special talent they have? Or do you want to inspire your supporters with Bible study classes? Classes can make great church fundraising events.
To be profitable, simply charge a registration fee to attend the class and encourage congregants to sign up and invite others.
Then provide the information you promised in the class description.
Pro Tip: Build in an opportunity to talk about your church and its mission during the class so people know more about the host. It can inspire them to donate after the class!
Pledge drives
A pledge drive encourages congregants to agree to make a future gift. During the campaign, your congregants can sign up to support your church. Then, they can elect to pay off that pledge all at once or incrementally until the campaign ends.
This fundraising idea is great for when people are feeling charitable but have their cash earmarked for other things, like gifts for friends and family around the holidays.
After the holidays, congregants can pay off their pledges.
Pro Tip: Using an online donation form to accept pledges makes it easier to track who has paid and who hasn't. Additionally, with an online donation form congregants can set up a recurring payment for their pledge that starts later!
Spaghetti dinners
Another fundraising event idea that churches have been successful with are spaghetti dinners. Your congregants volunteer to make spaghetti and guests pay to come enjoy a spaghetti dinner. This fundraising event is great because it provides a break to families cooking at home while it supports your church.
Another great benefit to this kind of fundraiser is that spaghetti is inexpensive to make, which means that your church can earn quite a bit in funds from each plate. You can purchase the supplies to make the spaghetti or ask for volunteers to donate noodles, sauce, garlic bread, salads, and desserts toward the event.
If your church has a kitchen and dining area you can host this event at your church.
Pro Tip: Promote this event to your community. Congregants will come for the dinner too, of course, but this is a great opportunity to introduce your church to the rest of your community while providing a meal people can enjoy together.
Bonus church fundraiser idea
The church fundraising events shared above are a great opportunity to build your church community while raising funds for the good work you do. But you can take these fundraising ideas farther with this additional fundraising tool.
Text fundraising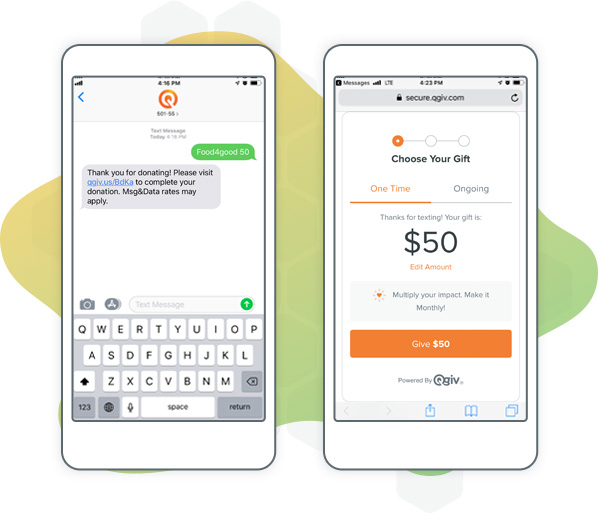 Chances are, your congregants have smart phones. That means they can donate to your cause online and can send and receiving texts. A great way to incorporate text fundraising is during a worship service. You can also incorporate giving via text into your church fundraising events!
Once you've created a text fundraising keyword, share it at the service. Explain why you're raising funds and encourage congregants to take out their phones and text your keyword to your text fundraising phone number.
When they receive the link to your mobile-friendly donation form, ask them to give their offering via text that day. Be sure to include a checkbox on the donation form congregants can select to agree to be texted by your church.
Not only does this help build your text fundraising lists, but it also gets your supporters familiar with text fundraising for your church. Then, you can use outbound texts to send emergency appeal requests and link to your mobile donation form.
Additionally, you can explain to your congregants that this text fundraising keyword can be given to as often as they'd like and can even be used to set up recurring gifts. This may inspire many members of your congregation to opt into recurring tithes via your donation form. This provides more stable revenue for you and stress-free giving for churchgoers.
Final thoughts
Your church can do more than survive the downturn in church giving, you can thrive! All it takes is getting a little creative. Encourage your congregants to give their tithes online, as this has been shown to grow giving for churches significantly.
Additionally, you can host church fundraising events, encourage matching gifts, and accept pledges for future gifts to keep supporters giving all year long.
Church fundraising events can not only help enable and sustain the good work you do, it also can strengthen your church community.
Need more ideas to help your church grow its fundraising? Check out these additional resources!
Fundraising for Churches: 3 Ways to Connect With Congregants (qgiv.com)
Church Donation Forms: 6 Best Practices to Inspire Gifts (qgiv.com)
Boost Church Giving by Using the Givi App – Qgiv Blog
10 Church Fundraising Ideas (Very Profitable and Easy!) – Qgiv Blog