Whether you lead a church, a temple, or another type of faith-based organization, fundraising is a recurring task on your to-do list. In order to lead your ministry, provide valuable programming, and connect your community to your mission, you need adequate funds. That's where peer-to-peer fundraising comes in.
Peer-to-peer fundraising is one of the most popular fundraising methods for faith-based organizations. Not only is it an engaging donor experience, but peer-to-peer fundraising is often the push you need to reach essential fundraising goals. And because peer-to-peer fundraising recruits the help of your members, it's an easy way to spread the word of your mission.
If you've never hosted your own peer-to-peer campaign or you just want some general tips on how to make your next one better, this guide is here to answer any questions you have. We'll cover the following topics:
Empowering your membership to fundraise on your organization's behalf can not only drive revenue but also strengthen their relationships with your mission. Let's dive into how.
Master peer-to-peer fundraising by connecting with your incredible supporters. Download eBook

How Can Peer-to-Peer Fundraising Be Used For Faith-based Organizations?
Peer-to-peer fundraising is a social fundraising tactic that relies on the personal networks of your supporters. The more peer-to-peer participants you recruit, the more your mission is brought to the forefront of different audiences.
Basic peer-to-peer planning looks like this:
Peer-to-peer fundraising is effective because it amplifies fundraising efforts by the number of participants you have. With each recruit promoting your faith-based organization, there are opportunities to spread the word to different audiences and continue the momentum of any campaign.
Additionally, the people donating personally know the individual promoting your fundraiser. Unlike general donation forms, peer-to-peer campaigns leverage the personal aspect of fundraising—wouldn't you donate more if it was your friend, coworker, or family member advocating for a cause as opposed to a stranger?
To pull off a peer-to-peer campaign, you're likely going to need dedicated fundraising tools. Qgiv offers a peer-to-peer solution with customizable fundraising pages, gamification tools, and data analytics abilities.
Faith-based Organizations And Peer-to-Peer Fundraising
Now that you know the basics of peer-to-peer fundraising, how might your faith-based organization leverage this campaign method?
Here are some scenarios in which peer-to-peer fundraising could benefit your faith-based organization:
Help raise money and awareness for an upcoming project. For example, a church might implement peer-to-peer fundraising every year to support its annual mission trip. The group participating in the mission trip, such as the Youth Group or Adult Ministry, are the participants raising funds for the mission trip.
Continue the momentum of a capital campaign for a major project. For example, faith-based organizations may use peer-to-peer fundraising to fund a new building or start a youth ministry program.
To lead up to and raise excitement for a larger fundraising event. For example, many faith-based nonprofits will use peer-to-peer fundraising to generate participant support for walkathons or 5Ks.
Increase awareness on relevant issues. For example, let's say your faith-based organization is also an outreach ministry for shut-ins and the homeless. A peer-to-peer fundraiser will not only help you reach your revenue goals, but also raise awareness on the issues that your community faces.
For faith-based organizations like yours, peer-to-peer campaigns can not only raise a good deal of money, but also help spread the word of your mission. Continue reading to learn the basic steps to creating your own peer-to-peer campaign.

Planning Your Faith-based Peer-to-Peer Event
So, you've decided to host a peer-to-peer campaign for your faith-based organization—now it's time to start planning. There are a lot of details that need to be finalized, but the specifics will depend on the type of peer-to-peer campaign and its scope.
With that in mind, we'll dive into general best practices when it comes to the pre-planning stage, venue management, staff assignments, and any tech considerations.
Pre-planning
This is the stage where you plan out the basics of your peer-to-peer campaign, what you hope to accomplish, and the specific resources and tools you'll need to do it.
To start off, ask these questions about your peer-to-peer campaign:
Will this be a purely virtual, in-person, or hybrid event?
Is this event engaging the entire organization or is it related to a specific sector, such as your youth ministry?
When and how long will the peer-to-peer campaign run?
What is your overall goal in terms of both fundraising and target action with the funds?
The questions above can help you start brainstorming the types of peer-to-peer campaigns that are feasible and valuable to your community and mission.
Here are some examples of peer-to-peer campaigns and events you might plan:
Use peer-to-peer fundraising to help raise money for your annual fall/spring festival. Your entire supporter base will love supporting a beloved tradition and getting the chance to engage with each other. You might even offer fun prizes to your top peer-to-peer participants like getting to dunk the youth pastor!
Conduct a peer-to-peer campaign with food trucks and other local vendors within your community. Each vendor will volunteer as a peer-to-peer recruit and compete to raise the most money with their services. The vendor that raises the most money will win prizes that help with their business, like a free video ad or partnership with the organization. This not only is an engaging event for your supporters, but also gives some much-needed exposure to participating vendors.
Get creative with peer-to-peer fundraising with a fun challenge or competition! For instance, ask your youth group to participate in a fun TikTok dance challenge or talent show. They can upload their videos with a specific hashtag. Then, video participants will receive small, set donation amounts (like $5) as "votes" for the favorite submission. The winner will then get a special prize or a shoutout on social media!
Venue Management
It's likely your faith-based organization already has a venue or gathering place, whether it's a church, synagogue, or mosque. At first glance, this is extremely convenient and provides a go-to place to host your peer-to-peer event if you have an in-person component. But, there are other challenges that come with venue management.
Your venue will need to accommodate attendees, sponsors, and event staff, with each of these audiences having unique needs that must be met. You also have to consider if your peer-to-peer campaign is in-person or virtual. If it is only taking place online, the venue concerns are not the same.
Here are some venue considerations you'll need to address for an in-person event:
How will guests arrive and park at the event?
How can guests make donations?
How do guests check in?
Where should sponsors set up a booth (if they get one)?
How will sponsors be highlighted during the event (announcements, signage, etc.)?
When do staffers need to arrive, where do they check in, and what are the different shifts?
Meanwhile, here are some venue considerations you'll need to address for a virtual event:
How will guests log in to the event? What credentials will they need to get in?
How can guests participate in the event? Is there any software they have to use?
How will sponsors be able to engage with event attendees in a virtual environment?
What technology is your staff going to need to fulfill their roles?
If your event is being livestreamed, where will filming take place?
Is there a backup plan in case the internet connection fails or isn't fast enough?
With these questions in mind, your team can optimize the venue, start assigning and training staff members, and come up with a plan to mitigate any future issues. If you're incorporating both in-person and virtual elements, you should be asking yourself both sets of questions.
Want more guidance on how to approach your peer-to-peer campaign's venue management? Read our dedicated venue management guide.
Staff Assignments
A core element of planning your peer-to-peer event is staff assignments.
First, you have to consider what roles are needed. Use these questions to help you determine the exact type of help you'll need:
What is the scope of your marketing strategy? How many channels are you using? This determines how many team members should be on campaign outreach.
How many peer-to-peer participants are there? This determines how many staff you'll need to manage participants and who their points of contact will be.
How many event guests are you expecting? This determines the number of staff you'll need for the check-in table.
Are you running sub-events during the event? This determines the number of staff you need for each sub-event.
Is event setup and tear down complicated? This determines how many people you'll need to get your event up and running on time.
What type of tech will be used? This determines if you need a tech team, a cameraperson to record the event or livestream it, or a social media coordinator to live tweet and post real-time updates.
It's not uncommon for your religious organization to have limited staff. If you find yourself unable to fill a job role, you'll need to rely on volunteer help.
To find volunteers, send an email to your entire member base to gauge interest. There might be people within your own community who want to help. Allow event volunteering to be credible for school or work requirements as an extra incentive. You might also look to more general volunteer websites to recruit viable volunteers.
Tech Considerations
It's likely that your faith-based organization already has some valuable tech set up, as many institutions have started virtual worship services in response to the COVID-19 pandemic. If you already have livestreaming equipment, it's easy to leverage this resource to take your peer-to-peer campaign to the next level.
Along with a livestreaming camera and platform, here are some other tech solutions to consider:
Peer-to-peer fundraising platform with customizable donation pages
Video conferencing platform where audience members can engage with other attendees or ask questions
Giving tools like an online giving page, a text fundraising number, or a giving app
You might think that these only apply to your virtual peer-to-peer fundraising efforts. However, hybrid events are rising in popularity and are likely to be the new normal for future fundraising events.
Incorporating livestreaming and other virtual elements into your in-person offerings not only offers a level of convenience for those who don't want to leave their homes, but also expands your audience to those who would not have been able to attend otherwise.
See how Qgiv can help you with your peer-to-peer event! Request a Demo

Building A Compelling Faith-based Peer-to-Peer Campaign Event Website
Any successful fundraiser knows the value of good marketing. And the best way to promote your faith-based organization's peer-to-peer campaign? With a compelling and content-optimized event website.
This can be a page within your main website or a separate microsite dedicated to the campaign. Either way, this site provides a go-to place for prospects to learn about the campaign, its goals, and the potential impact of a gift. Since many donors will learn about your organization through your peer-to-peer recruits, having an informative website is critical.
In other words, your peer-to-peer campaign site is what leads members to take the critical next step of giving to your mission.
Use Impact Statements
In a recent study with Campaign Monitor, it was revealed that members are more likely to give outside their regular cadence if fundraising appeals include real stories from the community members who will benefit from the gift.
This method can apply to your peer-to-peer fundraising campaign! Post real stories as impact statements on your campaign website to connect donors to your mission and incentivize them to give.
For instance, you might include the following on your website:
Stories about the people who benefit from your programming about how your organization has helped them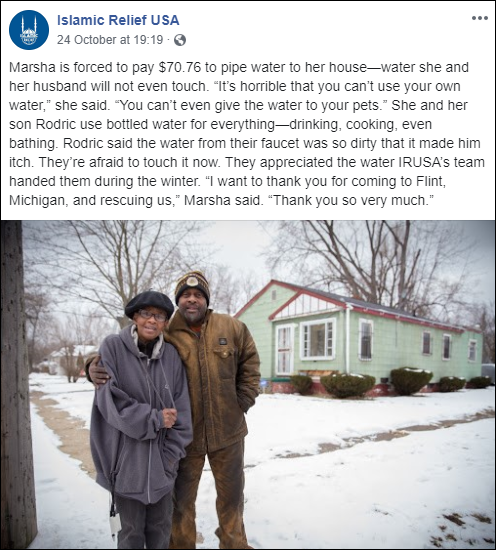 Blog posts or photos from volunteers and other "boots on the ground" staff who want to share their experiences
Video with your religious leader or a board member explaining your organization's impact
Your faith-based nonprofit has likely helped more people than you can count. Leverage these amazing stories on your peer-to-peer campaign website to further inspire gifts.
Go Beyond Simple Branding
Did you know that donations made on a branded giving form are, on average, 38% larger than contributions made through a generic PayPal page?
Including your nonprofit mission statement and logo throughout your entire website, not just your giving form, deepens the relationship between members and your organization and reassures members that they're on the right page. This is especially critical for peer-to-peer donors, as many of them might not be familiar with your organization.
However, you can take branding a step further with your peer-to-peer campaign. Since faith-based organizations are often heavily focused on the community, brand your website to highlight your community.
You can do this with:
Pictures of community members with your volunteers
Videos of small groups that support your organization explaining why they're involved
When branding your peer-to-peer campaign website, it's best to be as personal as possible. This could be the first time users are learning about your organization! With community branding, you can get them familiar with those you serve and how your faith-based organization helps them.

Encouraging Your Entire Faith-based Organization To Get Involved
A common challenge for all nonprofits peer-to-peer fundraising is getting the entire supporter base involved, especially as the campaign carries on. After all, your peer-to-peer recruits aren't professional fundraisers and might need a little push to stay engaged and motivated.
Get The General Membership Involved
First, send all participants a welcome quest introducing them to the fundraising tools, showing them how they can customize their peer-to-peer page, and helping them make their first donation appeal. You can create customized welcome quests through Qgiv's peer-to-peer fundraising platform.
Along with familiarizing them with the system, take the time to set an overall fundraising goal/deadline as well as goals for each peer-to-peer fundraiser. This gives them an idea of how many appeals they should be prepared to carry out.
Even if they aren't actively peer-to-peer fundraising for your mission, it's important that your entire membership is on the same page.
For instance, you might:
Reach out to any youth groups to help promote the peer-to-peer campaign. They can take to social media to share fundraising pages, post videos, and use specialized hashtags.
Send an email to your congregation letting them know of the campaign details and how they can get involved if they're interested.
Announce your peer-to-peer campaign on social media to your congregation and any other followers.
This way, if anyone asks someone in your organization about the peer-to-peer campaign, your general membership knows exactly what to say and the resources to share.
Keep Up Engagement
Once you've generated some excitement and introduced participants to the campaign, it's time to brainstorm how you'll keep up engagement throughout the fundraiser.
It's not uncommon for peer-to-peer recruits to lose steam during the campaign, especially if it spans multiple weeks or months. It's up to you to send campaign updates and incentivize fundraising.
Use these tips to motivate participants to fundraise:
Send texts to participants with information on the campaign's progress and milestone achievements. Qgiv offers a mobile suite where you can not only send texts but also track the progress of your peer-to-peer campaign.
Use email to remind participants to continue fundraising and provide tips on how to write compelling appeals. Segment the relevant audience and use your email communication tool to send this message to all peer-to-peer fundraisers.
Use a mobile donation app to encourage giving on the go. Givi is a dedicated mobile donation app by Qgiv that empowers members to give to the organization that they'd like. Churches and other faith-based organizations can even use Givi to accept regular gifts like tithes.
Use social media to provide consistent campaign updates and fun promotional content. Social media offers the opportunity to post different kinds of content like photos and videos. You might ask your congregation to make fun videos online with a special campaign hashtag, post cute photos of your congregation, or have members submit funny memes and other images promoting your campaign.
These tips can actively keep members engaged. To support your efforts, make sure to also encourage goal-setting and post real-time progress. If they're really close to reaching a goal, participants will be motivated to fundraise even harder!
Gamify Your Event
Peer-to-peer gamification involves adding game mechanics to your fundraising campaign. The same elements that make sports and video games so entertaining can also motivate peer-to-peer participants to stay engaged.
To gamify your peer-to-peer campaign:
Encourage teams and friendly competition. For instance, you might group youth group participants to fundraise against parents. Give each team goals to reach and offer fun incentives like the losing team has to throw a pizza party for the winners.
Reward top fundraisers with creative digital badges. Come up with badges for reaching different fundraising milestones, current top fundraiser/fundraising team, and so on. The participants can then proudly display these badges on their peer-to-peer pages!
Use a fundraising hub to centralize all campaign progress. You can host leaderboards and display fundraising thermometers to show success. Feature this on your website so participants can check in on the progress.
Make sure that throughout it all, your peer-to-peer participants have a dedicated person to go to for help if they have questions. Assign a staff member to be the sole troubleshooter if questions on your gamification rules come up.

Following Up With Your Supporters Post-Peer-to-Peer Event
Once a gift is received, whether it's from a tithe or a more comprehensive peer-to-peer campaign, following up and showing appreciation is critical.
Here are some best practices to keep in mind for following up:
Plan your post-event communication strategy in advance. Remember to trigger appreciation emails as soon as a gift is completed. Sources say that following up within 48 hours makes donors four times more likely to give again. Have this appreciation email drafted beforehand and use your member database to automatically fill in personalized data like name and gift amount. This email should re-introduce your organization and mission, as well as communicate the impact of the gift. Include other ways they can support your organization and links back to your main website.
Be ready to show the results of your fundraising campaign. Thanks to your fundraising tools and database, you can easily track your campaign progress. Once the peer-to-peer campaign is over, compile a report summarizing the overall impact, as well as each individual participant's fundraising result. Qgiv's fundraising system provides a comprehensive view of all this data, as well as options to compile custom and pre-built reports to better understand the data.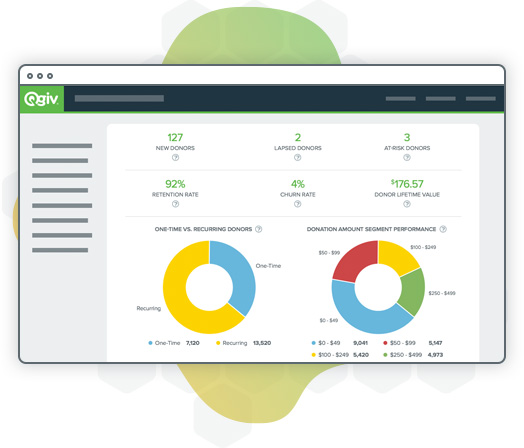 Plan follow up presentations during meetings or other outreach events. Your faith-based organization likely already meets on a regular basis, whether for a service or another type of religious gathering. This and other community or fundraising events are great opportunities to host follow up presentations that summarize the continued impacts of this peer-to-peer campaign. This shows that your efforts are still making a difference to your current members.
Following up is imperative for peer-to-peer campaigns. Thanking members with an email after a gift is the perfect opportunity to set up that foundation for a great relationship.

Faith-based Peer-to-Peer Fundraising Examples: Qgiv Clients
Peer-to-peer fundraising seems great on paper, but how does this fundraising method fare in action for faith-based organizations? We'll be exploring some of our own Qgiv clients and their experiences using peer-to-peer efforts to further their religious organization's mission.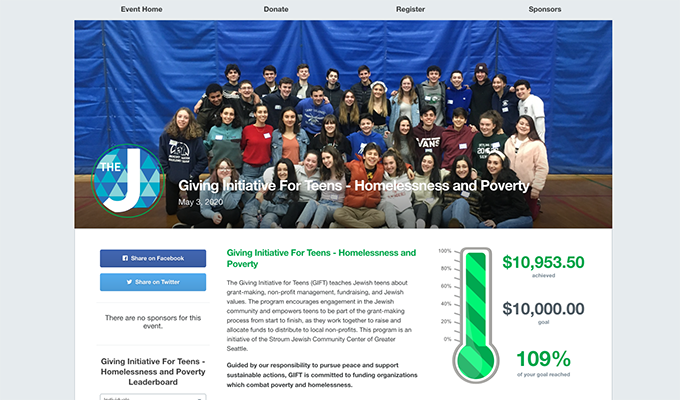 The Giving Initiative for Teens (GIFT) is a program started by the Stroum Jewish Community Center of Greater Seattle and is dedicated to teaching Jewish teens about grant-making, nonprofit management, fundraising, and Jewish values.
In May of 2020, they decided to start a peer-to-peer fundraising campaign to help combat poverty and homelessness. The campaign event page hosts a leaderboard with top individual fundraisers as well as a fundraising thermometer tracking current progress. Thanks to the impact of peer-to-peer giving, GIFT was able to go above and beyond and reach 109% of their original goal!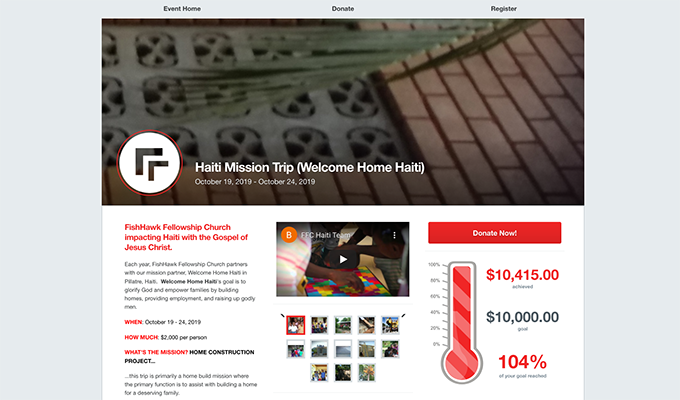 Each year, FishHawk Fellowship Church (FFC) partners with their mission partner, Welcome Home Haiti based in Pillatre, Haiti, to conduct a fundraising campaign. This funds a mission trip to Haiti where participants empower families by building homes, providing employment, and spreading awareness of their mission.
The FFC team recruited peer-to-peer participants to raise money for their faith-based project. To help garner gifts, their campaign website is branded with pictures and videos of children in Haiti to show donors who exactly they'll be helping.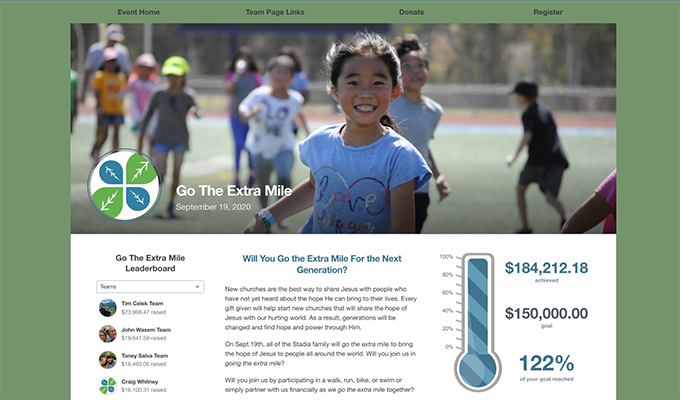 Stadia Church Planting is an organization dedicated to helping new churches get established and providing leaders with the tools they need to lead a thriving congregation. In the fall of 2020, they hosted the "Go the Extra Mile" event, a walkathon/runathon/bikeathon/swimathon in which people all over the world can participate.
To help generate funds and excitement for the event, they also hosted a peer-to-peer campaign. On their campaign website, they have photos of community members depicting the impact of previous funds raised. For example, they display a photo of children in a classroom with a caption saying that part of this revenue will help "under-resourced communities have their physical and spiritual needs met."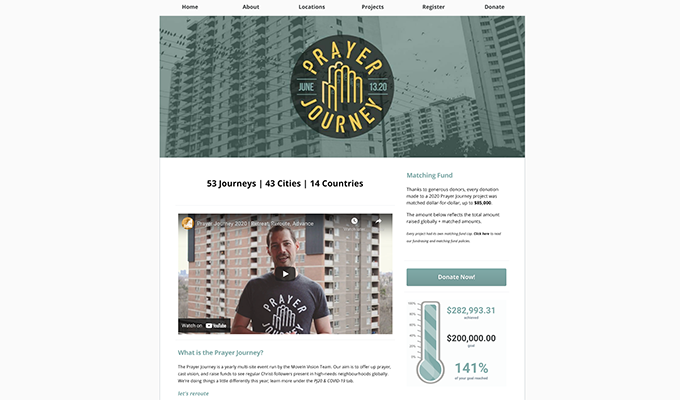 An annual international event run by the MoveIn Vision Team, The Prayer Journey is an event that helps spread Christianity to underserved communities.
To support their 2020 event, the MoveIn Vision Team conducted a peer-to-peer fundraiser. On their campaign website is a two-minute YouTube video depicting the goals of The Prayer Journey that year and how they'll tackle the campaign even during the COVID-19 pandemic. This video is an engaging way to introduce both participants and new supporters to the cause and encourage them to support in any way they can.

Additional Resources
Fundraising for your faith-based organization is an ongoing task. If you want to learn more about how peer-to-peer fundraising can help your mission during this time, we recommend exploring these additional resources:
See how Qgiv can help you with your peer-to-peer event! Request a Demo