Social media has changed the marketing world, and Facebook Ads for nonprofits are an easy tool to increase your organization's presence online. Since 2009, Facebook has provided the option to create featured ads on their platform to help businesses and organizations reach others' newsfeeds. Facebook Ads are available to pretty much anyone who wants to increase the visibility of their posts. Facebook allows you to target specific demographics for a minimum of one dollar a day.
To optimize your advertising budget, create a marketing strategy to establish the best time for your organization to use ads. A strategy will keep you on top of your marketing goals and tell you when to post your social media content for the highest impact. Knowing the best times to post ads throughout the year will increase your chance to gain new donors. Include your ad campaigns in your content calendar to maximize their return on investment. Use ads to promote major fundraising campaigns, events, or cause awareness days. When scheduling your ad campaigns, keep in mind that some months are more lucrative when it comes to donations. The last three months of the year are when 37% of giving occurs.
Here are the answers to some common questions about Facebook Ads for nonprofits.
What are the benefits of using Facebook Ads for nonprofits?
There are many benefits to using Facebook Ads for nonprofits. Facebook Ads help your organization raise awareness both for your cause and specific projects by allowing you to create unique campaigns. Include calls to action in your ads that direct your supporters to your website or a specific project's landing page. These calls to action also offer you an opportunity to advertise your upcoming events by sending anyone who clicks on them to your event's registration page.
Build Connections Through Ads
Events help you make connections with donors that may lead to long-lasting relationships, so increasing your event attendance by utilizing Facebook Ads may lead to a continuous boost in donations. If your organization needs some extra help with events or day-to-day tasks, there are options to target a specific demographic to recruit new volunteers for your organization.
Facebook Ads also allow your nonprofit to grow your donor base. In general, posting engaging content on social media will help you broaden your audience, but employing Facebook Ads expands your reach even further by delivering your posts to your supporters' feeds and showing them to your chosen targeted demographics. While organic traffic helps, targeted ads reach more people. Widening your audience reach provides your organization with more opportunities to expand your fundraising campaigns and raise more money for your cause.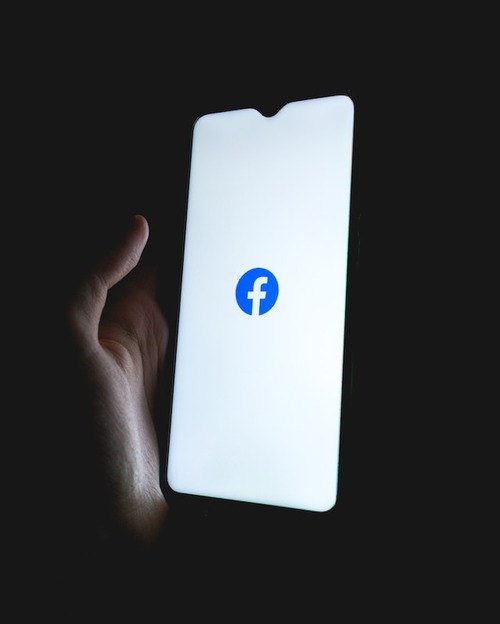 How do nonprofits use Facebook Ads?
Before you start using Facebook Ads, make sure you register as a nonprofit with Facebook and set up your Facebook page so you can effectively advertise to your supporters. Registering your organization as a nonprofit with Facebook offers many benefits outside of ads. Using the Facebook Fundraiser tools in conjunction with Facebook Ads allows your organization to exceed your campaign expectations. One fundraising tool perfect for this is the Facebook donate button, which doubles as a call to action in your ads. Other great fundraising tools Facebook makes available to nonprofits include recurring donations, automated thanking, transaction reports, and a Nonprofit Manager interface.
Boosted Posts
Once your Facebook page is ready to go, it's time to create your ads. There are two ways to advertise on Facebook: boosted posts and Facebook Ads Manager. Boosted posts are a quick way to promote an existing post without creating an ad campaign. Once you've chosen which post you want to boost, pick a target audience, a budget, and the duration of time the boosted post will run.  
Ads Manager
The other way to use Facebook Ads for nonprofits is to create an Ad Campaign in your Ads Manager. When making your campaign, there are a few details you'll need to consider before you're able to run your ad. The first decision you need to make is what your objectives are for your ad. Are you just trying to raise awareness for your cause? Are you looking to increase traffic to your website or engagement with your social media posts? Do you want to encourage people to donate to your organization? Clearly establishing your objectives will help you fine tune your ad's details to meet your campaign's goals.
Once your objective is set, the next step in creating your campaign includes selecting your conversion location, budget, strategy, audience, placement, and delivery within the campaign settings. After your settings are selected, it's time to name your ad and pick your ad format. With all the details ironed out, all that's left is to upload your image or video with your text copy and publish your Facebook Ad.
How do you target the right audience for Facebook Ads for nonprofits?
Finding the right audience for Facebook Ads is key to creating a successful ad campaign. Facebook lets you target groups based on demographics, interests, behaviors, and more. The first step to targeting the right audience is to look at your donor data to find similar attributes in between your average donors, event attendees, or major donors that you want to appeal to. Your donor data should be segmented into common groups to create multiple target audiences in Facebook Ads Manager. For example, if you're hosting an event and looking for local supporters who could attend, use location as one of your target demographics. Then, filter your donors by common interests to decide what events to advertise to them. Targeting on Facebook has many options to layer and create a detailed profile for potential supporters. These options include:
Location
Income
Age
Gender
Household composition
Occupation
Common connections
"Liked" pages and engagement
Custom Audience
Another targeting option for you to take advantage of is adding custom audiences into your Facebook Ads Manager to target. Facebook allows you to upload phone and email lists as a target audience. When your ads appear on your existing donors' feeds, it reminds them of your cause and encourages them to donate again, increasing your donor retention rate.
Creating a target audience for people who have previously visited your website is also an option offered in the Ads Manager. If you've previously created a Facebook Fundraiser, Donation Ads, or have had individuals fundraise for you on Facebook, Facebook provides nonprofits with options to target previous donors and previous fundraiser creators for ads. These custom audiences give your organization a fantastic opportunity to utilize Facebook's lookalike audience option.
Lookalike Audience
The lookalike audience finds similar profiles to those from the custom lists and shows your advertisements to those profiles as well. When creating your lookalike audience, select a percentage from one to ten of how similar the lookalike audience is to your custom audience. One percent sends your ads to the most similar profiles, while ten percent sends your ads to a larger number of people with less similarities to your custom audience.
How can your nonprofit create effective Facebook Ads?
Creating compelling ads involves choosing the best ad format for your campaign and using your ads to tell a story that encourages people to click on your advertisement. Facebook Ads for nonprofits have three main formats for your organization to experiment with.
Photo Ads
Photo ads are one of the most common types of promotion on Facebook. When designing graphics for Facebook Ads, remember these three tips.
Use pictures with people in them for the highest engagement. People tend to be drawn to other people and pictures of other people rather than just text graphics.
Use high-quality images for ads. Unclear visuals look unprofessional, so be critical when selecting your images.
Use bright colors to help your post stand out from others on the feed. Color attracts the eye, especially when surrounded by text posts. Using your brand colors can also help attract attention from people who may be already familiar with your organization and increase your brand visibility online.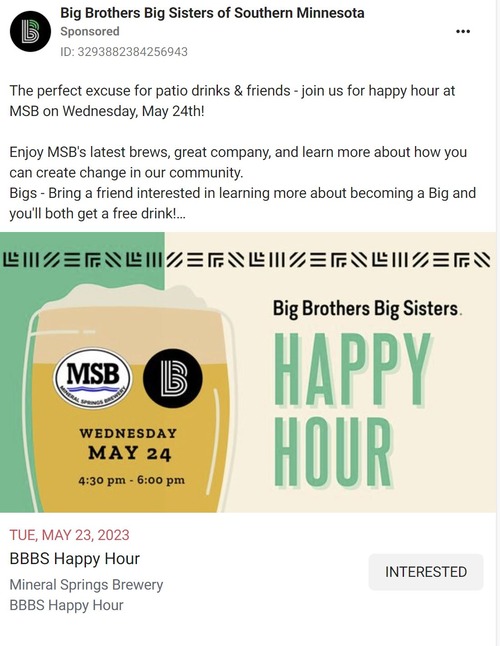 Video Ads
Videos are another effective ad format and a perfect way to engage your supporters and tell your organization's story. Here are some pointers for creating an effective video ad.
Use short videos for Facebook Ads. Facebook recommends keeping videos under 15 seconds, as shorter videos are more shareable.
Use moving elements that aren't properly showcased in images. While videos are more time-consuming to create, they are an excellent way to portray the active work your organization does.
Use your logo in the corner of your videos. Your logo lets your supporters recognize your nonprofit immediately.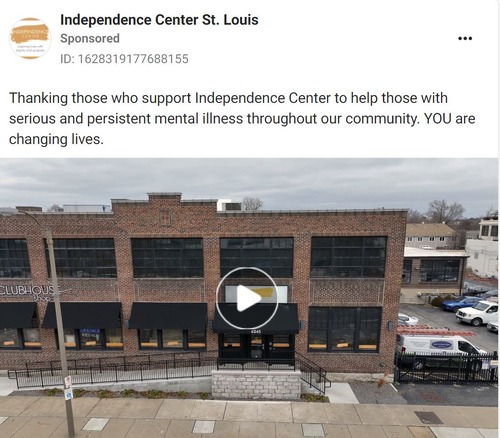 Carousel Ads
Carousel ads provide the option to include up to 10 images or videos that each have their own call to action. This format is great for showing the progression of a current project through three to six images and videos.
Use an eye-catching first image to attract engagement. People will be more likely to click through the rest of the ad if you immediately grab their interest.
Use before and after photos to show what your nonprofit is capable of. Post before and after shots of a similar project or show the current progress completed.
Use consistent elements in your carousel for a more professional look. Incorporate your logo and utilize images and videos with similar tones to make your carousel feel cohesive.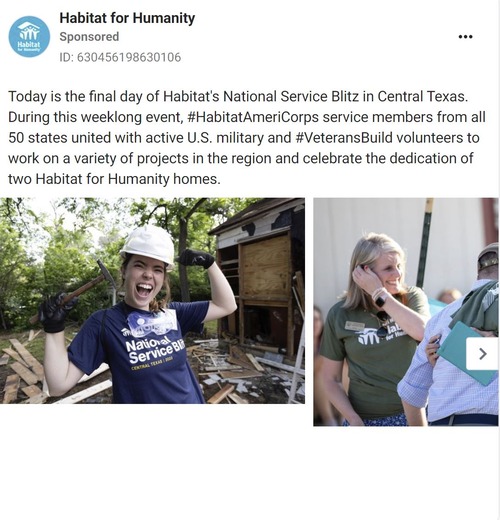 Storytelling Through Ads
Storytelling through Facebook Ads for nonprofits helps make your promoted content more engaging for your audience. These ads may be the first contact you have with many potential supporters, and you want to make a good impression. Use your ads to show people your organization's mission and how you help your cause using these tips.
Show off your successful projects to give potential donors proof of what you've accomplished. Your supporters want to see exactly how they're helping your cause and how their donations are being used.
Use catchy words to grab the reader's attention. People usually just skim through posts while scrolling on Facebook, so use language that will make them stop and read.
Keep your words to a minimum! Don't write a book, just include the key information for your ad.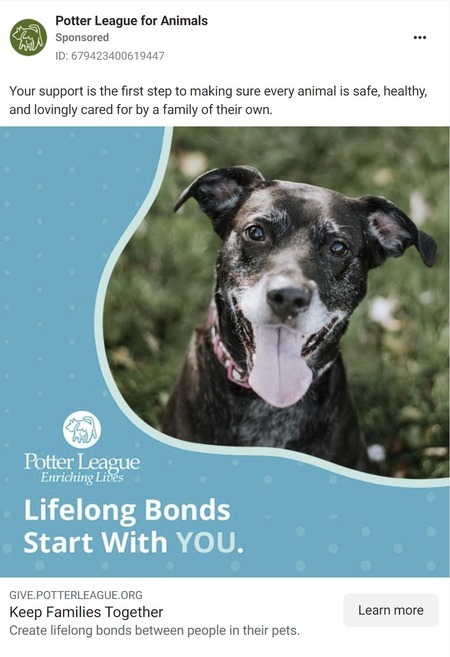 How can your nonprofit get the most out of Facebook Ads?
When paying for any advertisements, you want the biggest return for the least amount of money possible. Unlike Google's Ad Grants for Nonprofits, Facebook only offers ad grants to small businesses, so to ensure you get the most bang for your buck, you need to optimize your organization's ads yourself. Before you publish any ads, establish your budget for Facebook Ads. Facebook provides options to advertise on any budget, with ads costing a minimum of $1 daily for the duration of the campaign. Set a monthly budget for ads to help grow your audience and spread brand awareness. Experiment with ads and keep a list of what types of ads do well and what kinds of media you used. Testing different ad styles will show you which type of ads to allot your budget to.
Tools That Can Help
Online resources are one great way to get the most out of your Facebook Ads. You don't need to spend a lot of money to create an effective ad, nor do you need to be an expert at graphic design. There are many tools to help you create and manage your ads online, such as Canva and Adobe Express. There are also several tools for scheduling your ads. Scheduling your ads to match up with your social media content calendar will help keep your content consistent across the board.
If you're looking for step-by-step details, check out Facebook Ads guides online. Online guides will provide you with optimal technical specifications for different ad formats or show you how to use less common ad formats. Detailed strategy guides are also a great resource for the more specific elements of creating Facebook Ads for nonprofits.
Track Your Results
Once you've published your ads, monitor and measure your results over time. Use Facebook Ads Manager to get data on impressions, clicks, and conversions when regularly monitoring your ad performance. You'll get the best data if you stay consistent with your ads. Consistency is key for social media, and ads aren't an exception. If your ads aren't reaching your performance expectations, change them as needed to meet goals. Track your online traffic and gather feedback on your ads from your supporters. Try asking new donors how they discovered your organization. Craft your ads to what is performing well, what time of year it is, and what your donors want.
Final Thoughts
Facebook Ads can help your nonprofit increase your organization's visibility towards both previous and potential future donors. Marketing doesn't have to be overly complicated and costly. It's easy to maximize your nonprofit's fundraising efforts by designing effective Facebook Ads for your target audience. Take advantage of the tools Facebook offers to nonprofits like yours.