People often ask, "What's the best way to end homelessness?" Obviously, this is a tricky question, and there probably isn't one best solution. However, peer-to-peer fundraising is a great way to raise money for human services organizations and, more importantly, it's a grassroots way to build awareness of the issues facing the unhoused community.
If you're reading this article, you probably don't need to be convinced that fighting poverty and homelessness is worthwhile. But as you're talking to potential supporters, it's important to emphasize that homelessness impacts local communities in broad (and sometimes unexpected) ways.
For example, a 2012 article published by American Health and Drug Benefits found that stable housing contributes significantly to better health outcomes and less utilization of the healthcare system. That leads to a lighter load on the system, which reduces healthcare costs for everyone accessing healthcare locally. Healthcare is just one example of how improving access to housing can uplift an entire community.
And because the whole community is impacted, peer-to-peer fundraising makes sense as a way to raise awareness of poverty and homelessness issues. You don't have to educate your supporters on your own. Instead, empower them to educate others and grow your community even more.
In this article, we'll highlight some organizations who have had success combatting poverty and homelessness using peer-to-peer campaigns. Then, we'll share some tips for how you can organize a peer-to-peer fundraiser aimed at addressing those issues.
3 Successful Peer-to-Peer Events
A Walk to Remember
Walks are very popular types of peer-to-peer events. Housing Resources Inc. took the walk event a step further (?) and arranged a whole week of movement-related activities. Altogether, the 2021 Walk to End Homelessness raised over $96,000 for their cause!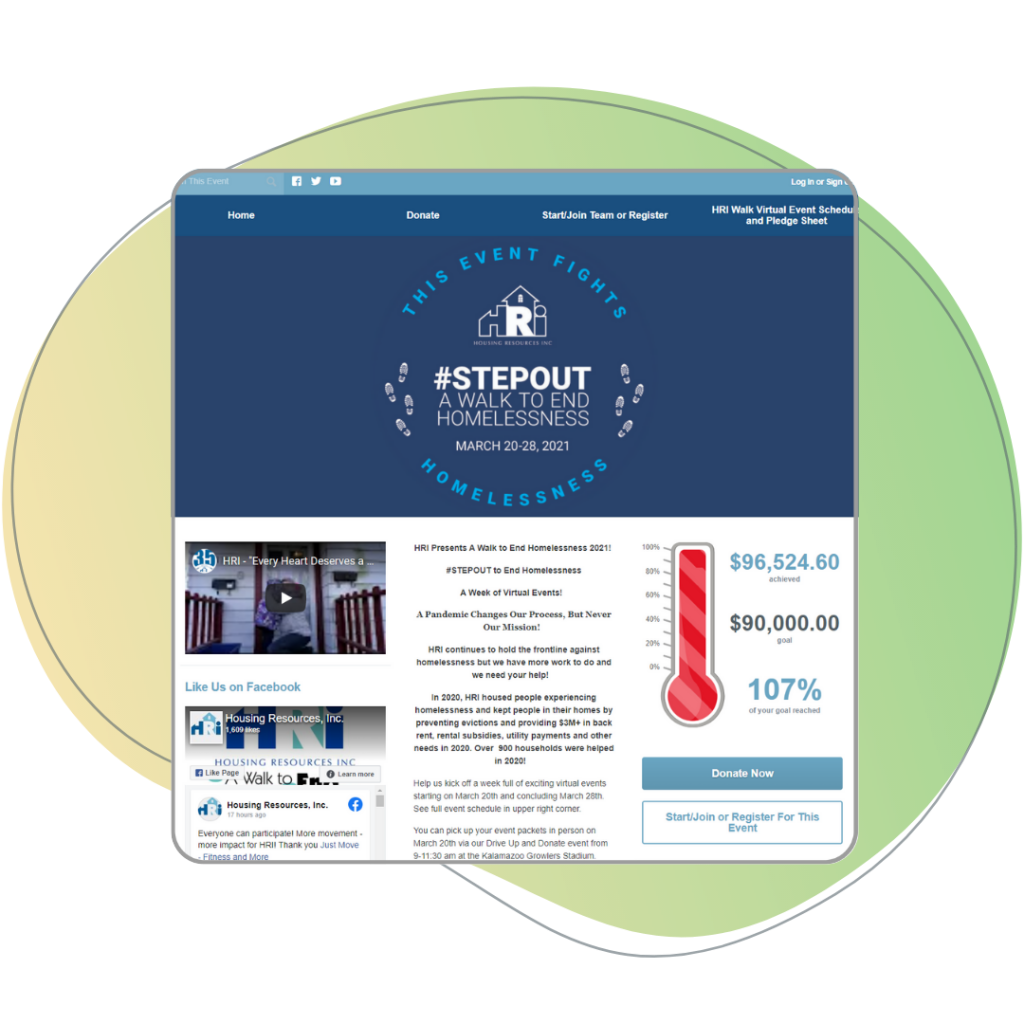 The best part? The majority of the week's events were virtual, so supporters could participate from anywhere and engage with the organization via social media and through their peer-to-peer event site.
Make It a Party
Solid Ground tried a different tactic in their work to end homelessness, making their peer-to-peer event into a livestreamed gala called "Golden Hour." The 2021 event featured musical performances, a live interview, and short videos they called "vignettes of community brilliance." They raised over $220,000.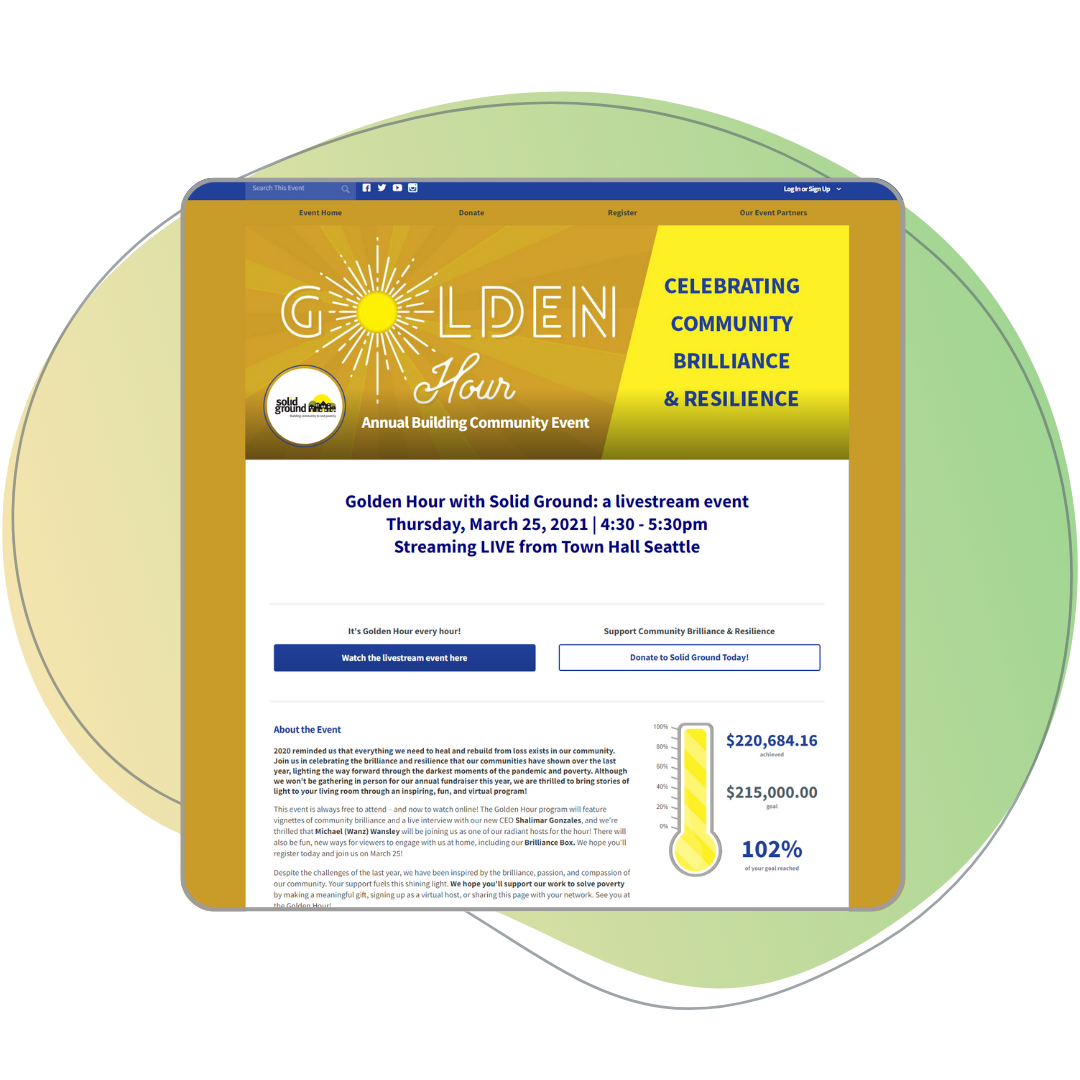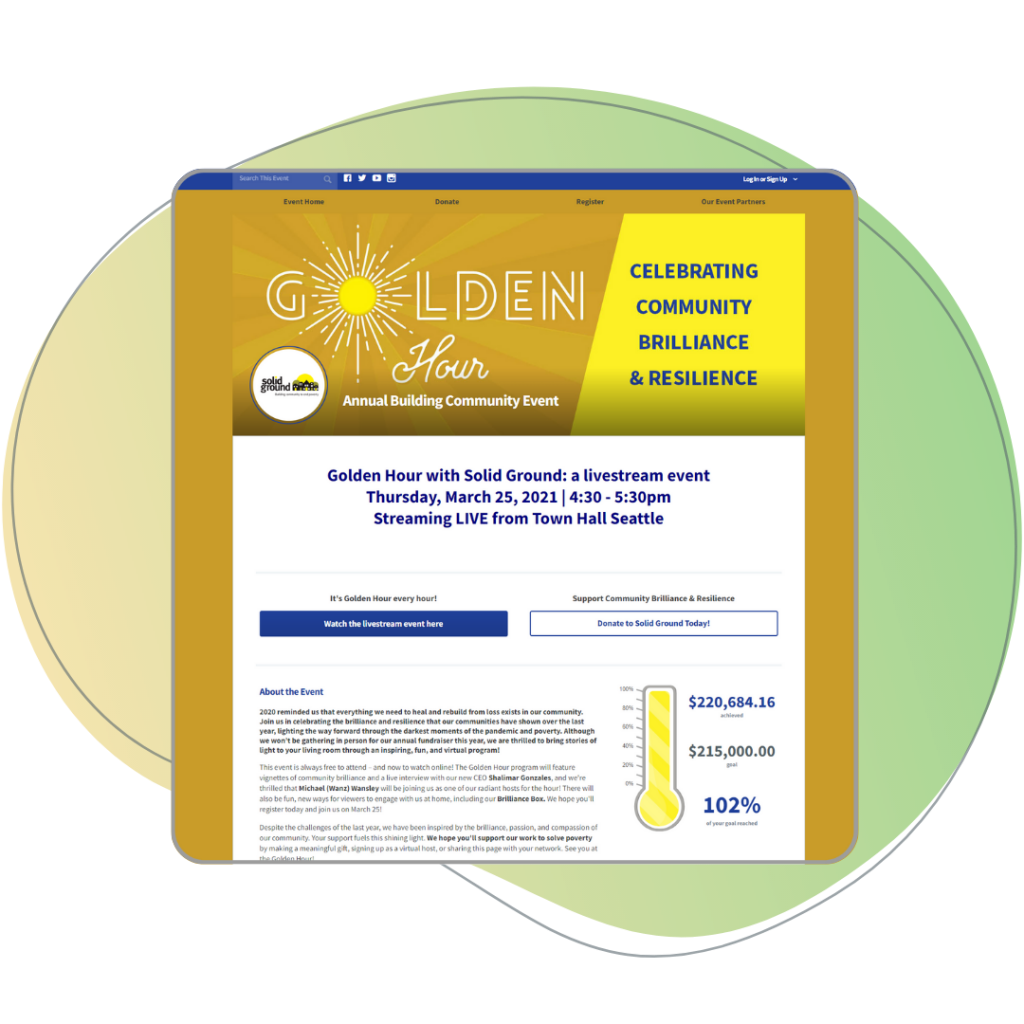 Like Housing Resource Inc.'s walking event, the Golden Hour itself was virtual. To help engage the at-home audience, Solid Ground sent "Brillance Boxes," themed boxes full of refreshments and other goodies.
A Night Outside
In February, C-U at Home hosted their 11th annual One Winter Night event. By enlisting participants to become "box dwellers" and spend 12 hours outside in downtown Champaign, they boosted awareness of homelessness in the community and raised over $400,000!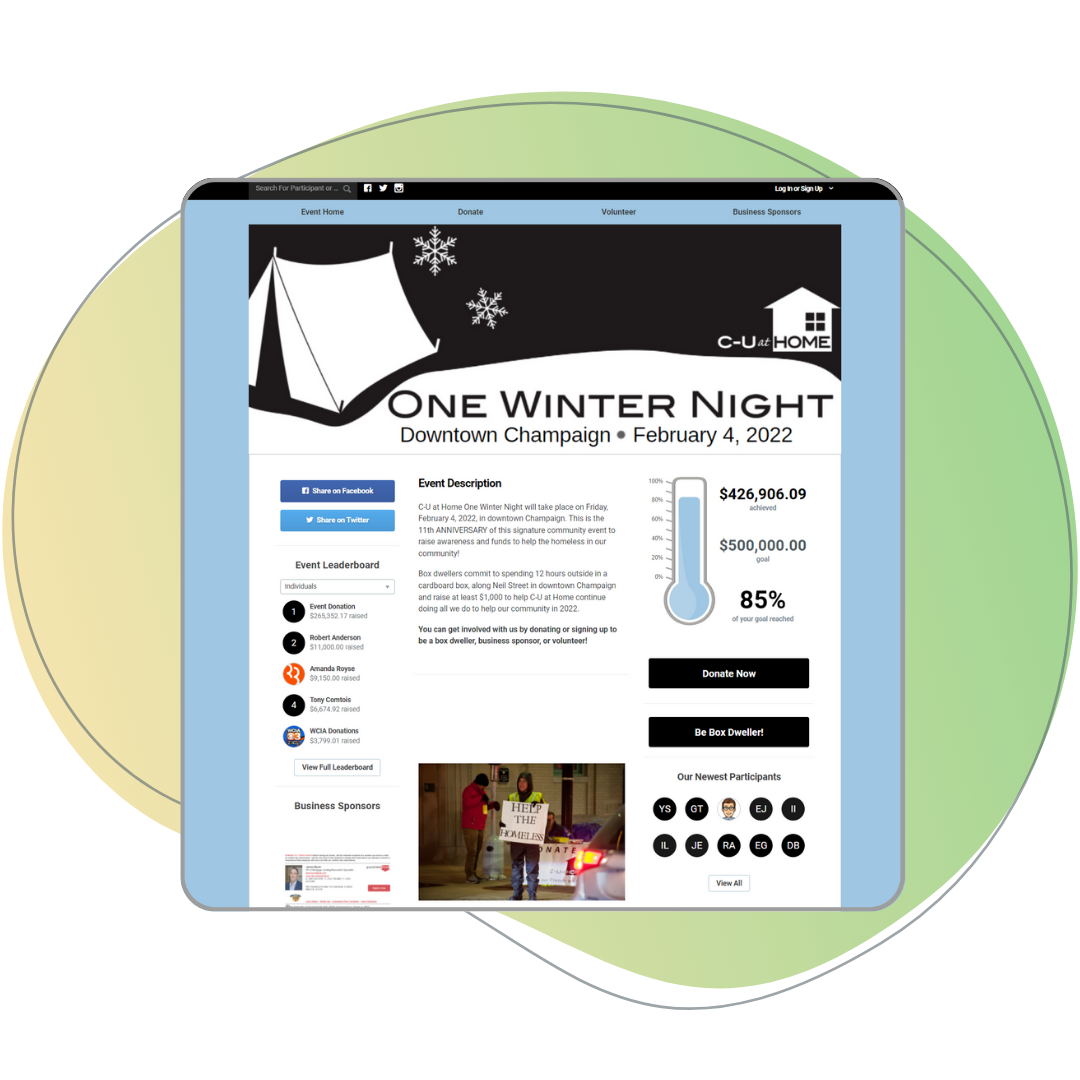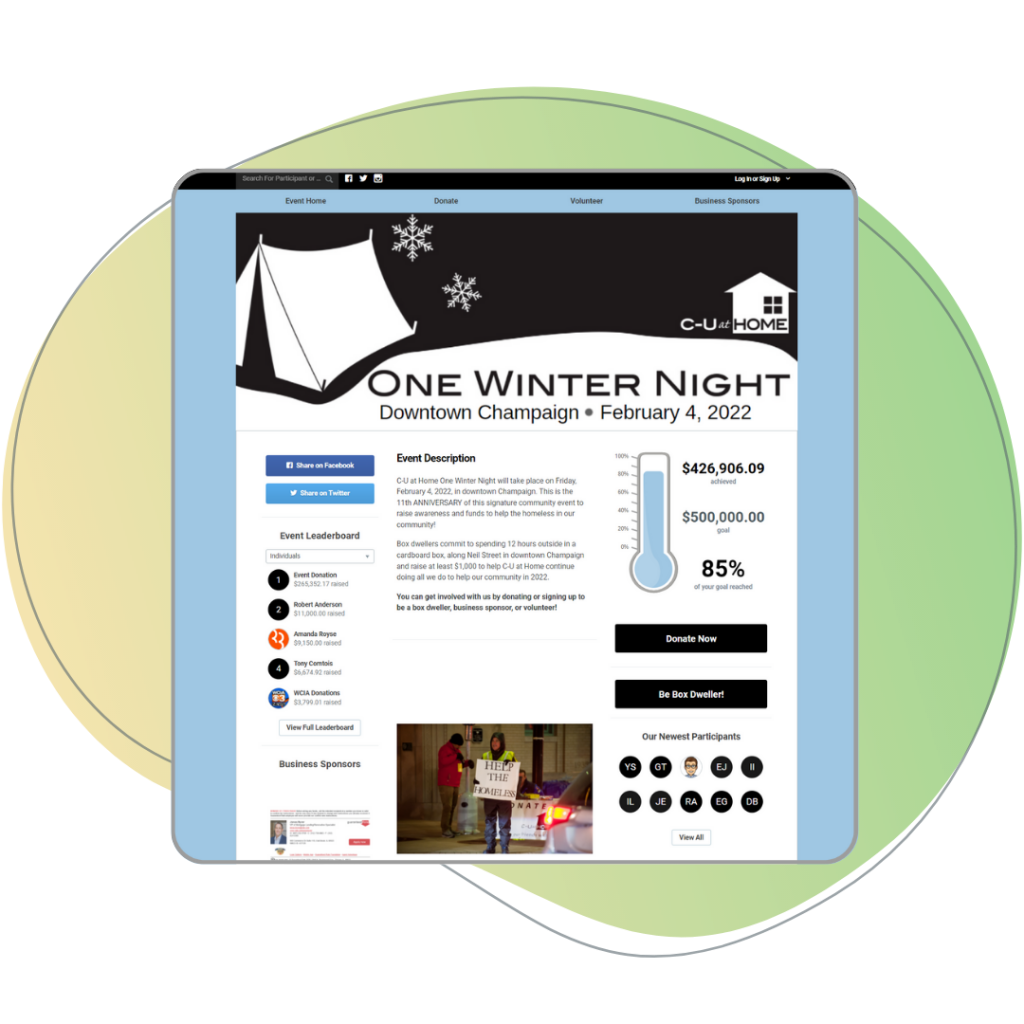 One Winter Night challenges participants to experience what it's like to be outside, overnight, during one of the coldest parts of the year, and they're out in the community while they do it.
How to Host a Peer-to-Peer Fundraiser to End Homelessness
Decide what kind of event to host
Housing Resources Inc., Solid Ground, and C-U at Home each hosted a very different type of event but all with great results. As you're choosing what kind of event you want to host, consider some of these questions:
Do we want the event to be in-person, virtual, or a hybrid of both?
While Covid-19 is slowing in many parts of the country, public safety isn't the only factor to consider when deciding whether to host a virtual or hybrid event. Giving donors and participants a way to engage from home can open your event up to a lot more people and spread awareness of the issues even further!
How long do we want the event to run?
Your event could be just an hour, like Solid Ground's livestream, or a whole week, encompassing several events.
When should we host our event?
The timing of your event should fit your organization and your constituents. But if you need inspiration, National Hunger and Homeless Awareness Week is November 12-20, 2022. Taking place the week before Thanksgiving in the U.S. each year, HH Week is a great opportunity to partner with other human services organizations that are working to end homelessness in your area.
You can even register your event on the official HHWeek website to help participants and donors find you. And HH Week isn't limited to peer-to-peer events! Any events that generate awareness of poverty and homelessness can be registered. The goal is to build support throughout local communities.
Recruit participants
Obviously, for a peer-to-peer event to be as successful as possible, you need to recruit enthusiastic participants to help support your cause.
The key piece: Work on your messaging. There are many powerful stories from the homeless community. Share those stories with your constituents to appeal to their sense of fellowship.
And once you've recruited a few supporters to your cause, empower them to recruit more by enabling team fundraising for your event.
Provide resources for participants
You've decided what kind of event to host and when, and you've recruited participants. Next, it's essential to give participants the tools they need to spread the word. Provide them with resources that emphasize the community-wide importance of addressing homelessness and poverty in your area.
Videos
Part of how Invisible People engages supporters is through video testimonials. Videos help spread awareness while giving a voice and a face to the people you're trying to help, many of whom are overlooked every day.
Fact Sheets
It's also useful to provide fact sheets. Statistics are a great starting point for conversations. Blending statistics with true stories from people who have experienced homelessness offers a human element to hard facts. The official HHWeek website provides some basic stats for the U.S. and Worldwide.
Consider including your nonprofit's mission and some impact statements as well. That way, fundraisers can show potential donors the difference they could make by supporting your organization.
Email and Social Media Templates
Make it easy for your participants to engage with their networks by providing templates for email and social media posts. Templates are a great way to guide messaging, while giving your participants a chance to personalize their appeals.
Closing
You're doing great work to end homelessness and poverty in your community. Homelessness is an issue that impacts everyone, and by improving access to housing, we can improve outcomes in so many other areas. Consider hosting a peer-to-peer event or campaign to engage your supporters to spread the word even further.
Finally, keep in mind that peer-to-peer fundraising doesn't have to be a one-time event. Unfortunately for many, homelessness doesn't have an expiration date, but you can use a peer-to-peer model to support year-round giving. DIY fundraising, board member giving, and recurring gifts are all great ways to leverage peer-to-peer, even if you don't have a specific event in mind.
Want to try some of the peer-to-peer ideas from this blog? We'd love to help!