The Importance of Streamlined Fundraising
Effective fundraising for nonprofits is a critical job and an area where you will likely focus considerable energy. As a nonprofit organization, you probably have extremely limited time and resources available to maximize return on investment (ROI), whether that investment is staff time, volunteer time, or financial resources. You can increase your ROI by reducing expenses or increasing income (donations, grants, in-kind gifts, etc). Effective fundraising has the potential to accomplish both at the same time!
Let's look at some different methods to make your fundraising more efficient.
Take your fundraising to the next level with our incredible Fundraising Bootcamp! These emails are chock full of the info you need to raise more funds. Join the
Free Fundraising Bootcamp
!
Effective Donor Recruitment
Effective fundraising for nonprofits begins with efficiently recruiting as many donors as possible. Your nonprofit should focus on two different areas when recruiting donors: recruiting the right kinds of donors and attracting those donors at minimal cost to the organization. This seems like a daunting task, but breaking it down into a series of proven management techniques makes it much more straightforward. For example, these techniques have proven effective among animal rescue groups and can be applied to almost any nonprofit:

Don't be afraid to ask your donors for what you need.
Prospective donors won't know your needs if you don't communicate them. They want to know their gift makes an impact – show them the impact they'll make if they donate.

Share success stories.
Donors want to feel they are making a difference! Sharing success stories creates good feelings and shows tangible outcomes resulting from donor commitments.

Be transparent.
Let donors see the day-to-day activities of your staff and volunteers. They will feel more closely connected to your organization and see your commitment first-hand.

Create events.
Events give your donors the chance to feel they are part of a larger community and will create more networking and sharing opportunities.

Make fundraising a game.
Donors love swag; a game or contest is the perfect excuse to give away mugs, posters, calendars, or other collectibles while generating donations, increasing awareness, and adding some fun to everyone's day.
Be deliberate about how and where you attempt new marketing efforts.
Study your prospective donor population and how you can most effectively reach them. If one approach isn't giving you the results you need, consider another one.
Segment donors based on one-time donations vs. recurring donations.
Include recurring donation options on your online giving forms, then use your reporting tools to split your donors into two groups (one-time giving vs. recurring giving). This way the forms and targeted mailings can use language appropriate to each donor group. The more segmentation you can do with your donors, the better – donors want information that's relevant to their history with you, so look at customizing your appeals, receipts, thank-you notes, newsletters, and other communications they receive. It takes a little extra work up front, but donors will be more likely to give again (and to give more!) if they receive good communications from you.
Increase visits to your donations page by optimizing your web site.
Make it easier for prospective donors to find you by including a link to your web site in every social media post. You don't always have to link to your donation form (in fact, you shouldn't always link to your donation form!). Try linking to blog articles, press releases, new photos, etc. Donors can't donate to you if they're not on your page, so focus on getting them there.
Include a visually striking "Donate" button on every page of your site.Your donors can't donate to you if they can't get to your donation form. Make your donate button easy to find.
Make your web site engaging
The best way to do this is through the use of visuals (photos and videos), straightforward and easy to absorb text, and telling stories that connect with donors.

Be personal
Donors get much more excited about connecting with passionate individuals than with a faceless organization. Be very specific about letting people know who you are and what you are doing. This social media post from Lakeland Volunteers in Medicine is a very specific example of one of their volunteers serving the community:
Invite readers to get involved
Once you've made that personal connection through social media, always invite prospective donors to join you in changing the world. Whether you're seeking financial donations, supplies, or people to volunteer their time, use your social connection to turn prospective donors into actual donors.
Your story is your organization
We mentioned sharing success stories above, and it's important to remember that this is a fundamental way of distinguishing yourself from other nonprofits and connecting emotionally with donors.
Sharing success stories through social media outlets like YouTube, Facebook, and Instagram is important, but there are still many donors who would rather connect with you through other means. So remember to share your stories via newsletters, targeted e-mails, thank you letters, at live events, and through any other medium where you have a presence.
Technology, marketing strategies, and donor preferences change constantly. Monitor your various marketing channels on a regular basis so that you know what has worked in the past. At the same time, always be researching different marketing efforts that might be more effective in the future.
Best Online Practices for Effective Fundraising for Nonprofits
Make your website clean and easy to navigate. A website cluttered with too much text, or laid out in a confusing manner, will not invite donations or repeat visits. Your site's menu should be prominently positioned and short so visitors can quickly navigate to different pages. Avoid using script fonts or other hard-to-read fonts. Instead, stick with a standard, easy-to-read font. We've mentioned this before but it's worth repeating: Make the "Donate" button easily visible and include it on every page of your website.
Optimize your online donation form. The form should have the minimum number of fields necessary to complete the donation. Don't require donors to enter the same data more than once: For example, if a donor's billing address and mailing address are the same, offer a checkbox so they don't have to enter their address twice. Offer suggested donation amounts so donors don't have to think too much about how much to give. Sometimes, these specific amounts can be used to offset specific costs, so donors have a clear understanding of how their donation will impact the organization.As an example: SPCA of Florida ties suggested dollar amounts to specific activities. (This also makes it easier for the donor to spread the word by sharing their own story. "I donated to the SPCA" is not as exciting as "I donated vaccinations to four kittens.")
Make it easy for donors to contribute in a way that is easiest for them. Use your website accessed through a computer or mobile device. You can also use a secure donation app like Givi.
Text-based donation campaigns. These can be especially effective during urgent fundraising efforts, as the Red Cross demonstrated following Hurricane Katrina in 2005.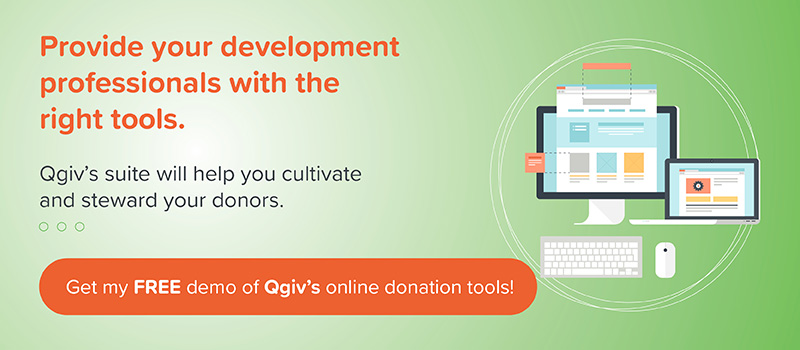 So How Do I Implement All These Best Practices?
Audit your website
If your search engine ranking or donations are dropping, if your site is slow to load, or if it reproduces poorly on mobile devices, it's time to revisit your site and make changes. Not sure if your form works on mobile? Check it out, then read this article on how to design a great mobile donation form.
Audit your donation form
Make sure suggested donation amounts are carefully thought out and appear logical to donors, and display appropriate security certificates. Consider removing navigation items that make it easier for prospective donors to leave the donation page before completing the transaction. Here's a checklist that will help you make your donation form more user-friendly!
Get feedback on your site and donation page.
This can be as simple as asking a friend or family member to review your site and go through the donation process. Ask for their detailed feedback. What did they like about the site? What elements might have discouraged them from making a donation? The more feedback you can get from people outside the organization, the better.
Evaluate Fundraising Events
Events are another important aspect of effective fundraising for nonprofits. Events should be implemented with a clear goal, by a planning team that communicates often, and with a carefully defined budget.
Are you actually raising money with your events?
How much are you spending on fundraising events? Are the events generating more donations to make the events profitable? If this event has been held more than once (for example, annual events), look at the trends for expenses, donations generated, attendance, etc.
There are indirect costs to events, including staff time spent on planning the event. Are you generating sufficient donations even after considering both direct and indirect costs?

Are there steps you can take to make an event more profitable? Maybe an event wasn't promoted very well. Maybe simple cost-cutting steps will reduce expenses. In some cases, you may conclude that some events are a poor use of resources and should simply be scrapped from your calendar.
If you aren't raising money with your event, is it serving another purpose?
You should also spend some time evaluating the purpose of your event. It is possible an event could be considered a "loss leader." For example, an event that promotes awareness of your organization or cause might lead to greater donations down the road.
Practice Good Donor Retention Methods
Generally, it's more cost-effective to retain existing donors than it is to recruit new donors.
Of all the stages of donor interaction, immediate follow-up after each donation is one of the most important. These are some post-donation goals your follow-up should accomplish:
Be personal in acknowledging the donor and their donation. Thank them by phone or in person as often as possible.
Be donor-centered. Donors should be made to feel important for what they've done.
Focus on gratitude. This is not the time to promote the organization, just focus on saying "Thank you."
Limit yourself to thanking the donor without asking for another donation immediately. Again, as much as you want to cultivate future or recurring donations, this is not the time! Give the donor an opportunity to enjoy the good feeling associated with their donation.
Specify, as much as possible, how the donation will be used. Commit to providing the donor periodic updates about the impact of their donation.
Be specific to the donor's experiences. For example, if this is a repeat or recurring donor, let them know that you are aware of their history with your organization and that you appreciate their continued support.
Connect the donor as much as possible to whoever benefits from the donation. For example, donors to a scholarship fund might receive handwritten thank you notes from the scholarship recipients.
Update donor confirmation pages
Use appropriate text and images. Reinforce the donor's emotional decision to give by using positive imagery – you want them to feel great about their gift and that they're making a tangible difference in the world. You might even include a thank you video featuring someone in the organization!
Include a reassuring confirmation message, like "Your donation has been successfully processed," so they know the transaction was actually completed. You'll also definitely want to include sharing buttons so your donor can promote their good deed on social media.
Generate automatic receipts that are donor-specific
Depending on what donors prefer to receive, these can be sent electronically, with a thank you e-mail, or printed and send with a thank you letter. Remember that this is still a receipt for a financial transaction, especially if the donation is tax deductible. The details of the donation shouldn't be the primary focus of the receipt, but they do need to be included.
Create a specific thank you message for new donors
Whether it's a single email or a series of donor welcome emails, taking the time to celebrate new donors and start building a relationships with them is important.
Welcome them to the organization and your community and tell them how grateful you are that they have joined your cause. A well-chosen image with a few powerful impact statements can have a much more lasting impression than a long letter packed with text.
Send regular updates to donors
Thank them again and alert them to how their donation is being used along with any news-worthy activities.
But don't inundate your donors with repeat requests. You want to strike a balance of reminding donors that they are important without badgering them. If donors get too many appeals from you or get irrelevant emails too frequently, it becomes easier to ignore you or mark your e-mails as spam.

Offer recurring gift options
Recurring gift options are an important piece of a good donation form, but it's also appropriate to periodically remind donors that they can continue to make a difference. Remember that your long-term goal is to cultivate donors so they become long-term partners! If you've done a good job communicating the impact your donors make on your organization, an appeal for recurring support won't be out of place.

Build relationships with donors
Relationship-building techniques like phone calls, personal letters, and public praise of donors in newsletters and social media (only after getting the donor's approval!), are some of the ways to let your donors know that you want a long-term relationship with them. It's also useful to occasionally survey your donors to learn more about what inspires them, what they like, and where you can improve. Focus on ROI behind the scenes; focus on relationship-building when interacting with donors.

Perform a Yearly Evaluation
Once a year, review your fundraising strategies to see what is working and what isn't. Some programs might need to be tweaked. Others might need to be left behind in favor of new strategies. Effective fundraising for nonprofits seems daunting, but hopefully the steps outlined above have reassured you that there are specific, manageable actions you can take to make this part of your organizational culture.

Effective Fundraising for Nonprofits is a Process, Not a Task
The nonprofit industry is always changing and evolving. Fundraising is a process! It's not a task you can cross off your to-do list – it's an ongoing discipline. You'll always find new ways to innovate, streamline, and improve your campaigns and appeals. Ground yourself in best practices, stay up-to-date, and enjoy the ride.