If you're a brand-new nonprofit or a fresh face in the fundraising world, figuring out how to start a fundraiser can be an overwhelming task. Overseeing a fundraising campaign from beginning to end and meeting your organization's fundraising goals isn't an easy undertaking and takes time and energy to pull off. Luckily, we're here to help! Here's our guide to starting a fundraiser and turning your campaign into a smashing success.
How to start a fundraiser
Set your goals
The first thing to consider when starting a fundraiser is what your goals are. Are you raising money for a specific program in your organization? Do you need to raise money quickly for an emergency? Is your organization starting a new program and needs the funds to kickstart things? Once you identify what you're fundraising for, you can set a fundraising goal for how much money you want to raise. Clearly identifying what you're raising money for and how much you want to raise can help you refine your fundraiser's messaging and plan your campaign thoroughly.
Choose a type of fundraiser
Once you've set your goals, you can start thinking about what type of fundraiser you should be hosting. Not sure where to start or what to choose from? Here are a few types of fundraisers that many nonprofits use.
Online fundraisers. Online fundraisers are a perfect fundraiser to put together if you need to raise money quickly for an emergency campaign or a giving day. Setting up a sleek donation form and executing a comprehensive marketing campaign is the best way to raise money for your cause in a fast and easy way.
Peer-to-peer fundraisers. Looking to get your donors more actively involved in the fundraising process? Peer-to-peer fundraisers are a great fundraising option for galvanizing your supporters and expanding your organization's reach. When your supporters reach out to their networks and fundraise on your behalf, you can spread your organization's mission and raise more money for your cause.
Auctions. Hosting an auction is a fun way to get your guests involved in the fundraising process. While you're raising money for your mission, your guests will get to bid on items they love and want to take home.
It can also be helpful to take a look back at your past fundraisers and your donor base to determine what type of fundraiser is best for your organization. If you've hosted some fundraisers that are more popular and raised more money than others, then you're likely to get more engagement from your donor base with those types of fundraisers. Also, consider incorporating your donors' interests and your organization's mission into your campaign. For example, if your organization works with animals, a pet walk or run could be an attractive fundraiser to your donors.
When you're choosing what type of fundraiser to host, you also should consider whether to host your fundraiser in a virtual, in-person, or hybrid format. Each format has different benefits and drawbacks, so it's important to take your donor base, the type of fundraiser you're hosting, and your fundraising goals into account when making this decision. A virtual fundraiser or hybrid fundraiser can lend some flexibility to your campaign and allow your supporters both near and far to participate from wherever they are. With an in-person campaign, you can create an engaging experience for your donors that they'll enjoy.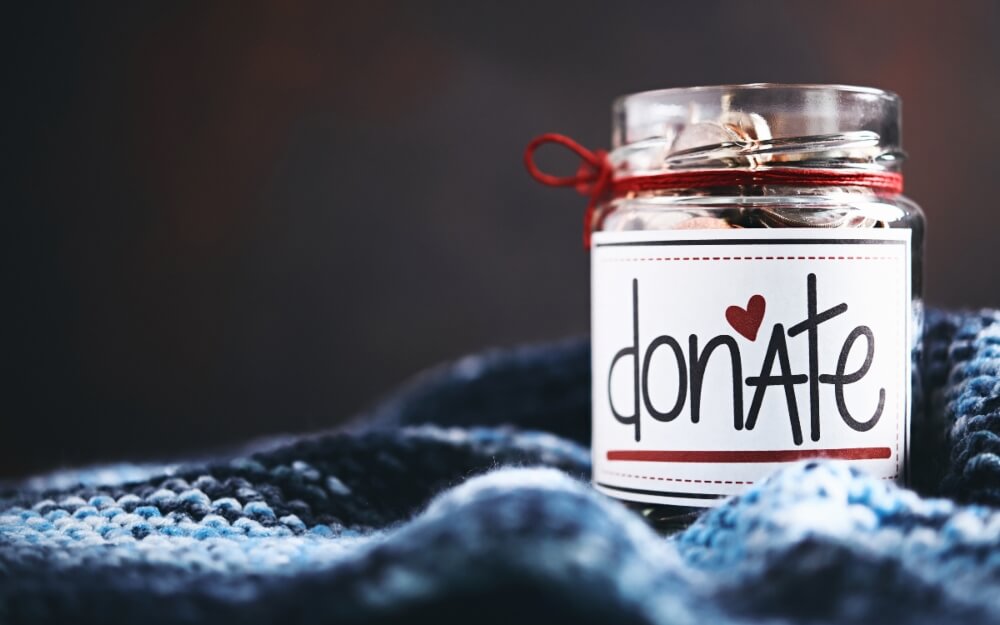 Plan your fundraiser
Once you've got the basics down, it's time to figure out the logistics of your fundraiser. Your first task should be to put together a fundraising committee. Planning a fundraiser is a monumental task and shouldn't be a one-person job. With a fundraising committee, you can delegate tasks to different people based on their strengths and interests. With new perspectives and more input from other people, you can plan a dynamic fundraiser without having to worry about anything slipping through the cracks.
One of the most important parts of planning a fundraiser involves creating a budget. Your budget will depend heavily on what type of fundraiser you host and what format you choose, so as you're making those decisions, keep in mind all of the possible expenses your fundraiser may require. For example, with an in-person or hybrid event, you'll probably need to rent a venue and various event supplies like tables, chairs, and decorations among other things, making this a more costly fundraiser option. If you're looking to save money or cut costs, a virtual fundraiser can be a great option.
Depending on the type of fundraiser you plan to host, you'll need to figure out what tools are necessary to boost your campaign's success. Virtual fundraisers require some type of fundraising software, whether that includes an online donation form, a peer-to-peer platform, or an online auction solution. There are many options to choose between when picking your fundraising software, so do your research and take your time in choosing a platform to rely on.
Creating a timeline for your campaign and determining what kind of messaging you'll be using is essential for promoting and running a fundraising campaign. If you decide on starting a giving day for your fundraising campaign, your timeline for marketing your event will be much longer while the length of the fundraiser itself will only be a 24-hour time period. However, with a fundraiser like a peer-to-peer fundraiser, your campaign may go on for weeks. Creating a timeline is a great way to stay on top of things and make a better plan for marketing and executing your campaign.
Market your fundraiser
Now that you've got all of the details down, it's time to start spreading the word about your fundraiser. Putting together a multi-channel marketing plan is the best way to let people know that you're raising money for your organization's mission.
Some of your donors may prefer getting information through email rather than social media while others might like direct mail as opposed to text messaging. Focusing all of your marketing efforts on one or two platforms could leave some of your donors out of the loop. With cross-platform marketing, you can maximize your reach for all of your donors no matter what their preferred communications methods are. 
But before you can start sending out email blasts or posting on social media, you have to come up with a cohesive story to tell across your marketing communications. While the copy you create and send out on various marketing channels should differ from platform to platform based on your audience, the overall messaging and the story you're telling should remain constant.
In addition to keeping your story consistent, you should brand your communications by using similar graphics, fonts, and colors across all of your social media posts, emails, direct mail, and other marketing channels. Wherever you can, include your logo to increase your organization's brand awareness with your supporters and increase donor trust. By keeping your branding cohesive, donors will be able to quickly recognize that the emails coming into their inboxes and the posts showing up in their social media feeds are from your organization.
To enhance your storytelling across platforms, add photos and videos to your emails, social media posts, donation forms, and anywhere else you can. Including photos of the impact of your nonprofit in your communications shows your donors how their money can make a difference. When your donors can see where their money is going, they'll be more likely to donate to your campaign. 
Recap your fundraiser
Once your fundraiser is completed, it's time to look back at what you've accomplished and convey your gratitude to your donors for making your mission possible. Thanking your donors for making a gift to your fundraising campaign is key to donor retention. When your donors feel appreciated for their contributions, they'll be more likely to come back and donate again in the future.
In addition to thanking your donors, send updates to them about how your fundraiser went and how the money you raised will be used. Make sure to include impact statements in your follow-up communications so they'll know how their gift is making a difference to your organization and the community.
You should also do an internal review of your campaign with your organization to reflect on your successes and what aspects of your campaign could use improvement. Analyze your campaign and collect metrics to gauge what your organization can credit for your accomplishments and where your fundraiser was lacking. By identifying your strengths and weaknesses, you can improve your planning process and campaign execution for future fundraisers and try to emulate your successes again.
Final thoughts
If you've never planned a fundraiser before, knowing where to start can be difficult. Creating a successful fundraising campaign can be an overwhelming task, but by breaking down the process and going step-by-step, you can put together a fundraiser that will bring your donors together and make a positive impact on the communities you serve.