Not everyone can be a math genius, but when you're using a fundraising event budget template, you don't have to be. Hosting an event requires your organization to do a lot of research and planning, but using a budgeting template can ease some of the stress of your staff. Discover your possible costs for the event, and easily estimate your profit by inputting your data and adjusting as confirmed numbers come in.
Use these five steps to complete your fundraising event budget template!
1. Determine event objectives
Knowing the purpose of your event is the first step to calculating your fundraising event budget. Different types of events will have drastically different budgets. A big gala with an auction will be much more costly than a virtual trivia night. The type of event will also help you decide what your biggest costs are going to be when budgeting.
There are plenty of effective fundraising events your organization can host on any budget. Smaller, in-person gatherings, such as dinner parties or paint and sip nights, can be a great opportunity to connect with donors without breaking the bank but still require you to take into account the cost of a venue, food, drinks, and more. Online fundraisers, like a Q&A with your team or a virtual gaming tournament, are cost effective and profitable and require a different set of considerations for budgeting compared to in-person events.
Once you've determined the kind of event you want to host, you also need to decide on the size of the event. The more attendees you have, the larger your budget will need to be, especially for in-person events. Large in-person gatherings require bigger venues that can hold all your donors. They also require more food if you're providing catering. Even attendance at virtual events needs special consideration because many video conferencing programs like Zoom have limits on the number of people who can join a call for free. If you send your virtual participants a gift, you'll need to account for both the cost of the gift and the cost of shipping it to your supporters. After you've decided on both the size and type of event, you'll be able to start filling in the line items for potential revenue and expenses on your fundraising event budget template.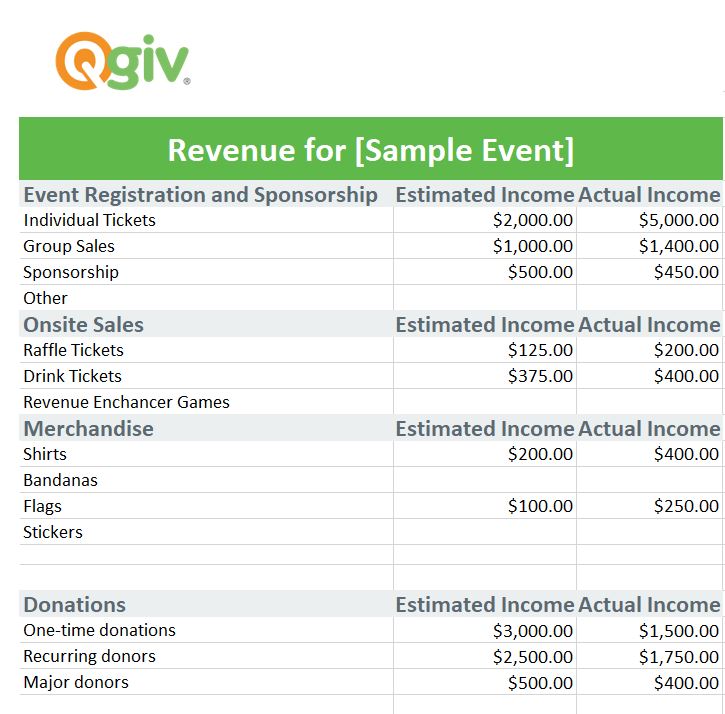 2. Project potential event revenue
Estimating your potential revenue may seem complicated, but your previous fundraising event budgets and your donor data can offer insights to help you establish a practical prediction for what your event's income will be. Your potential revenue will provide you with an idea of what your expense limits for the event should be. Every nonprofit is different, so there is no golden percentage for what your costs should be compared to your income. However, you generally want to minimize your expenses so the money you raise can go towards your mission rather than paying for your event. Your organization's previous event budgets can help you estimate how much of your revenue will go towards covering event costs, and paired with your current donor data, you can also forecast how much you might raise from donations. This data will tell you which of your supporters are more inclined to attend your event, how much they're likely to donate, and which major donors would be the best to appeal to.
While the Pareto Principle is not a guarantee, many nonprofits will see that much of the money they raise during a fundraiser is gifted from the top percentage of donors. 80/20 may not be the exact outcome, but being able to estimate how much you'll receive from your major donors will offer you a much clearer picture of your potential revenue for your event.
Besides your major donors, sponsorships can be another large source of income for your event. While some sponsors offer financial gifts in return for free advertising, others might give free goods and services for your fundraiser that can cut down on your event's overhead costs. This will provide you with a better picture of what you'll need to spend for your fundraiser. Once you've calculated your potential revenue estimate, you can start adding your expense line items to your fundraising event budget template.
3. Make a list of expenses
The next part of calculating your fundraising event budget is to make a list of all possible expenses for your campaign. Research is critical in creating a reasonable cost estimate for your fundraiser. When researching your costs, look up the average prices for every expense you can anticipate. Your research should include quotes from several different vendors to give your nonprofit multiple affordable options.
This is also a good time to identify what can be donated to your fundraiser and reach out to businesses about sponsorships. Companies may offer to donate venue space or furniture like tables and chairs for the big day as a part of a sponsorship agreement. If you have connections to local restaurants, see if they would be willing to partner with your organization to donate food and beverages to your event. These in-kind donations can heavily cut down on your costs. When contacting businesses, remind them that your organization is tax-exempt. If a business is unwilling to donate their services, they may still offer a discount for nonprofits. Be realistic when looking at possible vendors to equip your nonprofit with the most precise estimate possible.
When listing your expenses in your fundraising event budget template, divide the line items into different categories to simplify the process when you need to review your budget. Different categories could include fundraising materials, venue budget, software costs, staff costs, and donor retention efforts.
Direct mail, social media advertising, printing, and other miscellaneous expenses are all the marketing for your nonprofit to consider for your event. You can categorize items like your venue rental fee, catering, and decorations under your venue expenses. While software and staff costs might extend past a singular fundraising event budget, determine what percentage of those costs can be assigned to your current event to add into your budget. For example, if your campaign lasts two months, include the monthly prices for any fundraising platforms or CRMs your organization utilizes. Similarly, account for your hourly staff's pay for the hours worked on your fundraising event into the budget along with any shirts or name badges created for the day of your fundraiser. Your donor retention efforts, such as thank you notes, should also be considered when listing your direct mail expenses. Remember, until your event is completed, your budget will fluctuate, so it's important to adapt.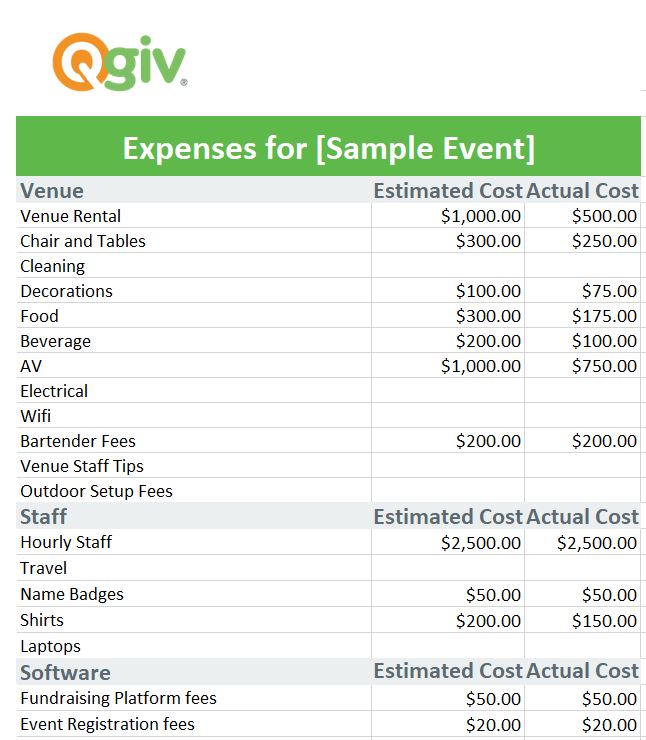 4. Evaluate and modify your event budget
Once your initial estimates are calculated, evaluate your estimated profit and loss statement. Your fundraising event budget template is a flexible document, and until vendor contracts are locked in, you should continue to modify your budget to suit your organization's needs. The first step to evaluating your budget is to determine if your profit margin is large enough for your nonprofit to put a substantial amount of funds you raise toward helping your cause. If your overall gains won't be able to fulfill the goals you set out for the event, then decide which event costs are unnecessary and can be cut from the budget.
Cutting costs may seem difficult, but some of your original line items may have cheaper alternatives or might be nonessential to hosting your event. This also gives you an opportunity to go back and appeal for in-kind donations and sponsorships from businesses you didn't previously consider. Extra decorations and other miscellaneous expenses are a great place to start looking for alternatives to decrease costs. Review each line item in your expenses to see where changes can be made.
Downsizing your fundraising event budget doesn't need to lead to a decrease in your profits. It may actually offer you an opportunity to hold a much more intimate event for your donors to help them discover deeper connections with your organization. You could also consider switching from an in-person gathering to a virtual or hybrid event to save you a lot of expenses. Don't be afraid to shift your event to better suit your nonprofit's financial needs. The work you do to change the world requires funds, and your supporters know that.
As confirmed data comes in, start entering the final numbers into your fundraising event budget template. While your estimates are great to start planning, established figures give your organization a more accurate view of your profits. This data shows you if you need to further cut costs or increase your donor acquisition efforts. This also gives you a chance to go over any unplanned expenses that may affect how much money your nonprofit needs to raise during the event. To avoid overspending, consider padding your budget to give you wiggle room if prices rise or any emergencies occur and decide on an amount to account for in your expenses for unforeseen costs.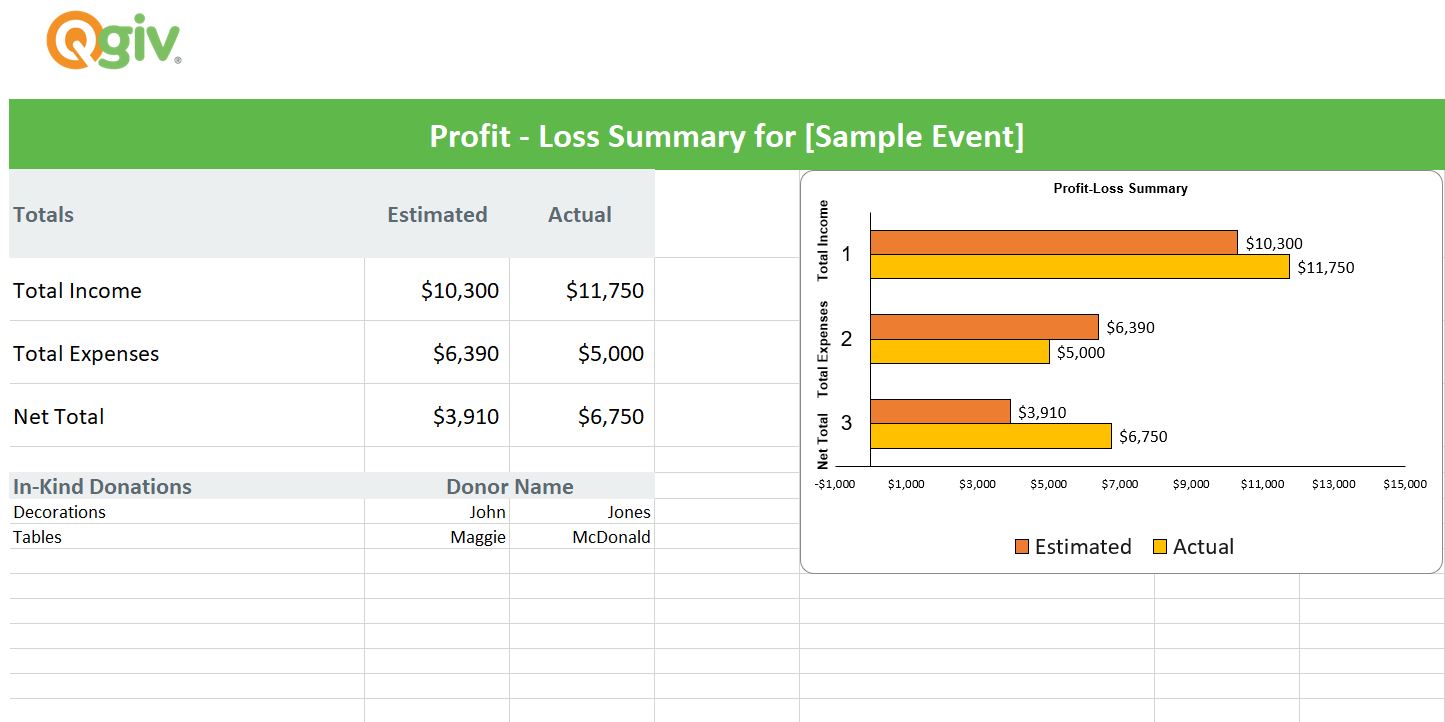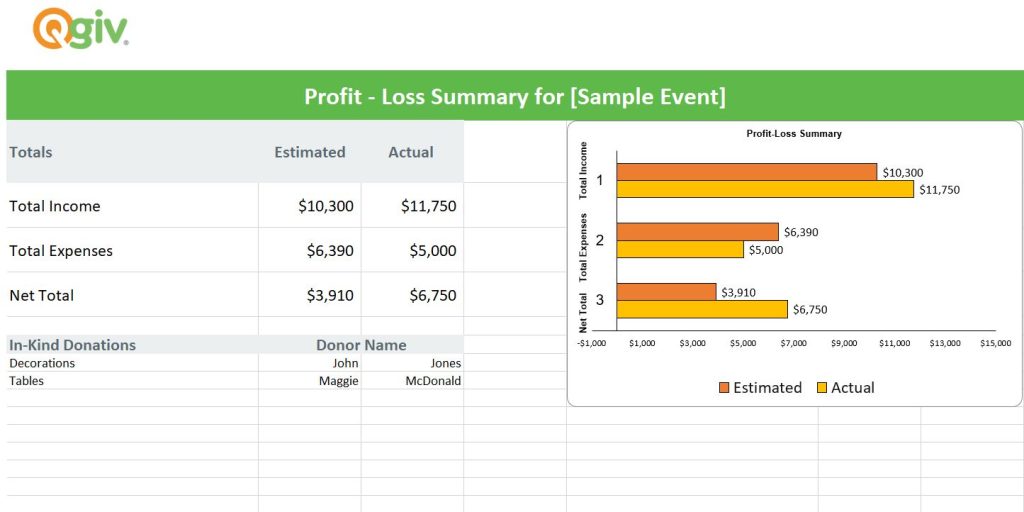 5. Finalize your budget
After your campaign for your event is completely finished, fully finalize your fundraising event budget to show all final revenue and costs. A completed and accurate budget is essential to your nonprofit's ability to be transparent with your donors and show them how much of their contributions will help your cause. Your accounting team also needs a final budget to guarantee you end the year in the black. Save your completed fundraising event budget template in your archives to provide your organization with better estimates and planning details for future events. That way you won't have to start from scratch!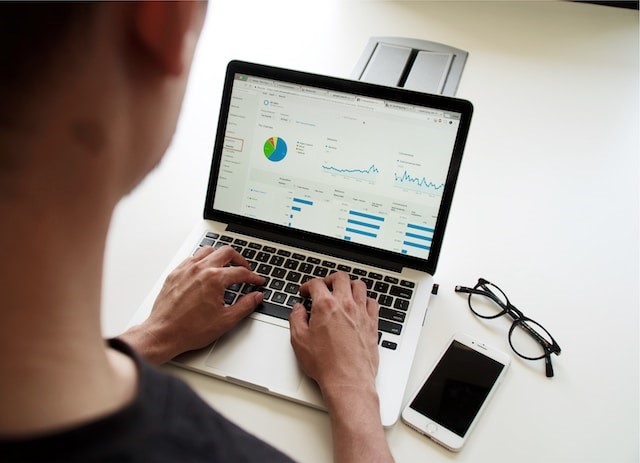 Final thoughts
When it comes to raising money for your organization, using a fundraising event budget template can help you stay on track even during your busiest event season. Utilize the data you collected from your past fundraisers and create a budget that will help you achieve your goals. Remember to be thorough and realistic in your potential income and expenses to better predict how much money you'll be able to raise to help your cause.