Use the icons below to explore our text fundraising guide.
Text-to-Give vs. Text-to-Donate
Mobile fundraising has grown tremendously in popularity. According to Pew Research, around 96% of Americans now own a cell phone of some kind, bringing engagement opportunities right to donors' hands. As a result, a rising trend in fundraising is that of text giving. 
All supporters need is the organization's shortened phone number (called a short code) and a campaign keyword to get started. 
Although many organizations use text-to-give and text-to-donate interchangeably to describe their text fundraising efforts, key differences in the setup and donation process separate the two into completely different fundraising methods.
What is Text-to-Give?
Text-to-give is a carrier-based mobile fundraising method that allows supporters to give via text message. Supporters simply text a keyword to the short code and the donation amount is added to the supporters' phone bill.
How does Text-to-Give work?
Once an organization qualifies for text-to-give:
The organization

sets up a short code, campaign keyword, and donation amount – limited to $5, $10, $15, $20, $25, $30, $40 or $50. Depending on the platform they use, sometimes they can also set up recurring donation options.

When a supporter feels inspired

, they text the campaign keyword to the short code.

The predetermined donation amount

is billed to the supporter's cell phone bill by their carrier.

The phone carrier processes the donations

and transfers the total donations to the organization.
Why choose Text-to-Give?
The text-to-give process is attractive because it's so simple for donors. A gift can be completed through a few text messages, requiring little effort from your supporters. 
However, your organization must first meet a few requirements to be eligible. Organizations have to submit an application and meet the qualifying criteria. Once you qualify for text-to-give, you only need to set up a short code, keyword, and donation amount.
What is Text-to-Donate?
Text-to-donate is a form-based mobile fundraising method that is initiated through a text message either from the organization or the supporter. Supporters are then sent a link to the mobile giving form. The gift is successful when supporters finish entering their information.
How does Text-to-Donate work?
After an organization signs-up for text-to-donate:
The organization

will set up a short code, campaign keyword, and mobile giving page.

When a supporter feels inspired

, they text the campaign keyword to the short code.

Supporters enter the amount

they'd like to donate and receive a link to the mobile giving page.

Supporters complete the process by entering their information on the mobile giving page.
Why choose Text-to-Donate?
Unlike text-to-give, there are no minimum requirements for text-to-donate. This way, organizations of all sizes and missions can use the text fundraising effort. Text-to-donate also allows supporters to make custom donation amounts, set up recurring donations, and offset processing fees.
Benefits of Text-to-Give and Text-to-Donate
Although text-to-give and text-to-donate are different, both methods provide your supporters with an easy and convenient way to give.
User-Friendly
Your donors love text fundraising because it's so easy to use. In just a few steps, even the least tech-savvy supporter can quickly make a gift to your organization.
Because this method walks users step-by-step through the giving process, you can quickly and dramatically boost donor conversion and reduce attrition.
Convenient
Text-to-give and text-to-donate are two of the most convenient fundraising methods out there. These days, nearly everyone has their phone on them at all times. In 2019, 56% of all website traffic worldwide was generated just from mobile phones.
Mobile-friendly platforms allow the user to access the internet and all its offerings wherever they are! Your donors can make a donation to your cause at home, in the office, at a fundraising event, or on the go.
Unlimited
With text fundraising, your nonprofit can accept an unlimited number of donations and create as many fundraising keywords as you need, making text-to-give and text-to-donate two of the best ways to reach your cause's fundraising potential.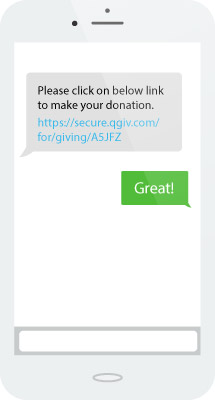 Choose a Simple Keyword
When setting up your text-to-give or text-to-donate campaign, you also need to choose a keyword for your donors to use. Your keyword is how your donors' text donations find their way to your organization specifically. It couldn't be more important to optimize it!
While your keyword will need to be somewhat unique to work (basics like "DONATE" and "CHURCH" are likely already taken), you should still choose a common word.
If your keyword is too difficult or hard to remember, autocorrect will likely adjust it or donors will mis-type it. Those blunders will reduce the chances that donations will actually make it to your organization.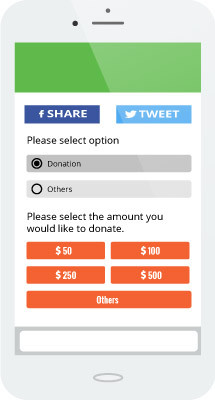 Design a Mobile-Friendly Donation Page
When donors use text-to-donate, they'll access your giving page on their phones. It's crucial that your organization designs your form with mobile users in mind.
While most services will automatically make your page mobile-responsive, there are a couple of key steps you can take to ensure your page looks and functions great on any screen size.
By minimizing the required fields, using large text, and not cramming your page with design elements, you can ensure your form is easy to complete (and maximize conversion rates!).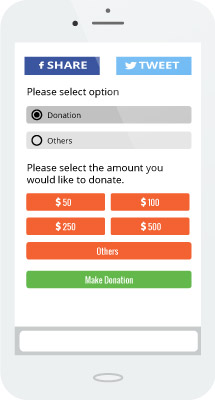 Keep Your Donation Form Short
Another part of maximizing completed gifts is keeping your donation form as short as possible. No one likes an overly long and complicated giving process—especially mobile users—and too many questions can lead to donation form abandonment. Brevity is especially important for mobile, where forms are more difficult to fill out.
Although it can be tempting to collect additional information about your donors, keeping required fields to an absolute minimum will help you raise more through your text-to-donate campaigns.
Your donors' names, contact information, and payment information should all be required. If you want to include other fields, make sure they're optional or, better yet, include them in a follow-up donor survey instead.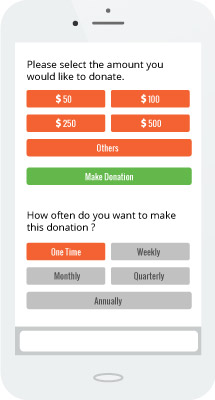 Offer Recurring Gift Automation
With some text fundraising services (Qgiv included), nonprofits can place a field on their donation form for donors who want to set up automated recurring gifts.
If your nonprofit has access to this feature, take advantage of it! You can even set a variety of giving schedules to provide donors with more flexibility.
Automating recurring gifts makes it much more convenient for your donors to give on a regular basis—and there's no risk of them forgetting to do so! On top of that, having a stream of steady and consistent gifts will provide significantly better support to your organization in the long run.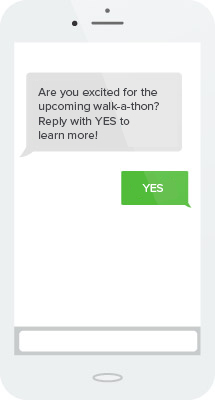 Take Advantage of Outbound Texts
Many text-to-donate platforms will also let nonprofits take advantage of outbound texts. This is simply when the organization uses their text giving platform to reach out to donors, whether it's to remind them of a campaign or thank them for their gift.
Since text messages have an open rate of 98%, outbound texts are a great way to engage your supporters outside of your regular interactions. Easily update them on news, their gift's impact, and event reminders. 
You can even take advantage of outbound texts to quickly send appeals during a crisis or for natural disaster recovery.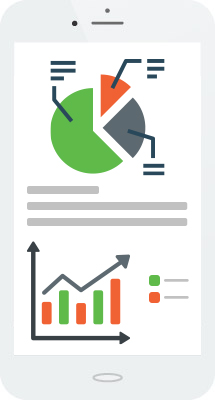 Track Performance with Reporting
Every nonprofit organization understands the importance of data. With more data from your donors, events, and various outreach efforts, the better your organization can improve operations and future engagements.
Ensure your text fundraising tool is integrated with or a part of your larger fundraising system. This way, you can take advantage of reporting tools to give you the insight you need.
Always keep track of your text-to-give and text-to-donate efforts with reports to see which keywords best drive action and to learn how your supporters like to give. This way, you can evaluate your current campaign, make adjustments if needed, and better plan future text fundraising events.
Who Can Use Text Fundraising?
Text-to-Give and Text-to-Donate for Nonprofits
Why do nonprofits love text fundraising?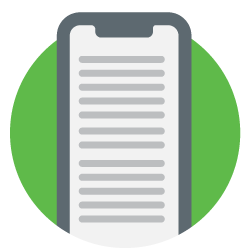 It's Donor-Centric
Most nonprofit professionals will tell you that the best way to encourage giving from donors is to meet them where they already are.
Whether you market to them on social media, invite them to events, or send them a fundraising email, there's no better way to connect with donors than through their smartphones.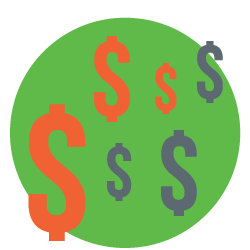 It Boosts Giving
Not only are text-to-give and text-to-donate popular fundraising methods among donors, they're also two of the best ways to boost giving to your cause.
Your donors can give more frequently because they'll have a wider, more-accessible selection of giving methods to choose from.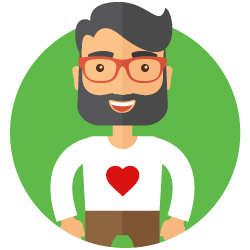 It's Inspiration-Driven
Since making a donation is as simple as sending a text, donors can give as soon as they're inspired without spending time searching for a web-page or waiting to give on their desktop.
With other methods, there's always a delay between getting inspired to give back and completing a gift. Eliminate that delay and empower supporters to make their gift as soon as inspiration strikes.
Integration with current fundraising campaigns
Social Media
Since most individuals browse social media from their smartphones, social media platforms are the perfect channel to promote your text-to-give or text-to-donate information. Your nonprofit can share your fundraising phone number and keyword across sites like Facebook, Instagram, and Twitter.
Not only does this help boost giving to your cause, but it doubles as a marketing strategy to increase the visibility of your campaigns where your supporters are already active.
Fundraising Letters
Although fundraising letters are a pretty traditional solicitation method, your nonprofit can bring them into the 21st century by leveraging text fundraising.
Simply share your text-to-give or text-to-donate information in your direct mail or email outreach. This way, readers can give as soon as they read your letter, rather than needing to mail back a check or risk exposing their credit card information on a remit slip.
Events
Pairing text-to-give or text-to-donate with fundraising events is the perfect way to capitalize on the excitement driven by your latest walk-a-thon, 5K, dance marathon, or other fundraising event.
Even though your events happen person-to-person, empowering attendees by giving them text-to-give information allows them to make a digital gift wherever your event may be. No cash or checks required!
Empower your peer-to-peer fundraising campaigns
Peer-to-peer fundraising and text fundraising often go hand in hand. Since your peer-to-peer campaigns are driven by social media engagement, there's no better way to quickly connect donors than using text-based donation methods.
Ask your volunteer fundraisers to include your nonprofit's text-to-give or text-to-donate information on their personalized fundraising pages. This way, when your P2P fundraisers call on their friends, family, and coworkers to donate, they can either share their giving page link or your campaign's phone number and keyword. 
Each volunteer can even add their name or another identifier to the event keyword so donations are credited to them.
Oftentimes, peer to peer campaigns are in conjunction with an event. Because text-to-give and text-to-donate work well with event fundraising, it's easy for your nonprofit and volunteer fundraisers to encourage text giving during the event as well.
Text-to-Give and Text-to-Donate for Churches
Why do churches love text fundraising?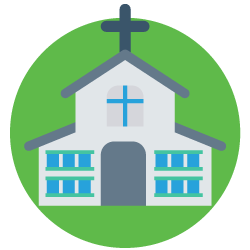 It Connects Congregations
Churches often feel that there's a disconnect between their missions and the outside world. They want to grow the gifts they receive from their congregation, but it can be tough to connect with members without the right technology.
Text-to-give and text-to-donate (which churches often call "text-to-tithe") provide churches with a modern, convenient way to engage members as well as reach out to new individuals who may be inspired by your mission and interested in learning more.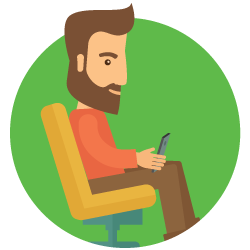 It's a Digital Collection Plate
Traditionally, a large part of a church's fundraising revenue has come through collection plate gifts during services. However, in an increasingly cashless world, congregants are more and more likely to skip Sunday giving if they can't give digitally.
Give your tech-loving congregation a way to give back by leveraging text-to-give or text-to-donate as a digital collection plate! Encourage members to text right from their pew to maximize the number of gifts to your church.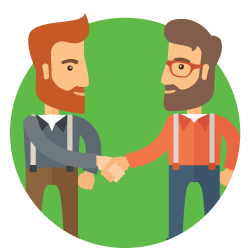 It's an Easier Way to Give
By giving congregants a way to give back that fits into their daily lives, they'll be more likely to give regularly, even if they're on vacation or have to miss a service. Your members will always have a direct line to your fundraising, so they can give whenever they're called to support outside of the weekly collection during services.
Because it offers individuals a fundraising channel on their smartphones, there's no better way for your church to raise funds than through text-to-tithe technology.
Empower your church fundraising events with Givi.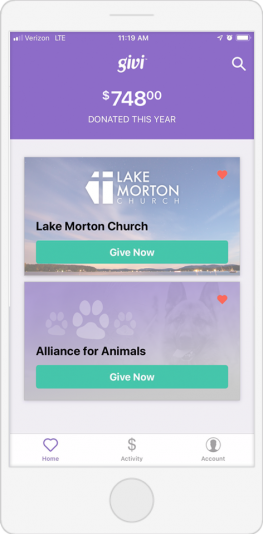 Texting isn't the only mobile fundraising method out there. For churches looking to expand their giving methods, there's now an app for that — Givi.
Givi is a giving app that's made specifically to meet church fundraising needs. Churches (and other nonprofits!) can use this platform to create customized giving pages that congregants can access anytime, anywhere.
Just like with text-to-give and text-to-donate, your congregation can use Givi to make on-the-go gifts wherever they are, including at your church's services and events.
With Givi, your members can create giving accounts to save their payment information and track their giving history. This way, they only need to enter their credit or debit card information once. After that, they'll be able to make a gift to your church whenever they want.
Text Fundraising Buyers Guide
1. What key features should you look for in a text fundraising platform?
There are multiple nonprofit platforms and solutions that offer text fundraising, but you should do some research before committing to one. Here are the top features you should look out for:
Outbound texts. As discussed earlier, outbound texts from your nonprofit to your supporters is a great way to engage and connect with them. Use your text fundraising tool in order to easily provide key news and updates on your campaign!
Pledges. Make sure donors can also text pledges to your text fundraising number so they can complete their gift at a later date. Having text pledging capabilities is great, especially when you're asking donors to pledge a gift while in-person at an event. However, pledge donations are only useful if they're followed through in the end. Use your text fundraising tool to send automatic reminder messages and track and report on unfulfilled pledges.
Reminder Messages. Your text fundraising tool should be able to set up automatic messages in order to remind donors to complete their donations. Using reminder messages help you raise more, but they can also help boost donor conversion and save staff time. You can automate messages to send supporters campaign deadlines or urge donors to make their gift recurring after they've given.
List Subscription. With list subscriptions, your supporters can opt in to receive texts from you. Segment your subscribers in order to send our targeted texts relevant to their specific interests.
Live event component (FundHub Live). Text fundraising often goes hand-in-hand with a live event, so make sure your texting tool can directly connect. For instance, display your campaign thermometer at your event to let attendees track your fundraising progress in real time. This shows donors how much they've given already and can motivate your supporters to give more.
Additionally, consider whether you're more likely to embark on text-to-give or text-to-donate efforts. Or even better, find a text fundraising platform that is capable of both!
2. Can I use text fundraising for both year-round giving and year-end fundraising?

Absolutely! Text fundraising is great because it works for all types of campaigns and events your organization wants to host. Create as many keywords as you want to represent your various fundraising efforts.
With outbound texting, your organization can communicate with donors all year to give them important updates and announcements. You can then use list subscriptions to target specific donors. This is helpful during your year-end fundraising campaigns and can help you maximize fundraising success during the holiday fundraising season.
3. Can texting tools help boost fundraising?
Yes! It's clear that text fundraising is an easy way to add another revenue channel to your organization's overall efforts. With dedicated and comprehensive text giving tools, you'll see a:
Boost in fundraising revenue. Most people assume that text gifts tend to be smaller but, in reality, the average donation size for text-to-donate fundraisers is $107. (source)
New group of supporters who want to give. 1 in 4 donors use mobile devices to discover nonprofits about which they were previously unaware. (source)
Increase in recurring gifts. With text-to-donate, you can easily encourage donors to set up recurring giving during the giving process. This can increase the annual gift you potentially receive from each recurring donor. Donors that set up recurring donations give, on average, 42% more throughout the year than one-time donors. (source)
Increase in engagement with outbound texts. Did you know that it takes an average of 90 seconds to respond to a text compared to the 90 minutes for an email? That stat, along with the fact that 96% percent of Americans own smartphones, means it makes sense that text giving tools help increase donor engagement. (source)
4. Who should use text-to-give? And who shouldn't?
Text-to-give is most ideal for large organizations and companies. In order to take advantage of text-to-give, your organization must first meet some general criteria and guidelines set forth by the Mobile Giving Foundation. You need to submit an application, pay an application fee, and meet a minimum fundraising requirement per year ($500,000/year).
If your organization is just starting out, it can be hard meeting this fundraising requirement and spending the extra funds on the application fees. But don't worry, you can still use text-to-donate!
5. Who should use text-to-donate? And who shouldn't?
Text-to-donate is ideal for organizations of all sizes. There is absolutely no minimum fundraising requirement so you can start taking advantage of this tool immediately!
Additionally, most text-to-donate platforms also come with other capabilities like outbound messages, list subscriptions, and connections to a live event component!
Benefits of Text-to-Give
The text-to-give process is attractive because it's so simple for donors. Text-to-give enables organizations to set up custom keywords preset to a specific donation amount, accept donations in a few steps, and complete the donation process quickly (donors don't need to enter credit card information).
Cost of Text-to-Give
The cost of text-to-give includes: a $350 Mobile Giving Foundation application fee and an annual fee of $1,788 for the first keyword ($1,188 for additional keywords
Benefits of Text-to-Donate
There are no minimum requirements to use text-to-donate. Text-to-donate enables organizations to engage supports with outbound messaging, accept donations of all sizes, set up multiple keywords, and offer an easy way to give during live in-person or virtual events!
Cost of Text-to-Donate
The cost of Qgiv's text-to-donate platform is $129/month (or $297/quarter) and 3.95% + $0.30 per transaction.
Qgiv is the perfect partner for nonprofit organizations of all shapes and sizes. With Qgiv's comprehensive platform of smart fundraising tools, your nonprofit can rest assured that you'll have access to all the online fundraising tools you need to grow your cause and fund your mission.
Some of Qgiv's standout fundraising features include:
Unlimited donation forms and event registrations
Peer-to-peer fundraising tools
Mobile text fundraising with both text-to-give and text-to-donate capabilities
Unlimited training and support
And much more!
With Qgiv, there are no hidden fees. Set up is quick and easy, so you won't have to wait weeks or months to get started.
Additional Online Fundraising Resources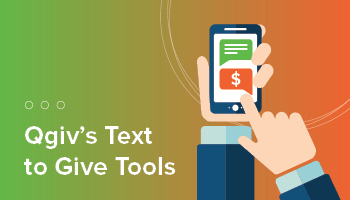 Qgiv is the leader in text-to-give and text-to-donate technology. Take a look at everything we have to offer by learning more about our robust text fundraising tools.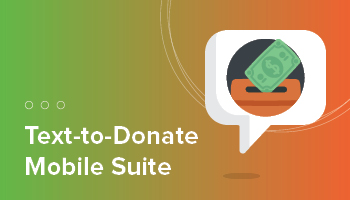 Text fundraising is an important part of any digital fundraising strategy. Check out how our text-to-donate suite can work well with your organization!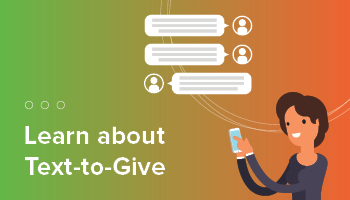 Interested in learning more about text-to-give and adding a bill-to-carrier option for your supporters? Learn how you can easily add this capability to your mobile suite and the requirements that go along with it.