Giving Tuesday is a day of charitable giving that kicks off the end-of-the-year giving season that takes place during the holidays. This day of charitable giving encourages people around the world to support causes they believe in and builds on the generosity and goodwill of millions.
Giving Tuesday is impactful for nonprofits because it increases exposure for them and helps build support for their missions. For that reason, nonprofits should focus on donor acquisition and inspiring their current supporters to reach out to their networks. With this boost in fundraising potential, nonprofits will get much closer to their goals.
You should also focus heavily on building relationships, thanking new donors, and thanking them for their support. To learn more about how to start this process, check out this article.
Giving Tuesday is on December 3rd – Mark your calendar
Giving Tuesday is the first Tuesday following Thanksgiving. This year, Giving Tuesday will take place on Tuesday, December 3, 2019.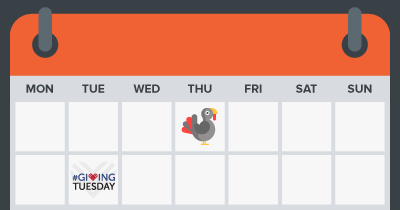 Want to make your next Giving Tuesday a success? Use the list below to jump to the sections that interest you, or read from the top!
---

Our Top Giving Tuesday Tips
More than 60,000 organizations are participating in Giving Tuesday this year, and people are looking for new causes to give to. Leveraging Giving Tuesday can help grow your organization, but how will yours stand out from all the others?
Try out our top Giving Tuesday tips:
1. Encourage Ambassadors to Spread the Word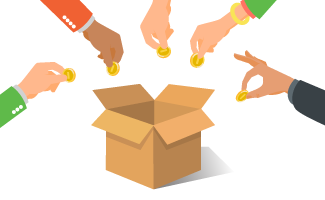 If your plan this year is limited to posting inspirational videos on social media and sending a heartfelt email to past and current supporters asking them to support you this Giving Tuesday, you're going to have a bad time.
Nonprofit organizations need a plan to target brand ambassadors and ask them to spread the word and share your organizations mission with friends and family. Word of mouth has been, and always will be, one of the strongest forms of advertising and social media just doubles, even triples, it's effectiveness.
Before Giving Tuesday, start going through your social media accounts, who interacts with you the most? Who shares your content? It's perfectly okay to tag them in your Giving Tuesday posts, even if it's in a comment. Not only does that make them feel special and appreciated, they are more likely to interact and share your post, which means more exposure!
Video performs best on social media and inspires action, whether that's a share, a gift or both. Remember, when posting on social media always include a link to your online giving forms!
2. Raise More with Matching Gifts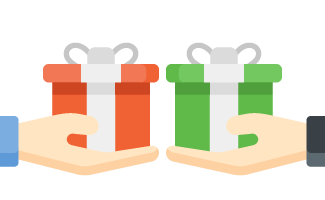 Millions of fundraising dollars go unmatched every year. A large part of that is because donors are unaware that their gifts can be matched by their employer.
For that reason, be sure to encourage your donors on Giving Tuesday to look up their matching gift eligibility using a matching gift search tool. Donors are more likely to want to contribute (and to give higher amounts!) if they know their donations will be matched.
You can even arrange for a corporate partner to match donations that come in separately.
3. Focus on New Donor Acquisition

Giving Tuesday should mark the launch of your year-end campaign and gives you the opportunity to focus on new donor acquisition.
Craft your Giving Tuesday appeal around gaining new donors, send tailored Giving Tuesday thank you emails, and provide donors the ability to share their donation on social media!
Make sure to make your new donors feel extra special, we'll want to reach out to them again for our Year-End Appeal!
4. Donor Retention is your Top Priority!

Donor retention should be your top priority, especially because one last appeal to your donors on New Year's Eve can make a huge difference.
Retaining donors is less costly than acquiring new ones, so be sure to make your donors feel special for supporting your cause.
For example, you can automate awesome Giving Tuesday receipts to highlight the difference their donation will make to your cause, then follow up a couple of days later to let them know how much money they helped raise, and report the impact their gifts made a week or two after. From there, you can make a second ask for a new gift within 30 days of the first.
5. Schedule Posts Before Giving Tuesday

Scheduling social media posts in advance reduces stress levels and ensures your posts go out at the most opportune time.
Study up on your analytics and determine what parts of the day you see the most engagement with your posts and social media accounts.
Once you have this information, you'll be able to schedule your Giving Tuesday posts so that, regardless of your staff's schedule, the posts will go out when they're intended to.
6. Show Your Appreciation with a Thank-a-Thon

Focus on thanking your existing donors on Giving Tuesday. For example, run a thank-a-thon on your social media and email channels to show how much you appreciate them (which leads to higher retention rates!) and encourage more engagement.
Thanking donors shows that you value your supporters, which can inspire others to get involved with your cause as well. If you want to learn more about running thank-a-thons, this article will help you out!
---

Lay the Groundwork: Ideas for Before Giving Tuesday
It's best to show up prepared. Lay the groundwork for Giving Tuesday ideas before the day rolls around so that you can maximize your fundraising potential!
7. Set a Clear Goal – Show Donors their Impact

It's important to clearly define your fundraising goal for your Year-End campaign and then define how Giving Tuesday will contribute to that goal.
Do you want to raise 10% of your Year-End fundraising goal during Giving Tuesday? 20%? 50%? This will provide guidance to your organization and motivate staff to achieve it.
In addition, it's important to show donors your goal in Social Media posts and on your Donation Form landing pages, preferably a visual representation like a thermometer. This allows them to see the impact of their contribution and may provide extra motivation to give again to help achieve your goals. Take this one step further and show donors the real impact of their contribution.
8. Connect with Your Community Leaders

Part of laying the groundwork means connecting with your greater community first. For example, you can set up at a local farmer's market to spread awareness of your cause. You can also connect with local businesses and donors while using a mobile virtual terminal or text giving to raise money.
Get more involved with your community as well. Spread awareness of your name, connect with leaders of local groups, and inspire those leaders to support your organization, whether that's through monetary donations or other types of in-kind support.
9. Make Your Appeal Compelling, Keep it Consistent

Why should donors support your nonprofit? And if it comes to it, why should they support your nonprofit over another? It's important to determine your purpose and make a case for why donors should support you. 
One of the best ways to stand out is to tie a donation amount to a real-world outcome. For example, LifePath Christian Ministries created impact statements on their donation buttons: $10 provides 5 meals, $20 provides 10 meals, $50 provides 25 meals, and $100 provides fifty meals, but also helps to provide life-changing programs and services. Check out more Giving Tuesday Campaigns!
Once you've done this, be sure to consistently make this case in your fundraising appeals so that your campaign comes off as coherent and compelling.
10. Build Your Assets using Best Practices

Once you've made the case for your Giving Tuesday campaign, be sure to focus on five things:
Your donation form
Email outreach
Social media posts
Thank-you messages
Follow-up emails
If you build a unique donation form meant for Giving Tuesday, for example, you can update your page's branding to reflect your Giving Tuesday campaign and excite donors who want to give on this day in particular. You can also update your cover art and profile photos on your social media pages to match your year-end giving campaign, website, and brand.
Focusing on these tasks before Giving Tuesday will ensure you can focus on the more fun parts of Giving Tuesday and keep your messaging consistent.
11. Craft a Follow-Up Plan

More likely than not, you're going to receive a lot of donations from first-time donors on Giving Tuesday, so having a follow-up plan is essential.
Even after you've thanked donors for their gifts and updated them on whether or not you met your fundraising goals, there's more to do after that.
Offer new donors an introduction to your nonprofit and a survey they can fill out about your Giving Tuesday campaign. Then, you can develop a plan for future fundraising asks. After all, donors typically don't give to the same nonprofit more than once simply because they're not asked.
12. Delegate Tasks Ahead of Time

Avoid incomplete tasks and too many cooks in the kitchen by delegating tasks to certain staff members ahead of time.
Have different people in charge of social media posts, live streaming videos, and monitoring campaign progress.
Your Giving Tuesday strategy is bound to be a success when everyone is clear on what they're supposed to be doing and there's no confusion around any tasks.
13. Build a Series of Emails before Giving Tuesday

As mentioned above, emails are a valuable asset to build. On Giving Tuesday, sending out one email won't be enough to garner the attention you need. That's why it is important to build out a series of emails before Giving Tuesday.
Be sure to introduce what Giving Tuesday is in an email sent a couple of weeks in advance. Then, send out a reminder the week before, which includes your fundraising goal and the programs you're working on.
Next, on the day before Giving Tuesday, send another reminder to build excitement and explain your goal and your impact. On the actual day, you'll be ready to send out a message in the morning, in the afternoon, and at the end of the day!
---

Make it Count: Ideas for Giving Tuesday
Now it's time to maximize your Giving Tuesday success. To make your campaign count, try out these ideas and apply them to your strategy:
14. Real-World Example: Big Brothers Big Sisters of America

Begin promoting your fundraising campaign approximately a month before Giving Tuesday to ensure people are aware of your organization and the good it does with enough time to prepare their donations.
For example, Big Brothers and Big Sisters of America does a great job building excitement and promoting the launch of their campaign.
They start by explaining to their supporters what Giving Tuesday is, what their goals are, and how they can participate. Then, 10 days before the campaign, they share high-value images to remind their supporters of the day and offer a sneak peek of their campaign. This repeats a week before the campaign, then a day before, and continues throughout Giving Tuesday.
15. Secure Corporate Sponsorships

Finding sponsors for Giving Tuesday can be a challenge, but if you know the causes your sponsors are interested in, you'll have a higher chance of securing a sponsorship. This is a marketing advantage for businesses, so you have nothing to lose by asking!
If you're asking a large corporation, be sure to meet their timeline so they can decide on your sponsorship by the time giving season rolls around. Allow enough lead time for smaller businesses as well. Offer something in return that's specific to your organization and create an engaging sponsorship proposal.
16. Host an Event on Giving Tuesday

What better way to take Giving Tuesday by storm than by hosting an event (in person or virtual) on the big day?
Events are a great way to educate new supporters about your cause and encourage them to become more involved.
Meet with supporters face-to-face in your local community or host an online event where you live stream fun and useful content.
17. Thanking Marathon

Showing your gratitude is something you should never overlook. Demonstrate your appreciation with a thanking marathon, or thank-a-thon, which is a series of communication that occurs during giving season and simply thanks donors for their support.
Provide a genuine thank-you message to your donors, utilize video, and make sure your branding is unique to the thanking marathon.
18. Gamification

If your supporters have the right type of encouragement, you could raise even more than you thought. One of the most effective ways to do this is through gamification tools.
For example, use a fundraising thermometer to showcase your campaign's progress and encourage donors to help you reach your next milestone. When you've reached the halfway point, be sure to let your audience know. This will fuel their excitement and drive them to meet the end goal!
Plan ahead for this year's giving season with some unique and effective Giving Tuesday ideas that will help your nonprofit stand out from the others. If you're looking for more information on Giving Tuesday and what your nonprofit can do to prepare, check out these additional resources below: